When we launched Customer Thermometer six years ago, our focus started with the marketing agency world. Six years later and our single biggest niche is the help desk customer satisfaction survey. Help desk customers from right across the world have found Customer Thermometer and have been swapping their existing old-fashioned long form surveys to single click surveys. We couldn't and haven't ignored this huge volume of users and have continued to respond to their needs.
Our focus in this help desk area started for us started three years ago, when we launched our Embedded Thermometer option. Since then, we've been working really hard to ensure that, whatever customer support system you use, we can help both the agents and managers of help desks to get better and more actionable customer insight.
Multi-question surveys for help desks don't work
If you are using customer satisfaction surveys within your help desk tool, which look similar to the one below, then it's quite likely your response rates are sub 5%. It's also quite likely that you're getting a negative response bias – the customers who do respond, are responding because they're really disappointed / angry and want to vent their frustration.
The example above was provided to us by a customer, who's since moved to Customer Thermometer and seen a complete turn around in their feedback.
3 reasons it's hard to get feedback from your help desk tickets
You are already taking time out of a customer's day, if they have had to raise a ticket or contact you.
Many customers won't take the effort required to fill in a survey unless they are extremely motivated to do so.
Providing feedback from a small and successfully handled support interaction don't often warrant a customer's time if they are really busy, so it often goes ignored.
Most built-in surveys send an additional email, meaning your customer has to deal with even more email during an already-stressed interaction.
Why do our 1-click surveys work so well?
Our help desk customer satisfaction survey options mean you can embed Customer Thermometer right into the emails you send, whichever system you're using.
That way, customers can feed back to you right from within the email you send them.
It makes it a breeze for them to click
It respects their time by causing them minimum effort
It all takes place within a single email, meaning they don't get overwhelmed by email
Customers are actually happy to give feedback, if the mechanism is right and it's timely
You won't get a negative-bias in your results
Your help desk agents get to see how they are being rated
You get to reward / coach your agents for their performance
You get real time, identifiable feedback you can take action on
You can tie feedback back to ticket IDs
You get to be transparent with your results (click to see our own stream of live ticket ratings, given by our customers)
Customer Thermometer takes literally minutes to integrate into the world's leading help desk solutions and customer support apps.
By adding our feedback buttons to your help desk's existing email workflows and automations, you can get real-time, trackable customer feedback about the quality of support you're providing.
Our service has helped many MSPs and Customer Support professionals increase their survey response rate by up to 10x.
"We're just amazed at the results that we saw even within the first few days of putting it into use." HiTech Computers
Help desk customer satisfaction survey integrations
We're proud to integrate with more help desk, PSA and customer support apps than any other feedback provider.
We can embed one click surveys into all these systems, and many more…
We've been embedded surveys into ConnectWise instances for a number of years now. We've a great community of ConnectWise users who've helped us to steer what we've been doing.
Include 1-click feedback buttons into ticket closure emails or project closure emails.
Zendesk is our oldest partner – it's where we started.
Customers such as Dollar Shave Club rely on Customer Thermometer to get thousands of pieces of feedback from their ticket closure emails.
We can also write back our feedback results directly into Zendesk ticket threads: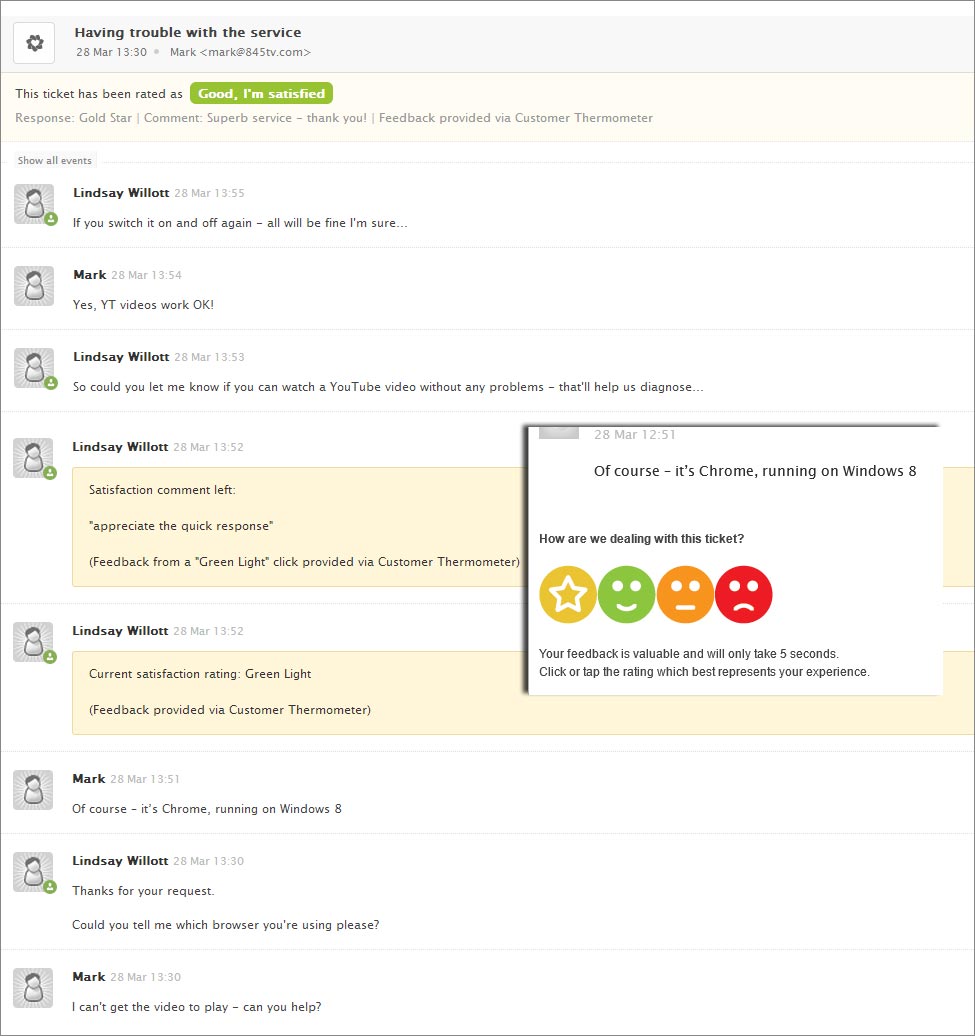 Autotask is another popular integration we have amongst MSPs.
Again – it's a simple replacement of the standard ticket closure email survey link, with Customer Thermometer's buttons…
This is one of our latest integrations. In mid-October 2016, thanks to a feature request by Customer Thermometer, it is now possible to get identifiable, trackable feedback DURING ticket threads and on ticket closure from inside the Kaseya BMS tool.
Whilst this isn't a specific help desk customer satisfaction survey tool,  it's important to mention it here. In October 2016, we launched our BrightGauge integration. You can now bring together Customer Thermometer metrics with all of your other important tools, into one place.
We've recently added TigerPaw to our integration list. It's another popular choice amongst MSPs.
One of our oldest integrations. It's really easy to get feedback from Cases from within Salesforce Desk.
We're close the Kayako team and have put together a great webinar with them recently on how to never lose another customer, which you can listen to here.
We work with both their on-premise version and their new SaaS version of the tool.
So whatever you run, if you need a Help Desk customer satisfaction survey, or need feedback on your customer support team, we can help. Grab your free trial today and give us a spin.
https://www.customerthermometer.com/img/help-desk-customer-satisfaction-2.png
248
710
Lindsay Willott
https://www.customerthermometer.com/img/[email protected]
Lindsay Willott
2016-10-31 15:43:33
2019-09-06 16:54:59
Help desk customer satisfaction surveys