Training surveys are becoming increasingly common in the workplace, making professional development a more rounded and thorough process. Be it a training needs assessment or a post-training effectiveness survey, asking employees for feedback is a win/win: find out what is really worth investing in for the best outcome, while also leaving your team feeling more valued and productive.
Like with any survey, it can be hard to know what the right approach is – key topics, question structure, length and the method of delivery can all have a huge impact on the effectiveness of the survey. It can be difficult to get responses, with employees often needing to be reminded to take the survey, particularly if it will take a considerable amount of time or is generally laborious.
Below, we explain the benefits of conducting a survey before and after training, and then we've given a few examples you can use right away to get a quick and engaging training survey up and running.
Training needs assessments
A training needs assessment reduces weaknesses and gaps in knowledge to help a company achieve its goals. Not only this, but it can act as a marker for current ability and confidence, and the level achieved from the training afterwards.
Before planning any training, use a training needs assessment to find out where the gaps in knowledge lay within your team. There will likely be a spread of responses, but you will find common themes that'll make deciding on a select few that much easier. Ask specific questions around more manageable subject matters, then look broadly at employee and company knowledge and skills to check for gaps and form objectives. Once the training is done, these objectives become easy measures of success.
Training effectiveness surveys
A training effectiveness survey can tell you how worthwhile the investment in training was, how well it was received and the impact it's had on your employees and the business moving forward. It can help you to improve for next time and also to show where some employees might still feel they have gaps in their knowledge that need addressing.
You might want to ask for specific feedback on:
The course/modules
Equipment
Training style
Course instructors
Assessments
General administration
Facilities/provisions
Breaking down the evaluation survey into each aspect and asking specific questions on each can really help to illustrate where the training excelled and where it could've possibly been improved.
Training effectiveness survey questions
When constructing your survey, consider how your team might be feeling after the training and therefore what approach would be best to take. It's important to remember that latency from the experience to the survey is known to reduce the accuracy and response rate of a survey, so it's best to get feedback as soon as possible, if not immediately after the event. Post-training surveys, however, come with their own challenges with regard to timing.
One issue is that individuals who have just been through training, particularly if it's been a lengthy day course, might be keen to think about anything else! If it's an external course, they might be in a hurry to get home or back to the office, and unsurprisingly not putting much thought into the survey.
Or they might be ready to get on and use what they've learned – in either case, it's not the easiest to feel enthused about a survey, so they might answer quickly (inaccurately) or not at all.
Because of these tricky aspects to asking for feedback right after training, it's important to get it right. Long-form surveys suffer from low response rates at the best of times, so the survey needs to be quick and easy to fill out.
We've got some examples of training survey questions below to give you some ideas.
How relevant was the content in the training to you?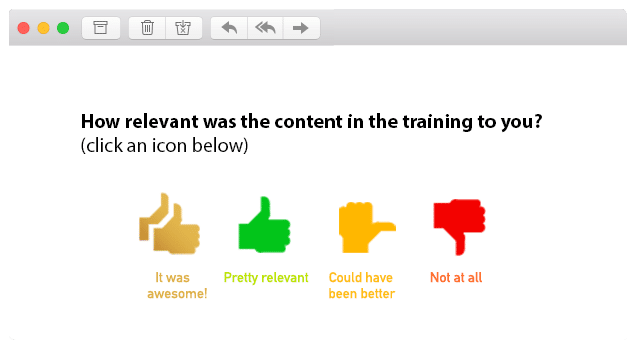 This is an excellent, simple question to ask to find out how much the training met the respondent's expectation. This is the time to find out if the training needs assessment worked effectively – if it did, the course content should have been relevant.
You can then opt to ask respondents to leave a comment explaining more about their response, and use this qualitative data to work on for next time.
Did you learn anything new?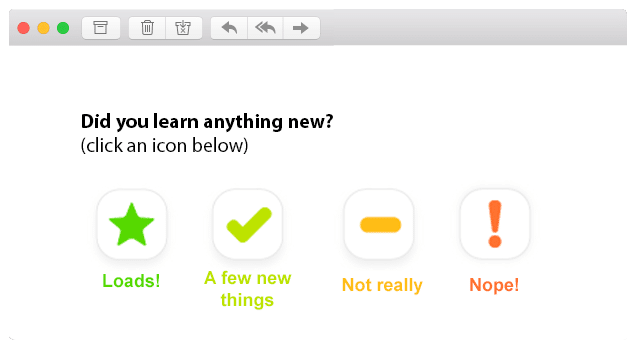 This is an easy way to find out how useful and worthwhile the training was overall, with the option to ask for further comment to find out what was new.
Was the size of your training group appropriate?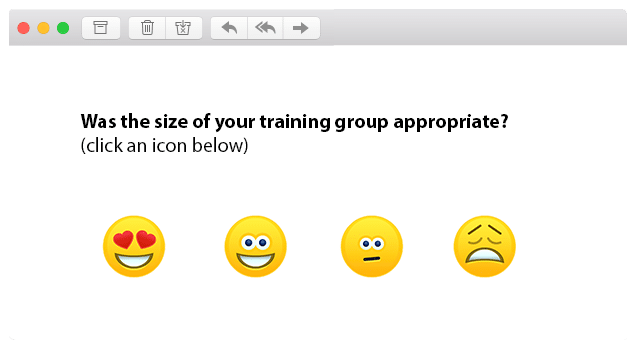 This question can help you to understand how conducive the training group size was to learning new information – it might be that the group was too large and the respondent didn't feel that their needs were met. This can help to adjust for next time.
How would you rate the quality of the training?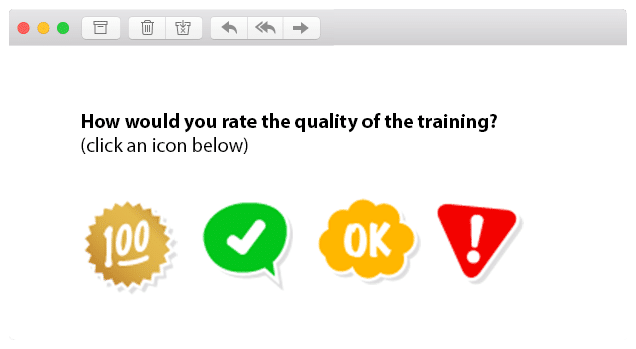 This broad question can help to gauge how the participants viewed the training overall, so that any issues can be addressed and drilled down into more specifically.
How would you rate the quality of the instructor?
This is one question to investigate why participants might have had a bad training experience – you could also this top level question and then ask more specifically:
How confident was the instructor in their knowledge of the course content?
Were they running the course at a good speed?
How organized or prepared were they?
How enthusiastic did they seem?
A comments box would be helpful for this, as any constructive feedback could then be passed onto the instructor.
Would you recommend the course to colleagues?
Asking if the participant would recommend the training is a really easy way to find out if they thought it was worthwhile – for this, you could ask on a scale from 1-10 using the NPS system. This means finding out who actively enjoyed the experience and would recommend it, and who came away with a negative experience.
The end result
You did it! You've gone through all the hard work of assessing training needs, carrying out the training and now you've got the feedback on how it went. It doesn't end here though.
Make sure you put this information to good use – not only is this data valuable for the next run of training, but the damage caused by failing to show signs of change to your team could be huge. Anyone who takes the time to give feedback wants to know it's being acted on.
Tracking the training and development opportunities of your team in the long run will increase their sense of being valued and ultimately continue to fill any gaps in knowledge and improve your service offering.
We are sure our examples of post-training evaluation questions has got you inspired – if you wanted to set some up similar to ours, we'd be happy to help you get set up with Customer Thermometer.
Give Customer Thermometer a trial and find out how your customers feel! You will quickly see how easily implemented, simple surveys deliver great response rates that will improve your customer service.

https://www.customerthermometer.com/img/How-to-Create-a-Training-Survey.png
248
710
Sophie Leaver
https://www.customerthermometer.com/img/logo@2x.png
Sophie Leaver
2019-11-27 14:25:28
2020-10-08 13:20:08
How to Create a Training Survey