Customer survey emails are, in our world, questions you ask customers to get their feedback. One of the simplest ways to do that is to embed a survey into emails you're already sending out. 
Email survey examples like this might include embedding a question into an email helpdesk ticket. Or an order confirmation. Timing when you send them is also important. However you use it, the process of embedding your email survey for customer satisfaction should be really easy.
Doing email surveys this way ensures great response rates. Plus you get plenty of actionable feedback that's truly representative of your customer base. This enables you to fine-tune your customer's experiences continuously.
Embed Email Surveys for the Best Response Rates
There are many factors that influence survey response rates. This includes who you're surveying, and the number and complexity of questions asked. Of greatest importance is the manner in which the survey is presented to the respondent.
See how an embedded survey looks by sending yourself an example:

People are more likely to respond if they know the sender or were expecting the message. Context is very important. Also, the fewer questions that are asked, the higher the survey response rate. Likewise, the easier you make it for a respondent to answer the question. Email surveys that ask customers for a single click literally couldn't ask any less.
The format and timing of the surveys both have very significant impacts on response rates. For example, say you want to assess a customer's satisfaction with a product or service you provided. Sending them a survey several months after their purchase will encounter a poor response rate. But embedding the survey in the thank you email you send your customer after their purchase, changes things. The response rate here would be significantly higher.
Email Survey Tools
To get started with email surveys you need the right tools. Most offer a free trial or in Customer Thermometer's case – a free account. There are other ways of doing email surveys, but you really need a platform like Customer Thermometer to do the embedded part. You can find out more or you can get started with a free account below:
The free account gives you all the functionality you need to bespoke your embedded email survey. This includes a complete dashboard providing real-time insights on the feedback you're receiving.
Email Survey Formats
The Customer Thermometer system supports three fundamental email survey formats.
Embedded email surveys

Email signature surveys

Email surveys sent by the CT app on your behalf
Embedded email surveys ask your survey questions from the body of the email message. We call embedded email surveys, 'email thermometers'. You're taking the temperature of customer satisfaction, right!? They are super-simple to set up, totally configurable and will provide alerts if you want them.
Email signature surveys present your survey question alongside the sender's email signature. We call these 'signature thermometers'. They are actually a form of embedded email survey. But we won't cover this specific option in any more detail here. You can get the latest lowdown on signature thermometers in the CT user guide.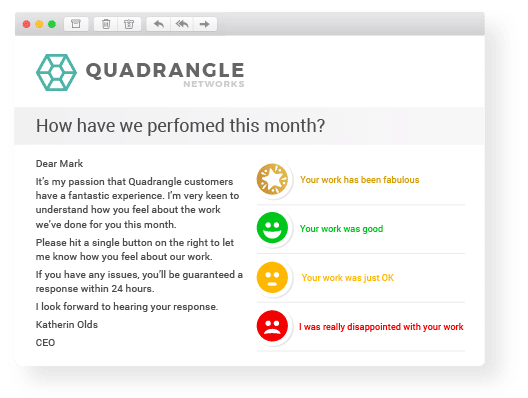 The other option for CT email surveys is to have CT email the surveys out for you. Again, we aren't going into any more detail on that here. And it's separate from the concept of embedded email surveys. All three options are detailed in how to send a survey by email.
How to Embed a Customer Satisfaction Survey in Email
Here's how you can get started with an embedded email customer satisfaction survey today:
If you haven't already done so – sign up for your free Customer Thermometer account and login.

Complete the simple integration process with your choice of third-party email platforms/CRMs/PSAs.  

Click 'manage thermometers' then 'add new thermometer' to create your new embedded email survey.

Select the third-party tool from the drop-down list

Name your Thermometer.

It's always a good idea to start out with a sensible survey naming convention. Once you've seen how quick and easy it is, you'll want to create lots more email surveys. 

Decide on a question to ask.

A typical single-question email survey might ask: "Overall how satisfied were you with [COMPANY NAME].

Enable Net Promoter Score Reporting if you want to – it's optional.

Create a subject line for your email.

Check out these email survey subject lines for ideas and inspiration.

Add a salutation – also optional.

Upload your email text.

Choose your icons.

We have provided an extensive library of free email survey icons to choose from.

Name your temperature ratings, for example hot, warm, cool or cold.

Customer with a company logo and title bar color, if you like.

Add the email sender's name and a reply-to address.

Choose optional email alerts and who receives them.

Preview your Thermometer.

Send a test to yourself.

Add your list of customer email addresses and schedule your email blasts.
It's really easy to set up email surveys the embedded way. The result is valuable real-time feedback in the context of the customer's journey with you. These insights can then be applied quickly and efficiently to individual customers across the board. 
If you want to learn more about a free Customer Thermometer account, feel free to drop us a line or sign up below:
Create a free account
Looking for some inspiration, or some cool new icons for your email signature survey? Check out our totally free icon playground:
https://www.customerthermometer.com/img/Embed-Customer-Satisfaction-Survey-Email-Blog.jpg
496
1420
Lindsay Willott
https://www.customerthermometer.com/img/[email protected]
Lindsay Willott
2021-06-18 09:13:39
2021-09-10 10:39:09
How to Embed a Customer Satisfaction Survey in Email