Once you've made the decision to start measuring your customer satisfaction levels and you've chosen Customer Thermometer to help you get your customer feedback, we know you want to get your survey out to the masses as quickly as possible. Well, Customer Thermometer have got your back.
We know that time is never your friend in a fast paced business environment; whether you're fixing IT issues, doing onsite building repairs or answering customer enquiries, you don't have time to sit down for half a day to try and understand a complicated platform – and that's before you even start creating the survey itself. You need a tool that helps you get set-up quickly, so you can get results fast.
That's where our easy to use Thermometer Wizard comes in! Here's how to get your survey set up quickly:
Launch the Wizard!
When you log in to your Customer Thermometer account for the first time you will be prompted to launch the Thermometer Wizard, this is the fastest way to get set-up with a survey.
Choose your integration type
Before you do anything else, you need to select an integration type. You will already have an idea of where the surveys will be sent from. It's just a question of asking where your customer interactions are coming from and going to. Is it Salesforce? Outlook? Zendesk? Just click the option you need, simples. If your app isn't listed, we even have an option for that.
Type the question you want to ask
This is an important bit – what question are you actually asking your customers to answer? What do you want to know? What sort of question will garner the highest level of responses? To give you some inspiration take a look at some examples we've pulled together for you here.
Choose your icon set
We know that getting the most responses as possible is what this is all about, so choosing an icon set that will appeal to your customers is key. We have a ton of icons you can use out of the box for your survey, we also have a whole icon playground for you to choose from! If we still can't tickle your fancy, then feel free to create your own custom icons and upload them into app.
Data collection
To make sure you're collecting the most actionable data possible from completed surveys it's worth checking we're collecting the right data for you. We help you collect the most common data options on most of our integrations as standard, so you don't need to worry.
Get your code!
The last step is to take the code snippet or images and links and add to your platform of choice. We know that flexibility and ease of use with our integrations is critical, if you need a helping hand we have a huge amount of help articles on our user guide. If you are still stuck you can always drop our award-winning Ministry of Magic helpdesk team a note – we are always delighted to hear from you!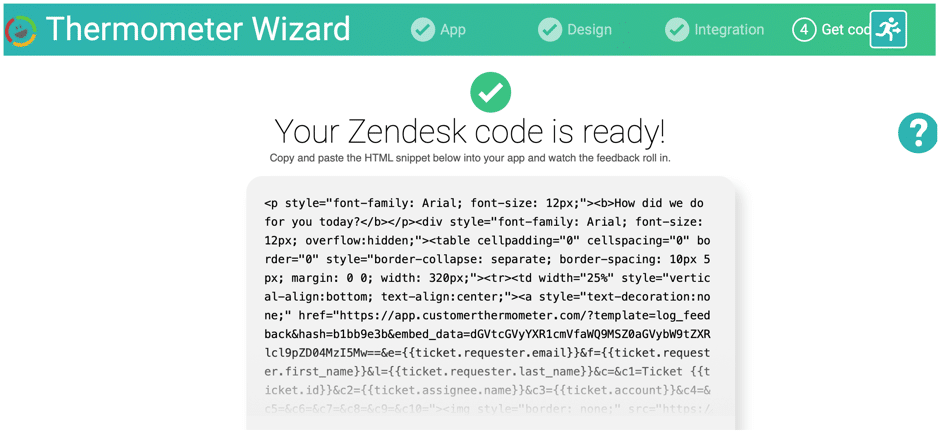 Boom! That really is it… up and running in 60 seconds. Ready to start collecting all that feedback from your users instantly.
Give Customer Thermometer a trial and find out how your customers feel! You will quickly see how easily implemented, simple surveys deliver great response rates that will improve your customer service and help you to manage loyalty.

https://www.customerthermometer.com/img/Make-a-Customer-Survey-in-Under-60-Seconds.png
248
710
Jim Turner
https://www.customerthermometer.com/img/[email protected]
Jim Turner
2019-09-16 11:54:59
2019-10-18 12:37:15
Make a Customer Survey in 60 Seconds