Sometimes you just want to send a quick survey to your customers, staff or partners.
You might want to get a snapshot of how people feel about your product or service, super fast.
Or you might want to ask people something regularly, so you can check in with them to 'take their temperature'.
Basically, you know how crucial it is to receive feedback, but you want to reduce annoyance and boost engagement, right?
Why quick surveys work
How quick is a quick survey? Very. In the time it takes to dream up a question and choose design options, you could have real-time feedback streaming in. 
But here's the thing. Quick surveys are worth spending a little time over. The idea is to make them quick and easy for your customers to complete. And that's not something to rush and risk getting wrong.
At Customer Thermometer, we specialize in quick surveys that are fun for your recipients to answer, and easy and quick for you to use. After all, research shows that fewer than 2% of consumers will bother to fill in a questionnaire-based survey – they just don't work.
Getting quick survey results
Someone else worth spending time on, at least in your selection of the right customer feedback platform, is getting quick survey results. 
No one likes having to interpret raw data and spreadsheets, especially when time is of the essence. So look for quick survey results delivered with awesome analytics behind the scenes.
Our best quick survey examples
Here are some quick survey examples you can use next time you need to get feedback. Feel free to copy our wording and layout, as well as the question we're asking. We know these templates work.
IT Support Survey example:
Here's a super quick survey embedded into an email sent by an IT support agent. It's checking to see if the customer is happy now that the agent is closing off their fault. Allowing customers the option to give feedback from within the email means there are no wasted clicks and no wasted time.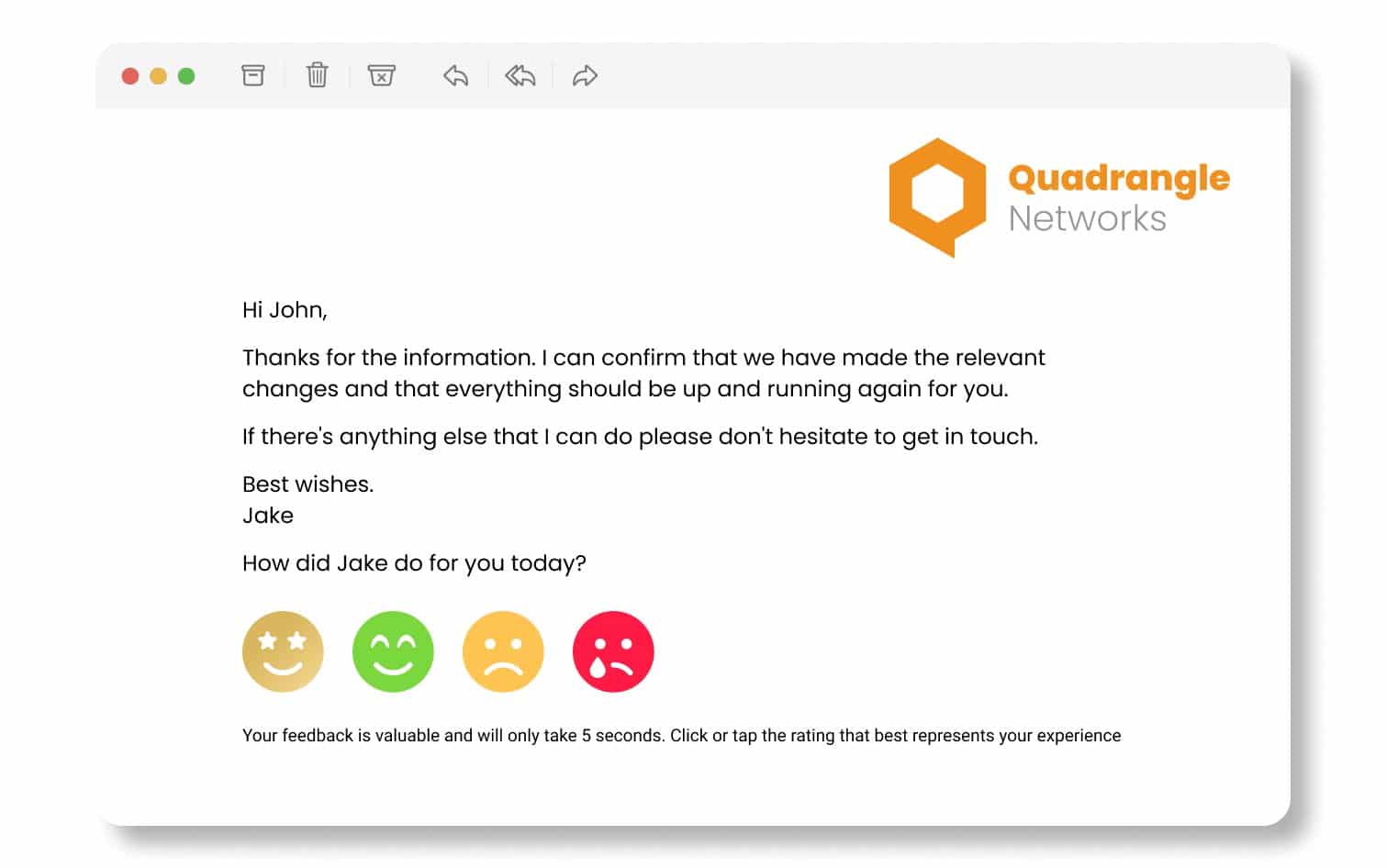 Online Retailer example:
Here's a fun and engaging beauty survey that uses playful feedback response icons. It's asking for feedback on a support team's email rectifying a missing order. You can see there's no limit when it comes to creativity. It really does help get more responses from online retail customers. Who says quick surveys have to be boring?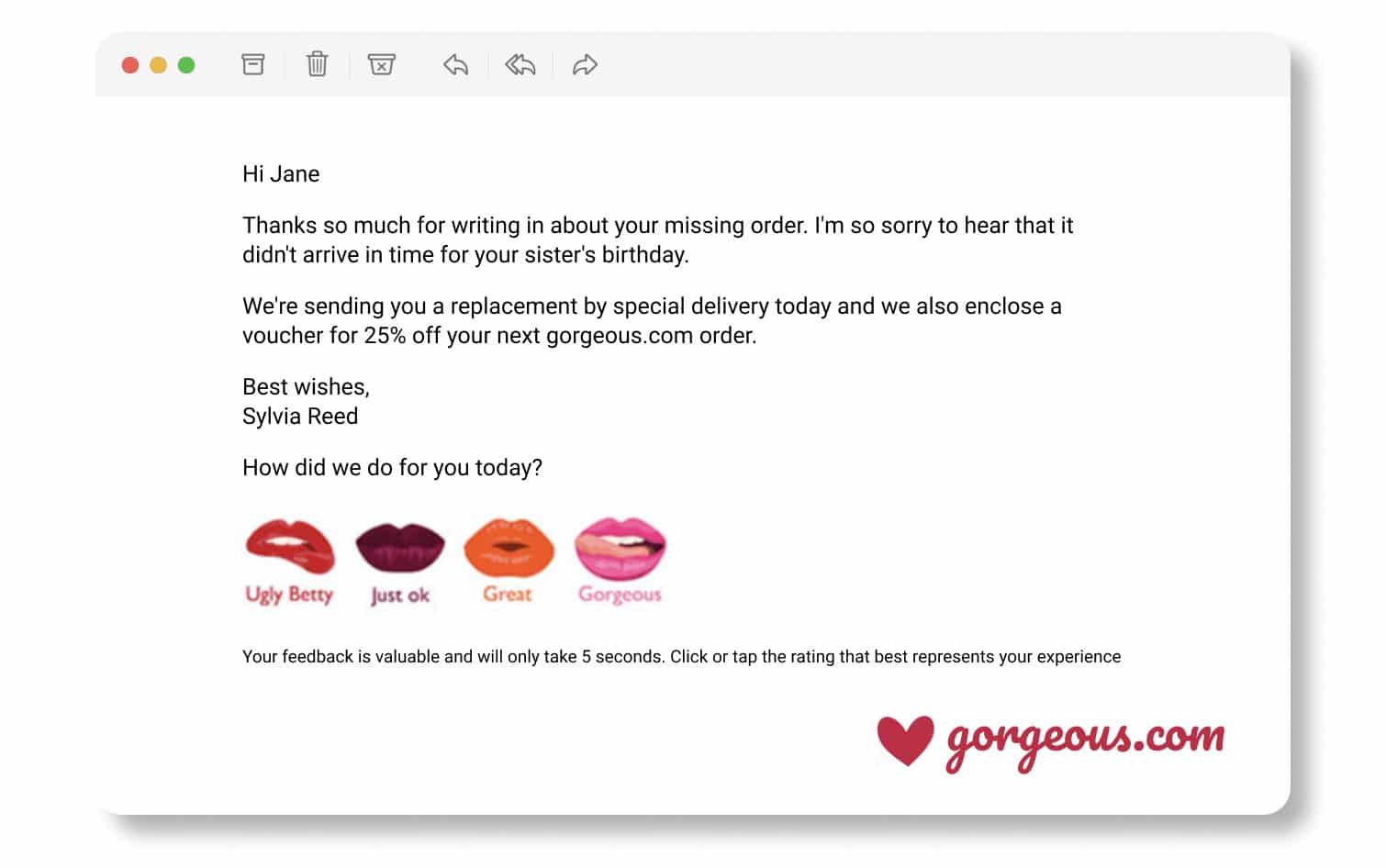 Post event survey, quick feedback:
This one-click email survey is asking for feedback after a car launch and test drive. This survey could be included within a simple Outlook / Gmail signature. This means that agents could discreetly select the 'feedback signature' for the relevant responses. Or leave it there as a default signature.

Sports Store example:
In the example below, we're using 1-click "sticker" icons. These form part of a survey in the email signature of this store manager, responding to a customer query. The design demands attention. Underneath the stickers, the wording has been added indicating it only takes 5 seconds to complete. The language is intended to be factual rather than optimistic. In other words, it will take 5 seconds, not it should take 5 seconds. Paying attention to details like this boosts your quick survey response rate.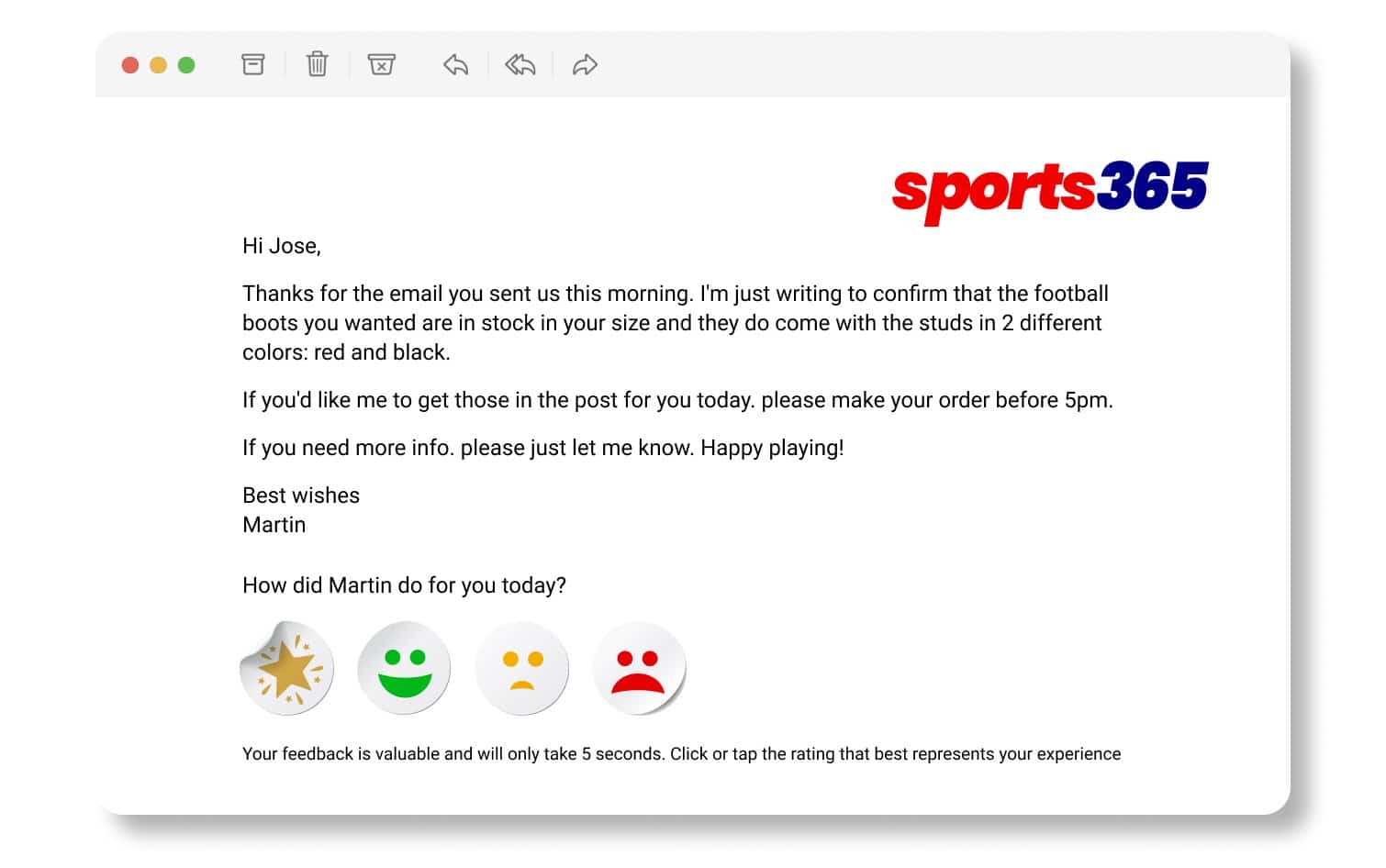 Staff satisfaction quick survey:
Here we've used a thumbs up, thumbs down approach to gathering feedback from staff on a new cafeteria service. You can see how simple and effective this approach is. The thumbs are crying out to be clicked or tapped!
85% of people answer email on their phones, so clear and easy response options are a must. Another really good reason to use this type of approach for quick surveys.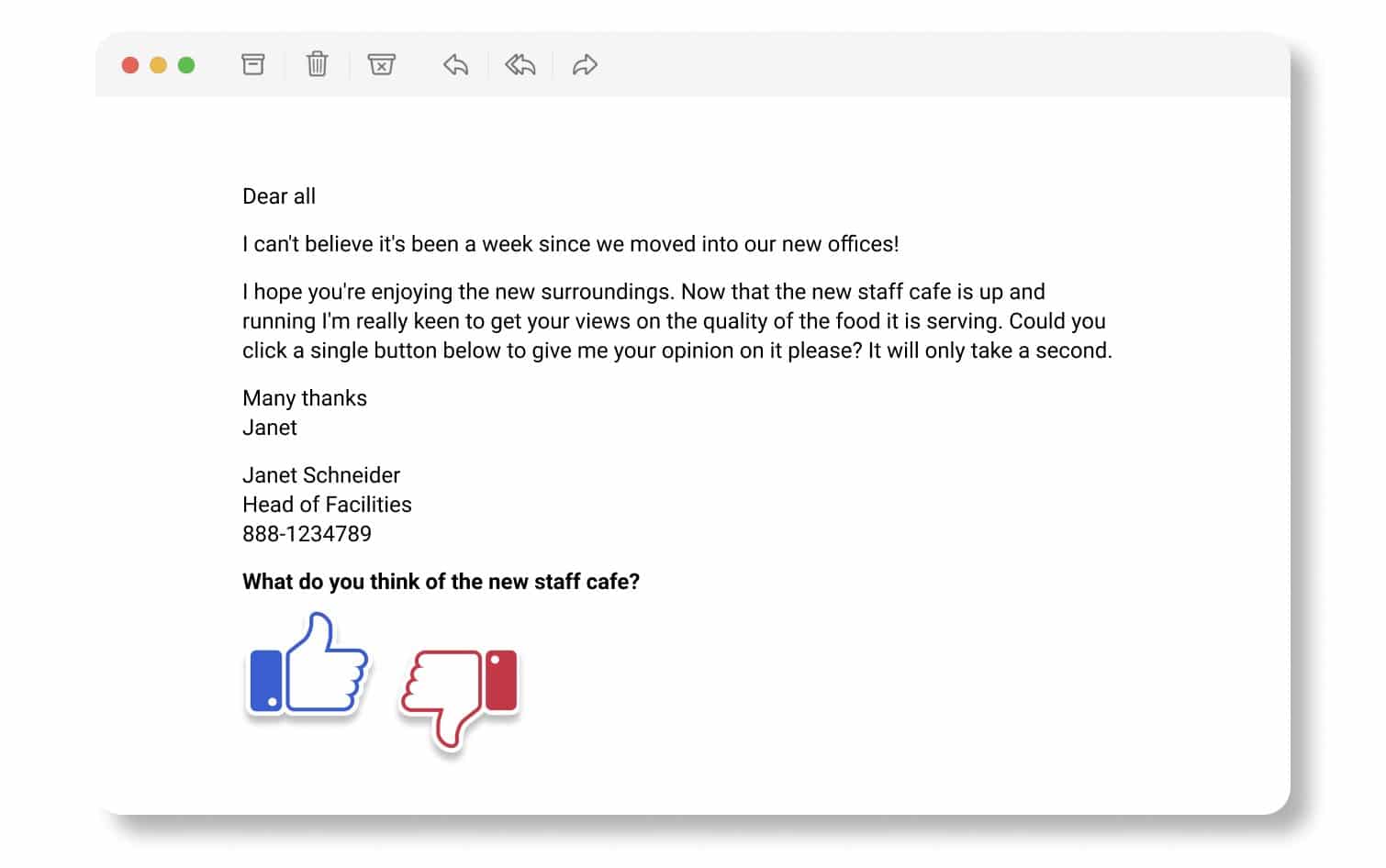 Cleaning service quick survey:
Finally, a slightly different example from the world of home cleaning. This is a straight email survey, rather than 'embedded' into an email signature. In other words, the whole purpose of the email is to collect feedback. 
The other difference is how the response options show up on the right-hand side rather than the bottom. Recipients have the simple job of clicking one icon to register whether they're happy or disappointed. About as quick as quick surveys get!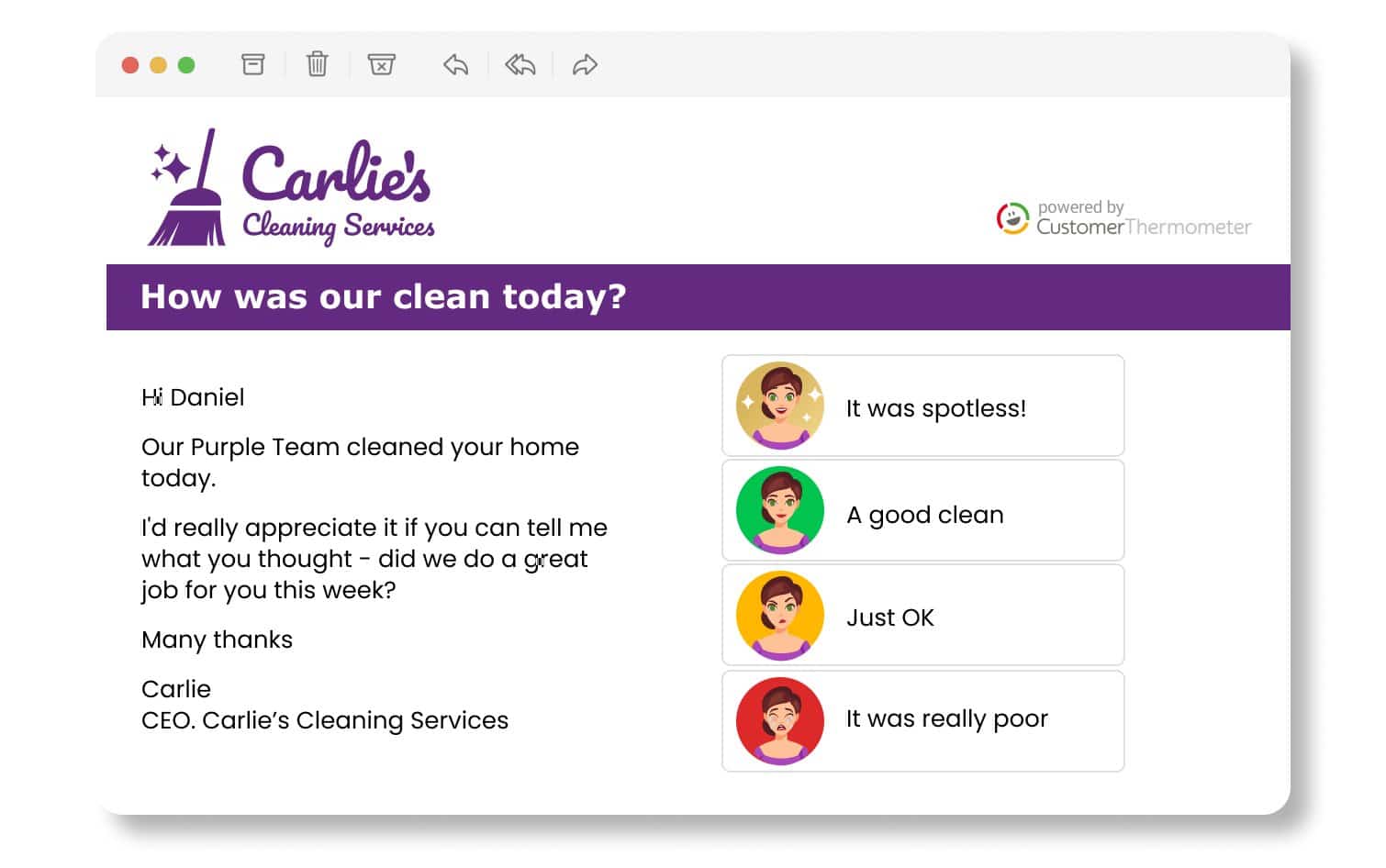 What happens to quick survey responses?
The other thing to set up is a quick landing page to direct respondents to. The idea isn't to give them more to do; it's mostly to show that their feedback was received. And to thank them for it! You can even collect supplementary feedback by way of free text comment boxes too.
It's a good idea to also brand this page and include social media links. Or even relevant offers or promotions. Take a look at this example: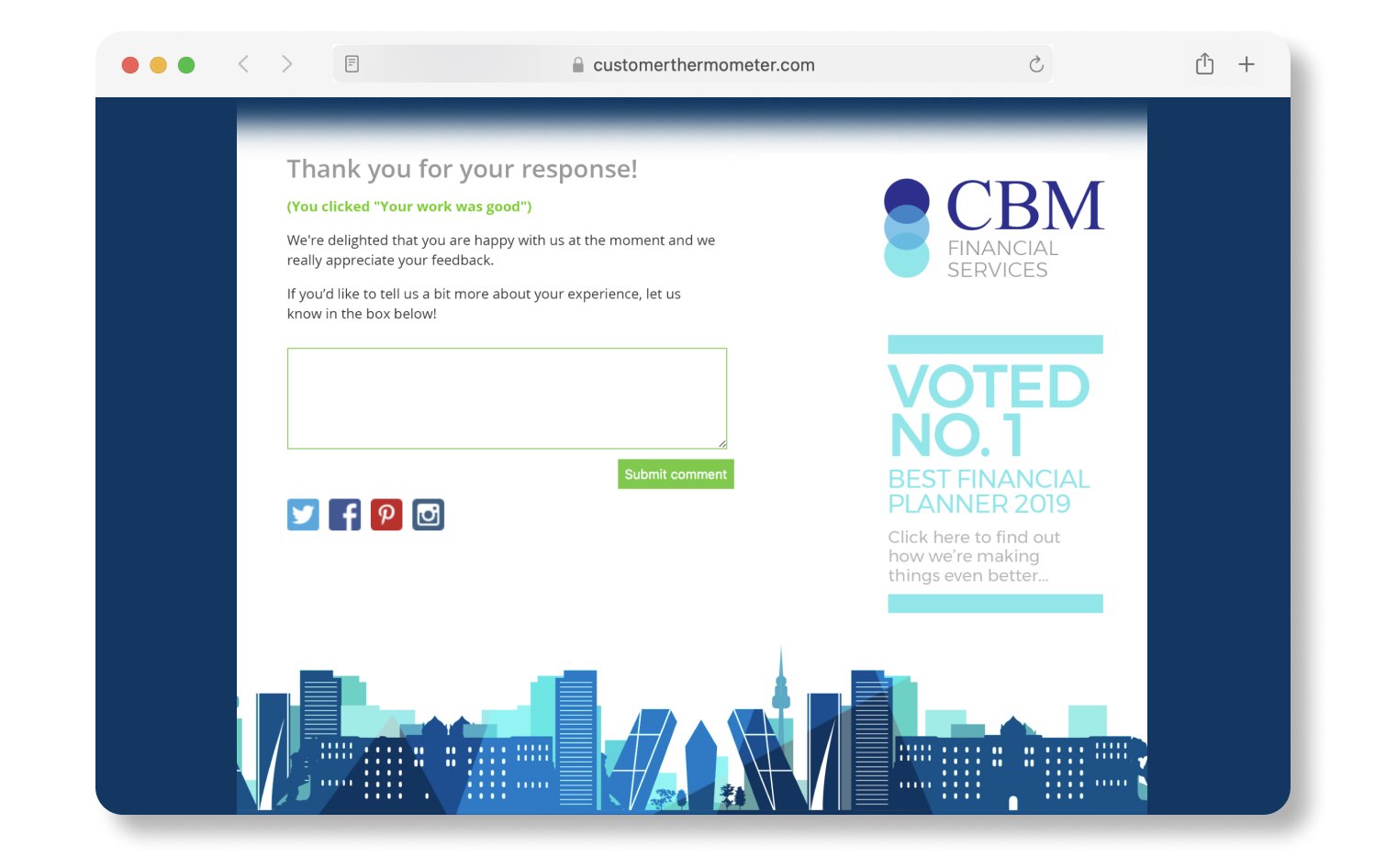 Once responses start coming in, all of these surveys give you (the sender) detailed analytics like this:
You can embed Customer Thermometer's quick surveys into emails you send from practically any application. Check out our native integrations with Outlook, Gmail, Salesforce, Zendesk, ServiceNow, ConnectWise and over 50 others.
You can capture and be alerted to comments, measure Net Promoter Score (NPS), track trends, unearth issues and much more.
Give it a spin for free today:
https://www.customerthermometer.com/img/Survey_Ideas_Examples_Engage_Customers.jpg
496
1420
Lindsay Willott
https://www.customerthermometer.com/img/[email protected]
Lindsay Willott
2021-07-03 18:55:07
2021-09-10 10:32:24
Quick Survey Ideas and Examples to Engage Customers