Surveys are changing!
With communications becoming more visual, and the dramatic rise in "emotion" based feedback, you may need a smiley face survey template to help you get better customer feedback.
Did you know…
As few as 2% of consumers will bother to complete a questionnaire

An estimated 40%+ of all online surveys are completed on a mobile device, (and that number is growing)

Emojis and smileys are sent in their billions every day, and marketing increased usage of over 1000% annually
To combat this change in customer habits, customer experience professionals are turning to shorter and more visual forms of survey.
The smiley face survey template
Our template is simple to use. It allows you to insert a survey right inside any type of email you send. You could send it as an Outlook signature, a Gmail signature, standalone via our app or include it in your helpdesk system for example, for recipients to rate tickets.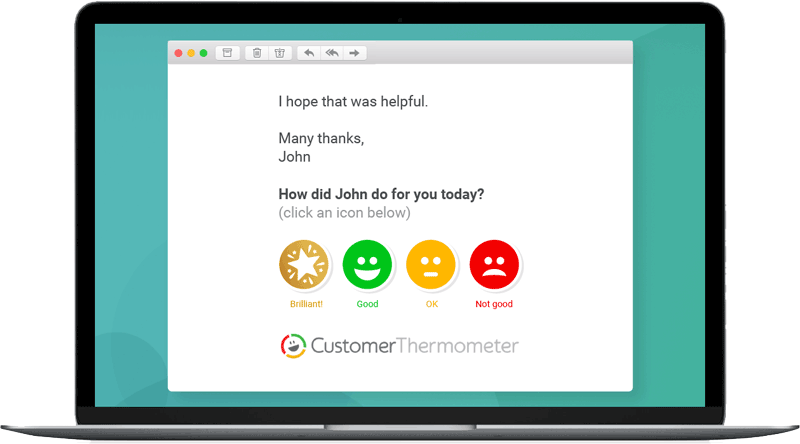 Once you've sent it out, your customer or recipient then clicks an icon to give you real time feedback.
There's no "Click here for a survey" link… Clicking an icon IMMEDIATELY registers feedback into your account.
You can make it look any way you'd like. Here's another couple of examples of a Customer Thermometer smiley face survey template: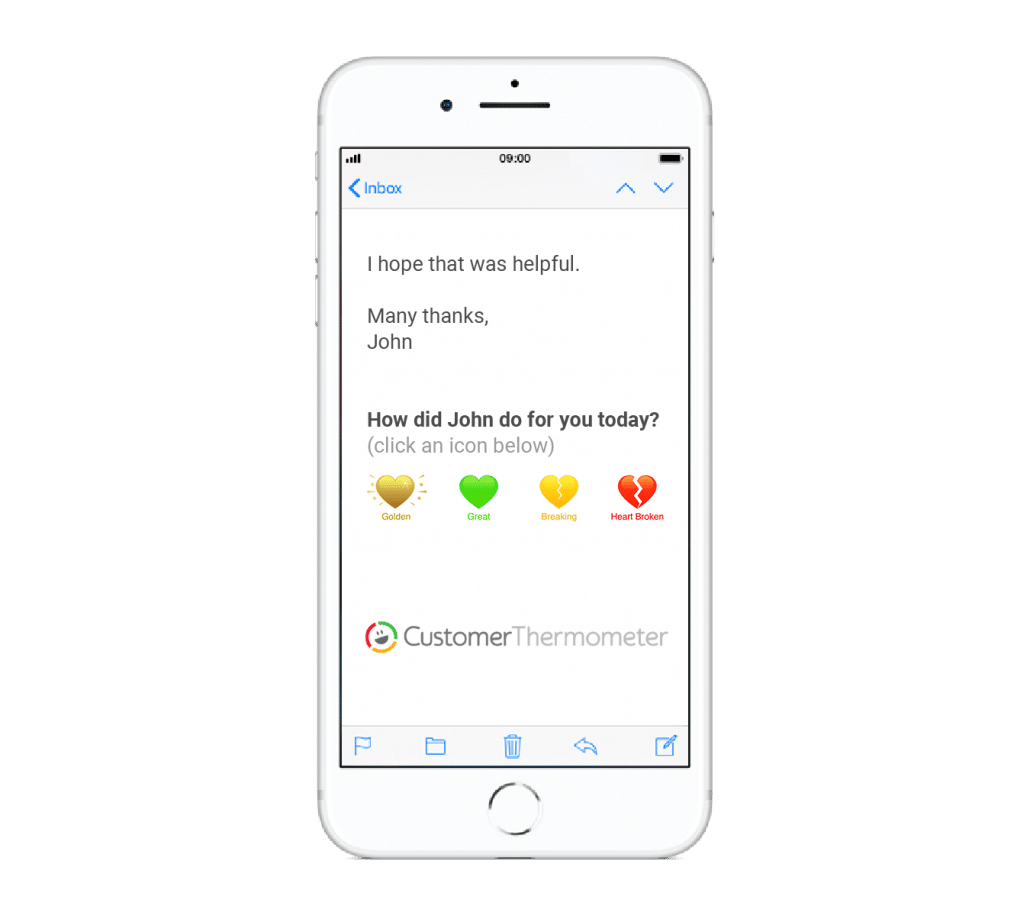 Bear in mind you can use any type of emoji or smiley face that you want from our library. You can also create your own custom ones.)
Here's an Outlook signature smiley face survey:
And another one – taken directly from our very own Ministry of Magic customer support team:
Ready to make your own using our smiley face survey template? Let's get started.
The smiley survey or emoji survey works with Outlook (and Gmail plus dozens of other popular apps that send email like Salesforce and Zendesk).
The instructions below are specifically for Outlook, but instructions for all other apps can be found here.
Open your Customer Thermometer account. If you don't have one, grab a free trial here.
Go to "Manage Thermometers" and choose the "Embedded Thermometer" tab. Now click "Create new Thermometer"
Choose "Outlook signature" from the first dropdown menu and fill in the boxes, using the prompts provided.
Choose your smiley faces. Or, search online for the emojis you'd like to use in your survey. Go to GetEmoji for an exhaustive list. Save them to your desktop, and then upload them as custom icons into the box you see on the Customer Thermometer build page.
When you're done, click the Generate Embed code button which will generate the links needed to add into your signature.
Follow the brief instructions on our Outlook signature survey instructions page to create the smileys and links and add them into your Outlook signature.
Don't forget to check out our completely free Icon Playground, where you can see a range of hundreds of icons, smileys, stars, emojis and more for you to use in your survey
That's it! You're ready to roll with a smiley face survey embedded right into your email!
Your free account is waiting for you here:
https://www.customerthermometer.com/img/smiley-face-survey-template-1.jpg
248
710
Lindsay Willott
https://www.customerthermometer.com/img/logo@2x.png
Lindsay Willott
2018-08-12 14:46:15
2019-01-24 14:18:19
A smiley face survey template