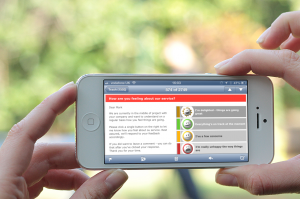 Since the launch of the iPhone only five years ago, we've heard talk of becoming a 'mobile' world. I noticed yesterday that more than half of the emails I received were sent from iPhones, Galaxies and the like. I don't think I've seen a single person using an 'old' style mobile phone for months now, and the proliferation of iPads and tablets is phenomenal.
This has a major bearing on the way you survey your customers.
Small, fiddly online surveys with radio buttons and small fields to fill in just can't cope on mobile devices.
People use their tablets and smartphones in a completely different way to traditional laptops and PCs – the attention span just isn't as long, so if you don't get to the point quickly you've lost people.
Take as evidence the huge rise in games such as Angry Birds that you can play in short chunks when you've got the time.
We use our tablets and smartphones more than ever before, but usually whilst multi-tasking – so the time we have to spend on each individual task is shorter. We need to use tools that can cope in this new, fast-moving environment. So if you are still sending out long surveys to your customers, and getting ever-poorer response rates, the mobile phenomenon might well be to blame.
Next time you need to send  a survey, why not give Customer Thermometer a spin? It's a "1-click" email survey, and has been designed specifically for today's on-the-hoof world. It works across all tablets, devices and operating systems and you can track individual responses in real time.
Sign up for a free trial now, no credit card needed.
https://www.customerthermometer.com/img/logo@2x.png
0
0
Lindsay Willott
https://www.customerthermometer.com/img/logo@2x.png
Lindsay Willott
2013-01-31 16:06:30
2019-09-06 11:33:21
Surveys in a mobile world