If you're looking for an email voting tool that offers more than Microsoft Outlook's inbuilt voting buttons then Customer Thermometer's service will be perfect for you.
Customer Thermometer lets you send emails with the voting buttons embedded right into the email like this…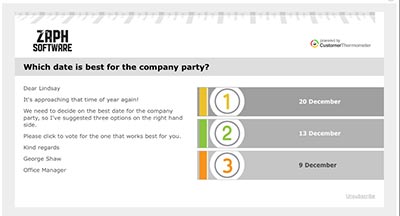 …in seconds, with no designer required. Our voting tool is trackable too. So if it's important for you to know who voted for what, you can see that all in the reporting.
Why use an email voting tool instead of a survey?
If you need a quick response to a question Customer Thermometer is the fastest and most visual way to do it. Don't send your recipients to a polling website via a link. You'll lose a lot of people on the way, as it's likely they will think they are being sent to a long survey.
Get the best response rates and real-time results by letting your recipients vote from directly within the email they receive. Engage them using your logo, corporate colours, and voting buttons. When they click a button, it registers instantly in your reporting area.
An email voting tool is also a great way to ensure you are respecting your recipients' time. If you only need the answer to one question, traditional online surveys are often unable to cater for your needs. Why ask more questions than you need to?
How to use Customer Thermometer, the email voting tool
You can build a voting email in minutes using Customer Thermometer. We have  a library of about 50 different voting buttons for you to choose from. Or, you can make your own. This means your voting buttons can be planets, film characters, photos, flags…. anything you want!
You can even embed our voting buttons into emails you send from Outlook like this: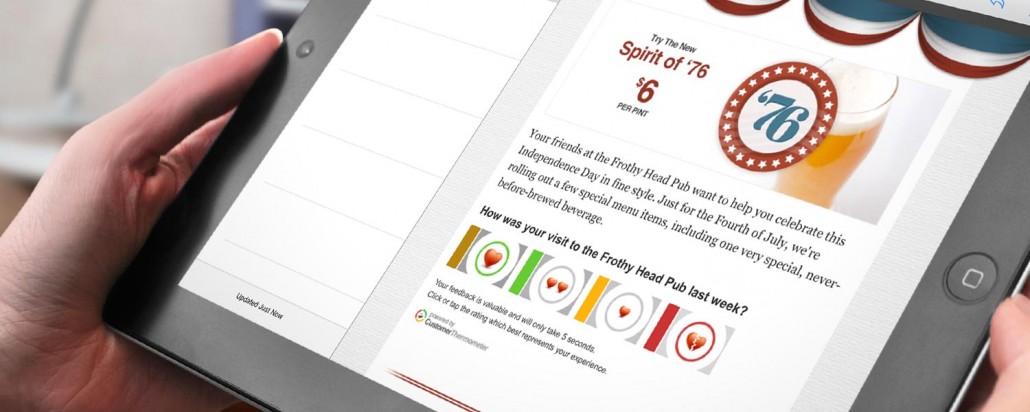 Voting Buttons in Gmail
It takes only minutes to setup a Gmail signature survey. Your voting buttons in gmail can be customized or you can use your own button images.
You ask your question in your own style and language.
Select or provide images for you gmail voting buttons.
Use 2, 3 or 4 buttons to get the feedback you need.
Customise your landing page to thank them for their rating and optionally ask for additional comments.
Be immediately alerted to survey responses via email.
Read more about Gmail signature surveys and how to use voting buttons in gmail here.
Get your free trial of Customer Thermometer here, so you can test it out with your colleagues.
https://www.customerthermometer.com/img/email-voting-tool-buttons.jpg
286
710
Lindsay Willott
https://www.customerthermometer.com/img/[email protected]
Lindsay Willott
2014-10-08 10:01:55
2018-10-04 10:44:57
The ultimate email voting tool