Do you need to create a great feedback email? Are you looking to change the way you get responses from emails you send regularly? Do you need to gather feedback from a large number of customers and staff in a simple and quick way or maybe you are seeking feedback email samples?
Read on for our 3 step guide…
What to ask in Feedback via Email
How to Request Feedback by Email
Ask in as short a way as possible. No matter how complex the situation, keep your email brief and to the point. A good rule of thumb is: the more questions you ask them the fewer responses you will get. Keep text to a minimum and keep it scannable.
Be clear about what you're asking for feedback about. People in a hurry don't read long sentences. They often don't read questions properly either. Make what you're asking big and bold. Be clear about how you'd like to receive feedback, and in what timeframe
Be specific. If you want feedback about a specific event, person, product or service, mention that directly. If you have a product name, ticket ID, reference, or event an image that will job people's memory, use it!
When to ask for Feedback by Email
Feedback Email Timing Optimisation
Understand your customers' industry. There is no single time that is best to send an email! (And if there was, and someone published it, everyone would do it and it would change again!). If you can seek to understand your customers' busy months, month-ends, key conference seasons and others, you can seek to avoid those. Think about the times when people are most likely to have some time to respond to you, perhaps during their commute or once they've got the main part of their work for the day cleared away.
Send it as soon as possible after the event. Most feedback emails are sent because you want feedback on a specific thing. It might be a delivery, a show, an all-hands call. Whatever it is, get the feedback email ready to go, so that you can send it right away after that thing has happened. People feel much more compelled to help you at that stage. You'll also get better feedback because they also have a clearer memory of what happened. Imagine giving feedback on a meal you ate 6 months ago, versus what you had for lunch.
Send it when you have plenty of time to act on the results. Feedback is easier to get, and to get again in the future, if your followup plan is ready to spring into action. If you can demonstrate real change from the feedback you seek, it will up your future response rates and keep people engaged.
Check our our top 30 survey response rate facts. if you're after feedback, some of these response rate stats will make you think really hard about how you get it!
Want this infographic in a larger format? Grab that here.
How to Ask for Feedback by Email
Improve your feedback email response rates
The golden rule for getting a great response rate to your feedback email is: make it easy. As our infographic above shows, fewer than 2% of consumers will bother to fill in a survey, so seek the easiest possible methods to get the most feedback.
Ask limited questions and make sure you know what you will do with the answers. This has the effect of maximizing response rates and ensuring people are clear on what's being asked of them
Tell people what will happen as a result of their feedback. Whether customers or staff, people will be much more likely to give you feedback if you tell them what it will help improve. Instead of writing asking for feedback on the company dining room for example, make it clear that feedback on the food, decor, seating etc will be acted on by a certain date and by specific people. If your recipients know it's likely that something will really change for the better, they will be more likely to take the time to send the feedback.
Keep up to date with the latest trends on how to get customer feedback
Asking for Feedback – Email Examples
Look at these Feedback Email Samples from Customer Thermometer
You don't have to collate feedback long-hand. By using the feedback email service from Customer Thermometer you can easily get direct feedback from your email signature or footer area like this: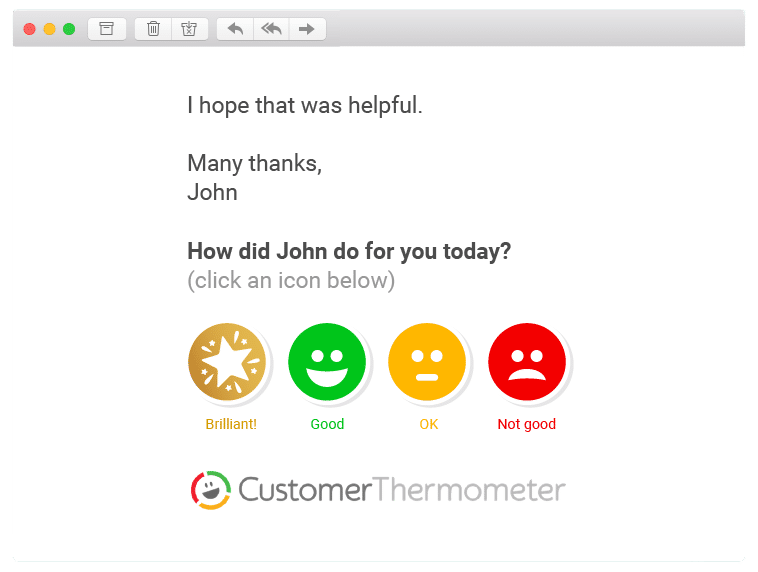 This has the benefit of allowing multiple people within the business to collect regular email feedback over a period of time. No matter when you catch people, they are not going to spend hours feeding back to you, so be sensitive to their time limitations in the method you choose to solicit and collate the feedback.
Need a single big hit instead? You can send a poll email, in a single feedback email blast, to gather insight, like this: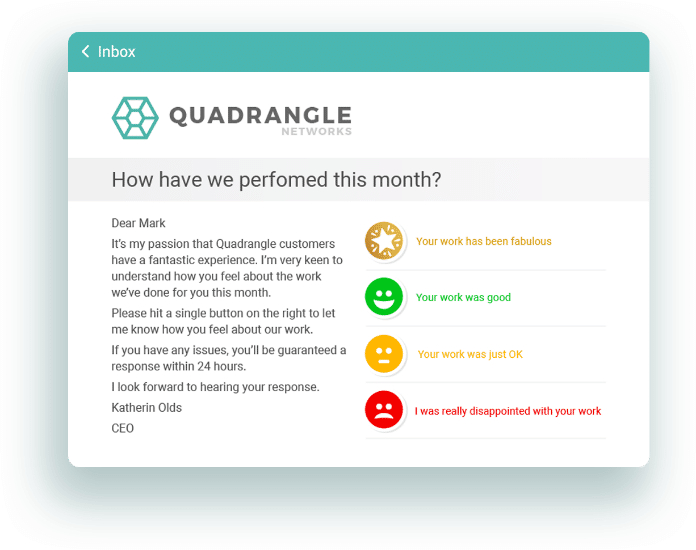 If you need to get feedback from the emails you send, you can test Customer Thermometer for free.
Simply embed feedback buttons into emails you send out of any system, and watch trackable, real-time feedback flood in:

https://www.customerthermometer.com/img/Asking-for-feedback-by-email-blog.png
248
710
Lindsay Willott
https://www.customerthermometer.com/img/[email protected]
Lindsay Willott
2021-06-05 11:49:50
2021-07-20 19:09:32
Asking for feedback by email