Can you believe it's been a mere seven years since emoji hit the mainstream? Billions are now being sent each day, with all ages universally embracing the ability to add images to their written communications.
Here at Customer Thermometer, emoji, emoticons, icons and feedback symbols are our business. We pride ourselves on being the 'Instagram of feedback' – our survey software enables businesses to embed emoji into emails, so customers or employees can easily click on the icon that suits their mood. They are going down a storm, but we know that the usage of emoji in businesses is still relatively new.
We wanted to take a look at emoji use in business and how they should be used going forward. Despite their controversy, they're a powerful communication tool and have opened up a range of opportunities.
History of emoji
If you want to go right the way back, it all started with emoticons – namely facial expressions that were made out of punctuation, which were first seen in an 1881 magazine. It then took over 100 years for them to get incorporated into computer language.
Emoji as we know them got their official start in Japan in 1999 via a local artist, Shigetaka Kurita, who wanted a simple way to convey information on the mobile platform. This is why the word "emoji" is translated to "image character" in Japanese.
Fast forward to today and you'd be hard-pressed to find a post on your social media feeds that isn't full of different types of emoji.
No wonder Oxford Dictionaries named U+1F602 Face With Tears of Joy as its 2015 Word of the Year! The options are constantly expanding; in 2019, over 200 new emojis were released on the iPhone.
Also proving popular is emoji use in business messaging platforms – over 26 million custom emojis have been created in Slack since the feature was introduced and for the 13 million daily active users of Microsoft Corp.'s Teams, emoji use is basically universal. Of course, we are finding them very effective as a way to quickly and easily see how customers and staff are feeling…
Iconography
Of course, the iconography of likes and dislikes is also a fundamental aspect of ratings and reviews, for film reviews, customer service, and any other quantitative feedback platform you can think of. In a commercial sense, this reaction system has been essential for years, enabling consumers to communicate efficiently their thoughts on a product or service, across TripAdvisor, Google Reviews, IMDB, Uber… the list goes on.
Another key change made by Facebook in 2016 took their feedback system from a single 'like' thumbs-up button to also include a heart, and laughing, surprised, sad and angry faces. This was in response to a common request for a 'dislike' button, with there being a clear demand to expand the range of quick-fire emotional reactions available.
LinkedIn have followed suit, adding 'Celebrate', 'Love', 'Insightful' and 'Curious' to their reaction buttons. This simple emoji-style iconography is now pervasive not only in personal, informal contexts but there's now also emoji use in business platforms like LinkedIn.
The reaction buttons are, as LinkedIn put it, designed for "constructive" communication and there is ultimately a sense that they are intended to be a more professionally-geared and highbrow set of tools. This suggests a real shift in the way business commmunication is structured today.
Generational differences
With distinctly different age demographics now both in the workforce, questions have been raised about the implications this can have for communication preferences across generations. With 50% of workforce forecasted to be millennials in 2020, increasing to 75% in 2025, there is a clear need to adapting to a younger, more digital way of being.
An increasing reliance on visual communication harks back to cave paintings and emotive expression that predates language, but emoji are often accused of being lowbrow and damaging to written language.
On the contrary, Generation Z are showing how efficient and responsive emoji can be online. This new, digital generation are using short form communication more than most – Gen Z are significantly more likely than their older counterparts to use emojis (95%, compared with 79%).
"Around 60% of the human brain is involved in visual processing, so visuals play a huge role in how we communicate with each other… With our propensity for visualization, it is no surprise that GIFs, emojis, and short videos have become so popular recently." (Report)
Factoring in this natural human disposition for visual communication with the expanding Generation Z workforce, it is essential that businesses do more to adapt to maximise engagement. Employees, much like customers, are far less likely to be inspired by plain text than they are imagery, videos, and emoji.
What does this mean for customer satisfaction?
We know that 1-click surveys are a great way to get real-time and frictionless feedback, but it's not just the speed and convenience of them, it's also the visuals that go with them.
Stange et al (2016) studied visual processing of smiley face scales in web surveys, finding that respondents processed the images of faces differently to that of the text, meaning that they spent less time "fixating" on both the question and the text response options "when the smiley faces appeared alongside". This efficient way of processing faces is beneficial for surveys in the way questions can be asked with the options for answering being far more digestible.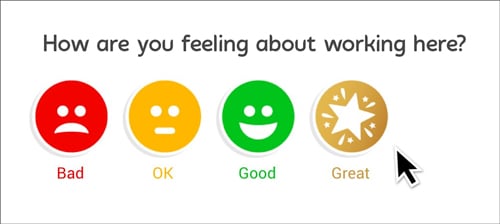 Emoji Books
There's a lot of literature available to help navigate the uncertain territory of professional emoji usage – thankfully we've gathered some of our favorites for you here.
Brands using Emoji
How are major brands incorporating emoji into how they interact with their audience, and how effective is it? We've taken a look at some big names to see how they're using them for a little bit of inspiration.
[/av_textblock]
Walmart
In this example, Walmart use emoji in a fun and casual way – there's not a need to upsell or link to products – the brand is large enough that they can easily opt to use its personality to keep the company in people's minds.
Although this might not be a luxury that all company social media accounts can afford, there's something to be said for the softer approach in branding when it comes to sales and online content.
McDonald's
McDonald's again take a playful and quite liberal approach with emoji usage – the resulting timeline is a very colourful affair.
All tweets and their emoji relate back to the company itself, establishing 'in-jokes' with customers.
Apple
The official Apple support Twitter account uses emoji a little more sparingly, opting for their use as an illustration at the end of a sentence to add emphasis.
It's highly unsurprising that Apple would make use of emoji, what with having their own design of them, but as this is a technical support account it's interesting to see that they also use them in a more formal context, offering regular tips and tricks for their followers.
Glossier
Glossier take a friendly, laidback approach, as is common of their branding overall. Again, they don't need to always push their products, with occasional references but largely a conversational approach.
Emoji frame sentences and draw the eye, which is helpful when considering tweet placement amongst a busy Twitter feed.
Emoji Research Report
Despite Googling our keyboards off, we couldn't find much information online about how emoji could and should be used by businesses. And yet we know that our own customers are increasingly using custom emoji in their feedback solutions in order to fully represent their brand and get as much engagement with their customers as possible.
They say if you want a thing done well, do it yourself – so that's exactly what we did. We commissioned original research, across 1,000 Americans, representing all ages and states, to give us brand new insight into how emoji are changing business communications. You can find this by clicking here:
What we've learnt
Ultimately, emoji are symbols that convey more than words, they help the writer quickly and simply express an emotion, tone and feeling. It's time we embrace how workers want to communicate, across email and collaboration tools like Slack and Teams, and also consider that the brevity and humanity benefits of emoji usage can also be extended into customer engagement as well.
Businesses already recognize that customers engage better with content when they use emoji, so it clearly stands to reason that this successful way of communicating should also be applied to customers.
After all, there is a clear link between how employees are treated within an organization and customer retention.
In marketing there's a clear correlation – emoji equal engagement. Emails with an emoji in the subject line have better click-throughs, social media posts that have images have more responses.
Words alone don't cut it anymore as they don't reflect the language changes of customers. The key now is to make sure you are matching the right symbols and pictures that support your content and tone. These emotional icons really do have the power to break down barriers; by engaging with your target market in the way they communicate you can truly humanize your brand and show your customers you aren't afraid to speak to them on a more personal level.
Grab a free trial of Customer Thermometer and give emoji surveys a go…
https://www.customerthermometer.com/img/The-Ultimate-Guide-to-Using-Emoji-in-Surveys.png
248
710
Sophie Leaver
https://www.customerthermometer.com/img/[email protected]
Sophie Leaver
2019-12-05 14:54:15
2019-12-06 17:09:55
The Ultimate Guide to Using Emoji in Surveys and Business Communication