So few people change their default iPhone signature. The settings are buried away a little and most people leave the "Sent from my iPhone" signature in place for the lifetime of their iPhone.
Whilst this is fine in a personal context, business users ought to be looking a little more professional.
There's always a big focus on having the right email signature (which is consistently corporate) when sending email from a desktop client. Typically, iPhone email signatures (where quite often most email is sent) get ignored.
If you're looking for a professional, consistent, corporate email signature  and/or are looking to include Customer Thermometer feedback buttons in your iPhone (or iPad) email accounts, take a look at our instructions below. It's a one time setup, which will enable you to both capture feedback and look professional for months to come.
HTML Signature creation
The trick is to use an email signature that you've already created (and is perhaps approved) from your Outlook or other HTML email client. It's not possible to originate an HTML signature on an iPhone, but it is simple to copy one from an existing signature.
For this example, I'm going to use the 'support' signature I use when answering customer queries. Everyone plays their part in support here at Customer Thermometer. (Find out more in our support handbook here.)
Create a new email with the signature you'd like to add to your iPhone or iPad and then send it to an email address which can be read on the iPhone you're looking to use: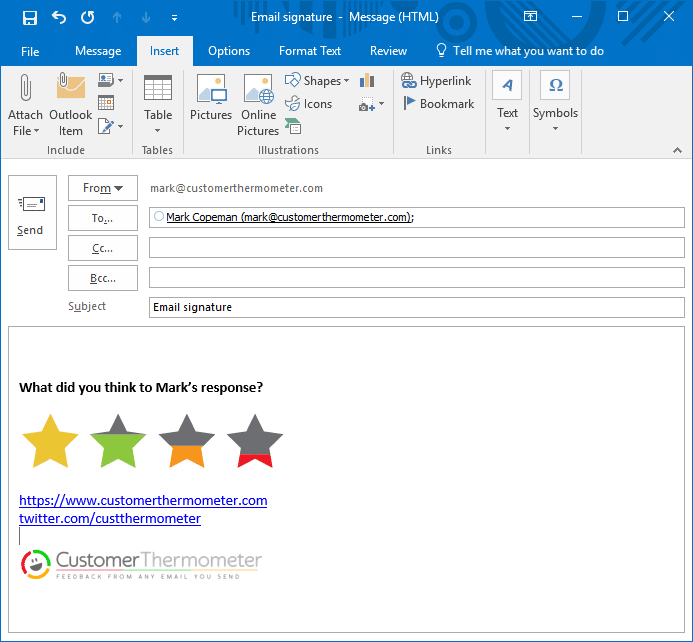 Check your email on your iPhone and you will then see your signature within the email you've just sent.
Tap and hold on one of the words within the signature and let go… Choose the "Select All" option to select the signature:
Next, tap "Copy" to copy the signature to your iPhone's clipboard.
Adding your email signature to your iPhone email account
It's now time to add this copied signature code to the relevant email accounts within your iPhone. Note this signature could also contain disclaimers, social media icons or any other form of graphic too.
On your iPhone (or iPad), navigate to Settings > Mail 
Scroll down that Mail settings page to the bottom, where you'll find the signature area (shown below).
It will likely show the default signature. Give it a tap.
Once there, if you have multiple email accounts set up on your iPhone (which I do), you'll then need to decide, which account should have the signature you've just copied to the clipboard. If you'd like it for All Account – leave that ticked …
Next, tap and hold the default signature… let go and tap "Select All".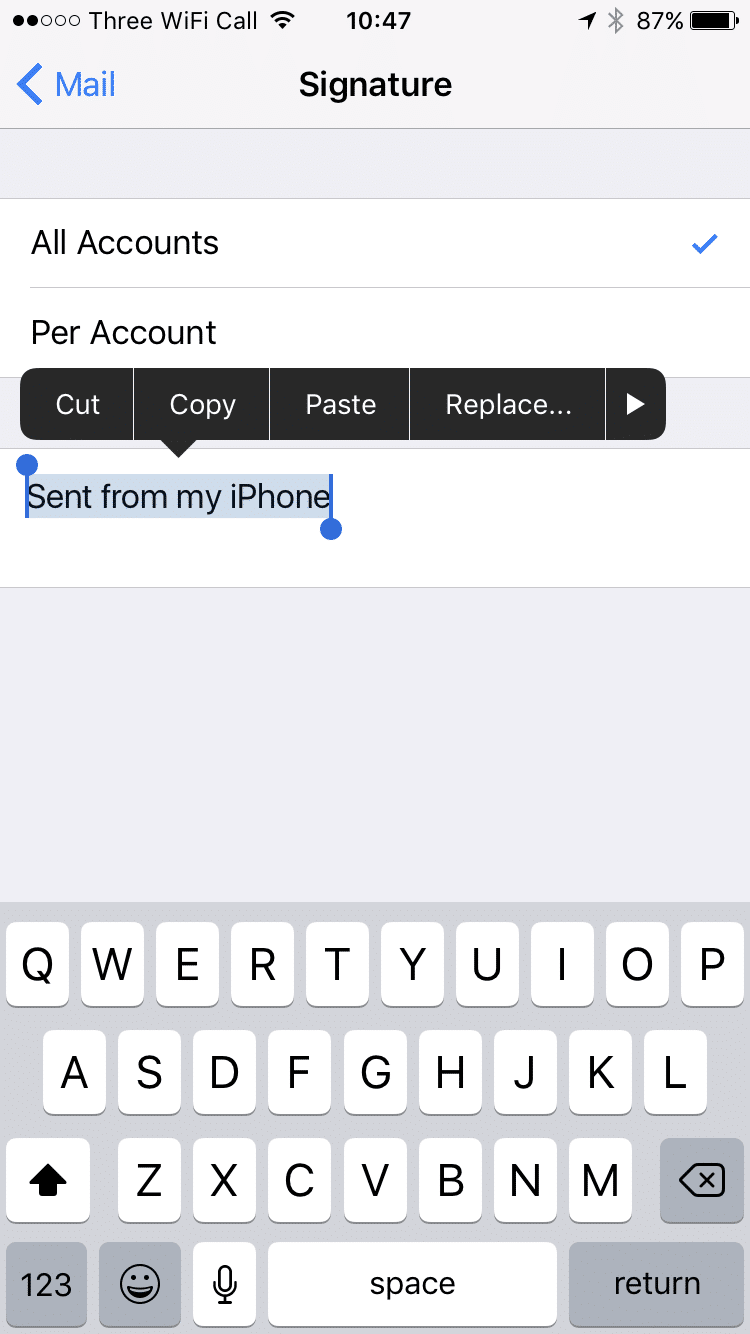 Next, once the whole of the default signature is highlighted, tap "Paste", to overwrite the new HTML signature into the box:
And there you have it – a shiny new HTML email signature for your iPhone, which in this case contains a logo, links and feedback buttons…
Test it out by creating a new message, back in your email app…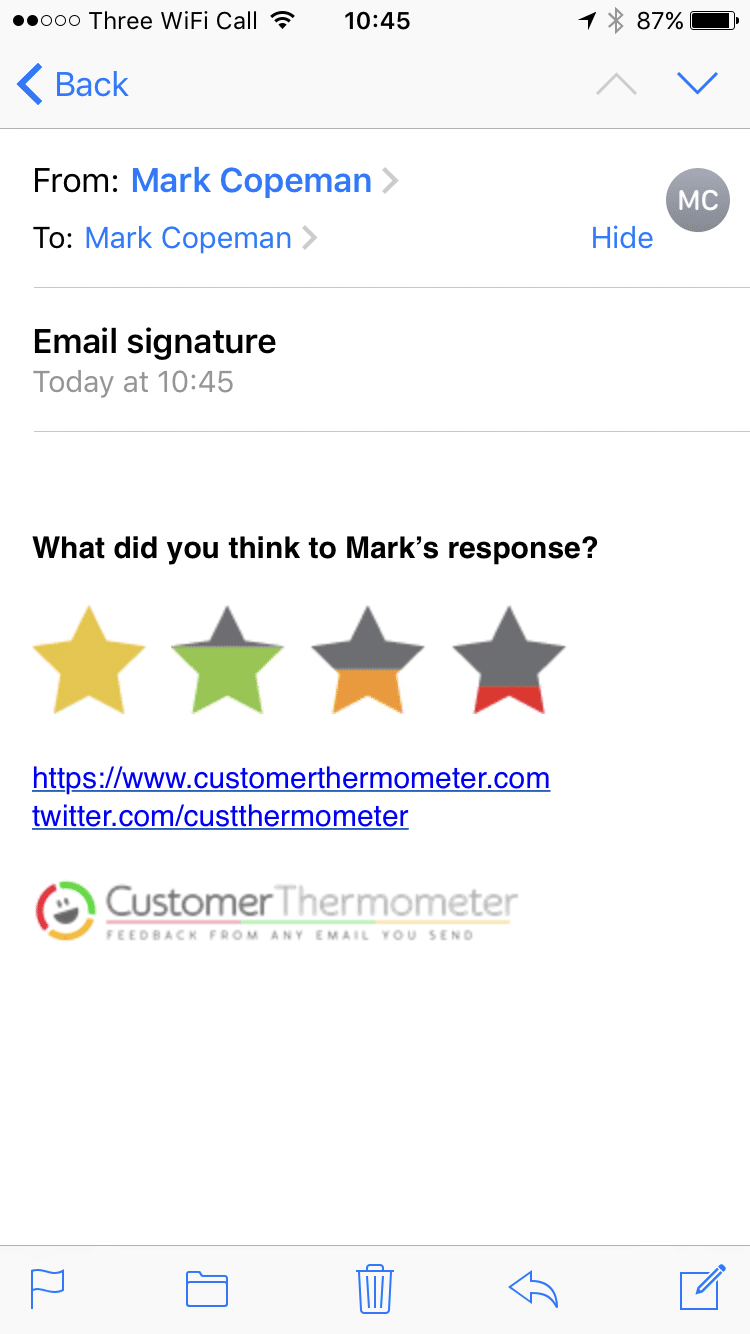 Getting feedback from your signatures
This technique will work for all types of HTML email signatures.
If however you would like more information on getting feedback from all types of email signature and emails in general, there are some links below to explore.
How to get feedback from Outlook signature surveys
Survey response rates using Customer Thermometer's 1-click feedback
https://www.customerthermometer.com/img/HTML-iPhone-email-signatures.png
248
710
Mark Copeman
https://www.customerthermometer.com/img/[email protected]
Mark Copeman
2017-04-20 11:47:45
2017-04-20 11:47:45
How to create an iPhone HTML email signature with feedback buttons