Some of your customers will be habitual users of review sites – most will not. Getting customer reviews on sites like Google, Yelp and Tripadvisor shouldn't be left to chance. There are ways you can influence customers to do just that. What's more, we'll reveal how to drive the most positive reviews possible.
How to get customer reviews
First think WHY and as well as HOW to get customer reviews. Review sites are highly trusted sources of insight from peer customers. Say a customer is planning on taking her family to a certain hotel. Review sites help her check out what other families experienced before she decides. For brands, having a good presence on review websites will help instill trust in your potential and existing customer base. The more positive these reviews are, the more they'll help drive revenue from new customers.
4 easy steps to getting more customer reviews
In this post we'll detail a foolproof strategy for maximizing positive customer reviews. To begin with, here's an outline of the steps to take.
Get a continual dialogue going with customers to collect their feedback

Automate the process of identifying positive customer experiences

Have a plan for responding to and following up customer feedback

Make it super easy to translate positive customer sentiment from privately posted comments into public review site submissions
Next we'll focus on each step in turn. To finish up, we'll cover a few extra tips for converting every possible customer review opportunity.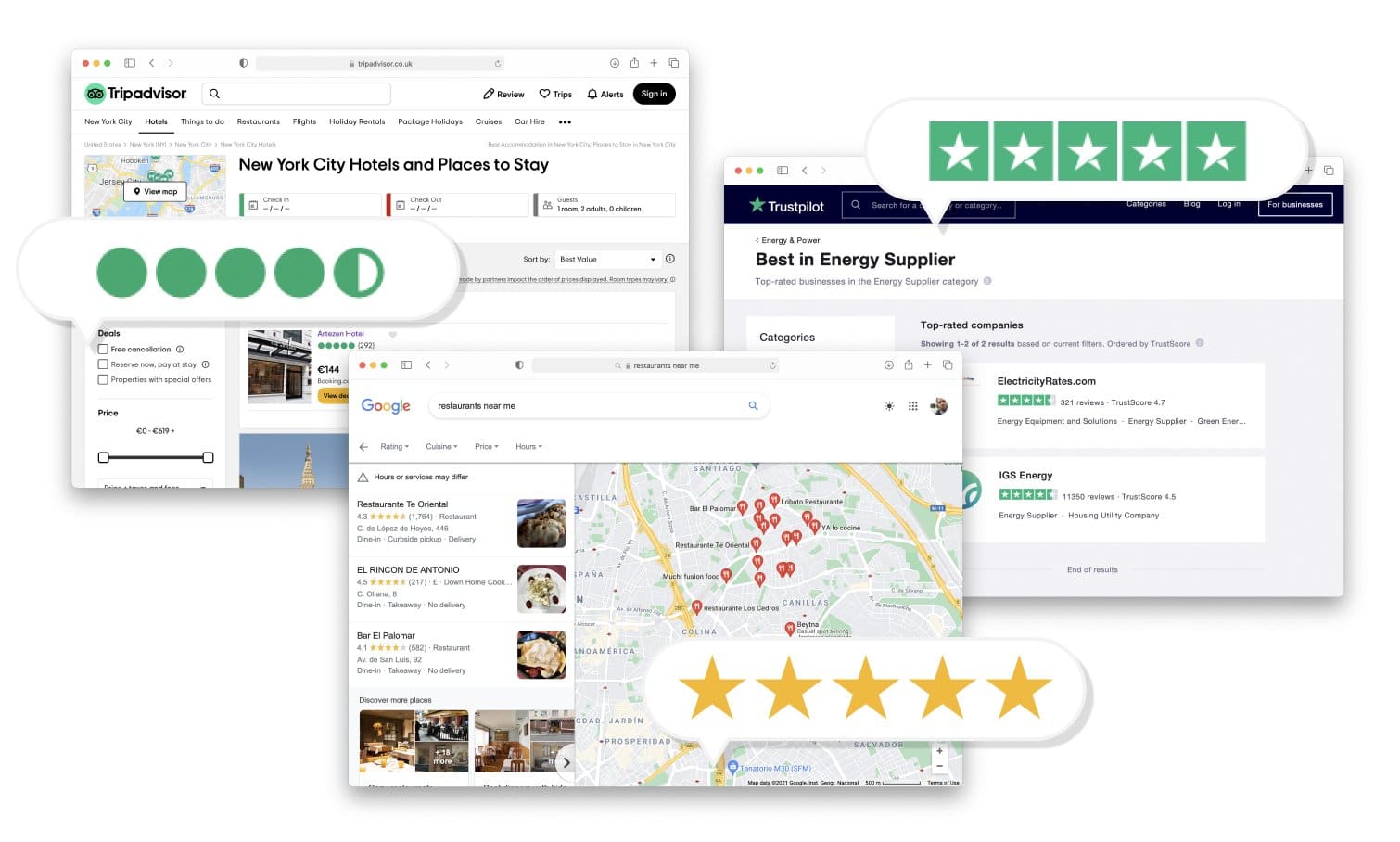 Build a lightweight system for gaining regular customer feedback
Organizations wondering how to get customer reviews should start by looking at their current customer feedback system. Are you regularly asking customers for feedback? And are you getting a good response rate on these feedback requests?
The power of Customer Thermometer has always been to solicit responses from recipients from within emails. Simple icons and a single simple question mean it's hard to ignore. If you make it easy to start a dialogue with a customer, inevitably they will be happy to engage and potentially give more.
Don't go overboard on big surveys with lots of questions. One is enough to deduce customer satisfaction. This approach nets the best response rates – many times higher than with long-form questionnaires everyone hates.
Automate identifying the most positive customer experiences
The trick here is how you fashion your feedback question and response options. Don't just ask for comments straight away. You need to categorize feedback responses first. For example, by using smiley face survey icons on a range from 'frown' to 'very happy'. This enables you to separate respondents into groups.
Monitor this closely and you'll be able to identify customers who have just had a great experience with you. These are what you need to focus on next.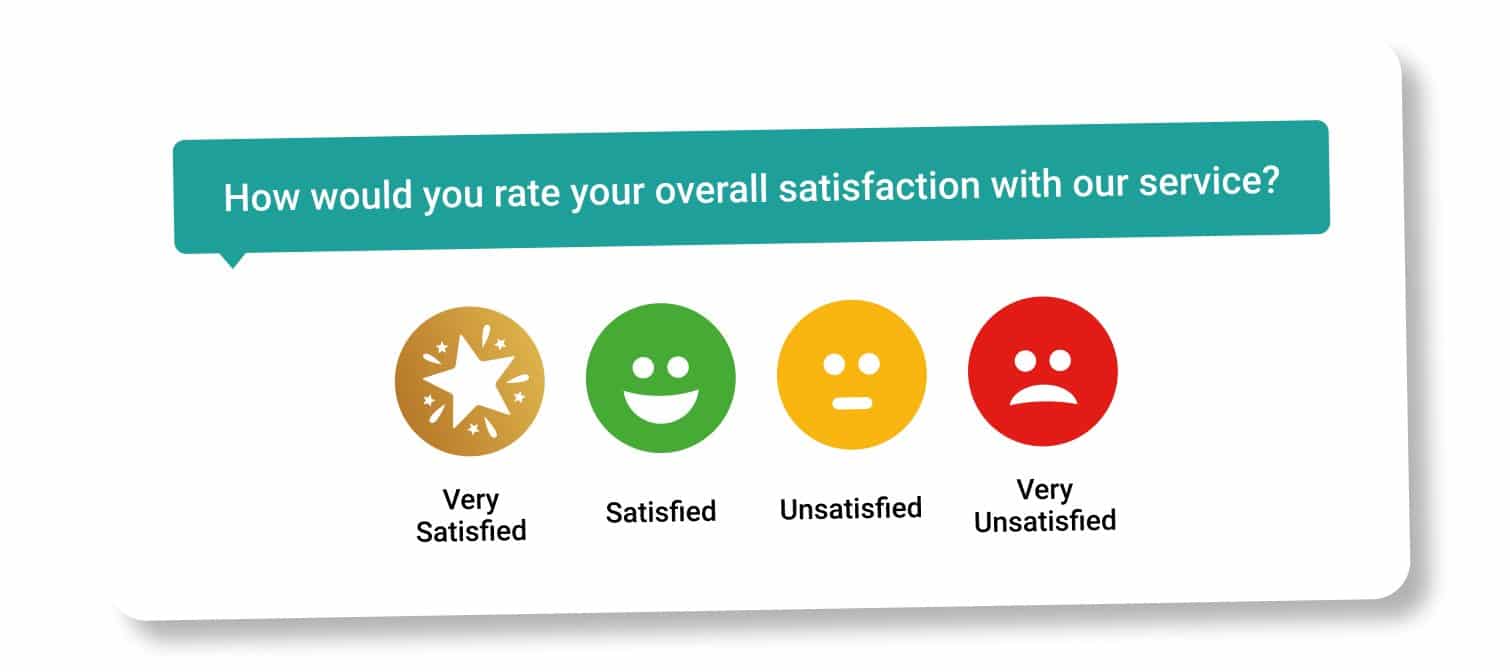 Action a fast pre-planned response to positive feedback ratings
An initial response or rating is valuable. It gives your business important feedback that you can and should respond to. To get customer reviews, you definitely need to do more.
We believe every customer who gives feedback qualifies for some form of response. For example, delving deeper into negative feedback gives you amazing insights you can harness for making market-leading improvements. Here, we'll just focus on responding to positive feedback only. 
You've just asked a customer for feedback on the back of fixing their difficult technical issue. They respond with a 10/10 gold star! So far, so good. In Customer Thermometer, the customer's response is logged no matter what, but they are also routed to a landing page for acknowledgement and additional actions. These landing pages are great for eliciting further insight and ushering customers toward leaving a review. Do this by:
Expressing gratitude for giving a positive review and telling the customer this is really helpful to keeping standards high. Everyone likes being thanked for their time. Make the most of this by branding the landing page appropriately and potentially including banners and links to your latest offers, news and campaigns.

Asking a second, follow-up survey question. If you want, you only have to display this for 'gold star' responses. It helps you get at the reasons behind their response. This is very helpful if you are looking to prioritize certain types of review; about certain facets of your product or service.

Asking for free text comments that allow the customer to tell their story. This could take the form of something like, "Tell me more about why your agent did so well today – we'd like to reward him." In the section below, we'll explain why this last option might actually be worth leaving off – depending on your chosen strategy for getting customer reviews.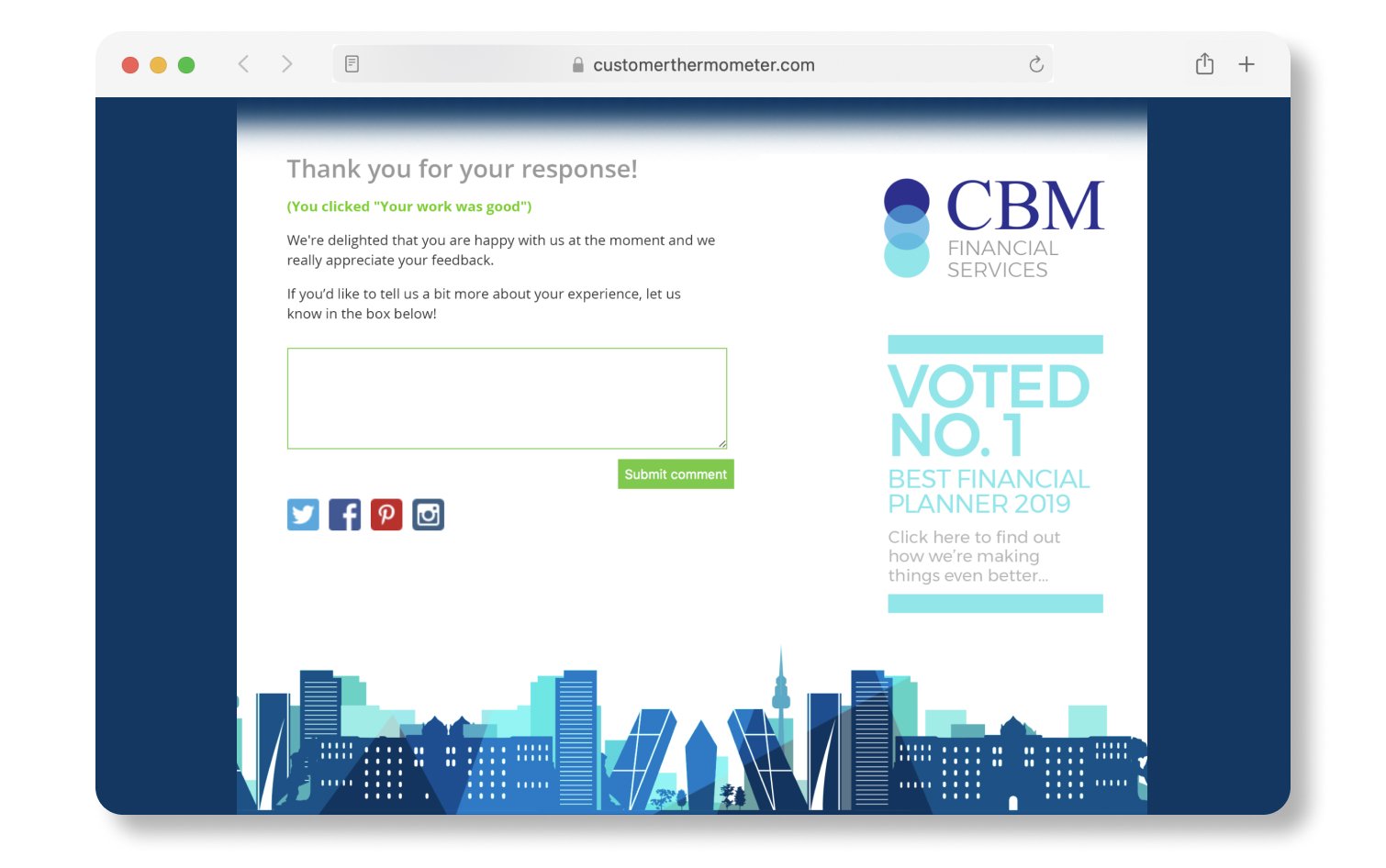 Make it super easy to leave a customer review
Everything your customer has provided so far is private feedback, between you and them. Strictly speaking, you shouldn't use any feedback for marketing purposes without permission, unless you plan to anonymize it. You certainly can't use it to post customer reviews because customers have to do that themselves!
Encouraging a delighted customer to tell the world about their experience with you can be tricky. The guiding principle to follow is: make it a natural and simple task.
In Customer Thermometer, there are two areas on the landing pages you can use to persuade someone to leave an online review:
The advert area

where you can impress upon customers the importance of customer reviews to your organization. This really can make the difference to customers who want to support you because you've done a great job for them. Be sure to insert links to relevant review sites so that it only takes them a couple of clicks. You could even briefly outline a simple suggested structure for a review so that they aren't slowed down by the task – and don't leave short one-word comments like "Good".

Social media icons

so that the process of broadcasting their experience is totally seamless – especially if you can give cues for them to tag your platform-specific company page or ID.
Customer review examples
Real estate customer reviews survey template example
Here, a realtor asks customers who initially respond with a top feedback score to leave an online review on Zillow or Trulia – specialist real estate consumer sites. You could include the icons with direct links and create an advert image encouraging recipients to go there. You might even offer an incentive if they did…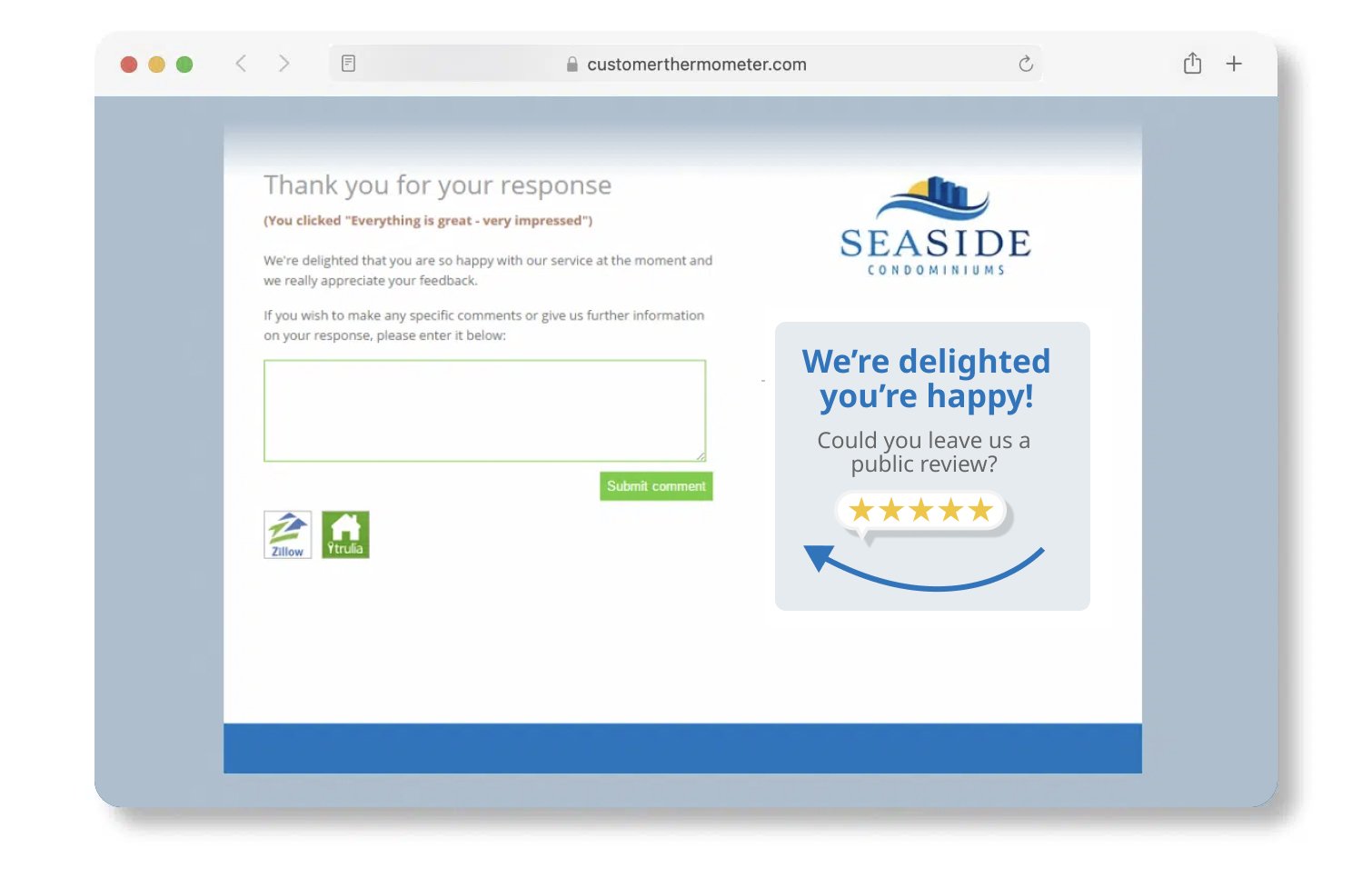 If you had a red response, it would be wise to remove these options. They will leave bad reviews on public sites if they want – why would you want to facilitate them?! However, you should encourage negative comments to be left privately, so you can find out more and learn from their experiences. This might even be the catalyst for changing their opinion of you by fixing their issue/s.
Hotel customer reviews survey template example
Hotels commonly ask for feedback from customers following a stay. Their approach could be exactly the same as with the realtor example above (in fact it could apply to any kind of organization). But this approach is different. 
In this example, the hotel has disabled the comments area. Instead, they've used the social media icons and advert to encourage a public review on Tripadvisor. It's a slightly different strategy, but one that avoids the customer having to repeat themselves and take longer at the task. The customer is effectively being prevented from telling their story on this page, and encouraged instead to go tell it on Tripadvisor instead! That could end up making the customer feel more trusted and empowered, and the result more likely to be expressed as a complete story rather than a few superlatives that don't have the same impact or insight.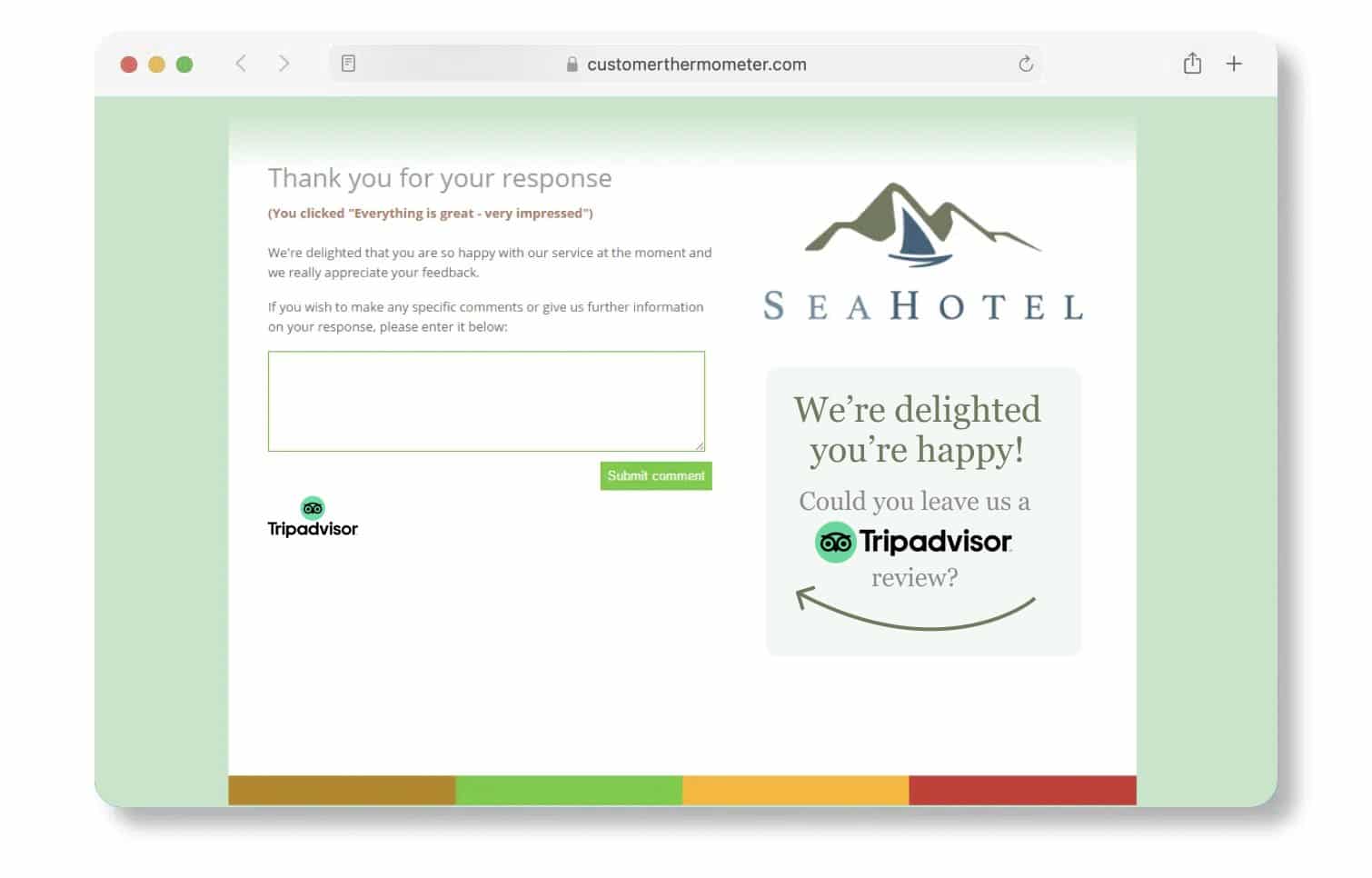 5 Tips for getting more customer reviews
Here are a few extra things to consider when targeting increased numbers of online customer reviews.
Prioritize a customer-centric culture with customer experience at its core
It sounds too obvious but we'll say it anyway. Giving a great experience tends to result in lots of good reviews. Make sure you are tracking CSAT metrics accurately, and publicizing third-party reviews and trending scores on your website so that reviews are front of mind with customers.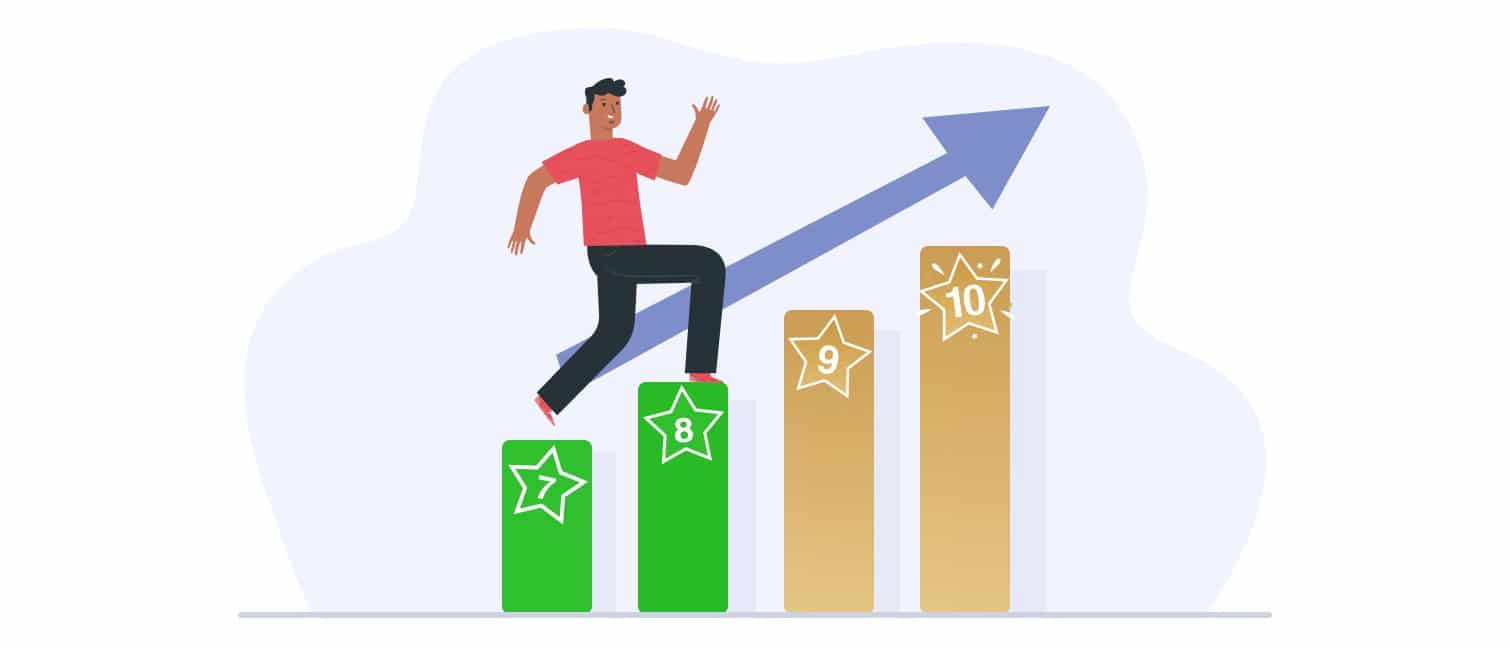 Track consistently high CSAT and NPS scorers and make a personalized approach
Identify people you know consistently think highly of you. Take the time to contact them personally to learn their story and ask if they could please relay this onto a review site.
Scour social media for customers leaving positive comments and reach out to them
A great email-driven feedback tool like Customer Thermometer should net a high response rate, but not everyone will respond. Instead they could be showing up on social media to air their views there instead. 
Look at past reviews and re-engage with customers who might want to update their stories
If they've posted reviews before, they're more likely to be regular reviewers than those who never have.
Offer incentives
We touched on this above, but it's worth suggesting a few ground rules. Firstly, offering cash discounts or credits might be risky as you could be seen as 'paying' for good reviews. Charitable donations might be a safer bet. In B2B, consider the benefit of offering free publicity. Small business customers in particular could be attracted to this, but it's something you probably need to discuss one-on-one rather than advertize. It would work by using your marketing power to link to their site and promote their reviews on public sites via social media and PR. 
Not using Customer Thermometer yet?
Customer Thermometer is an award winning customer feedback management software provider. Create a fully-functioning free account today to see why over 10,000 teams choose Customer Thermometer to get more happy customers. Sign up for a free account below or send yourself an example.
https://www.customerthermometer.com/img/Customer_Reviews.jpg
496
1420
Mark Copeman
https://www.customerthermometer.com/img/[email protected]
Mark Copeman
2021-08-06 15:26:20
2021-09-13 11:48:57
4 Easy Steps To Supercharge Your Customer Reviews