How to embed a Thermometer survey into your Outlook signature
If you are a Customer Thermometer account holder (Jumper account or above) and use Outlook (Office 2000 and above) for personal or business use, then you now have everything you need to add an Outlook email signature survey to your signature or footer.
Overview
If you've never used Customer Thermometer before – watch this first video.
We take you through the simple set up process and show you a few tricks to customise things further. We also show you how to create an Embedded Thermometer and then integrate the survey code generated into your signature.
Quick guide to building an Outlook signature
Following on from the video demo above, we're going to assume that your Outlook Thermometer and Landing Pages are set up.
Let's now take a look at creating your Outlook signature Thermometer within Outlook itself.
Firstly, click the "Generate HTML" button as shown below:

You will then see the following screen pop up: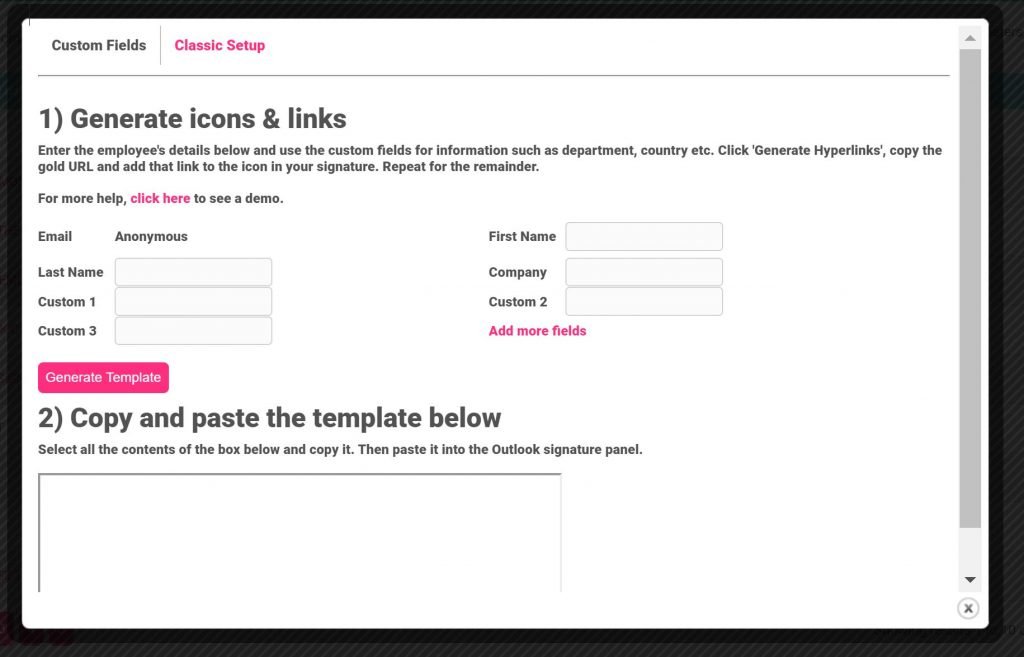 To create your signature – follow the steps showing on that popup. We go through them now below:
1 Add your sender's details
Enter your sender's name and email address in Custom 1 and Custom 2. You could even pop the department name in Custom 3 if you wish.
For example: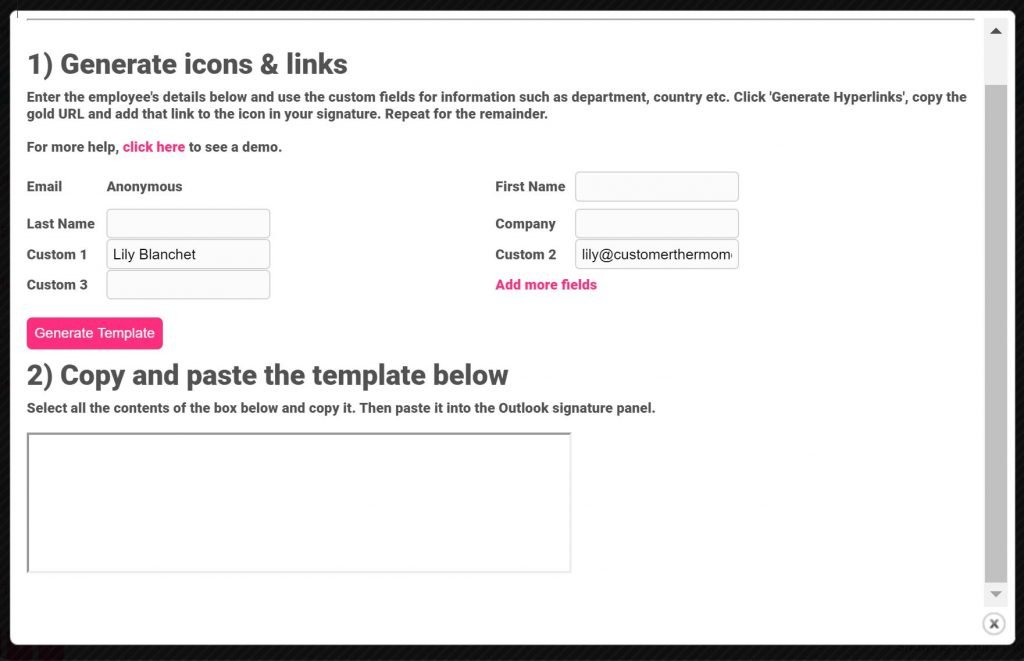 2 Generate your signature
Click "Generate Template" and your survey will appear. All you need to do now is highlight the survey and copy it. Then follow the steps below in Outlook.
3 Create or edit your Outlook signature to contain your survey
To create a new signature or edit an existing one, firstly, create a new message within Outlook.
Next, you can select signatures from the Insert menu: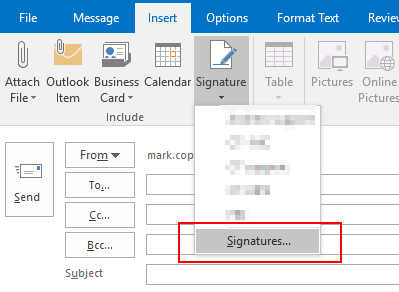 Once inside the Signatures dialogue box, either create a new signature or edit an existing one.
Then simply paste in your survey – don't worry your response links will be attached automatically.
Don't forget to set your signature defaults on the right-hand side and then you're done!
You can also add icon descriptions if you like.
Once your first signature has been generated, you can create your next colleague's tracking links by changing the two fields shown above (in custom 1 and 2) to contain your next colleague's details. Click the "Generate Hyperlinks" button again, to generate a new unique survey for team member #2. These will then be specific to that agent.
Option: Prompt for email address.
Outlook Thermometers are initially anonymous. This is a physical limitation of Outlook itself – the signature file is static and cannot contain variables to integrate recipient information. It is now possible to prompt for an email addresses following a click.
You can choose whether you would like to enable this per Thermometer. By default, it is disabled.
Visit the landing page set up tab and scroll down the page – you'll see section ii.i):
In this section, you can customise the prompt text for your tone or language.
You can also customise the Comment prompt – ensuring a recipient knows they can leave a comment – even if they choose not to leave their email address.
Once a user then clicks – this is the first screen they'll see: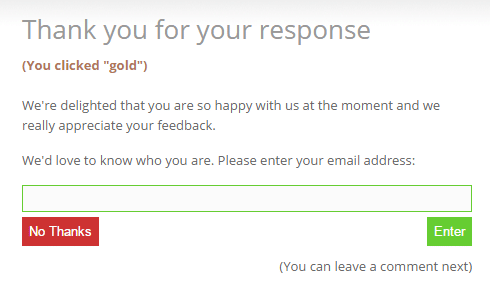 If they choose No Thanks, the comment box will then be displayed (if enabled).
If they enter their address – this will show next to their response within your reporting.
If you'd like to learn about how email alerts work for Outlook please click here.
Any questions please email [email protected]