NPS Closed Loop Feedback Planner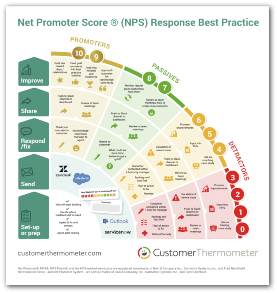 Measuring your Net Promoter Score (NPS) score is one thing, but it's acting on the scores you get that make all the difference.
The Harvard Business Review has shown that across a number of businesses, both NPS and revenues increase when the customer feedback loop is actively closed.
But how should you close the loop? What actions should you take in the face of harsh criticism from a Detractor? And what are the best things to do when a Promoter showers you with praise? We've collated the best ideas and practice into this handy planner
What will I get with the NPS Feedback Planner
Have simple, delineated steps to source feedback, respond to it, share the learnings, and improve your processes off the back of the feedback
Have a clear set of agreed-upon actions and SLAs within your team or business for every kind of feedback. If a customer is unhappy you will have an immediate guide as to how to respond to them to rectify the situation. Service Recovery is an important part of increasing customer loyalty.
Be able to leverage positive feedback to generate happier teams, more case studies and testimonials and better online reviews
Despite the plethora of surveys in the world, very few companies actively fix issues or reach out to thank people for their feedback. By using our planner and acting on the feedback you get, you will generate exceptional word of mouth, and hear from more customers, more often
Have a common framework you can brainstorm with your team to build a Closed Loop program from the ground up, building and iterating over a monthly and quarterly basis
Create a common language around your NPS program that everyone understands
Set expectations for customer response timescales, tone of voice and approach. (If you want to embed these processes into your business our Closed Loop feature can do just that – find out more here…)
Don't already have a Customer Thermometer account?
Sign up for a free trial and get 10 free surveys & 100's of free resources