Set Up An NPS Survey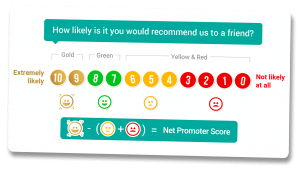 You've decided you want to measure Net Promoter Score, or NPS. Or perhaps you've been trying to measure it for a while but response rates have been too low. In this post we'll show you how to set up an NPS survey your customers will love to engage with.
Gathering NPS data is the first piece of the puzzle. You have a couple different deployment options from within your free Customer Thermometer account. Once you select your the NPS survey you like, you can then choose where you want customers to leave you feedback. It couldn't be more simple to get started.
Set up Your NPS Survey Today Create a free Customer Thermometer account (No credit card required – Fully functional account). Set up an NPS survey and discover why over 10,000 teams choose CT to track, measure and improve their NPS program.
What is NPS?
NPS stands for 'Net Promoter Score®'. It measures how much loyalty the person you asked has to your brand. Or put another way, it's a customer loyalty metric. Many thousands, if not millions, of organizations use NPS. It all stems from asking customers a simple, single question along the lines of:
On a scale of 0-10, how likely are you to recommend X (to a friend or colleague)?
All the responses received to this question get used to arrive at an overall score, representative of the loyalty of your customers. As new responses come in, the NPS score can be recalculated and will show fluctuations and trend over time.
What is the NPS survey question?
The question you ask for NPS measurement is a variation on the following: 
"How likely is it that you would recommend our company/product/service to a friend or colleague?"

You might choose to word it differently. For example, substituting "friend or colleague" for just one of those or an alternative. But the gist is always the same. You're trying to qualify how many 'promoters' versus 'detractors' are in your customer base. Basically, your NPS score will tell you if your customers will help you grow your business by promoting it to others, or do the exact opposite and stop people from trying your product or service. 
NPS survey templates
NPS is supposed to be really simple. There shouldn't be lots of different survey templates for such a simple question. But you can tailor how customer responses are collected with Customer Thermometer. Take a look at some ideas for NPS survey questions.
When gathering NPS data, there are essentially 2 rating systems you can use:
The classic 0-10 NPS rating scale. The most common choice for measuring NPS scores.
A simplified CSAT 4 point rating scale that also maps against the 0-10 NPS rating scale. This is for people who want to track CSAT and NPS at the same time.
Want to see an example for yourself: Send yourself an example
How can I send my NPS survey?
Once you've chosen your question and response rating option, it's time to consider the distribution method. You have 4 options for deploying your NPS survey, each will have pro's, cons and best practices.
Email blast
You can send an email blast to your customers with an NPS survey question (On a scale of 0-10, with 10 being the most likely, how likely are you to recommend us to a friend or colleague?") embedded right within from the body of the email message. This helps drive up the response rate as the customer can click from directly within the email they receive. They are incredibly simple to set up, totally configurable and can alert you to unhappy customers in real-time.
Embedded Signature surveys
If you're regularly emailing your customers from Outlook or Gmail, you get get a regular pulse of feedback from the email signature area by adding the NPS feedback surveys so they're always part of your signature. This is an excellent way of getting a steady stream of NPS feedback and shows how much you care about your customers as you have a visual representation of it in every email you send.
Embedded on website
By adding a simple pop-out window or side section to your website, you can easily gather NPS feedback from visitors to your website. This will allow you ask different questions – either NPS feedback surrounding your customers' purchase experience on your website, or the quality of the information provided. You can also ask more general NPS questions about the company or brand.
On-site tablet feedback
Many in-person events offer the opportunity to gather NPS feedback. If you offer training courses, run events, offer hospitality services or break-fix services on-site, these all represent excellent opportunities to get NPS feedback from customers at the exact point they are transacting with your business.
Whichever way you choose, customers will appreciate it if you make the NPS survey process fast and easy. Keep these guidelines in mind when you are deciding on your NPS survey:
Embedding NPS questions into existing email communications where applicable
Using an attractive and engaging template design that aligns with your brand
Employing visually appealing and immediately understandable response icons for your 0-10 NPS scale
Allowing customers to complete the survey via a simple 1-click process
Using that single click to activate a redirect to a landing page with thank you message and optional follow-up questions (and supporting information/links)
Set up your NPS survey
Creating an NPS survey is the first step in getting NPS feedback which you can then use to identify keys areas of growth. We will take you on a guided step-by-step walk-through how you can do this with Customer Thermometer for free. Once you have got a free account (sign up below) follow the steps to start measuring and improving your NPS score (the whole process only takes a few minutes).
Set Up Your NPS Survey Today Create a free Customer Thermometer account (No credit card required – Fully functional account). Set up an NPS survey and discover why over 10,000 teams choose CT to track, measure and improve their NPS program.
Step by step guide to creating an NPS survey
Once you have your free account. Log in and follow the below steps or have a play around in the intuitive survey builder.
Add New Thermometer
Select 'Add thermometer' from your account screen and choose how you want to send your survey. This selects the necessary steps for your delivery method.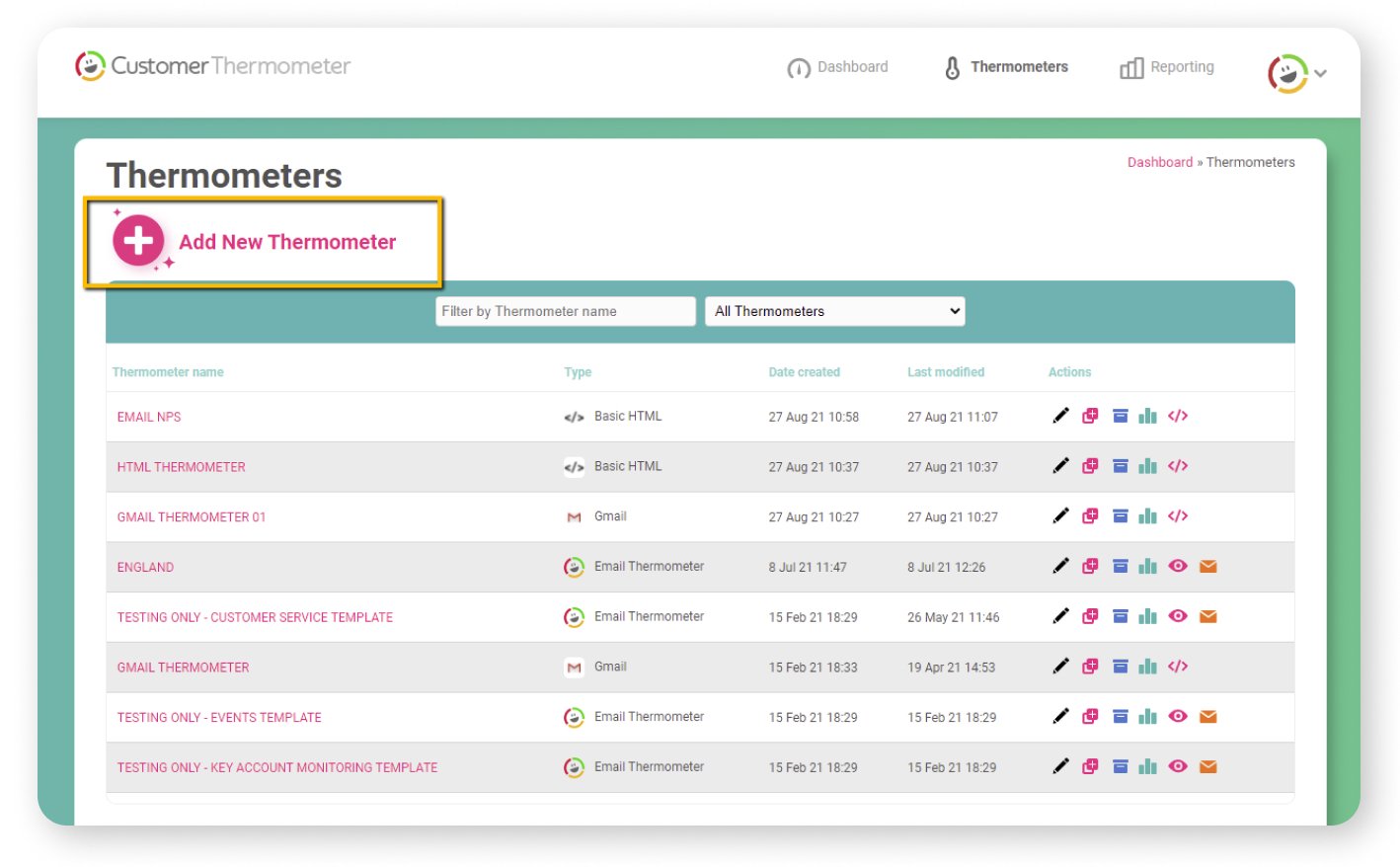 How do you want to collect NPS data?
Next, select how you would like to collect NPS feedback. You have a few options here. Embedding within an email or helpdesk tickets are some of the most popular deployment methods. You can embed it on your website or send out an email blast to a list (you can either do this yourself or let Customer Thermometer do it all for you).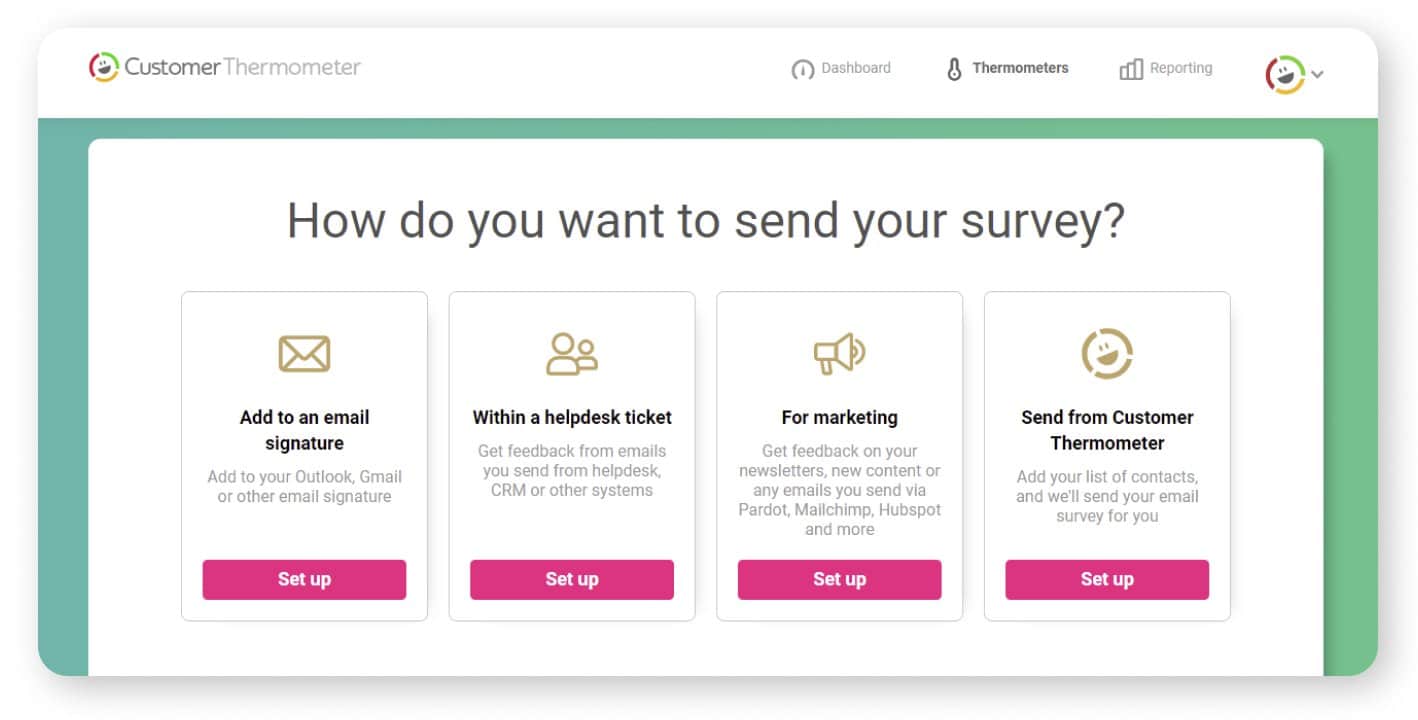 Choose your app
Next, select what you'd like to measure. This informs the rating system presented to customers when they give feedback.
Then, choose what app you're launching from. This step isn't included if you're asking CT to distribute the survey for you.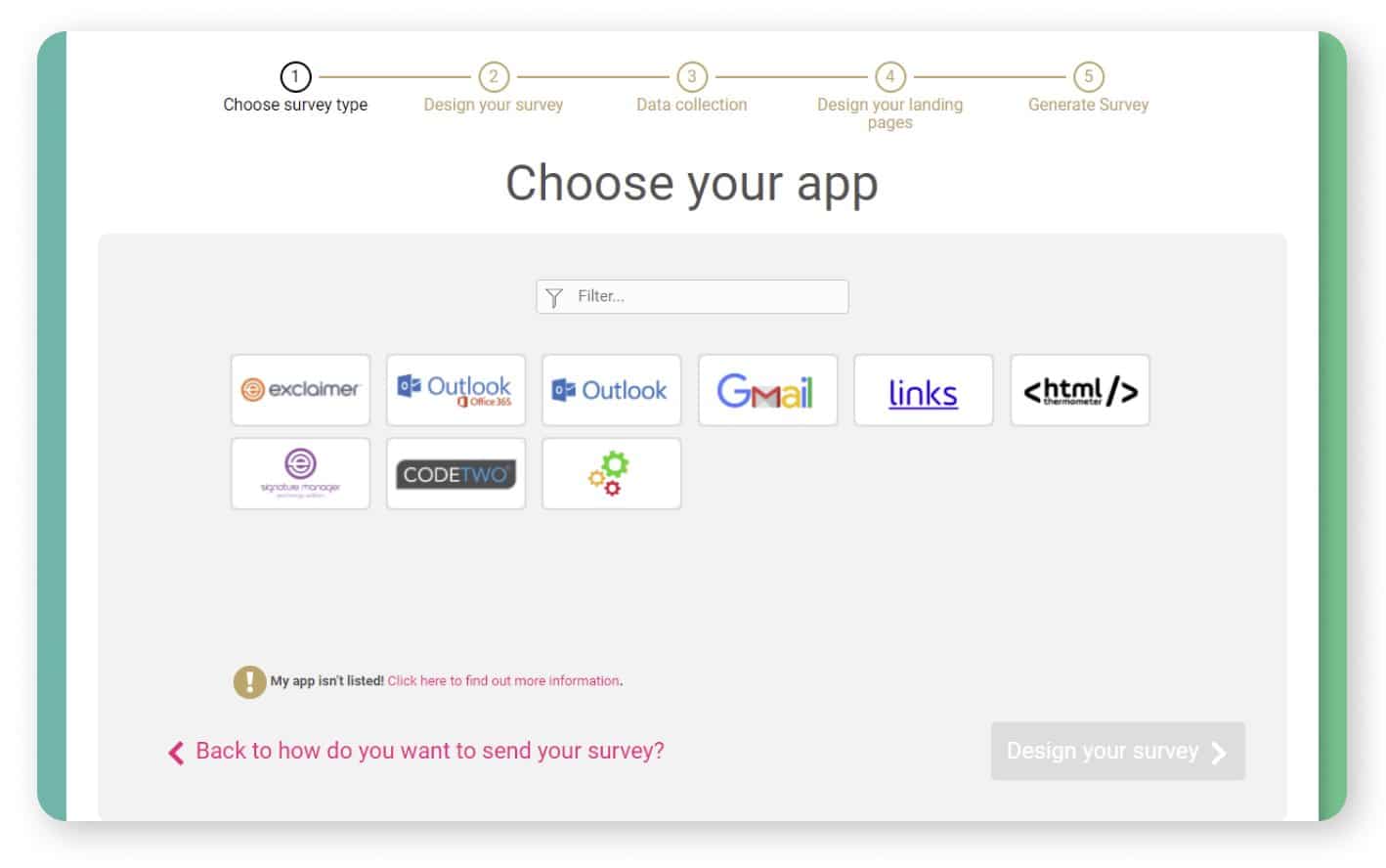 Design your NPS survey
First, give your NPS survey a unique name so you can save it and come back to it later. 
Next, choose an icon set. We've got quite a few to choose from. Or you could upload your very own on-brand custom icons (here are a few for inspiration!)
Check out our NPS question examples for some ideas.
You're able to edit icon descriptions if you want too. This isn't applicable for NPS surveys using the classic 0-10 NPS scale. 
However, adding some bespoke instructional or thank you text is recommended. This goes alongside how the NPS rating scale appears to the customer. You can even choose from a range of fonts.
Lastly, don't forget to preview your NPS survey design so you can see what it will look like.
Assign NPS survey data fields
This is all about setting up your reporting dashboard to show you the data you want. The Customer Thermometer builder lets you pull through data fields from your chosen third-party platform. For example, if you are using Zendesk data variables for things like email, first/last name and ticket ID. You can have up to 10 custom fields. That means you can collect up to 10 identifiable pieces of customer data.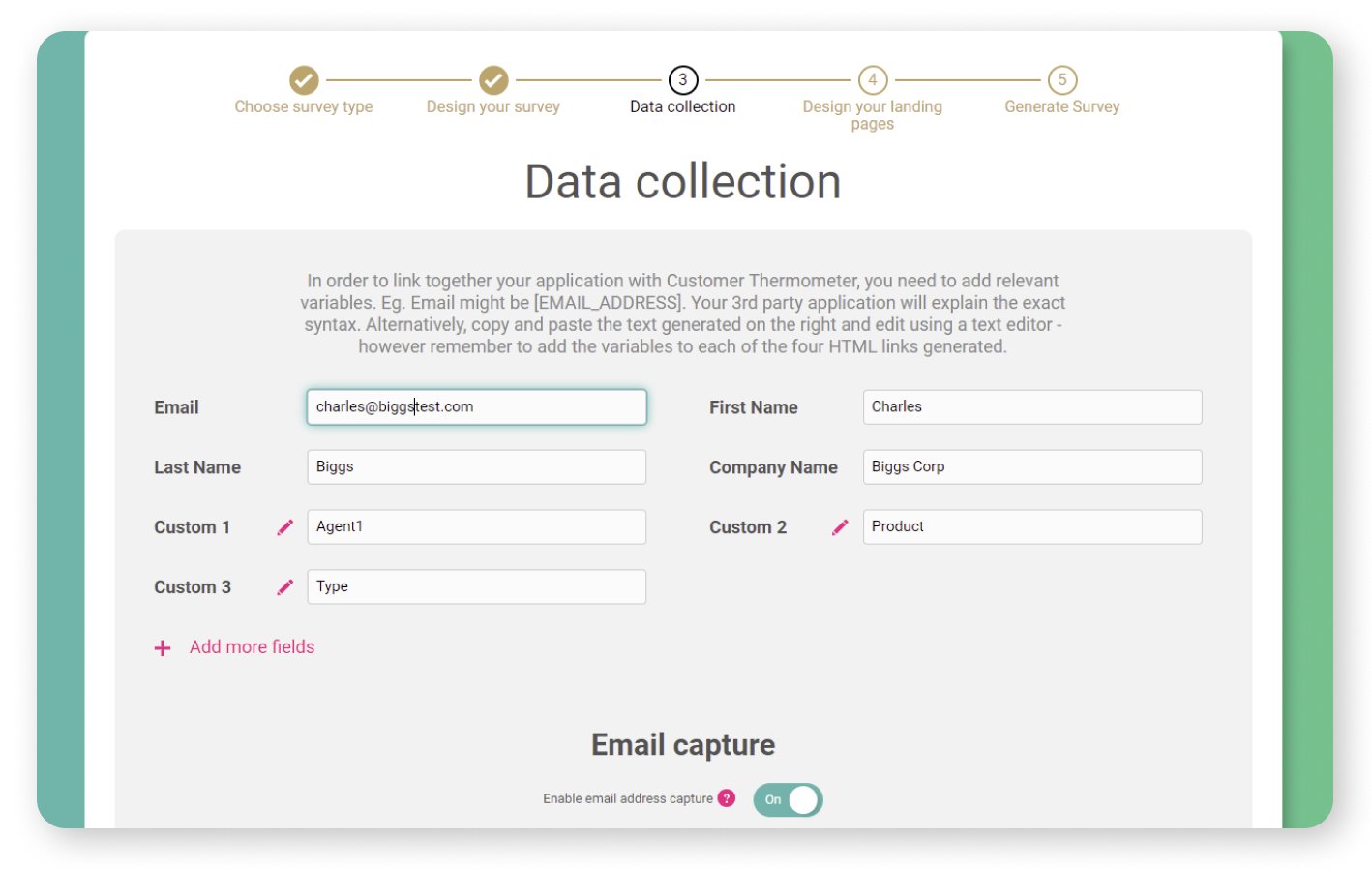 Next, select a feedback lockout period – if applicable. This is a block on allowing the same recipient to give another NPS feedback score within the time period you set. 
Choose email notification preferences
Finally, enable email alert notifications. NPS data will be collected all the time, but this is handy for routing alerts for certain scores, e.g. 10/10 or 0/10.
Design your NPS landing pages
Fielding NPS responses send customers to the NPS landing page. This validates the receipt of their feedback and is an opportunity to say thank you.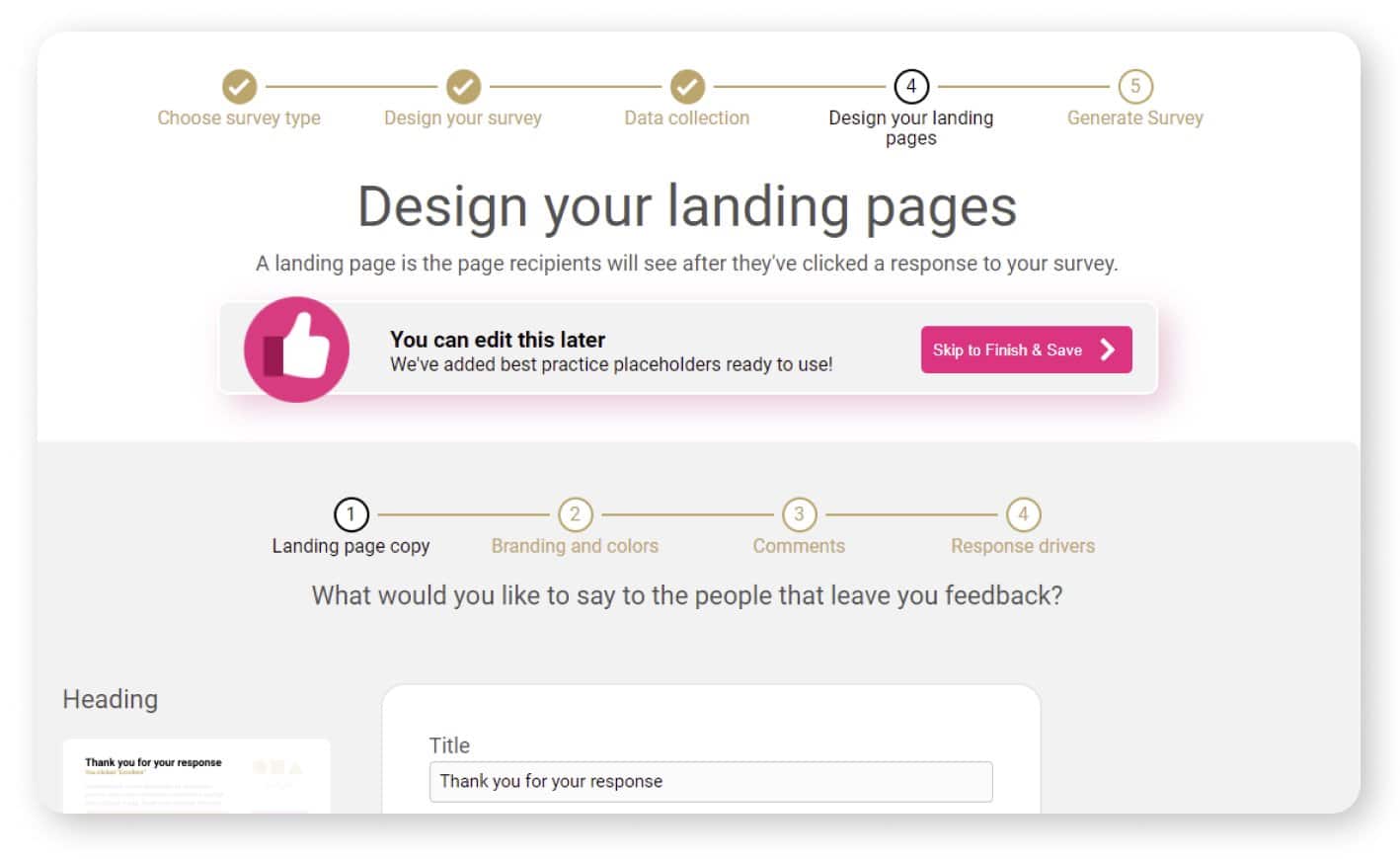 There's an awful lot you can do with NPS landing pages. Some of which include:

Giving tailored messages depending on what NPS score the customer left

Enabling look and feel consistency between the NPS email and landing pages

Customizing design for alignment with your brand logo/colors

Supporting relevant promotions (e.g. encouraging Google reviews for high NPS scorers)

Connecting social media links
Identify underlying NPS drivers and stories
Get to the reasons behind NPS scores by using landing pages to collect comments and even ask supplementary questions. Customer Thermometer supports both. 
The first is simply adding a comment box so that respondents can articulate more about their NPS score. Not everyone will complete the box, and analysing free text is a manual process that's hard to scale. But it's worthwhile because of the extra insights it gives you.
By way of supplementary questions, CT has a 'Response Drivers' feature to uncover reasons behind the responses people give. It works by setting up a likely list of 'reasons' for a given response. Let's take, for example, someone giving a score of 5/10 in response to an NPS question about your hotel booking service. The extra question might simply ask why the substandard rating was given, and offer options like 'Speed', 'Choice' and 'Clarity'.
Deploy the free NPS survey you have just created
You can either send it by embedding it using the universal method or use one of our out the box integrations (Over 70 native integrations).
Another method is to send out your NPS survey through an email blast… There are plenty more options you can choose to send your NPS survey. The world is your oyster with Customer Thermometer.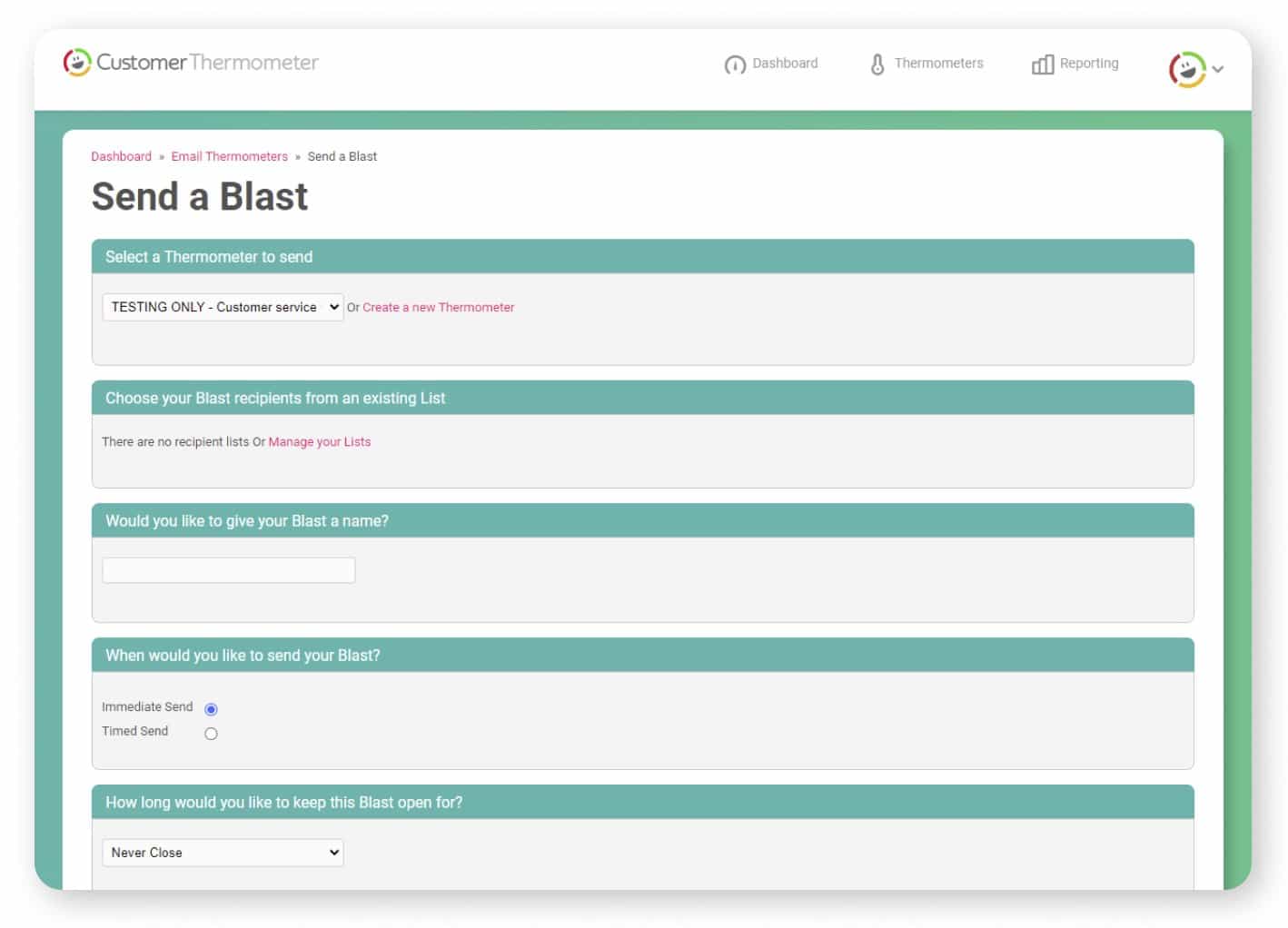 Test, Test, test… And start today
The final action before launching your NPS survey is to send some test emails. Also, visit the landing pages for yourself. This should give you the confidence to hit 'go' knowing you've covered all the bases.
Then all that's left is to look out for the alerts you've set, and keep an eye on the results dashboard.
Browse our NPS topics for more advice. Like this one on how to improve your NPS score… Or have a look at the ultimate guide to NPS.
Create a free Customer Thermometer account (No credit card required – Fully functional account). Set up an NPS survey and discover why over 10,000 teams choose CT to track, measure and improve their NPS program.