We're thrilled to announce a major widget revamp! Now there are 8 new ways for Customer Thermometer users to publish their real-time feedback stats to the world. 
Customer feedback widgets for your site and socials
Being transparent about your customer feedback process and showing you love customer feedback are hallmarks of a customer-centric culture. Using widgets to reflect live feedback metrics helps:
Demonstrate to customers and prospects that you listen to feedback and act accordingly.
Show you welcome all kinds of feedback and apply it to continuously improve. 
Reflect your self-confidence and commitment in service levels and customer care.

Build reputation and word of mouth. 

Remind everyone how much you focus on delivering a great service.

Inspire employees to achieve great things for customers.
If you're not using widgets already, then get going with these. Or if you are, refresh your look with different data visualization styles.
Customer feedback widgets that are easy on the eye and simple to set up!
Setting up any of our gorgeous new customer feedback widgets is extremely simple. Just choose the widget you want to generate, set a few parameters and copy the HTML code to wherever you want to embed it. They can go on your site, a dedicated feedback page, or social platforms like Facebook.
You can play around with text color, borders, titles and so on to make your design unique. All feedback is anonymous for data protection purposes.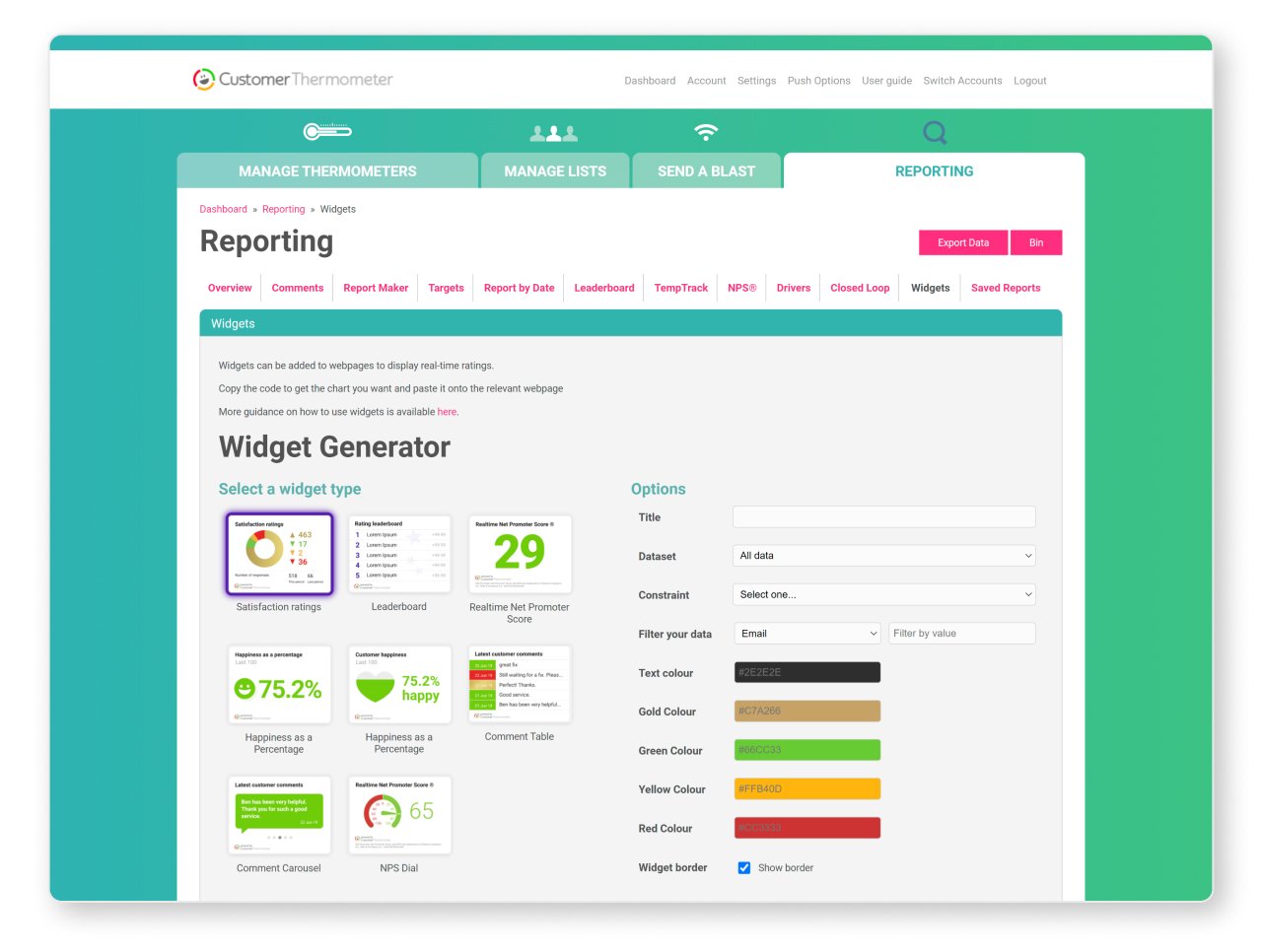 Meet our 8 new widgets to fire up your customer feedback game
Without any further ado, say hello to our luscious lineup of embeddable, real-time customer feedback graphics.
The heart-full of customer happiness widget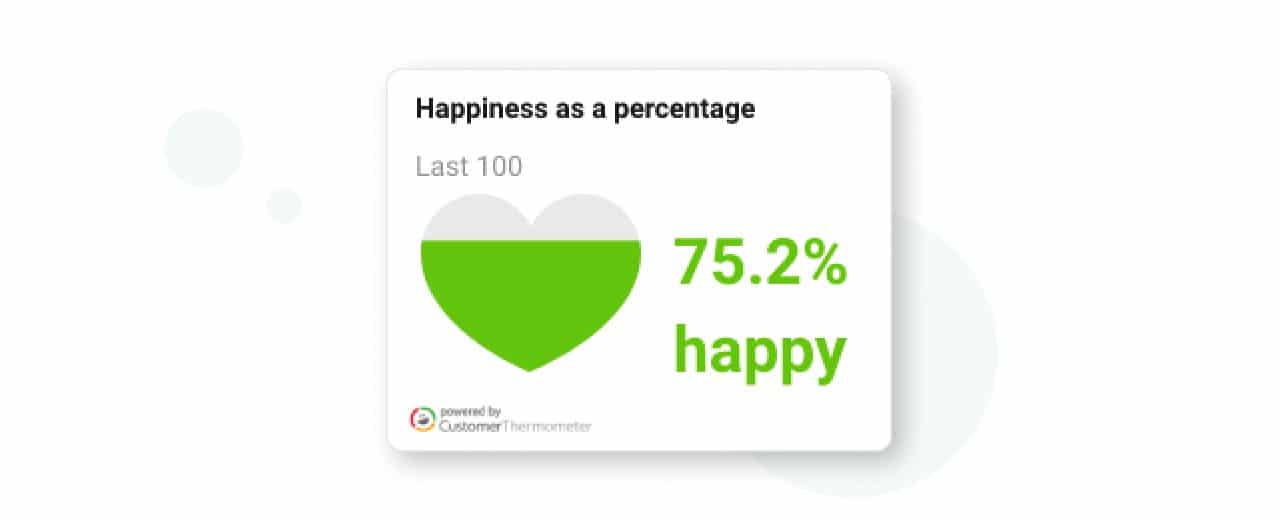 When it comes to customer happiness, everyone's target should be 100%. This widget visualizes your trending customer happiness factor based on your latest 100 responses. The higher it goes, the fuller the heart gets with love! The rating itself is displayed prominently alongside.
Check out how we calculate happiness factor.
The NPS® speedometer widget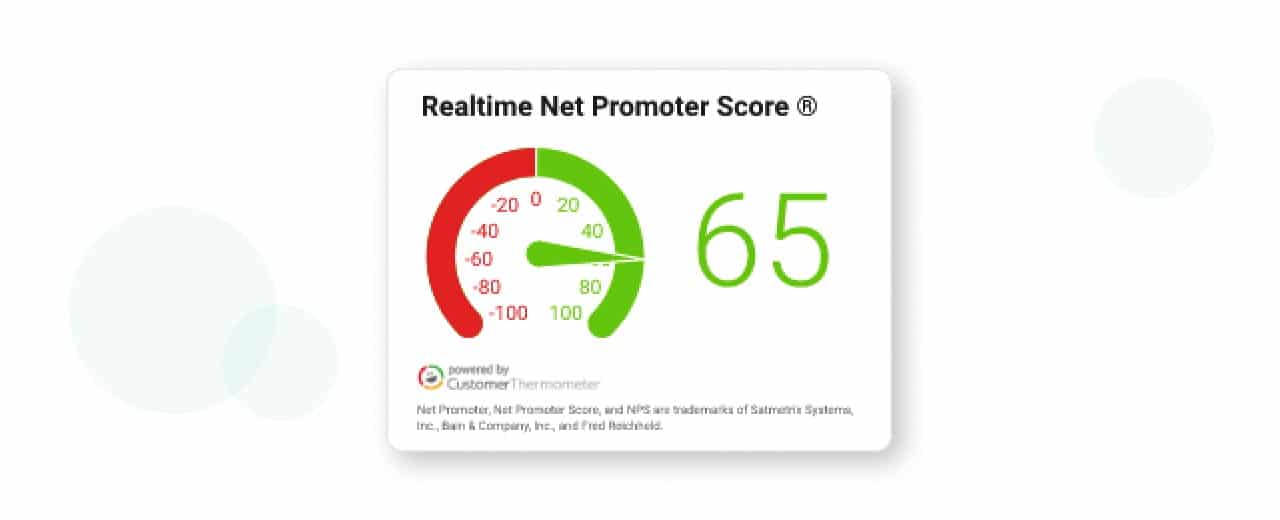 As any student of NPS knows, NPS scores range from -100 up to +100. This widget shows the whole dial with positive in green and negative in red. Each new NPS response you get recalculates your overall NPS score and updates the widget in real time. 
Check our tips on revving up your NPS engine.
The golden ring of satisfaction summary widget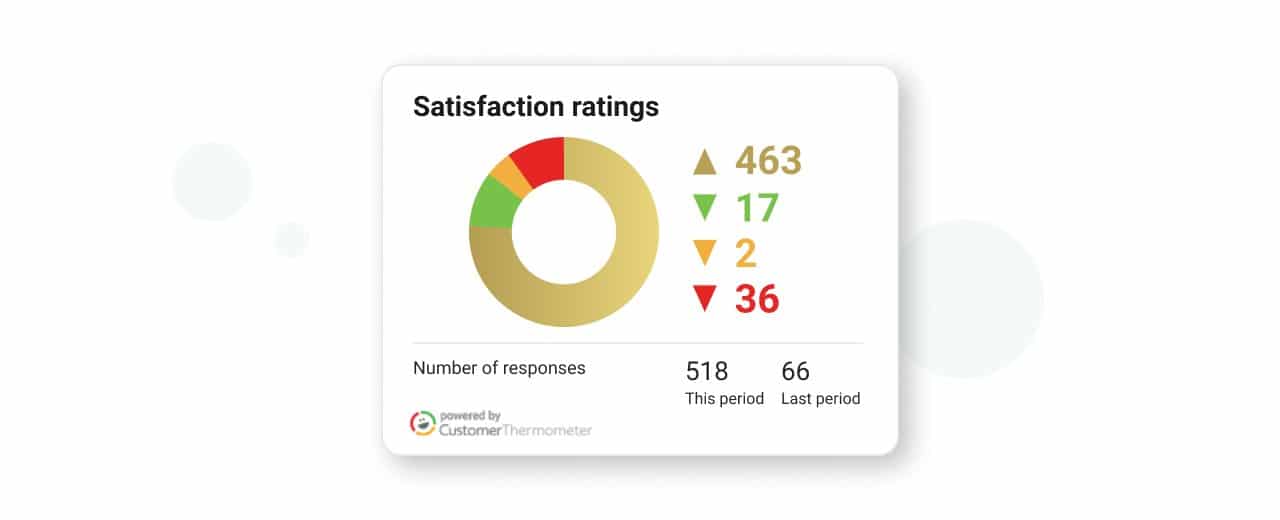 Want everything summarized in a single widget? This is the one for you. The layout shows all your feedback responses as colours on a ring. In our example, gold is best and red is worst. Actual figures are tallied and totalized alongside so you never miss anything.
Read up on our 18 top questions for determining customer satisfaction.
The customer comment slider widget
Customer comments give you lots of extra value beyond customers simply choosing a response. The widget auto-populates with your 5 latest customer comments on a slider that visitors can advance ahead or leave to rotate on its timer. We like this option because it gives maximum space for comment texts to be read. 
Here's our 4 easy steps to supercharging comments into reviews.
The "big smile" happiness percentage widget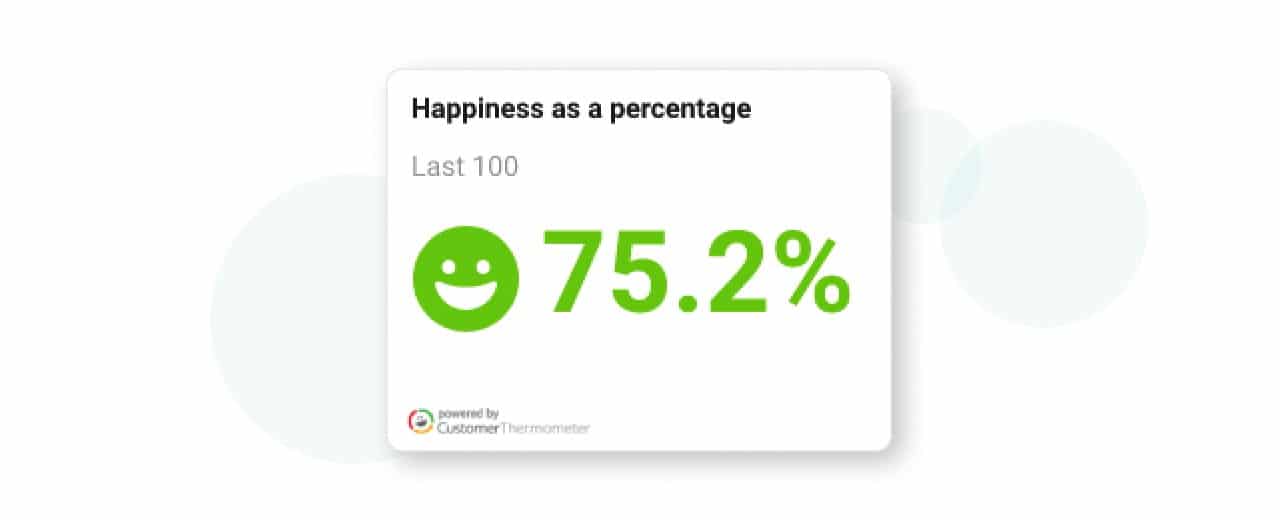 This is a variant on the customer happiness factor we love so much. Instead of majoring on a heart graphic, this widget is all about the raw percentage. Plus we've added an unmistakable smiley face to make it immediately obvious what's being shown.
Find out more about why smiley faces are so successful in eliciting customer feedback.
The stars of support leaderboard widget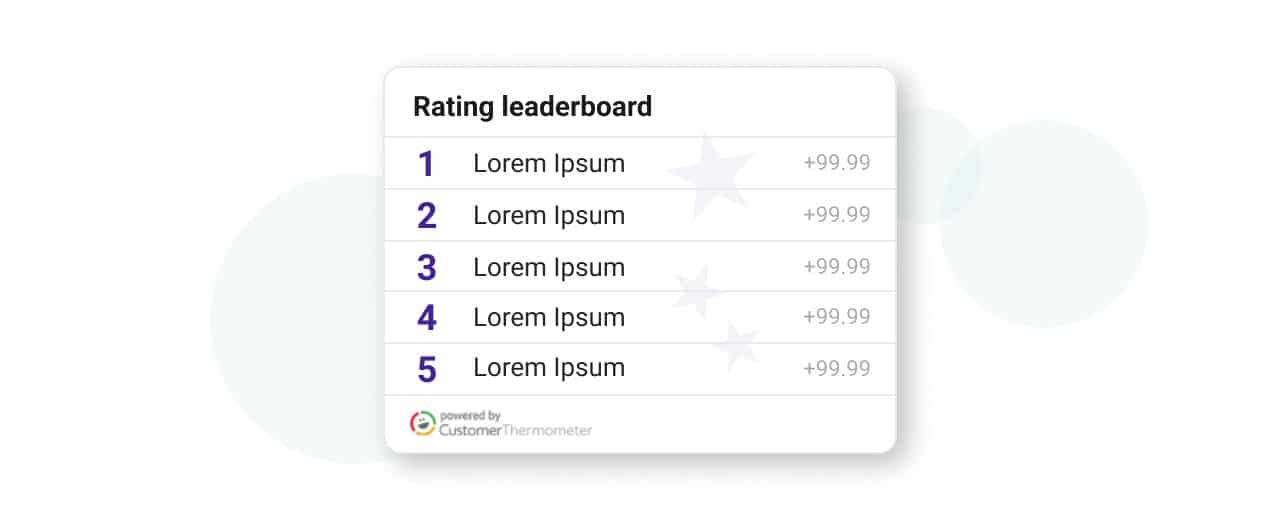 This widget shows off the stars in your customer-facing teams by displaying ratings in the form of a leaderboard. This one might be best suited to publishing internally, but it works just as well on public and external sites too. Depending on how you set up your Thermometers, you can auto-rank individuals or teams according to their feedback performance!
Check out our tips for magicking an ace customer support team.
The listing lineup of customer comments widget
Back onto the subject of customer comments, this widget enables an alternate view of recently received feedback. The widget shows 5 at once, color-coded to give an at-a-glance reading of customer sentiment. There's less room on this widget to show longer comments, but more room to get a sense of what's trending.
Ever wondered how many different ways there are to give customer feedback? Here's 41 we found.
The big fat NPS score widget
NPS is all about the number, which is why this widget shows practically nothing else. If your NPS score moves a digit, this beauty gets updated in real time. It will even change color between negative and positive scores. Simple, effective and rather lovely. It does the job.
There's lots more to say about NPS. Read our ultimate guide to NPS.
What to do next
If you are an existing customer, you can use them right away or get in touch to see how you can use them
For new customers: start a free trial and start using these widgets today!
https://www.customerthermometer.com/img/Blog-5.jpg
496
1420
Gavin
https://www.customerthermometer.com/img/[email protected]
Gavin
2021-10-20 16:48:07
2021-10-26 11:18:36
8 new customer feedback widgets to show off your real-time results