Despite so much information at your fingertips, travelling to a conference can still be an extremely good use of time and money.
Nothing beats getting out there and speaking to people if you want to learn about best practice and see what's new in the world of CSAT and customer service.
Unless you are a serious globetrotter, you're unlikely to make it to all 10 of the must-see customer service events on our list this year. We just figured – with customers spread all over the world – we'd include something for everyone.
The Service Desk & IT Support Show (Jun 5–6, London, UK)
While SITS isn't solely CSAT event, it offers plenty to learn about in terms of optimising the interface between organizations and their customers. For any business providing IT-related services, the help desk is central to good customer interactions.
Today, that qualifies pretty much every digitally-enabled enterprise, which is why the likes of AirBnB, Netflix and the Clydedale & Yorkshire Banking Group star in the speaker line-up.
The event is also run concurrently with the Professional Service Management awards, taking place at a glitzy Park Lane hotel at the end of day one. You can also see Customer Thermometer at SITS, we'll be on booth number 950.
Customer Insights & Analytics Summit (Jun 7–8, Barcelona, Spain)
Delving deep into subjects like customer intelligence and data visualisation, this event takes a far more practical approach than many of the 'high level / strategic' ones on this list.
The speaker list also looks impressive, with senior customer insights professionals from eBay, Barclaycard and EY all presenting.
But it is the presence of GDPR as a key discussion topic that stands out, with the event coming just two weeks after the regulation hits. Many in the industry are keen to understand what the true impact of GDPR on customer service processes will be, post May 25th. This event promises to be one of the earliest to examine it.
Customer Contact Europe (Jun 11–13, Dublin, Ireland)
If an 'executive retreat' is more your idea of an industry conference then this MindXchange event will be right up your street. Hosted by analyst firm Frost & Sullivan at a luxury boutique hotel in the leafy Irish countryside, this is about as far away from the brash sights and sounds (and smells) of a trade expo-style format as you can get.
And judging by the 'pants-on-head' (??) antics portrayed in some of the event photos from last year's event, you can look forward to plenty of networking away from the numerous roundtables and workshop sessions.
Gartner Customer Experience & Technologies Summit (Jun 18–19, Sydney, Australia)
This event is the APAC 'sister' to Gartner's EMEA CX show in May, and promises the same kind of high-quality content you'd associate with the world's most respected analyst group.
As with most Gartner events, a big part of the value is getting up close and personal with the analysts themselves. Here, that includes spending some quality time with the influential Ed Thompson.
Expect the conference debates to be backed up with solid empirical data, and there is a handy expo situated alongside to network with CX suppliers. AI, customer analytics and digital transformation look set to lead the host of topics discussed.
Check out Gartner's events page here
Customer Contact Week (Jun 18–22, Las Vegas, USA)
Arguably the big daddy of CSAT events, CCW is a marathon extravaganza with over 2,500 attendees converging on the Mirage Hotel on the Las Vegas Strip.
The self-styled "World's Largest Customer Contact Event" is considered a must-attend diary date for industry professionals. Look out for big news as many top vendors typically debut new products at the show. Alongside the 200-booth exhibition is a five-day conference with over 175 speakers, and the renowned CCW Excellence Awards.
Support Driven Expo (Jun 21–22, Portland, Oregon, USA)
Support Driven Expo (or just plain SDX) is not the kind of event where you worry about wearing a suit. It's for people who are genuinely passionate about customer support and who either want to learn how to be better, or teach others the right path. In fact, the 'expo' part is a little disingenuous. The main bulk of proceedings is given over to hands-on workshop-style conference tracks that get into real detail about strategies and techniques.
As well as the familiar technology topics and the quest for better CSAT metrics, SDX places a big emphasis on the industry as a whole, from shaping career paths to encouraging diversity and running community projects.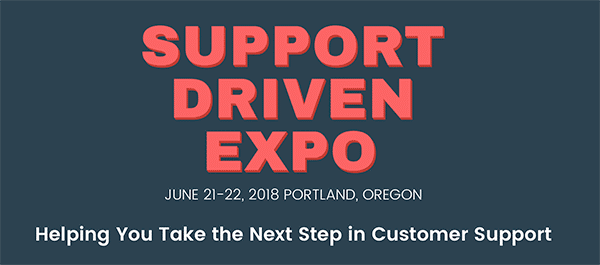 More on Support Driven Expo is available here
Digital Customer Experience Strategies Summit (Sept 18–19, Chicago, USA)
It's already the 5th annual edition of this great event, which is a focal point for digital customer service professionals in North America.
All the content is chaired by the Customer Service Professional Network, with both days packed out with conference sessions from business leaders and industry experts. The agenda is still in flux, but big keynotes from the likes of Subway Restaurants are already confirmed.

Global Customer Experience Management Summit (Oct 2–4, Barcelona, Spain)
With a strong emphasis on banking and telecom sectors, plus others including retail, pharma and hospitality, this event revolves around workshops on 'digital customer experience' and 'customer satisfaction. It also has a good pedigree behind it, with this year's event being the 9th in the annual series.
The telco focus really comes through strongly in the case study presentations, with telecom providers (BT, Orange, Telefonica) among the speakers, along with telecom vendors like Nokia.
The Global CEM Summit's website is here
The Customer Service Summit (Nov 4–5, New York, USA)
Now in its 8th year, the Customer Service Summit is firmly installed as a major feature in the global customer service calendar. Big brands make up the majority of the speaker roster, with Samsung, Hertz and McDonald's among last year's line-up. Johnson & Johnson, Uber and Wells Fargo are already confirmed for 2018. Top-line strategy is the big focus at this event, though content streams do delve deeper into some of the core, emerging issues of the day.
And if you can't make it to New York, the EMEA edition of this event takes place in London on the 18–19 September.
Customer Service Summit NY's website is here
Zendesk's Relate Conference (Nov 12-14, San Francisco, USA)
Helpdesk software company Zendesk has a huge base of customer globally and has spun off its successful conference under its own brand, "Relate". Taking place in San Francisco in November this year, Relate promises to be excellent with 7 tracks, 1500+ delegates and fantastic content from over 200 speakers.
Looking for ways to improve your customer service? Get more feedback using Customer Thermometer.
Send yourself an example 1-click survey. You can embed this into emails you send from any helpdesk, CRM or marketing system:

https://www.customerthermometer.com/img/customer-service-events-2018.png
248
710
Lindsay Willott
https://www.customerthermometer.com/img/[email protected]
Lindsay Willott
2018-05-22 15:18:39
2018-09-10 14:47:50
10 best customer service events to attend in 2018