So once again, the team have been hard at work again over the summer, making Customer Thermometer even better behind the scenes and directly within the app for both our customers and survey recipients.
This post summarizes what's new.
Enhanced Embedded Thermometer generation
We've added some new functionality to our Embedded Thermometer generation. We know that sometimes the feedback icons alone aren't enough. You might want to add additional text or even emoji underneath an icon, like this: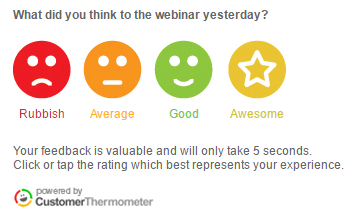 Previously, this was possible only for our users with knowledge of HTML coding, however we've now made it really simple to do, using the Manage Thermometer screens.
You can now add an optional word or two underneath each icon, change the color of the text and everything will align perfectly. In addition, some customers like to display the disappointed responses first and so, we've made reversing the order of the icons as simple as a single click:
When you click "Generate embed code", you'll see a preview of your Thermometer. Copying the HTML code provided, will provide the snippet to paste into your third party application.
NOTE: You may need to perform a hard refresh on your browser to see the new layout.
You'll be able to see this working in our Embedded Thermometer overview.
Basic HTML embedded Thermometer now includes email prompts
We get requests for new 3rd party application integrations every day. 99% of requests we're able to fulfill immediately, by advising customers to use our Basic HTML option within the Embedded Thermometer options.
Choosing the Basic HTML setting means that customers fill in their own variables in our embed code screen. Where it isn't possible to capture the identity of the recipient, users are now able to switch in the "prompt for email address" option.
This means that once a recipient has responded to a survey, their response is immediately captured (for you to view as a user) however they can then be prompted for an email address, as that initial response was anonymous. If added, that email address will be appended to the recipient's response, stored in the user's reporting.

New Basic links embedded Thermometer
We've added a new type of Embedded Thermometer, which generates links only, for users to add to 3rd party email applications, as well as to include on webpages or other browser based apps.
Report by date reporting improved
If you use our Report by date feature, you'll be delighted to know that the design of those screens have been brought in line with the rest of our reporting suite: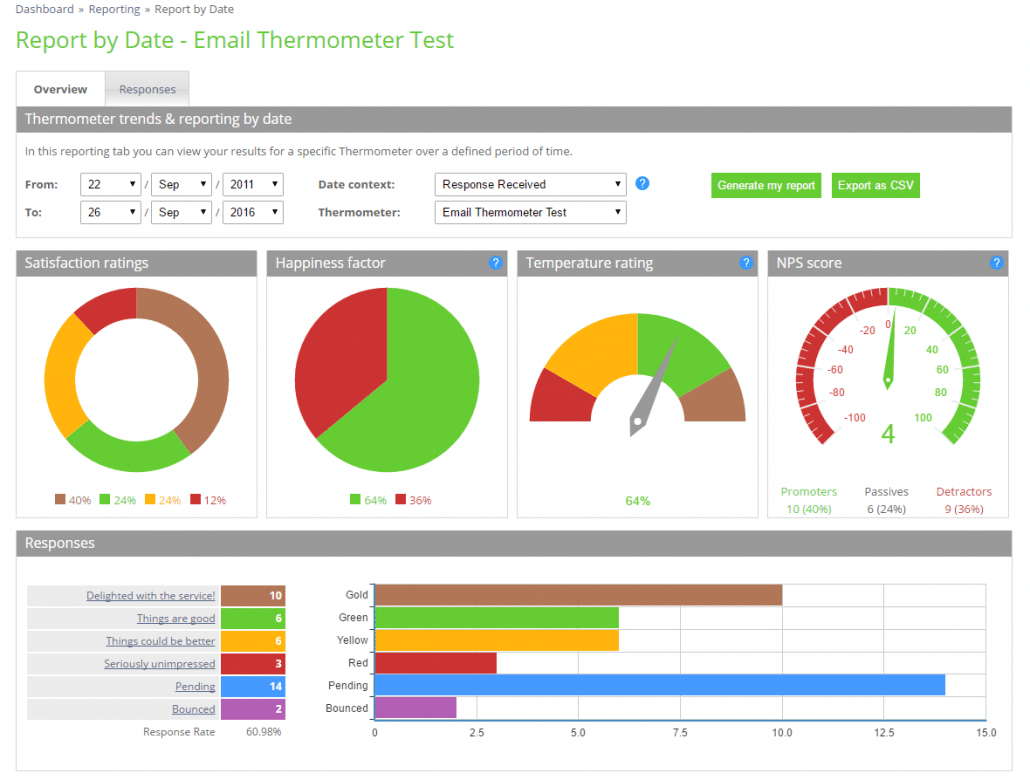 Improved email sending
We've been working on the speed of our large volume email sending too. If you send regular large Email Thermometer Blasts, you'll see a big difference in the speed they're sent out to your recipients.
BrightGauge integration
We'll be featuring this in early October – however last week, we're delighted that our first customers started to use our new BrightGauge integration. Brightgauge's dashboard and analysis tools allow you to bring together analytics from multiple applications into a single place.
Customer Thermometer is now part of their suite and for users of ConnectWise, Autotask and many other apps – this will be of huge interest to you. If you'd like more information, drop us a line.
Numerous other additions
As ever with our releases, we've made many other smaller enhancements and fixes along the way to ensure the application is the best it can be.
______________
Thank you to all of our users for your ongoing feedback. We respond to every feature request and look forward to continuing to enhance Customer Thermometer over the coming weeks and months.
https://www.customerthermometer.com/img/feature-release-lorry.png
248
710
Mark Copeman
https://www.customerthermometer.com/img/[email protected]
Mark Copeman
2016-09-29 15:17:44
2019-08-12 10:10:42
Customer Thermometer releases v2.10