Six years ago, we signed up our very first paying customer. And we're delighted that original customer is still using Customer Thermometer every single day ;-)
We marked this 6th birthday, by releasing a refresh our website.
Having learnt so much from customers about how they're using the service over the last year, we wanted to reflect on what we've learnt by updating our message to the world and take the opportunity to update our look. We hope you like it.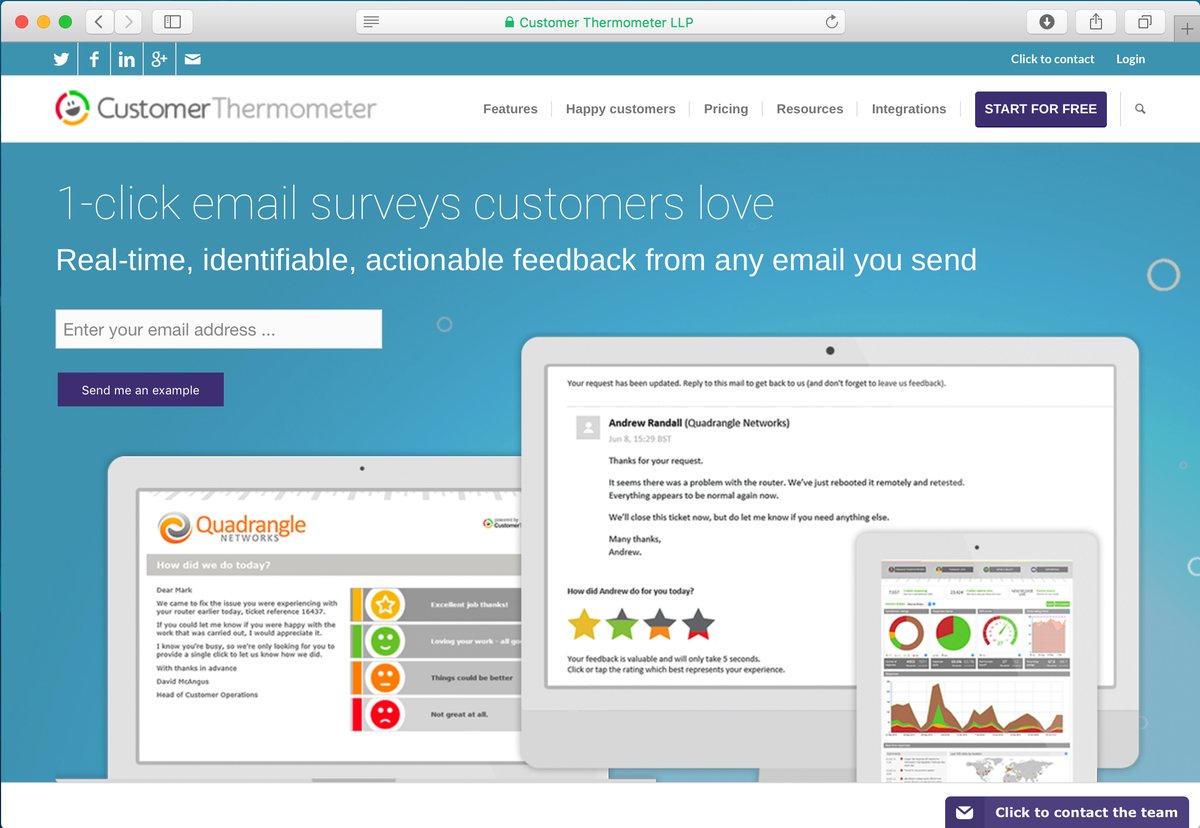 We've come a long way since 2010.
Reflecting on the last 6 years, we've come a long, long way as a business as well as personally, as two founders. So we wanted to sum up a few of our lessons learned, and experiences gained…
1. Stay the course
Whilst sometimes it seems that everything has changed, at the same time, nothing has changed.
We've had around 50 individual software releases in the last 6 years, yep the app is still reliable, fast and simple to use. Those additional features are across the app, but they don't get in the way or complicate. Creating a new app is easy. Building on one with a large established and very different user base is hard. We believe we've struck the balance.
Our website has changed beyond all belief. Yet at the same time, it hasn't.
We'd like to think our sense of design has moved on, yet, our core message, and the reason the service exists, has remained the same throughout our journey.
2. Build your business one customer at a time
When Customer Thermometer went live, we had no customers, no track record, no content to speak of, no data to fall back on and no app partners, not to mention no Embedded Thermometers or Outlook signature surveys. We also started with no support capability (apart from the founders). What we had was a dogged determination to share the power of Customer Thermometer with businesses.
So we started with the people we knew, whose businesses we knew we could help. We built our customer base one user at a time. Advice we cherish from this time was "when emptying the ocean with a teaspoon, don't keep looking at the ocean, look back to see how much you've already achieved."
So we started with 1, and then 2, and (after what seemed like an age) 5, customers. Today, we have thousands of users around the world. We have multinational businesses such as HP Enterprise, Sonos, Reed Expo, Remax, Dollar Shave Club and BT relying on us every day for their feedback.
We have hundreds of smaller businesses too, particularly in the Managed Service Provider (MSP) niche who put their trust in the service to keep their customers and motivate their staff by allowing customers to rate them directly.
3. Start from what you know and build out
In the last 30 days, Thermometer surveys have been clicked in 180 different countries. It wasn't always so.
When we started our journey, we were focused on the niche the service was born from – marketing agencies. We started with what we knew and slowly grew usage and sought feedback from those early users. When they were happy, their customers started to ask what Customer Thermometer was and how they could get it. That enabled us to start growing out of our niche.
Today, whilst we've many marketing agencies using the service, we also have circus skills companies, facilities firms, schools, governments, universities, online retailers and so many more verticals. We're grateful every day for the opportunity to work with them and learn from them. All are using Customer Thermometer to replace their traditional long form survey links with our 1-click feedback buttons.
In one simple step, our users (who, up till now, have sent emails to customers like the one below) are replacing these with Customer Thermometer.
4. Embrace what's at the core of yourselves as founders
We want to be the world's best company to work with. As a result, Customer Support to us is a thing of beauty. We love to do it. It sets us apart from the competition. It's a true expression of who we are as people – it's vital to us that we're always incredibly proud of our company, and we've stayed true to that.
Our 'Ministry of Magic' is now world-renowned as a support team. They've even released their own support manual to the world on how to do support, brilliantly. They pride themselves on their real time live ratings.
Our dedication is to building software which we truly believe in, and providing a support service that genuinely adds value to its customers.
5. Focus on customers, not the competition
The feedback culture we live in has changed beyond all belief. We were ahead of our time back in 2010. Surveys were long and form based. And companies, were on the whole happy with that. Because back then, survey fatigue didn't really exist. Neither did Instagram, or the "like/dislike", quick-to-feedback generation.
But we knew our service moved mountains for our customers. A highly memorable moment was when a customer called in to tell us we had altered the very future of her business by halving her customer defection rate in under 2 months. A real high point for us.
And it was only by listening to customers 3 years ago that Embedded Thermometers got built. A trial customer emailed us and asked if we would consider doing a custom version to sit inside his Zendesk helpdesk software. If we'd been focused on the competition we'd have done exactly the wrong thing. Instead, we built it and grew it, and now Embedded Thermometers are the largest part of our business.
6. Share your closely-held secrets
Don't keep content close to your chest. We've shared our growth stories, our customer support handbook, even the books we read – to help our customers out as much as we possibly can. 219 blog posts later – we've not even scratched the surface.
The need to produce great content, regularly, to help educate and attract users has always been at the heart of what we do. Our 100 Customer Experience resources post is our most popular. Check it out!
What does year 7 have in store?
Doubling down on the things we know that work and helping customers succeed. Removing the things which don't do either.
Running a SaaS business is a constantly moving feast. Change is a constant. If you try to ignore change, you'll not succeed.
We'll continue to embrace it during 2017.
Continuing to listen and react to customer and prospect feedback. So much of our service has evolved as a direct result of feedback. We aren't stopping.
Thank you
If you're a customer, a prospect, a trialist, someone who's given up their time for a call or a coffee with us – thank you.
If you've read our blog and followed our journey over the last 6 years – thank you.
If you've stopped just one customer from leaving you or have made a team member's day through a customer comment, we're delighted and it's why we'll continue to do what we do into year 7… Here's to it.
Why not see what all the fuss is about?
Grab a trial and a bunch of free credits in seconds …
https://www.customerthermometer.com/img/sixth-birthday.png
248
710
Mark Copeman
https://www.customerthermometer.com/img/[email protected]
Mark Copeman
2016-11-22 09:14:36
2018-08-31 11:04:47
6 years ago today, we won
our first customer…