Happy International Women's Day! Here at Customer Thermometer we're celebrating the cultural, societal, creative and economic achievements of women around the world. Did you know that 2022 is the 111th year of the illustrious IWD annual event? So as we paint purple everywhere we're also reflecting on the importance of recognizing its goals and purpose every day, not just once a year.
In the run-up to the big day on March 8th, we've enlisted everyone on the Customer Thermometer team to share stories, quotes, links and sources of inspiration. Best-selling blockbusters
While many of our favorite books are written by amazing women, this is a small selection of women-authored non-fiction books that have helped us enormously. 
Books
Don't Bite the Hook, by Pema Chodron
Pema is a Tibetan Buddist nun born in 1936 and with plenty of wisdom to impart. Find out more about her here. Don't Bite the Hook is one of several dozen of her books; this one focusing explicitly on dealing with negative emotions. Here's a quote:
"Feelings like disappointment, embarrassment, irritation, resentment, anger, jealousy, and fear, instead of being bad news, are actually very clear moments that teach us where it is that we're holding back. They teach us to perk up and lean in when we feel we'd rather collapse and back away. They're like messengers that show us, with terrifying clarity, exactly where we're stuck. This very moment is the perfect teacher, and, lucky for us, it's with us wherever we are." 
High-Tech High-Touch Recruiting, by Barbara Bruno
Barb Bruno is a legend of the recruitment industry and her unique insights and infectious enthusiasm and passion for the subject is truly delightful. This great book is all about attracting and retaining the best talent by improving the candidate experience. 
A Woman in Her Own Right, by Anne Dickson
Still in print after 40 years, this self-help book teaches assertiveness with lessons, tips, tricks and advice that's still as relevant today as when it was written.  
What I Know For Sure, by Oprah Winfrey
The first African-American woman to become a billionaire, Oprah Winfrey has achieved it all through creativity, opportunity and sheer hard work. This beautiful collection of her monthly magazine columns is a rich source of inspiration and revelation about life lessons organized by 8 key themes: joy, resilience, connection, gratitude, possibility, awe, clarity and power.
Podcasts and TED talks
We love podcasts, interviews and presentations we can absorb while multitasking on other things. Check out some of these to keep your media library filled with great content:
Wisdom from the Top: Interview with PepsiCo CEO, Indra Nooyi
Indra Nooyi talks with Guy Raz in an extended interview all about her career and time at the helm of Pepsi. She was the first woman CEO of a Fortune 50 company and, as this interview demonstrates, is a total badass. 
Superwomen with Rebecca Minkoff
What makes the most successful women in the world tick? And how can you apply their experiences to your own outlook? With more than 200 episodes to binge on, and new content posted weekly, there's tons to learn and draw on.
The Magic of Not Giving a F***, by Sarah Knight
Modern life is troublesome and tiresome, and author Sarah Knight cuts right to the bone in this TED talk by confronting the distractions and hassles that get in the way. The air turns blue but then so do the skies, giving you surprising clarity to mentally declutter your way to what you want.
Inspirational quotes
There are so many quotes from fantastic women that offer inspiration and, above all else, truth. Here are 6 of the best.  
"We can move toward a world where we live in harmony with nature. Where we live in harmony with each other. No matter what nation we come from. No matter what our religion. No matter what our culture. This is where we're moving towards." – Jane Goodall
"Whether you flounder or flourish is always in your hands – you are the single biggest influence in your life." – Oprah Winfrey

"Nothing is impossible. The word itself says, I'm Possible." – Audrey Hepburn
"The future belongs to those who believe in the beauty of their dreams." – Eleanor Roosevelt

"I've learned that people will forget what you said, people will forget what you did, but people will never forget how you made them feel." – Maya Angelou
"Strong women don't use their strength to knock others down, but to help others carry their burdens." – Unknown
Global icons
We've been inspired by so many women in our personal and professional lives as well as those that have gained a global profile for their incredible achievements. Here are just a few:
Malala Yousafzai began blogging at the age of 11, drawing the ire of religious fanatics who attempted to assassinate her for the crime of attending school. After miraculously surviving, Malala fought back to dedicate herself to the right of girls to have an education despite repeated threats to her life. She received the Nobel Peace Prize in 2014 and is a globally respected authority on human rights.
Greta Thunberg is the youngest Time Person of the Year and a widely recognized symbol of the action on climate change movement. Her diminutive stature has proved no obstacle to gaining the attention of world leaders, while her fame has not dimmed the urgency and clarity of her campaigning mission.
Kamala Harris broke the glass ceiling when she became the first woman (and current) Vice President of the United States, as did Ursula von der Leyen on becoming the first woman (and current) president of the European Commission.  

Practical at-work empowerment initiatives 
Ever experienced 'imposter syndrome' or felt that your attributes and achievements are worthy of being shouted about? IamRemarkable is a worldwide initiative originally launched by Google that empowers women and other underrepresented groups to celebrate their achievements in the workplace and beyond. 
To celebrate both IWD and Women's History Month, It is running virtual workshops in multiple languages throughout March, inviting all comers to challenge the social perception around self promotion and improve confidence and skills. Book your place here.

What else?
Want more? Check out the great resources you'll find at the International Women's Day website https://www.internationalwomensday.com/, its social channels and hashtags (#IWD2022 and #BreakTheBias). And if you find any more resources to add to our list, please let us know!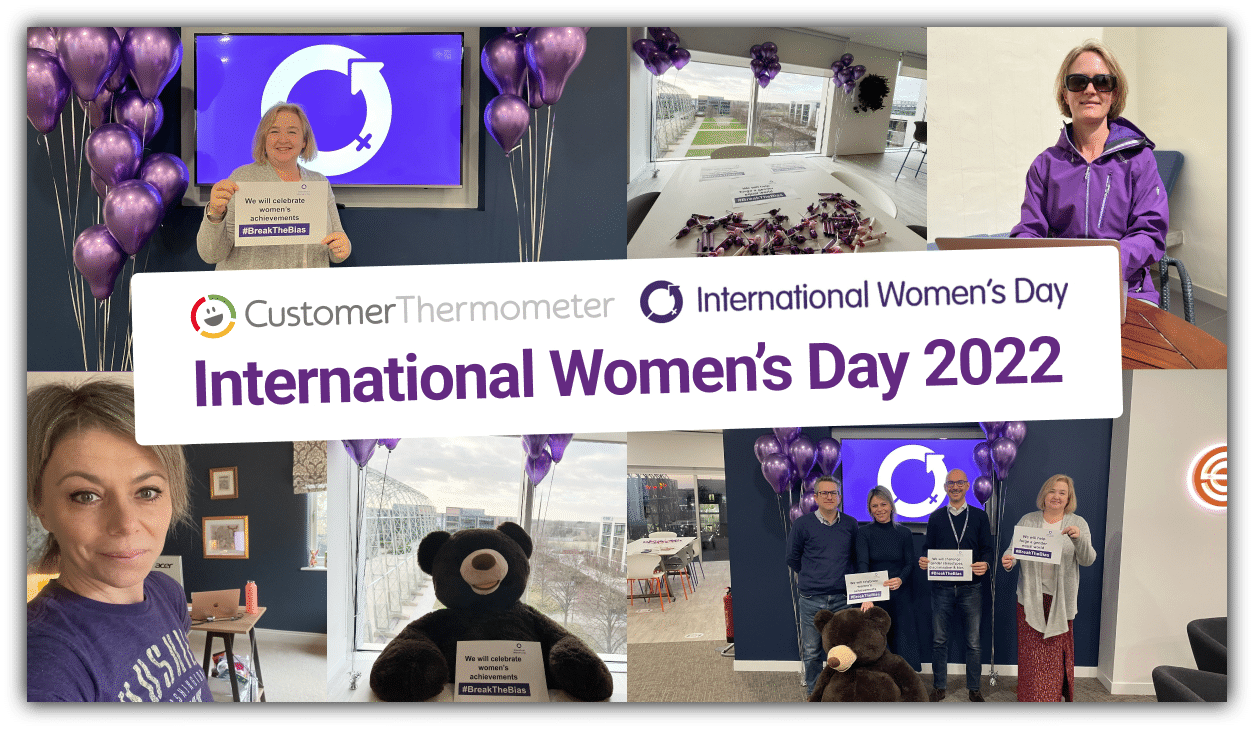 https://www.customerthermometer.com/img/Blog-19.jpg
496
1420
Gavin
https://www.customerthermometer.com/img/[email protected]
Gavin
2022-03-07 16:23:23
2022-03-08 18:06:45
International Women's Day – more than just a purple patch!