It's been a tough period for so many people, but we're excited and optimistic about what the rest of 2021 has in store. We're as determined as ever to support our customers with loads of useful new features and integration capabilities.
We've been so busy beavering away on our tech, there's hardly been a chance to wrap it all up into a single list. So here it is, a fresh 2021 slice of updates to Customer Thermometer, available now.
First the big new features
Pinnable dashboard ribbon
The reporting Ribbon is a very cool new feature that allows you to harness all sorts of different, personalised reports from your Reporting suite and pin them to your Mission Control dashboard. You can create reports such as mini leaderboards and specific thermometer reports on CSAT and NPS. Check out more how-to details here.
You can find the Ribbon at the top of your Mission Control dashboard marked with the purple banner. Please note the Runner plan does not have this reporting tool.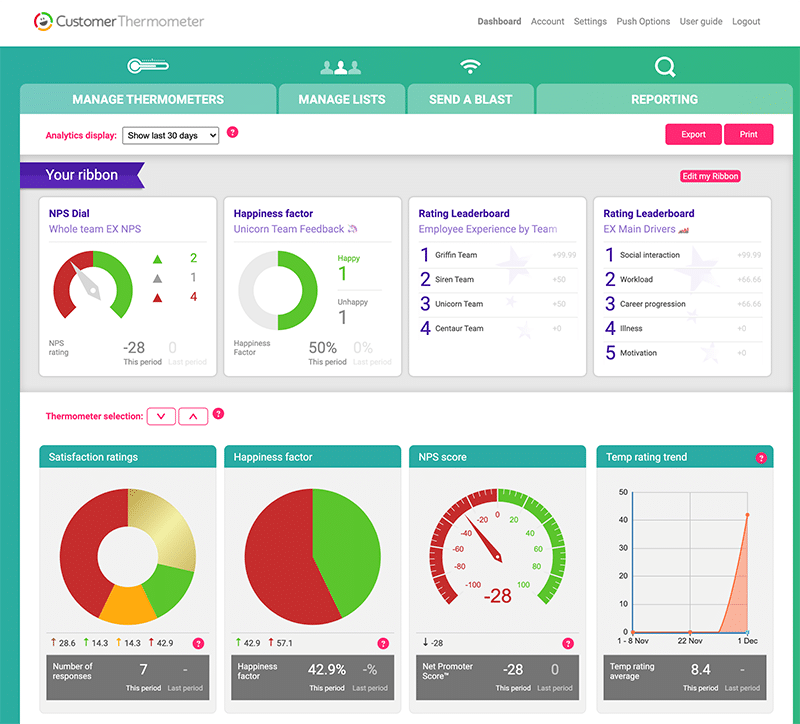 Response Drivers
Feedback is valuable in itself, but have you ever wanted to know what exactly is driving it? Response Drivers is a feature our customers really wanted, providing that extra piece of insight as to why a recipient has clicked on a certain icon.
Drivers allow you to really pinpoint the areas which need improving or rewarding within your business by classifying those essential pieces of feedback. Get the full lowdown in the user guide.
You can find the option to add Drivers within your Landing Page Setup tab in your Thermometer settings under 'Response Drivers'. Can't find them? Watch this short clip!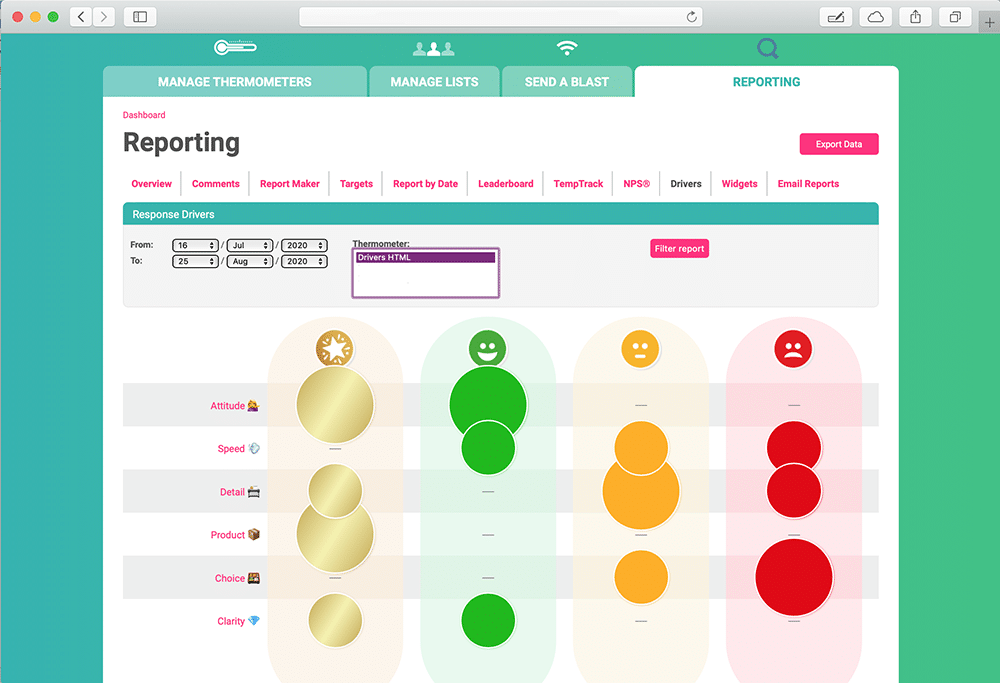 Closed Loop functionality and reporting
Closed Loop is all about acting on the feedback you receive in a structured way. Rather than have a separate process for following up customer feedback, Closed Loop launches it straight from Customer Thermometer – triggering agents to 'close the loop' with customers who give certain kinds of feedback.
Closed Loop is great for extending the value of 1-click surveys to support real customer experience (CX) improvement. Using it means moving the needle on CSAT/NPS metrics with powerful reporting for an auditable closed loop process.
It's available as a premium add-on; ideal for brands with advanced service desk teams and volume email environments.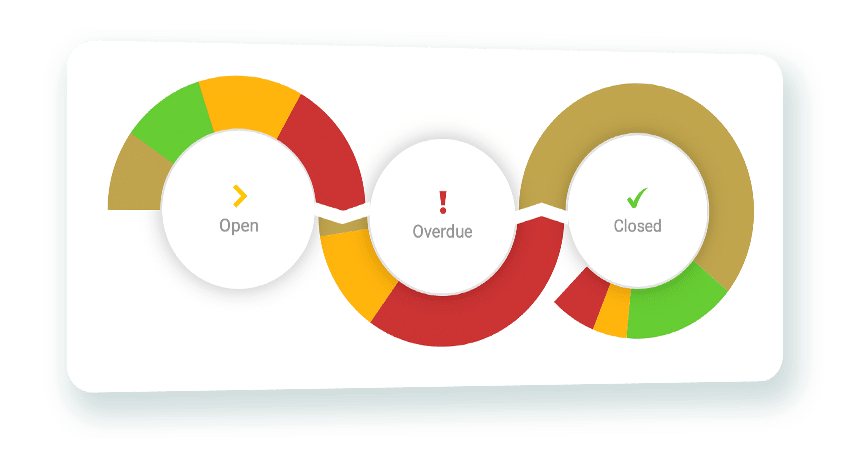 Some other features and enhancements that still pack a punch
Human click confirmation configuration, by Thermometer
The human click confirmation is a tool we can enable to allow the recipient to confirm their rating on the landing page. Once confirmed the feedback is submitted. Email security cannot submit responses on a browser page and, therefore, completely removes the risk of false clicks. We have many users currently using this tool successfully.
This can be enabled or disabled at any time for certain or all thermometers.
Redesigned email blast template
We have a new snazzy and slick looking email blast template we're calling 'Modern'. You have the option to stick with the 'Classic' template if you want.

We've also updated our email notification templates and, though we might be a little biased, we think they're beautiful! All the important content is the same, but now with a cleaner background image and logo. Let us know what you think!
Enhanced text styling flexibility
Ever wanted to choose a font for your email Thermometer and/or landing page? Got a web-safe font ready in your branding kit? Well, you can now customize them all! Just select from the dropdown within the Landing Page section.
You can also now choose whether you'd like text to appear right-to-left or vice versa. A great new feature!
True NPS scale for email thermometers
The 'True NPS' full 0-10 scale was previously only available to Embedded Thermometers but now is available for Email as well.
True NPS reporting graph
Another reporting enhancement, which appears if you've enabled NPS (and are on the Jumper plan or above). If enabled for a specific Thermometer, you will be able to view NPS reporting for any associated Blasts, in your reporting section.
Mission Control: Thermometer Selector
We've introduced the option to show only specific Thermometer data on the main Dashboard. Simply use the arrows as shown below to add or remove specific Thermometers from your view.
Multi-user access (phase 1)
We have released phase 1 of a new multi-user capability that allows our customers to give colleagues discrete access to their CT account using their own unique username and password. This currently covers billing, admin and O365 user roles in phase 1.
And finally, a full update on all our latest integrations with industry-leading products and platforms
Microsoft Teams
Our Microsoft Teams integration posts your feedback directly into a designated channel. You're able to configure which alerts and comments are posted against which thermometers. We utilise the Incoming Webhook technology within Microsoft Teams to power our integration.
Within Microsoft Teams, you need to decide which channel feedback is sent to. You can separate this out by repeating this setup process and configuring the alerts and comments from within the Customer Thermometer options.
First step is to click on the relevant channel, and then 'Connectors'. Full guidance in our guide.
Power BI
We have developed a custom connector for Microsoft Power BI to pull responses straight into Power BI Desktop and create bespoke data reports and visualizations. It's easy to set up, as explained here.
Improvements to Outlook and Gmail integrations
We've made some improvements to our Outlook and Gmail signature integrations, making it easier for you to embed our code into these platforms by simply copy and pasting!
ActiveCampaign
We have developed an integration for ActiveCampaign, the cloud software platform, so you can now create an ActiveCampaign Embedded Thermometer giving you more options to use the 1-click survey across your business.
Tigerpaw PSA
More great news for our MSP customers. With Customer Thermometer integration, Tigerpaw users can easily embed feedback buttons to their ticket notifications and start collecting rich, actionable customer feedback.
Shopify
Got a Shopify store and want to capture feedback in your email notifications about the order experience? Or maybe you want to follow up afterwards and see if their delivery experience was top-notch? We've added Shopify as an integration type within the app and preloaded it with a few useful placeholders so it's ready to capture identifiable feedback.
Constant Contact, Gain, ManageEngine, Customer.io…
New CT integrations are in place with all these platform providers. Who knows, by the time you read this there'll be a few more besides!
https://www.customerthermometer.com/img/Survey-Response-Drivers-launch-post-header.jpg
248
710
Lindsay Willott
https://www.customerthermometer.com/img/[email protected]
Lindsay Willott
2021-02-15 11:08:48
2021-06-14 15:00:06
What's new in 2021 so far? A rundown of the latest Customer Thermometer updates and features