Today, SolarWinds released v3.4 of MSP Manager. The Customer Thermometer team is delighted, as SolarWinds MSP Manager ticket surveys are now available to customers within their shiny new ticket notification templates.
This is a big release and means ticket update notifications and ticket closure notifications can now be customized with branding, wording and Customer Thermometer 1-click surveys…

Currently, there is no native ticket feedback capability for SolarWinds MSP Manager and after months of requests, thanks to this new release, we're now able to provide a ticket survey solution to MSP Manager users.
Measure CSAT, measure NPS, find out how your technicians are performing and most importantly, find out what your customers are feeling.
What's available today?
From today, MSP Manager users will be able to add 1-click surveys to both ticket notification updates and ticket closure updates: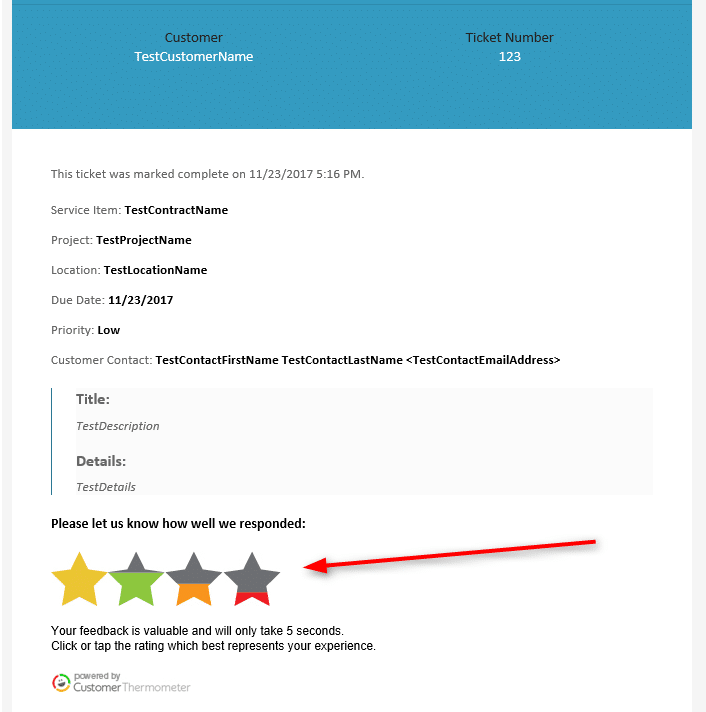 Note those icons and the question you ask, are completely customizable.
When a recipient clicks a rating, they will be taken to a customizable acknowledgement page, where they are able to leave an (optional) comment if they wish: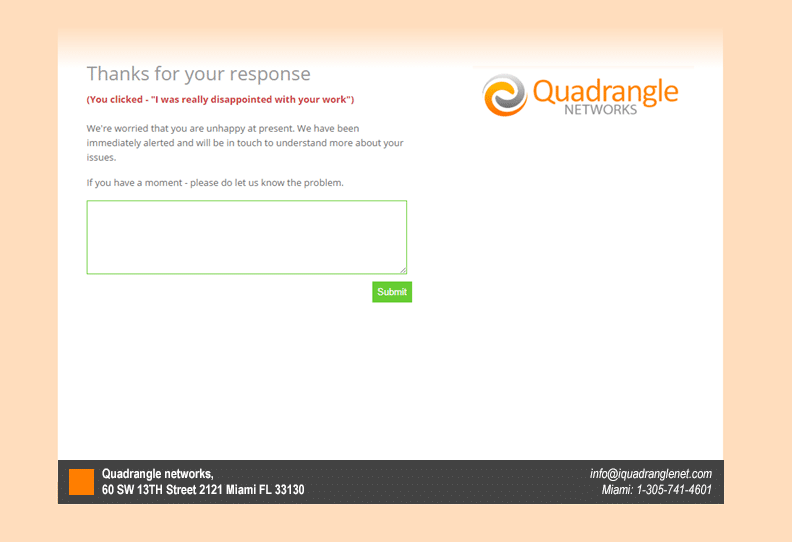 Inside your Customer Thermometer account, you'll see the rating come through, alongside the recipient's details and the technician's details who closed the ticket.
This means you can react to feedback directly – particularly disappointed customers. Set up a feedback process and stop problems from getting out of control. In addition, you can start to rank your team – find out who's performing well and incentivise them. MSP's all over the world are doing exactly that.
How can I get started?
SolarWinds MSP Manager ticket surveys can be set up within an hour for either ticket closures and/or ticket updates. If you're already a Solar Winds MSP Manager customer – you'll see ticket notification templates available from version 3.4.
Follow the 4 step process below for feedback nirvana…
Step 1: Grab a Customer Thermometer account (no credit card needed).
Step 2: Create a SolarWinds Thermometer and add the Thermometer to your notification template(s). Instructions here.
Step 3: Watch your feedback roll in. React to responses and be prepared for your response rate.
Step 4: When you've used your test credits, you can upgrade from within your account to a plan from $49/month.
What's coming soon?
Discussions are now underway with the SolarWinds MSP team. This is just the beginning. We are working on a roadmap right now to add new features to this integration – so if you've got requests, talk to us!
https://www.customerthermometer.com/img/SolarWinds-MSP-manager-ticket-surveys.png
248
710
Mark Copeman
https://www.customerthermometer.com/img/[email protected]
Mark Copeman
2017-12-07 11:41:39
2018-03-16 12:32:35
SolarWinds MSP Manager ticket surveys