Most people are familiar now with seeing in-store feedback requests on till receipts… "Go to this URL, we'll enter you into a prize draw etc… and it'll only take 5 minutes."
If you're anything like the team here at Customer Thermometer, the chances are unless you're really upset, you're very unlikely to spend time entering that URL and then filling in the various questions – often on your mobile device. I had a go at in today (in the name of research) in a local coffee shop – part of a huge chain here in the UK. I gave up at the first hurdle – as I couldn't work out which 'region' the shop was in…
We can only assume take up rates for this type of survey are poor. Plus, if you have had a bad experience, what does anyone actually do about it? Are you the consumer ever notified as to the actions taken…?
Patient surveys, staffroom surveys, airports all do similar things – everyone's attempting to survey wherever face to face interaction occurs and people simply don't have time. We'd argue too that the people who commissioned the survey often have no idea to react to the results – as there's too much data to be meaningful.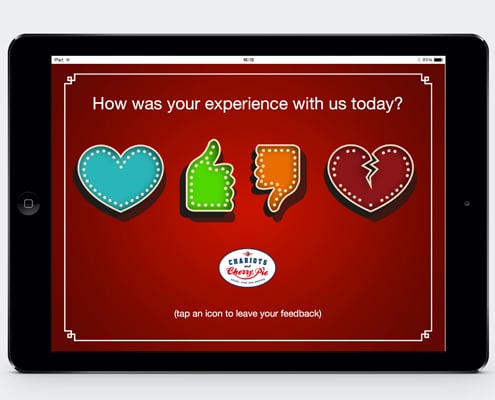 Isn't it better to capture feedback at the point of transaction and have the store manager alerted in real-time? We think so! At that's why we're proud to launch our Tablet Survey today – building on top of the Customer Thermometer application.
Our tablet survey works as an in-store survey, a restaurant survey, a coffee-shop survey or even a hotel checkout survey – anywhere where that point of sale interaction occurs.
We're delighted to announce our first customer of the service – a diner here in the UK, who has installed an iPad in their entrance / exit area. Customers are encouraged to tap the relevant feedback button as they leave. Comments can be left too and most importantly, all the key staff in the restaurant are notified in real time when a customer is disappointed.
You can hear what the owner of the diner thinks about the service in the video below:
If you'd like to find out more about our tablet survey and how it fits with the Customer Thermometer application, click the link.
Alternatively – drop us a line below with any requirements / requests and we'll be back to you quickly.
https://www.customerthermometer.com/img/tablet-thermometer.jpg
248
710
Mark Copeman
https://www.customerthermometer.com/img/[email protected]
Mark Copeman
2014-07-09 12:35:31
2018-08-31 11:04:54
Customer Thermometer launches tablet surveys