Now, more than ever, our customers are relying on us to provide insight into how customers and staff are feeling from a distance.
So, we decided to give the lockdown pizza and Netflix a swerve, and instead we've been working incredibly hard to bring out new releases every week since the start of the year.
We've brought forward a raft of new features and updates. Here's a roundup, with much, much more to come:
Enhancements to Customization and Design Features
We know that the ability to customize your 1-click surveys is critical to ensuring your communication with your customers and employees are on-brand and on-point. We're made a start on a range of enhancements to help your surveys and landing pages be entirely "you"…
Email thermometer font options introduced
We've introduced the option to use a range of different fonts in your email thermometers. use the new dropdown in the "create thermometers" tab to choose from a range of web safe fonts for your email surveys.
Landing page font options introduced
In the same vein, we've introduced a font picker to our landing page editor, so you can choose from a range of web safe fonts for your comment capture and landing pages. Really helpful to match in with your corporate font book or brand guidelines.
Updated email and comment alerts.
Our response alerts and comment alerts have had a beautiful makeover. They now look like this and are fully mobile responsive as well!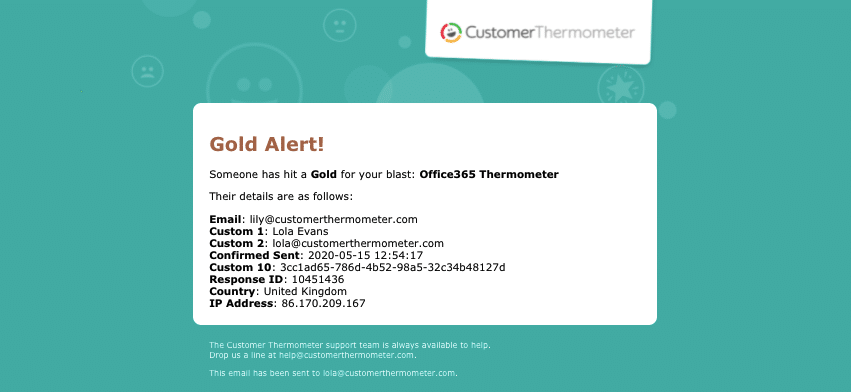 Enhancements and Additions to Search and Reporting Features
Our customers use CT to survey across countries, teams, customers and employees, meaning there are often a lot of thermometers and surveys going on in your account. We've been busy making sure it's much MUCH easier to find, report on and search for different surveys and results…
Filter Mission Control reports by survey as well as by date
We've built a new "thermometer picker" into your main Mission Control reporting area. It will continue to show results across your entire account by default, but you can also now choose any single, or subset, of thermometers to filter by as well!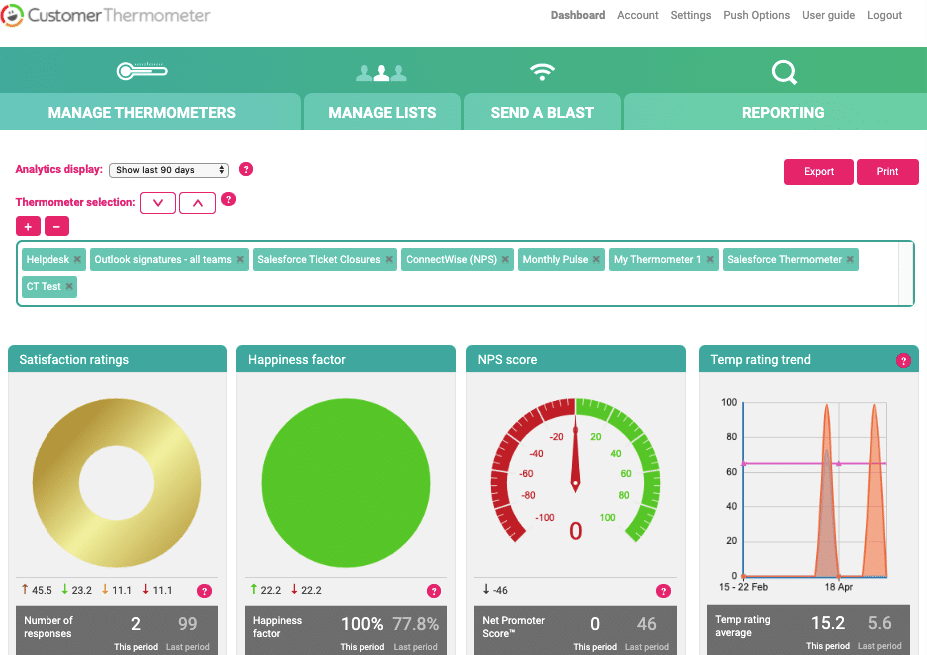 Search thermometers
On the main reporting homepage, you can search for any thermometer to easily find it and view the results, like so:
Filtering and pagination is now available on the Manage Lists tab
Similarly, if you're uploading lists of email addresses into Customer Thermometer, you can search for lists you have previously uploaded. You'll notice too that we've paginated this area, making it easier to view lists if you are holding lots of them:
Blast names are now linked to the associated report
There is now a link to the blast report from the list of recent responses on the main reporting page – so you can now go directly to the blast to see more detail if you want to..
Hide the IP address and/or the Country from the email and comments alerts.
Some customers would rather not be emailed the IP address or country of their responses; often for privacy reasons. We've therefore created a new feature to allow you to remove these from email and comment alerts. To enable this, head to "Settings" at the top right hand side, and click "Custom Field Labels". Tick the boxes of your choice and click Save.
New Optional Click Confirmation Feature
Human response confirmation
Some B2B/corporate customers were suffering from pesky link scanners clicking their thermometers instead of lovely humans. We've therefore introduced an option to turn on a human response confirmation on the landing page. Have that, bad robots.
Updates to Major Integrations
Updated 0365 Add-In
Our highly popular Outlook 365 survey Add-In has had a fresh coat of paint and some behind-the-scenes upgrades including a new refresh button which pulls in the latest changes you've made to your Thermometers within CT and some fixes for the 365 Admin consent permissions.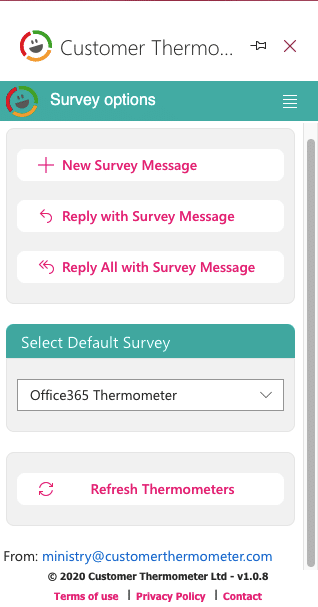 Updated Pushover options and updated Pushover data separation in message
If you're using Pushover to get alerts to comments and responses on your phone, you'll be pleased to know we've also given that a refresh. Data is now more clearly separated and things are generally pretty now.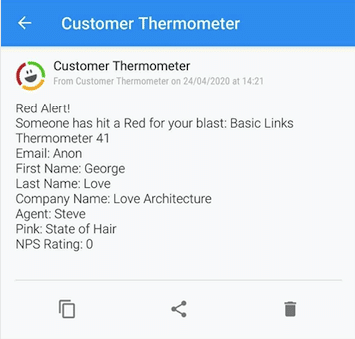 Updated Exclaimer integration
Customer Thermometer plays beautifully with most Email Signature Management systems. We've added a formal integration in our "create embedded thermometer" area with Exclaimer, one of the industry leaders.
That's it for now folks. We have some extremely exciting new features in UAT at the moment, ranging from personalizable Misson Control dashboards, to more flexibility on user permissions and the rumblings of some incredible sentiment analysis!
Keep your eyes on the blog…
If you need any help using the new features, or want a personal guided tour, please hit us up at the Ministry of Magic.
https://www.customerthermometer.com/img/whats-new-2020-q1.png
248
710
Lindsay Willott
https://www.customerthermometer.com/img/[email protected]
Lindsay Willott
2020-05-19 12:14:20
2020-05-19 12:21:35
What's New So Far in 2020? Customer Thermometer Updates and Features