It's natural to focus on how our customers regard us and our business, but how much attention are we paying to how our employees feel? Employee engagement can be easily overlooked with the numerous priorities facing us, but we really should know how valued our teams feel and how involved they are in their day-to-day work.
The sad reality is that only 15% of employees worldwide feel engaged at work – which means a mammoth proportion of us are doing the bare minimum and feeling no real attachment to our workplace.
Why you should care about employee engagement
So why does this matter? Well, employee engagement can fundamentally show how invested your employees are in the company mission. Measuring employee engagement is ultimately a key indicator of the business' health, and often highlighting where improvements might be needed. Furthermore, employee engagement is intrinsically linked with productivity; a study from The Conference Board found that disengagement in employees costs US companies $450-500 billion each year!
High employee engagement equals high fulfilment and motivation, which manifests in higher productivity across the board. Gallup found that companies with highly engaged workforces outperformed their peers by 147% in earnings per share.
Evaluating employee engagement will highlight team members who deserve recognition, helping to improve employee retention and minimizing the oversight that often accompanies staff turnover. Not only this, but of course it can also highlight those who might be less engaged, or who might need more training in certain aspects. Employees are often the frontline of businesses, facing customers daily and acting as their first impression of the company ethos, so it is essential to monitor and constantly seek to improve and strengthen the team.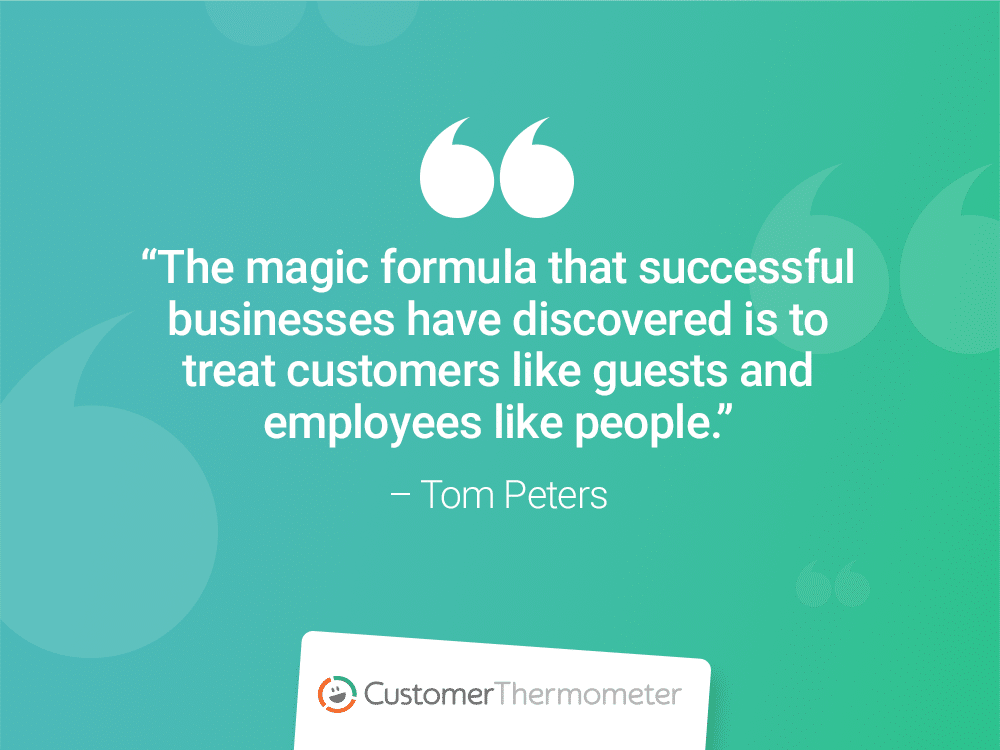 Why you should keep your employee engagement survey simple
Okay, so you're convinced by the value of employee engagement. But what's the best way to gather ask employees if they're engaged? We've written a lot about how best to engage with your customers, and conveniently you can use a similar method with your employees too. Staff satisfaction surveys have been commonplace in businesses for a while, but many companies still don't offer their teams feedback methods that are effective in truly evaluating engagement.
Stuffy, boring and repetitive staff surveys are the stuff of nightmares. They are repeatedly thrust under the noses of employees who are busy doing their jobs and who don't want to fill out irrelevant questions, especially if the company doesn't act, resulting in zero organizational change. Quite ironically, it's the badly-planned employee engagement survey itself that can lead to complete disengagement of the team in helping to improve company ethos.
The other key aspect of a simple employee engagement survey is the format of the questions and answers themselves. Asking open but simple questions helps to maintain an easy journey through your survey for its respondents, which improves response rates and concentration levels so that the feedback given is accurate and well thought-out. Try to structure your questions as a simple response system – it's no surprise that we recommend 1-click feedback with a very brief question and answer structure (you could always ask for further feedback at the end), rather than something like this:
Employees who feel listened to and supported are nearly 5x more likely to feel engaged at work. Because of this, it's essential to make an employee engagement survey that's effective in its end-result too; if your responses can't be monitored and tracked in a useful way, you're not going to be able to make the process worthwhile.
Questions to help when making a simple employee engagement survey
It's easier said than done, but try to decide what it is you want to measure and be concise. It's often tempting to ask each department lead what they want to find out from employees, in order to keep everyone happy and included in the research. The risk with that is that you could be forming a 'Frankensurvey' – confusing both your respondents and yourself by jumping wildly from question to question and struggling to gain conclusions from such varied results. Keep it minimal but effective.
Here are a few questions to start the discussion with senior leadership:
What do you want to learn from the survey?
How frequently do you need to ask your employees these questions in order to measure change?
How long should you expect to wait for the changes to take hold?
How realistic are our goals for change?
How should the survey be presented to employees?
How involved should senior management be?
It's difficult to hone down questions and subject matters that you've been asked to include. But you'll be glad you did when you're able to easily identify gaps and areas of improvement from your survey. Plan to tackle a few key issues, decide on the fixes you'd like to make and maintain a strategy for this. The increase in productivity will be well worth the effort.
Examples of simple employee engagement questions
1. Leadership
Effective leadership managers account for at least 70% of the variance in employee engagement scores.
2. Career ambition/development
Being aware of opportunities for progression is essential for employees to truly feel engaged with their work; if there's no room to grow then staff turnover is proven to be higher. Despite this, a 2017 study found that only 29% of employees are "very satisfied" with current career advancement opportunities, so there's certainly room for improvement.
3. Line of sight/connection of work to the company
Employees are more likely to be engaged if they have a clear understanding how the nature of their work is tied into the company, and how clear the line of sight is between their role and the positive impact it has on company success.
4. Pride in work
Ensuring employees are proud, both of themselves and of the company they work for, is a simple but powerful tool for high employee engagement. A team taking pride in their work will be a more productive team.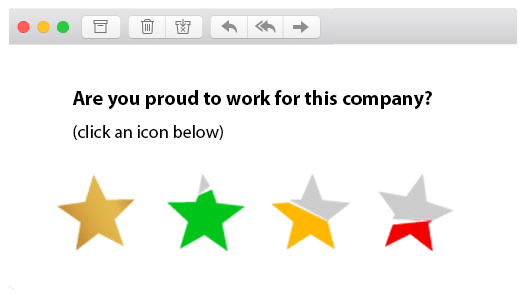 5. Co-working relationships
Effective co-working relationships, a strong team mentality and mentorships are often cited as a key aspect of an enjoyable working environment, so it's worth considering including a question about this for your employee engagement survey.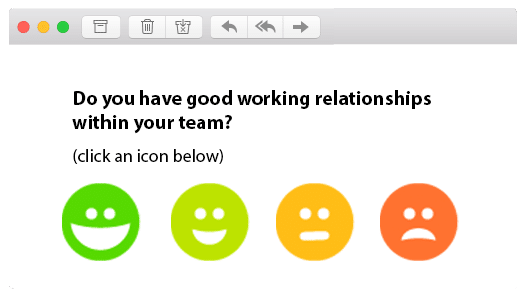 6. Boredom
33% of individuals changing jobs cited boredom and the need for new challenges as top reasons for leaving.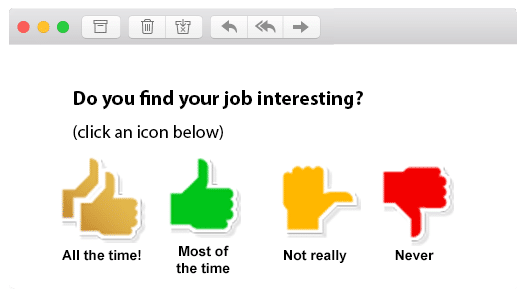 7. Stress/wellness
Poor mental health and stress has, unsurprisingly, been found to have a huge impact on engagement at work. In a recent study, a shocking 31% of respondents reported extremely high levels of stress at work.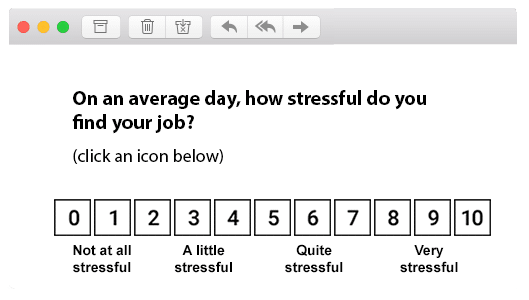 8. Office environment
It's a simple truth, but the space in which your employees are working is a fundamental factor in employee engagement and productivity. This ties into stress and wellness, and covers anything from providing healthy options, ergonomic workstations and appropriate lighting. One study found that the most engaged employees reported having access to a variety of spaces, and the autonomy to decide this for themselves, to enable them to feel focused and productive in their workplace.
There are plenty more questions that you can ask your employees – anything from fundamentally asking how happy they are, to more specific questions around management, office practicality and workloads. Be creative in your consideration, but always try and circle back to what you really need to know about your company and its culture to truly improve employee engagement.
Using Customer Thermometer to setup your employee engagement survey
It's easy for managers of teams large, and small to get employee engagement feedback using Customer Thermometer. As well as our fabulous Add-In for Outlook 365, we also integrate with a host of services like Salesforce and ServiceNow. Here's how to do it in a few simple steps…
When you log in to your Customer Thermometer account for the first time you will be prompted to launch the Thermometer Wizard, this is the fastest way to get set-up with a survey.
Choose your integration type
Type the question you want to ask
Choose your icon set
We know that getting the most responses as possible is what this is all about, so choosing an icon set that will appeal to your customers is key.
Data collection
To make sure you're collecting the most actionable data possible from completed surveys it's worth checking we're collecting the right data for you.
Get your code!
The last step is to take the code snippet or images and links and add to your platform of choice.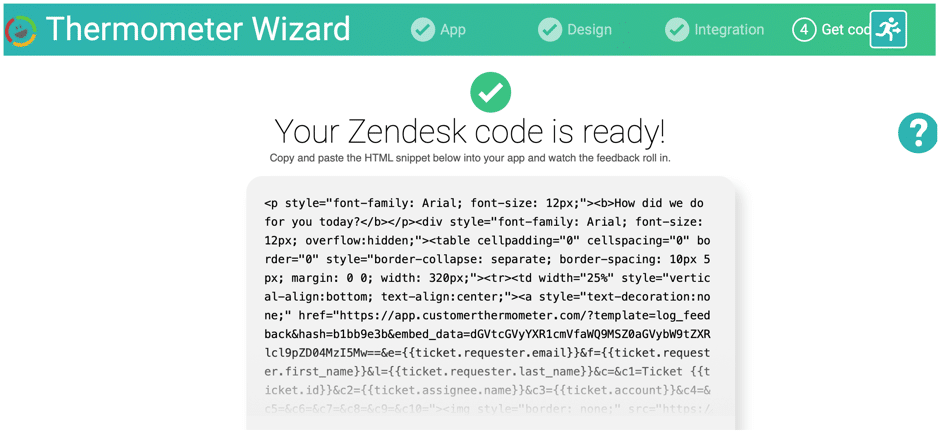 We hope that you've been inspired to get going on your employee engagement survey, and are ready to pick the best solution for this. We have over 10,000 customers that rely on our solution to gain realtime, actionable feedback from their respondents, and with a free trial account to start you off, why not give it a go?
Give Customer Thermometer a trial and find out how engaged your employees are! You will quickly see how easily implemented, simple surveys deliver great response rates that will improve your engagement and ultimately your business.

https://www.customerthermometer.com/img/How-to-assess-employee-engagement-using-simple-surveys.png
248
710
Sophie Leaver
https://www.customerthermometer.com/img/[email protected]
Sophie Leaver
2019-10-30 16:30:40
2019-10-30 16:30:40
How to Assess Employee Engagement Using Simple Surveys