Feedback is a phenomenal source of insight, but your focus shouldn't all be about customer feedback. Organizations can learn all they need by listening to what their own employees have to say too. 
If you've ever wondered about employee feedback, how to get more or how to do it better, then this ultimate guide is the place to start. Read on!
What is employee feedback?
First things first, employee feedback is information provided to employers by employees. It takes many forms and can be on a range of subjects and issues, but typically pertains to the employee experience. In other words, any aspect of the employee's role or general experience working at the organization. For example:
Opinions on their working environment

Training and skills requirements

How well they think they are performing

Ideas for product or service improvement

Aspirations and ambitions

Current status of personal wellbeing
We'll explore the 3 main kinds of employee feedback and why they matter later in this guide.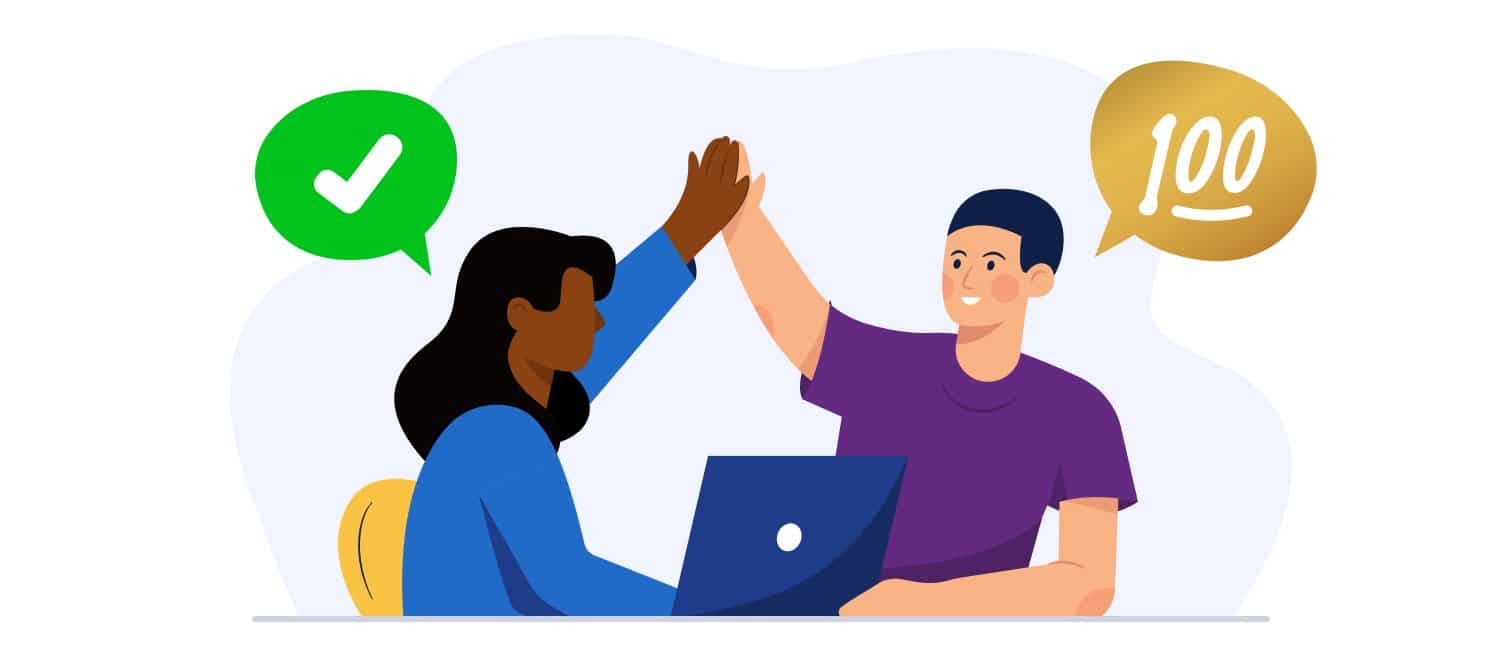 Why is employee feedback so important today?
For all the business theory and management science supporting it, employee feedback is just plain common sense. Employees are, like customers, a critical stakeholder group for the success of your organization. Maximizing opportunities for employee feedback will provide insights into each individual employee, as well as an overall impression of the employee base as a whole and sectors within it (i.e. departments, regional offices, seniority levels). These insights can then be acted upon to make a series of micro and macro-level decisions.
Some of the most fundamental reasons for collecting employee feedback relate to:
Employee experience

, focusing employees on shared goals, values and purpose

Employee retention

, ensuring you can anticipate and minimize staff churn as well as attract new talent

Employee productivity

, helping maximize human potential

Employee efficiency

, enabling processes and workflows to operate to best effect 

Employee wellbeing

, allowing you to reduce absenteeism and promote a positive working environment 

Employee feedback in the context of remote working
The explosion in remote working practices since 2020 has made employee feedback more valuable than ever. This is because the advent of more distributed employees and teams has increasingly sidelined the ability of managers to physically monitor performance, hold ad hoc feedback discussions, and 'read the room' to innately understand the sentiment of colleagues. 
It's actually a blessing – companies are now compelled to conduct formal or semi-formal proactive employee feedback activities where previously they relied on 'gut feel' or just waiting for feedback to arrive.
This is because failing to collect employee feedback in a remote working context can be disastrous. Individuals – particularly new employees – can quickly feel isolated, unsupported or misunderstood. This can have a devastating impact on staff attrition, performance and wellbeing, and damage the overall culture of a business.
Employee feedback in the context of talent shortages
In many sectors in many parts of the world, organizations are finding it incredibly difficult to fill vacancies with appropriately qualified and motivated people. Rather than too many people chasing too few jobs, the exact opposite is the reality for millions. And so ensuring that the people you do employ are happy has become a critical preoccupation for managers at all levels – especially when hiring employees can be incredibly expensive and time consuming.
How often should you collect employee feedback?
"My door is always open" is a cliché in modern businesses where employees and managers often don't occupy the same time zone, let alone the same building or floor. 
It also infers a certain laziness in how employee observations and concerns are dealt with. To break out of this thinking, organizations must be as proactive as possible in eliciting feedback from their employees. The frequency is up to you; anywhere from annually to weekly.
Annual appraisals
The typical HR department will mandate staff appraisals on at least an annual basis. This should include a feedback collection component, such as a pre-appraisal questionnaire or simply noting the employee's verbal comments and asking them to confirm their accuracy afterwards. 
Employee lifecycle milestones 
Again we have HR to thank for placing some structure around the employee journey; otherwise known as the employee lifecycle. Each of the following stages provides an opportunity to gather employee feedback.
Recruitment

Onboarding and orientation

General employment (see 'annual appraisals')

Change (see 'event-driven engagements')

Promotion
Together the sum total of employee feedback opportunities generates a cadence of touchpoints which, while not evenly spaced, adds up to at least several times per year on average.
Monthly pulse surveys
Pulse surveys are designed to 'take the pulse' of employee sentiment and boost employee engagement. Many organizations use these on a regular frequency or between once per month and once per quarter. They are particularly useful for checking-in on individual employee wellbeing. 
Sporadic event-driven engagements
Employee feedback can be pursued in line with change events that occur at irregular intervals. For example, in the aftermath of an emergency incident at work, or in relation to a new product launch, store opening or merger/acquisition with another company. Such events can be calendarized, but they don't happen like clockwork.
How often should you collect employee feedback?
Different types of employee feedback media
Employee feedback is just information, and it takes various virtual and physical forms. If you can think of a communications medium, you've covered off another method of communicating feedback. Employee feedback can be grouped by media as follows:
Survey feedback

App-based feedback (e.g. messaging app, social media app, HR app, etc.)

Handwritten feedback

Verbal feedback (e.g. in conversations, 1-2-1s, group meetings, etc.)

Review feedback (e.g. on employee review sites like Glassdoor)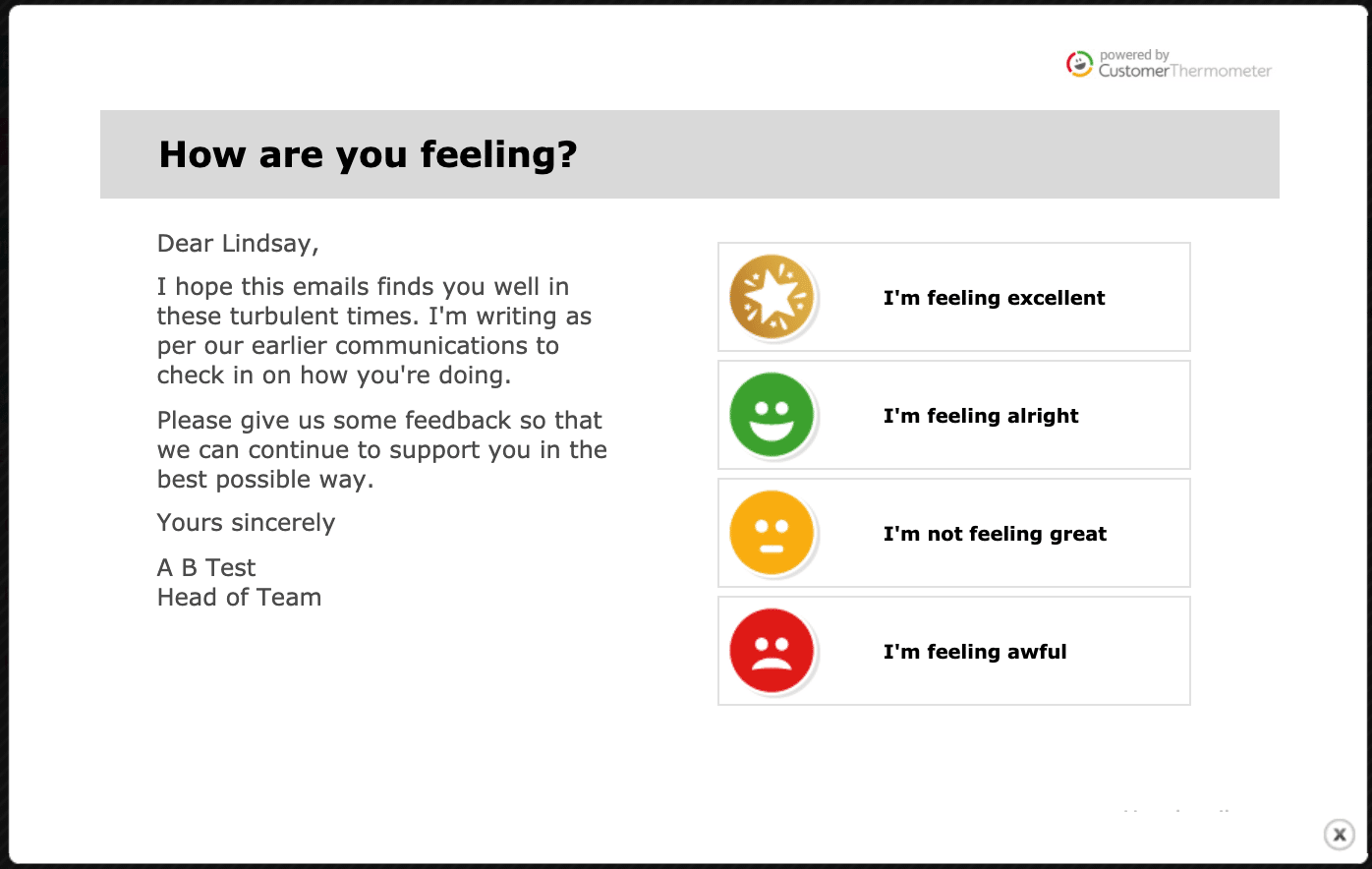 Structured vs. unstructured employee feedback data
Looking down this list, some are easier to manage than others. Clearly, managing employee feedback at scale demands that the feedback data is structured rather than unstructured. Hence many businesses will focus employee feedback efforts toward structured forms like surveys where employees answer questions from a limited number of options. 
Different types of employee feedback content
The other way to organize employee feedback is by type of content. When sought proactively, this content can be engineered into one of 3 main types: 
Wellbeing feedback
This is employee feedback centered around how the individual feels about their job and the work they do, if they feel happy and safe, and if they're operating under reasonable expectations alongside people who respect them. Wellbeing feedback is closely aligned with employee retention – happy employees tend to stick around, promote a positive atmosphere and make a better contribution to business goals. And as well as offering individual-level insights, it can also give a reliable view of wellbeing across the organization.
Job feedback
This is employee feedback that's all about job performance and progression. A major part of managing people is getting the most out of them, ensuring they are equipped to achieve the desired results. At the same time, employees are keen to progress in their roles and gain promotion to greater salary and responsibility. Both sides to this require a dialogue and the employee's side is employee feedback. It ultimately helps the business succeed when you understand an employee's job perspective. 
Job feedback can also be given to third parties to offer a genuine perspective on what it's like to be an employee of 'X' organization. For example, on job review sites like Glassdoor, or in a more unstructured verbal way to friends and associates. 
Internal feedback
This is employee feedback that relates to other important observations, suggestions or concerns not covered in wellbeing or job feedback. These can be extremely valuable insights such as:
Whistleblowing about inappropriate activities or malpractice

Well-informed ideas for product changes and improvements

Competitive intelligence picked up by employees via their personal networks

Advocating on behalf of strong or regularly occurring customer feedback
Internal feedback is probably the least structured in most organizations, unless proactive employee feedback gathering activities are geared to collect.
Common ways of collecting employee feedback
There are many ways to collect employee feedback. In most cases it's only provided when asked for. In others, employees volunteer unsolicited feedback. Another way to look at the difference is as proactive and reactive forms of employee feedback.
This distinction is important as we explore the various ways of collecting employee feedback. 
Requested feedback
This first grouping of proactively gathered information comes when employers invite their employees to contribute feedback. This puts employers in control of the process, allowing you to set the agenda of what issue or aspect you want to get feedback about. Typically, the request for feedback comes in the form of a question, hence the central role of employee feedback surveys.
Employee feedback surveys
Employee feedback surveys are the most popular way of eliciting feedback from your workers. The principal variations in survey are:
Subject matter (i.e. question content)

Length (i.e. number of questions)

Frequency (i.e. how often employees are contacted)

Method of delivery (e.g. email, in-app, physical form)

Design (i.e. presentation and the mechanics of answering question/s)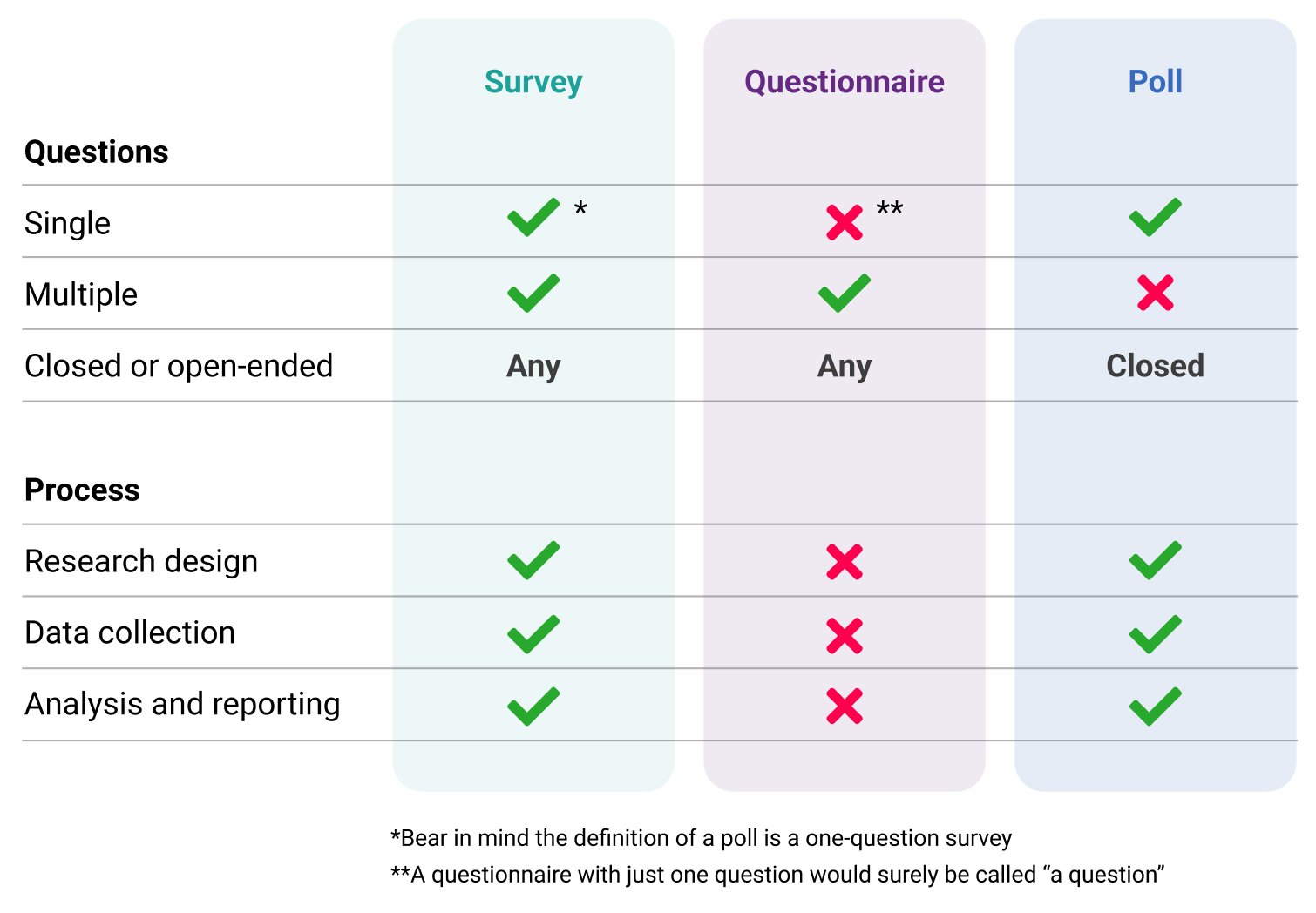 Other terms to describe a survey include 'questionnaire' and 'poll', however both of these actually describe something slightly different to a survey. Strictly speaking, a survey is the entire exercise of gathering employee feedback including the 'request' containing a question or questions. A questionnaire is simply a list of questions; a component within a survey. And a poll is a type of survey that has only one question. 
The idea behind a survey (in this context) is to make it simple for employees to give feedback, for the process to be managed efficiently, and for data to be easily analyzed, reported and acted on. 
You can use employee feedback surveys to ask about practically anything. For example, questions about:
How the employee is feeling right now

How their first week went

What support the employee wants to make them more successful

The employee's opinion on the training course they just attended

What questions or concerns they have about a recent company announcement

Anything they would change about a business process to make it better

If they would recommend working here

Why they decided to leave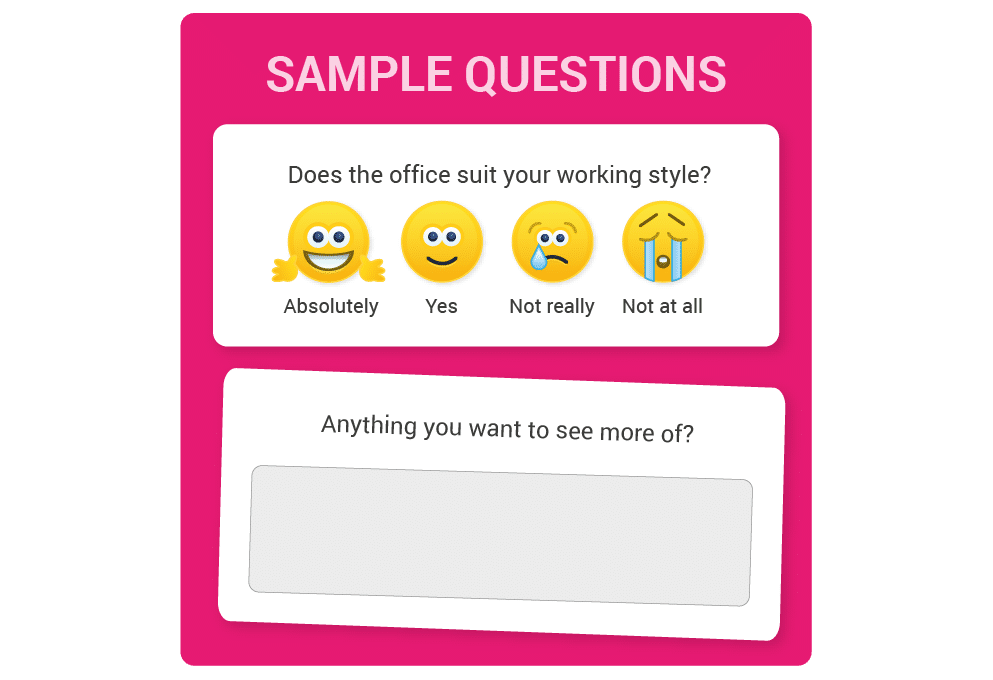 1-2-1 meetings
Private one-on-one meetings are an important touchpoint in the employer/employee relationship, especially in a remote worker context. Having a regular weekly check-in between a line manager over video or face-to-face is an important opportunity to impart and collect feedback that can then be considered and acted upon. 
The challenge in this set-up is recording the feedback accurately and consistently so that it sticks and something happens as a consequence. It's really on the manager to lead this by taking notes and sharing them post-meeting to validate they are correct. Failure to comply leads to dismay as the employee isn't properly listened to.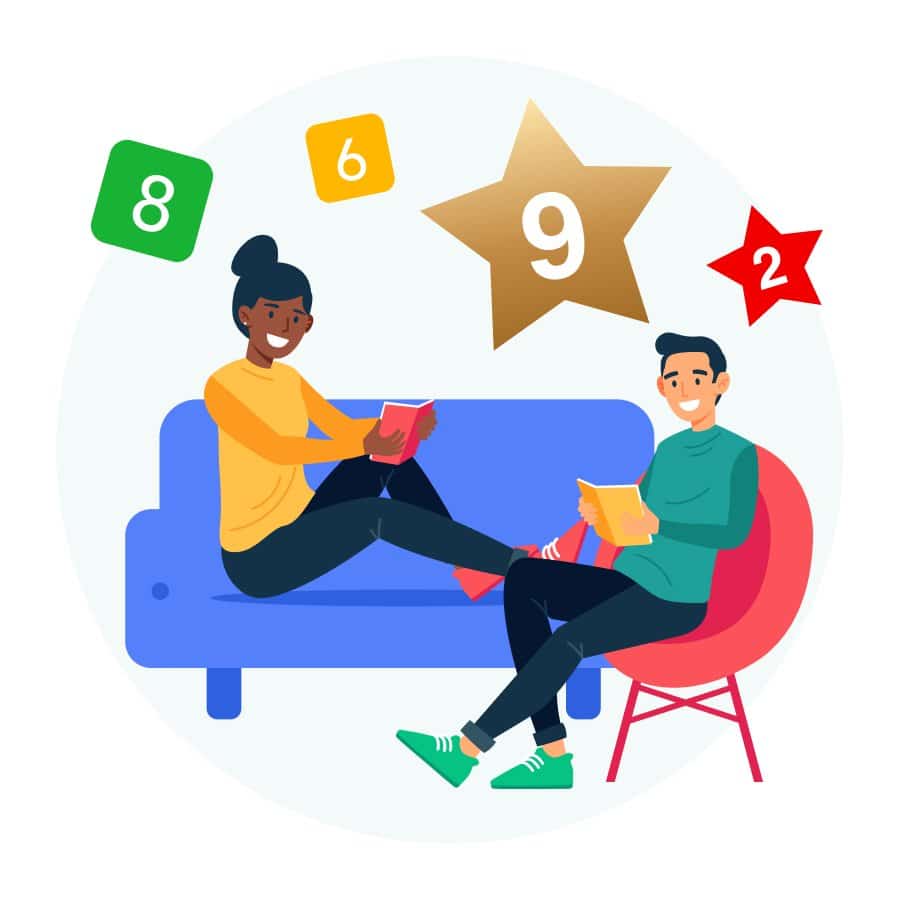 Unsolicited feedback
This second grouping is the feedback that's facilitated but not explicitly asked for. In other words, the employee sets the terms of when the feedback is provided, how often, on what subject and for what reason (i.e. what stimulus). 
Facilitating this is very important as it provides employees with the reassurance that they can provide feedback 24/7 – whether that's to highlight a concern, air a grievance or share a bright idea. As these can sometimes be very sensitive issues, employers need to ensure they have appropriate feedback channels in place.
Publicized repositories and forums
Employers often facilitate feedback by publicizing channels to their workforce, like a @feedback email address. These can then be regularly checked and acted upon. Some CEOs go a stage further, inviting workers to provide observations, questions and ideas any time they like – again usually via their main email or a secondary account.
Another example is the 'town hall' style meetings where employees are provided with a company update. A crucial element of these sessions is the participation of employees in a freeform style, outside of any structured Q&A.
Anonymous feedback channels
An anonymous feedback channel is a 'safe space' for employees to report issues without fear or favor. Here are some examples:
Suggestion box – popular in the pre-digital age, employees discreetly write down feedback on folded piece of paper and physically post it into a box. Managers then empty the box periodically to absorb the comments and act on them as needed.

Whistleblower apps – HR apps like Hibob have whistleblowing tools that allow employees to lodge concerns. The advantage with this approach is that all feedback is rapidly acted upon and escalated to the appropriate individuals.

Anonymous email – employees can hypothetically message to a central email feedback repository (see above) using an anonymous email account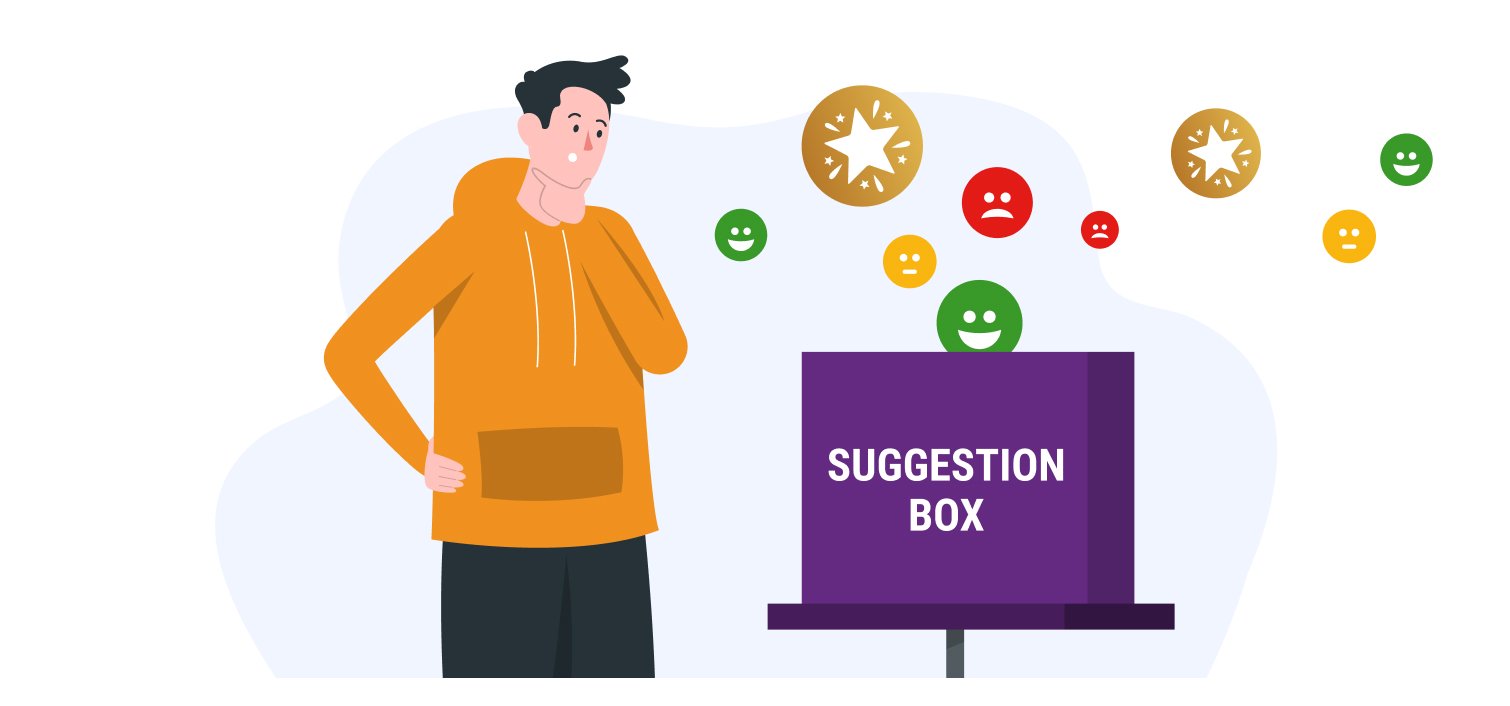 Third-party feedback
The last group of unsolicited feedback is the type that's not provided directly to the employer, but is instead published on third-party sites. Like all feedback, this swings both ways – positive feedback helps the company's reputation among prospective talent, while negative feedback can damage company reputation as an employer and impede efforts to hire new recruits.  
What are the challenges of collecting employee feedback?
The best organizations are the ones who understand their employees and have everyone pulling in the same direction. That comes down to having a great employee feedback program which can overcome the following challenges.
Getting regular, detailed feedback from everybody
You care about every employee, right? But unless they want to play ball, you might never get enough feedback to really know what's going on. And failing to get feedback from everybody doesn't just affect those individuals – it stops you fully understanding your organization as a whole. We'll look at best practice tips later, but for now some of the things to think about in this area are:
Setting some goals for getting to 100% coverage of your workforce

Understanding your feedback response rate and finding ways to maximize it

Making the experience of giving feedback faster, simpler and more engaging for employees.

Ensuring your taking all your feedback request opportunities and asking for feedback frequently enough
Ensuring no-one is fatigued filling out feedback sur
veys
Feedback requests are all around us, asking us to score everything from our grocery shopping to our latest vacation experience. It makes people a little jaded. And even if employee feedback requests are much less frequent for the average person, the overall volume can mean individuals think twice before bothering to spend their time on it.
Putting out your own feedback surveys into this context is a fact of life. Bear the following in mind to try and mitigate this effect: 
Choose a good time of day or week to send the survey out, when most employees are likely to have more time spare

Ask the minimum number of questions and make it clear up front that you're trying to minimize their time and effort

Go for a design that makes the experience engaging and inviting

Thank employees when they give feedback, and show you're listening by telling them what the feedback responses will be used for (and acting on them)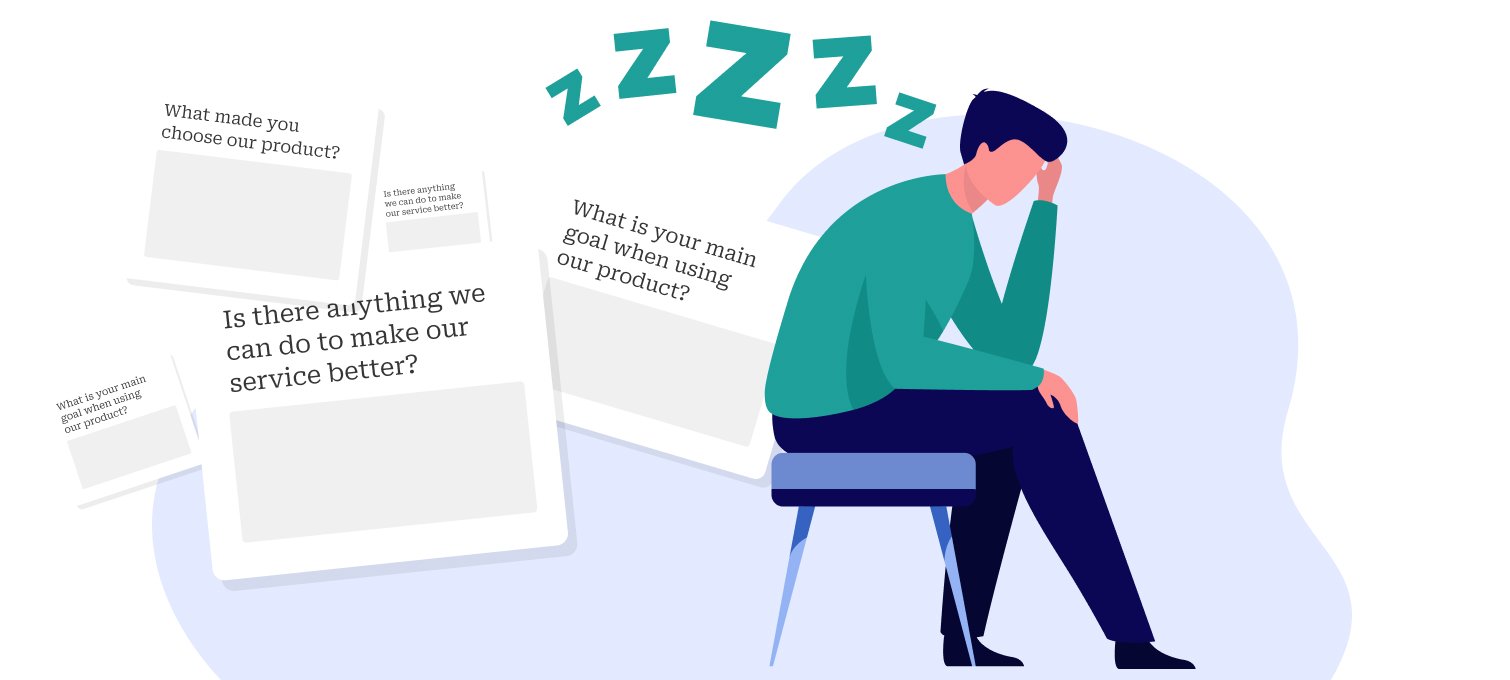 Gaining insights that are relevant to business objectives
There needs to be a purpose to your employee feedback gathering, so you can tie employee insights to relevant business objectives. A lot of this comes down to the choice of questions you ask; being cognizant that you can't possibly ask every single question you want – there's a limit before you fatigue them. 
For example, asking employees if they like the new company brand refresh you launched doesn't seem particularly valuable. What difference does it make? Isn't that a better question to have asked before you rebranded? Or just a more relevant question to ask customers instead of (just) employees?
Relevance can also come from making the employee feedback process as fast and responsive as possible. For example, being able to ask employees about newly emerging issues right away. Or, when asking for feedback about a recent event, not leaving it too long afterwards to issue the survey to respondents.
The other main factor is analysis and reporting, so the right people in the organization can see what's going on, what it means and how to react.
Acting on feedback appropriately
Too many organizations monitor employee feedback really well, but then fail to act upon it. This undermines the whole point of employee feedback – to learn from employee insights and better inform decision making regarding individuals, groups and the workforce as a whole. 
So ensure that you aren't too focused on measuring KPIs at the cost of having a process for responding to and acting on feedback. This can include 'closing the feedback loop' with employees; an organized method for following up, acting upon and 'closing out' issues raised. For example, acknowledging extreme emotions and incidents and intervening to achieve an appropriate conclusion.
Getting top-level buy-in is incredibly important for putting the right mindset into action and building from there.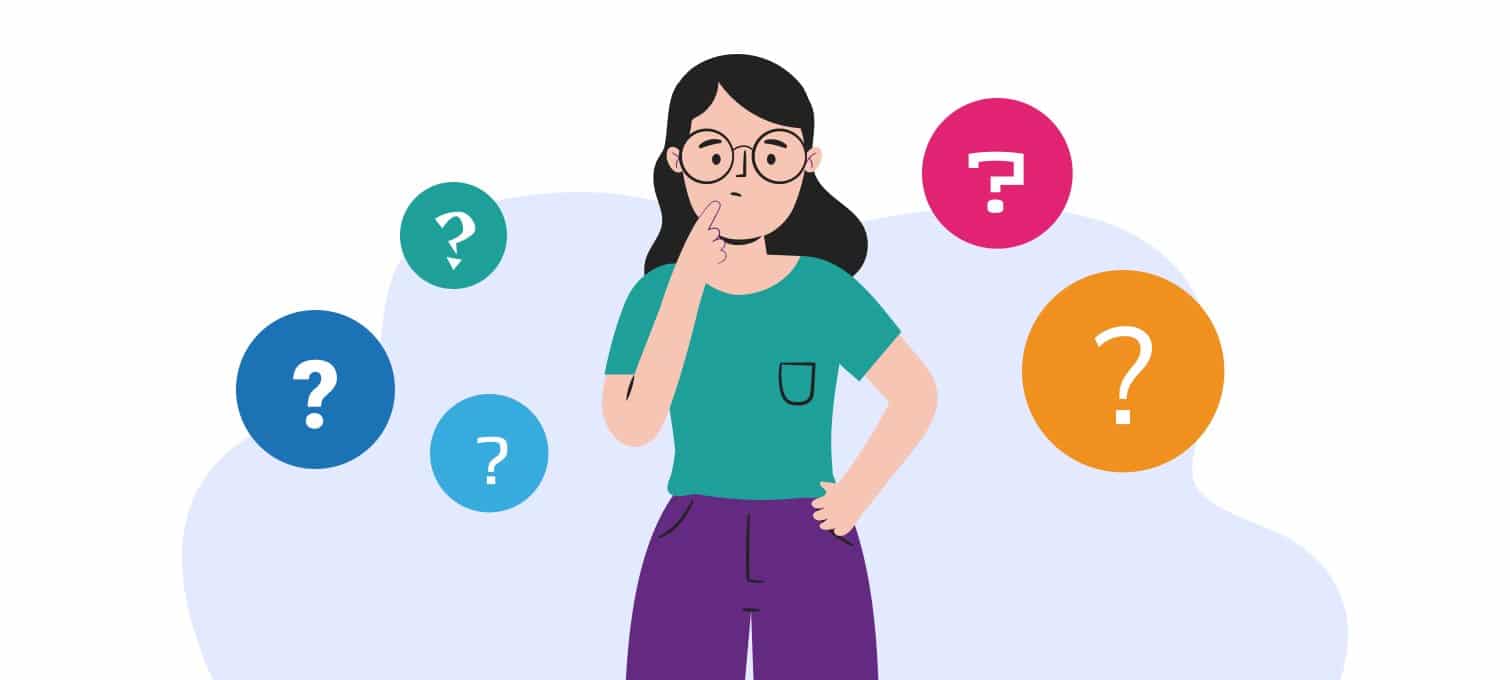 How can you measure employee feedback?
Measuring employee feedback can be challenging when dealing with a mixture of structured and unstructured feedback data. The following assumes the use of employee feedback surveys to elicit structured feedback data that can be managed accurately and rapidly.
Virtually every employee feedback topic
Employee feedback surveys can be used to gain insights on virtually any relevant subject area. As explained above, these generally refer to the employee's wellbeing and environment, their perspective on the role they perform, and other insights that may be valuable to business objectives. The following are some of the most common areas for measuring employee feedback:
Employee engagement (i.e. how engaged with the organization they are)

Knowledge/awareness of company objectives and values

Knowledge/awareness of corporate policies and events

Opinions on company culture and their contribution to it

What they think about their working environment and resources

Health and strength of co-worker and manager relationships

If they are stressed, bored or overworked and to what extent

Their future outlook on career progression if they perceive the business capable of matching their aspirations

Training needs and how these are being met

Ideas about product/service improvement
Key employee feedback metrics
Like any kind of feedback, metrics can be used to gauge trends and levels in employee feedback. This is valuable when managing employee feedback at scale, and can be a straightforward way to communicate insights via internal reporting.
The two most popular employee metrics are:
Net Promoter Score® or 'NPS' – also a customer feedback metric, and often referred as 'eNPS' in an employee context 

Employee Satisfaction Index or 'ESI'
Net Promoter Score (NPS) /Employee Net Promoter Score (eNPS)
NPS is commonly used to measure customer loyalty or retention. However, it can easily be applied to an employee retention context.
It is based around a single question that asks respondents to score, on a scale of 0–10, their willingness to recommend the employer as a place to work. A high score infers that the employee is loyal and unlikely to have any current plans to leave for another job elsewhere. The question will be phrased something like this:

According to the answer provided, the employee's response can be sorted into one of 3 groups:
Promoters (scores of 9 or 10)

Passives (scores of 7 or 8)

Detractors (scores of 6 or lower)
Aggregating results from many employees will see these groups reach different sizes. This is the basis for the NPS calculation, which will end up on a spectrum between -100 (very bad) and +100 (very good). Check out our Ultimate Guide to NPS to learn more.
Employee Satisfaction Index (ESI)
ESI is always based around 3 questions that never change:
How satisfied are you with your current workplace?

Does your current workplace meet your expectations?

How close is your current workplace to the ideal one?
Similar to NPS, each question is based on a number scale – in this case 1–10 instead of 0–10. Having answered all 3, this gives each respondent an aggregate value out of 30. Using a sample set of employees, you can calculate a mean value out of 30.
Unfortunately, 30 is an inconvenient number for simple statistical analysis, so an equation is used to re-base the calculation out of 100:
ESI = [((Question mean value / 3) – 1) /9] x 100
For example, using a mean value of 18, the ESI (out of 100) is 56:
18 / 3 = 6
6 – 1 = 5
5 / 9 = 0.56
0.56 x 100 = 56
As with NPS, organizations can use the index to monitor relative performance over time for the entire workforce, and run comparisons between different cohorts. It can also be used to track individual ESI scores, using the employee's question score out of 30 in place of the 'mean value'.
What are the benefits of an employee feedback program?
Gathering employee feedback is smart and good for business. But to maximize success it makes sense to organize a structured employee feedback program around regular employee feedback surveys. Here are some of the main benefits:
Optimizes employee wellbeing and makes them feel valued
Unhappy workers are less productive, energetic and willing to contribute. Employers need to know when employees are experiencing problems and what's causing them. By regularly enquiring after employee wellbeing, you're making it a positive thing to talk about, encouraging workers to be open about how they're feeling – safe in the knowledge you're there to support them.
The other dimension here is that – just by asking employees about their views – you're making them feel valued and included. 
Retains and attracts staff
Employee feedback surveys can inform how you shape a company culture so that staff buy-in to the corporate mission. That's crucial to engendering loyalty among the workforce and making your company a place where the best talent wants to work.
Employee feedback surveys also show you when workers are about to churn; giving you a valuable window for addressing why.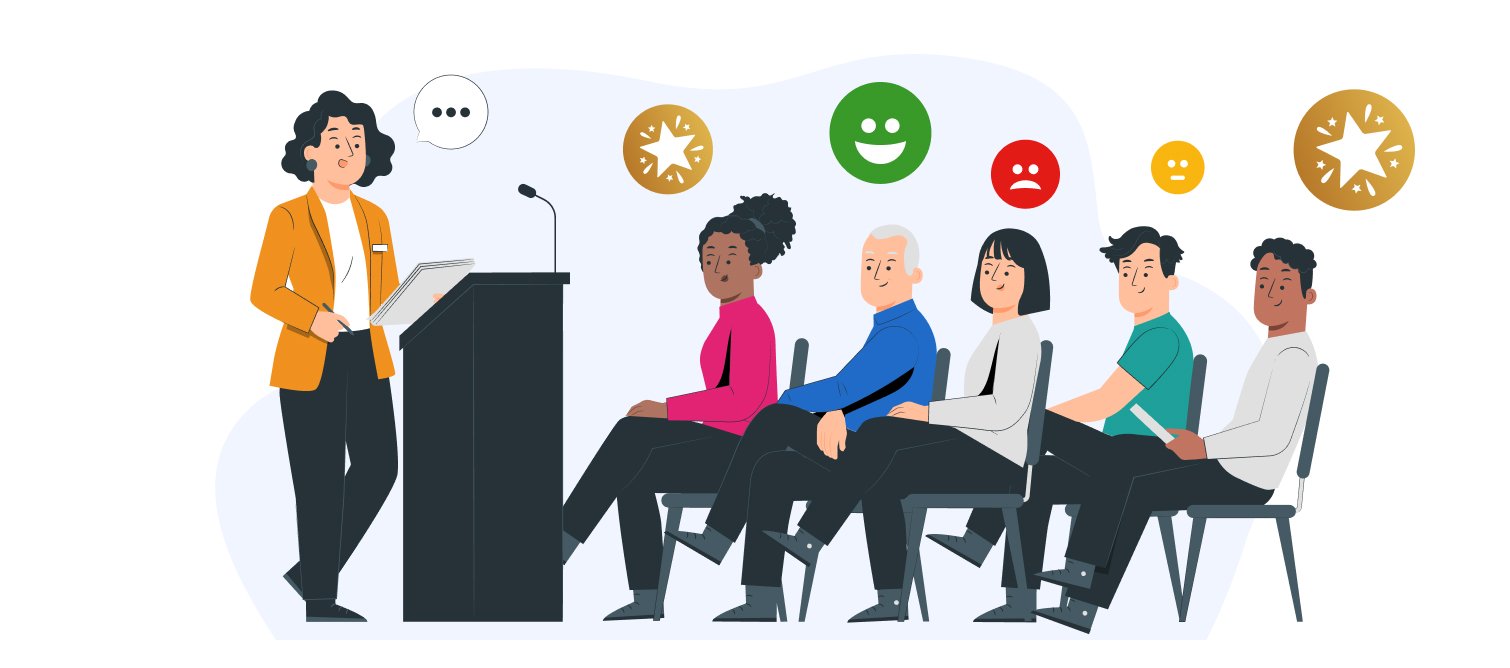 Identifies issues early
Quick employee surveys are great for picking up warning signs and emerging problems among the workforce. This is especially true if your employee feedback program is orchestrated to spot patterns and track trends in individual and group responses. A good employee feedback program will also be able to support whistleblowing, which will enable you to take command of problems you'd ordinarily never come across.
Harnesses innovation
Employee feedback really helps capitalize on the full potential of human capital. Among your staff are people with intimate knowledge of your products and customers, and bright ideas about how the future could look. Having systems in place to drive innovation and encourage constructive feedback contributions are essential to facilitating that. 
Gives fast feedback on corporate decision making
Events and decisions create change within organizations, and managing that change means understanding the perspective of stakeholders. Let's say you've recently launched a new staff policy on remote working, or decided to discontinue some popular but unprofitable product lines. Understanding what employees think of these changes is very important – in terms of remote working it will impact how well the policy is adopted; with the product discontinuation it could affect how well staff are able to present alternatives to customers. 
There are dozens of things you'd love to poll your customers about and get results within 30 minutes. Well it can be just as powerful polling your panel of employees. 
What should you do with employee feedback you receive?
The effort of collecting employee feedback can be wasted without a plan for analyzing and acting upon the data. Those outcomes and actions need to be baked into the plan from the start, else you'll just be making it up as you go along. Here are the main points to consider:
Define the purpose of the employee feedback survey/s you're sending out 
How does it align with business objectives?

What metrics will you track? 

When and how often will they go out?

What form will they take?

What will success look like?
Design an engaging email survey template
Develop appropriate questions and questioning formats

Is it appropriately branded?

Does it represent your company and brand values?

Will it display/operate correctly on all email clients (including mobile)? 

Ensure the survey data is secure and mobile friendly

Conduct some technical and A/B testing
Prepare the ground before you issue the survey
Make managers and employees aware of your employee feedback initiative and the reasons behind it. 

Set expectations regarding cadence and the (low) impact on time and effort required. 

Create a response plan for how you'll react to certain types of feedback

What happens to negative/concerning feedback comments?

How and to whom is feedback escalated and what are the triggers?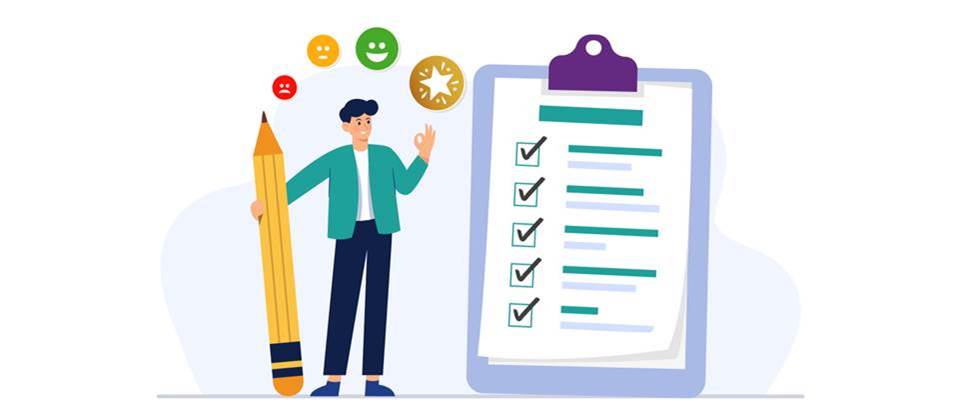 Begin employee feedback survey distribution 
Activate your feedback response plan as necessary. 
Process employee feedback data
Collect and segment data based on your defined parameters

Analyze and report on data based on your defined purpose and objectives

Produce metrics/trends and feed into reporting dashboards for senior management
Act on feedback data in other meaningful ways
Make decisions based on the defined purpose and objectives 

Intervene with individual employees as appropriate

Identify improvement opportunities

Keep employees informed about feedback results and changes arising
Commit to continuous improvement in terms of:
Template design

Distribution timing

Question formulation

Choice of metrics 

Reporting
4 employee feedback strategies
Your organization should want more from employee feedback than just a general sense of knowing what makes your people tick. Here are 4 strategies you can follow for more specific business objectives.
Employee retention
Losing staff is very expensive, seriously inhibits growth and can undermine all business strategy. Losing those people is bad enough, but at least with employee feedback you can learn to anticipate when it's likely to happen and why.
Employee feedback should be the cornerstone of any employee retention program, educating you on the reasons people leave and giving you time to change it. But feedback doesn't just help prevent or delay churn by uncovering barriers and dislikes – it gives you vital intel into what it takes to be a happy, inclusive, self-motivated working environment that people want to contribute to.
Calculate your employee retention rate and track it over time

Ask leavers why they left

Gain feedback into the triggers for leaving

Intervene when you see these triggers play out

Pay attention to metrics like ESI and eNPS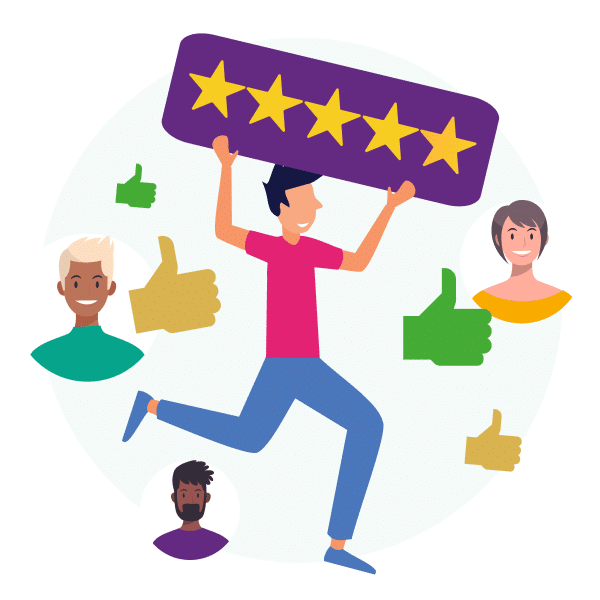 Optimize onboarding, training and development
Every employee is on their own unique journey, but all will pass more or less the same milestones along the way. This is the employee lifecycle that begins with recruitment and moves on to onboarding, promotion, training, change and – eventually – exit. Each of these stages (and more) include processes that your business pays for and facilitates. And employee feedback can help optimize them for the next employees on their journey.
Employee feedback surveys are particularly effective when targeting very specific questions at very specific aspects of a process. This provides directly actionable insights that – when acted upon – you can be confident will work.
Map the employee journey and the processes and touchpoints within it

Design employee feedback surveys that gather opinions on each stage

Use feedback to inform improvements

Poll employees closely each time you make an improvement to measure its impact
Track KPI progress
Monitoring employee feedback is the platform for measuring and managing it. This can be done by first baselining some initial employee metrics (eNPS, for example, or job satisfaction) and then tracking these over time.
These insights can translate into management KPIs at every level, from how to shape HR policy across the business, to how departments and team leaders are performing, and what individuals feel they need to be successful in their roles.
Decide which metrics and KPIs you'll generate from employee feedback

Get a solid baseline reading and repeat the measurement continuously

Analyze and report on changing metrics and the drivers behind them

Use KPIs to inform how you approach individual employees (i.e. in periodic appraisals)

Improve performance
Much discussion of employee feedback understandably majors on the personal wellbeing aspects of the employee experience, but just as important are performance aspects like productivity, efficiency and measurable success. Don't overlook the value of employee feedback in influencing how business processes operate and customers are served – even how products and services are designed and delivered.
Another element of performance is innovation; finding new ways to be more competitive, productive, efficient and compelling to customers. Many of these answers lie among your existing staff and employee feedback can help you extract it.
Gather employee feedback on the factors that drive performance

Invite feedback on improvements and suggestions – not just grievances

Foster a 'feedback culture' where employees feel valued and listened to

Consider an 'intrapreneurship' program where employees can propose revenue- or efficiency-generating initiatives which are then celebrated, rewarded and implemented

Embrace and facilitate whistleblowing
Best practice for employee feedbac
k surveys
The following best practices will help you achieve long-term success with your employee feedback surveys.
Keep employee effort to a minimum
Some employee feedback surveys are too long. By contrast, a quick and easy survey makes employees more likely to invest their all in the exercise. You might get fewer insights and less data in the short term (compared to a long-form questionnaire) but in the long run you'll be able to count on a healthy response rate that provides reliable, representative results.
Boost frequency and accuracy with single-question surveys
Maximizing insights means asking employees as much as possible, but this attracts the risk of survey fatigue as you demand more and more effort from people. 
One way around this problem is using single-question surveys. Instead of a monthly or quarterly cadence, surveys this short can be issued far more frequently because they take practically no time at all to complete. One-question, one-click surveys also have the highest response rates of all, and the data you gain is always more up to date. 
Make surveys icon driven and mobile friendly
Maximizing your engagement and response rates is easier with icons as answer options – so employees just have to press one to complete their survey. It might only save a second, but it all counts when employees are bombarded with so many demands on their time. 
The other major technical consideration is ensuring your email surveys can be answered by every employee on whatever platform they choose. Email surveys that don't display correctly on mobiles are usually deleted within 3 seconds. It's an easy problem to avoid, and especially important if you're going for an engaging survey template with on-brand colors, designs and graphics.
Always tell employees what the survey is for
Employee feedback surveys deliver mutual benefit so emphasize this (briefly) in the email survey itself. Recipients should be told the purpose of the survey, how it works and how you'll use their data. Most of all, communicate how it helps them and the business as a whole. This will pay off long term if you plan to send pulse surveys regularly.
Finally, ensure you comply with data protection rules at all times and reflect this fact to employees. 
Use simple questions everyone can understand
The simplest things can be the hardest to do. Setting survey questions can be fiendishly difficult because of everything you have to consider:
Questions need to be as concise as possible

Choose everyday language that everyone can understand

Don't confuse employees with complicated concepts

Avoid 'leading' questions that steer the respondent toward a certain response

Check your questions for survey bias (some of which may be unconscious)
If in doubt, check with a colleague, conduct testing or seek expert guidance. 
Employee feedback survey examples
Employee feedback surveys can be used to gain qualitative and/or quantitative research data. Questions designed to gather metrics are quantitative, while more open-ended questions are qualitative.
In either case, the main question can be accompanied by a follow up question to determine the reasons why, or by a 'comment box' where further detail can be added.
Here are 10 examples of opening questions for employee feedback surveys:
The Net Promoter Score® question
How likely are you to recommend working here to a colleague or friend?

Business culture and values
In your opinion, how closely are you aligned to our company values?

Empowerment
What would make you feel equipped to be successful in your role?

Management
Are you confident in the leadership of the business?
Career advancement
Do you see yourself here in 5 years time?

Safety
Do you feel safe operating in your present working environment?

Inclusion
Do you believe the company is inclusive enough?
Wellbeing
Are your mental health needs being supported at work?
Internal comms
Do you feel well informed about what the company is doing?
Not a customer? Start sending employee feedback today
Our free trial should give you plenty of opportunities to experiment with fast, effective feedback surveys for employees. We integrate with practically every platform and generate some of the best response rates in the business. Set up your one question survey and start sending getting feedback from your employees today.
https://www.customerthermometer.com/img/Blog-39.jpg
496
1420
Elisabeth
https://www.customerthermometer.com/img/[email protected]
Elisabeth
2023-03-30 15:14:16
2023-03-30 15:14:16
The Ultimate Guide to Employee Feedback