It's been a long time coming. But now is the time to start planning to welcome employees back to the office, and back to brand new working arrangements.
It won't be straightforward.
Acclimatising to 100% working from home had plenty of problems. You can't assume that employees will switch back as if nothing ever happened. Different people will be affected in different ways.
Responsible employers who want to do right by their people are considering things like:
Will employees have fears and concerns? What will they be, and what can we do to address them?
What will be their expectations for the working environment they return to? Does this match what we plan to provide?
What's the appetite for switching from full-time WFH to full-time at the office? And on what timescale?
Who is happiest returning to work? What aspects and advantages do they look forward to, and are we realizing them?
When will people start getting a more precise sense of the hybrid, flexible working approach they want? What exactly does that look like?
And what about those who end up continuing to work from home all the time? Are they still feeling part of the team, or more separated from colleagues who've gone back to the office?
This is why it's so important to stay close to what employees are thinking. We've created a guide full of ideas, templates and questions for you to ask.
This guide provides sample questions you could ask together with a structure for managing the whole feedback process. In fact, everything you need to:
Garner feedback before, during and after the big 'welcome back' event
Understand what's driving their feedback so you can take action accordingly
Get the maximum possible response from everyone, so you aren't overlooking individual cases or underrepresented views
Make employees feel valued for the feedback they give
Digest and act upon what you discover – fast
Getting set up
Start by getting your head around the employee perspective. Have some exploratory "what if" conversations with a few staff members. Remember there will be a variety of perspectives and personal circumstances, so drawing up a small number of 'personas' might help you with this process.
Tools-wise, you're going to need a platform for asking questions and managing responses. It's got to be super-easy for employees to participate. No use in fashioning a 30-question survey nobody has the time or inclination to respond to.
It also has to allow you to track feedback trends and drivers, presenting raw data clearly, easily and in real-time so that you can act fast and without delay. And you need to consider a mechanism for ensuring that certain kinds of feedback are specific and confidential to the individual (i.e. using a system that validates who gave what feedback) while others can be anonymous.
Last but not least, you're going to need good questions to ask. Each of the following sections breaks down a logical approach to each stage of the 'welcome back' process, as well as some sample questions to kickstart feedback.
BEFORE: Back-to-office survey (Pre-opening comms)
This stage is all about connecting with your people about the reopening of offices and/or sites before it happens.
They've been away a long time. New habits have been formed; old ones at least partly forgotten. Employees are likely to feel safest in their homes, so the idea of spending time elsewhere might be daunting and require some reassurance.
On an individual level, you need to sense how each person is feeling so you can cater for them. Organizationally, you must understand the sort of numbers coming back in so you can plan.
Sample questions:
How are you feeling about coming back to the office?
How many days a week do you want to come back in your first month?
Do you have any concerns about coming back to the office?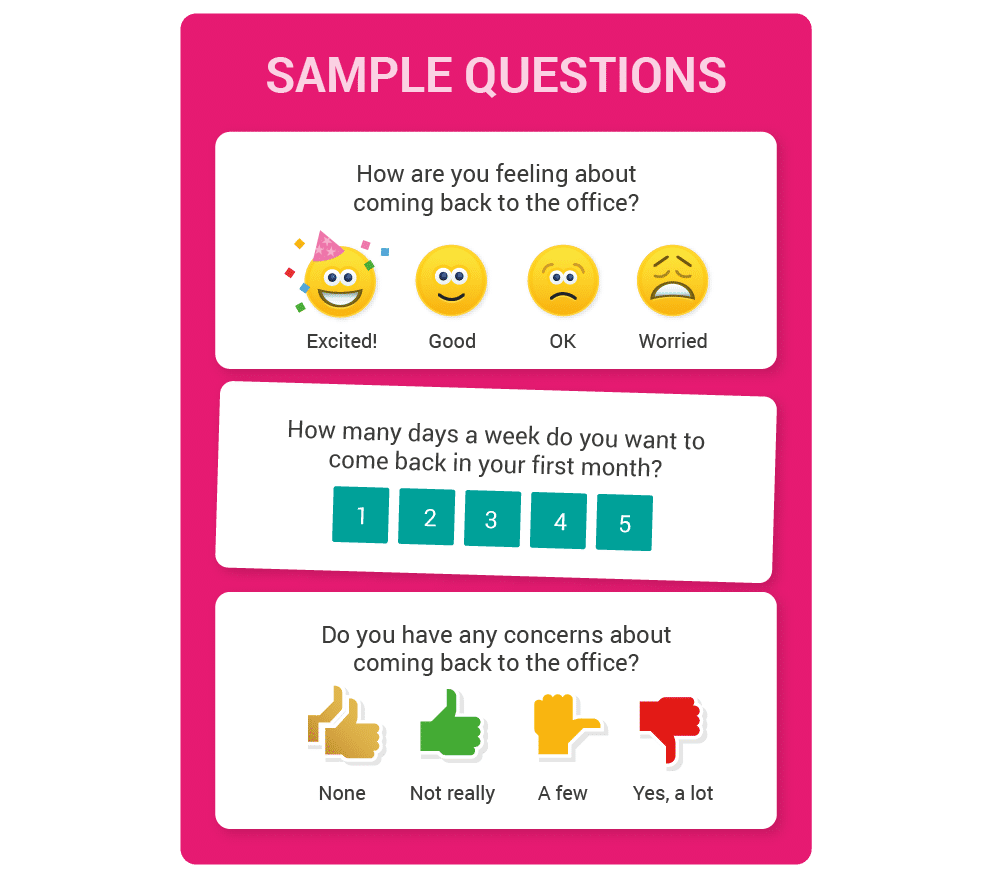 TOP TIP: Think about hitching a ride on existing touchpoint communications with your staff, rather than (or as well as) sending dedicated emails with these questions. Planned communications (for example, notifying how much credit is left on the employee's canteen/restaurant account or something more generic like a monthly staff newsletter) can often establish a certain amount of context pertinent to the question, optimizing the likelihood of a response.
DURING: Back-to-office survey (The 1st month back comms)
This stage is critically important both in listening to staff feedback but also being seen to listen to staff feedback. People will be adjusting and will benefit from encouragement and sensitivity. Consider their perspective on both wellbeing and safety alike. As mentioned earlier, you also need to ensure you don't exclude homeworkers from this or any other stage. The welcome back is a big event that impacts everyone, regardless of whether or not they are returning to work. Failing to recognize this could severely impact their feeling of isolation.
Feedback collection is typically best optimized via emails and landing pages, but not always. By physically locating touchscreen tablets in public areas (suitably sanitized), you can collect 'passing' feedback from staff as they move around the office environment. That can be really helpful in correlating the responses you receive with times of day – for example, finding that people are happiest about being at work when public areas are least congested, or have recently been cleaned.
This is also the stage to demonstrate that you are prepared to act upon employee feedback where appropriate. Whether that's in response to an individual concern or a feedback trend, there is little point doing any of this unless you are going to do something about it.
How was your day today? (iPad on stand in reception area)
How did it feel coming back today?
Anything we could do better around the office?
Did you feel safe?

Which of the following issues influenced your answer: social distancing, cleaning, transit through the building, access, meeting rooms.

Home workers… Are you feeling involved / are you getting enough interaction with the office team?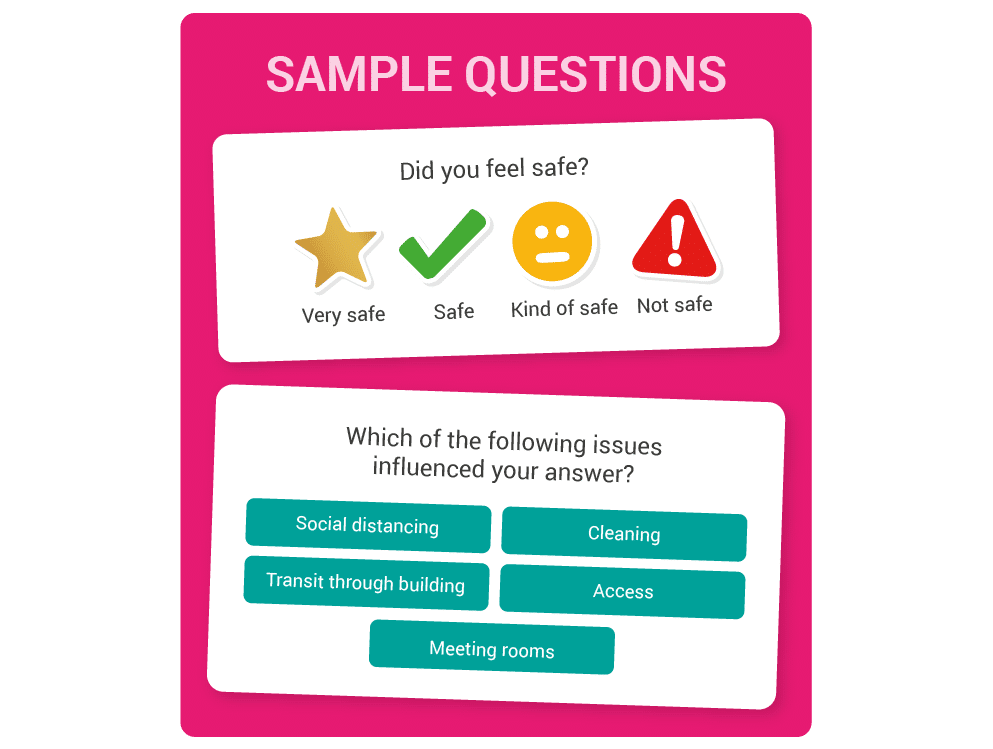 TOP TIP: Your choice of feedback platform should ideally enable you to delve a little deeper than just single responses to single questions. Specifically, getting at the 'drivers' behind why they say what they say. For example, asking them an opening question like "Do you feel comfortable at work?" with a follow-on 'drivers' question like "Check which of the following made you feel comfortable: social distancing in public areas, cleaning frequency, meeting room transitions, etc."
AFTER: Back to office survey (Post-return and equilibrium)
By this stage it's been a while since all the big welcome back activity began; at least 3 months on the road back to normality. You should be getting an acute sense of not only how staff feel about it all, but also how that new normality is shaping up.
Most organizations accept that, post-Covid, not every employee will fit easily into binary categories of work-from-home versus work-from-office. A recent Mercer survey found 73% of businesses expect more than a quarter of employees to carry on working remotely post-pandemic. The same survey found 94% of employers saw productivity the same or higher during remote work-enforced Covid lockdowns as when staff were largely based in the office. Successive studies point to the emergence of 'hybrid' working arrangements as the prevailing choice.
Organizations should use this opportunity to lay the groundwork for determining what these hybrid working patterns will look like for them and their employees. This is in addition to continuing sensitivity around the long-term implications of changing back to an at least partial return to office-centric working.
Does the office suit your working style?
Anything you want to see more of?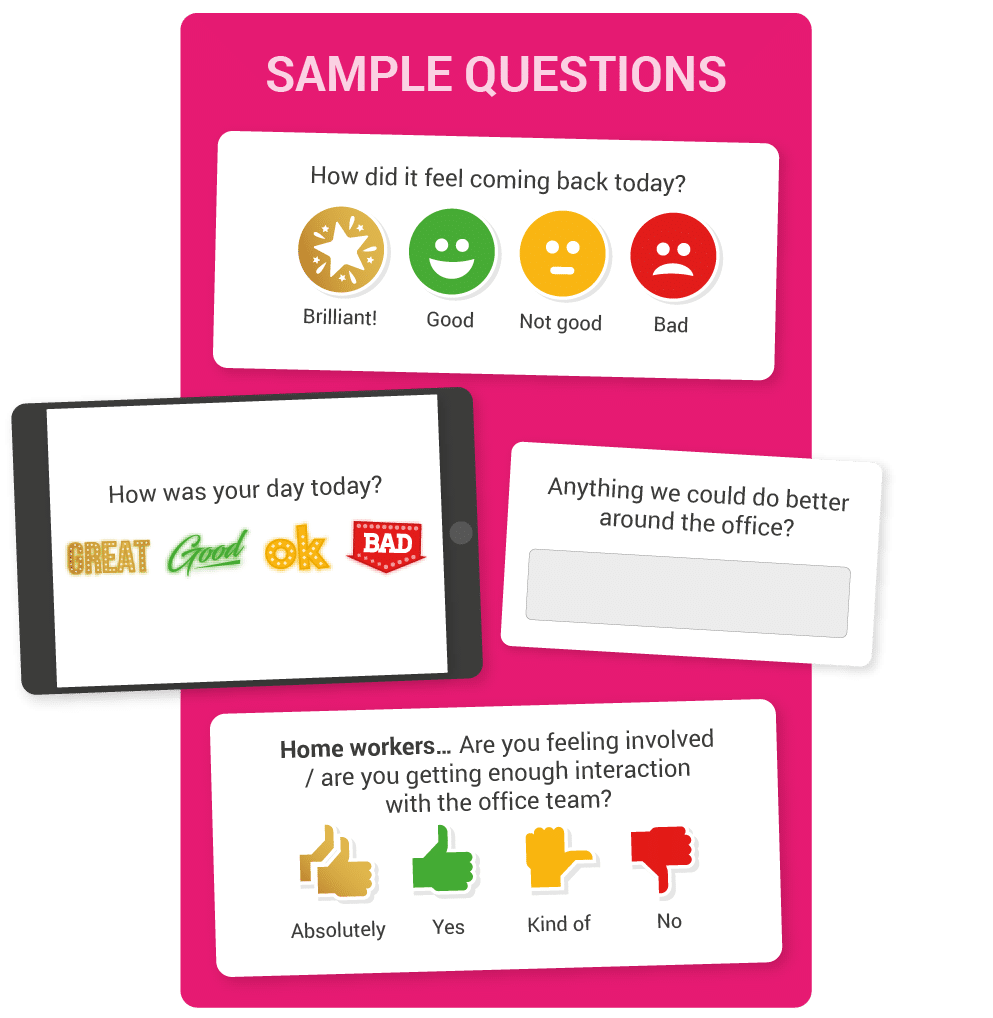 TOP TIP: Why stop now? With an effective employee feedback system in place, you can engage your people to a far greater extent all the time. This kind of approach is proven to reduce staff churn, boost productivity and harness that "going to the extra mile" X-factor that only comes from genuinely understanding human needs and motivations. For further reading, consult the Enterprise Employee Engagement Handbook.
Measure and respond
You've likely read this Back to Office guide because you have your employees' best interests at heart. The best way to follow through on that principle is to design an effective means of measuring and responding to employee feedback.
This guide has demonstrated that even a one-off event like returning to the office should be surrounded with more of an ongoing approach to employee feedback. Such an approach can be used throughout every stage of the employee's tenure to:
Improve staff onboarding efficiency
Maximize staff wellbeing and minimize churn
Increase customer success and LTV
Optimize sales and marketing processes
Maximize NPS
Guide internal training programs
Drive product development and other business process improvements
Use a dashboard view to visualise real-time data and track each employee's sentiment over time.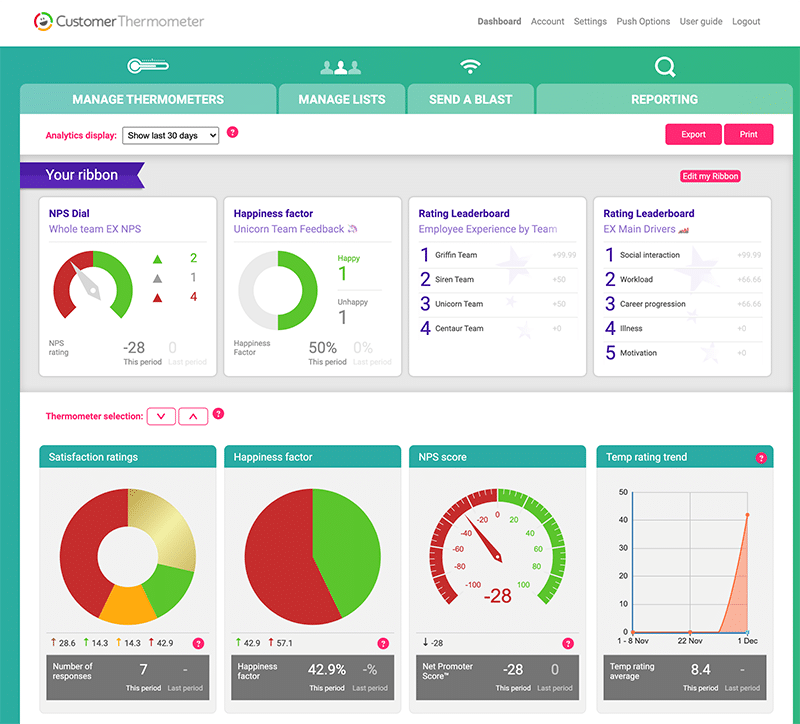 Returning to work is a change event and continually monitoring employee feedback supports the effective management of all such events. These include changes to teams, job roles, contractual status, employment policy, company strategy, market focus and core tools. Beyond this there are many stages of the employee journey where feedback is beneficial, from the recruitment and onboarding process through to training needs, development opportunities, success recognition, promotions and exits.
Customer Thermometer operates as a single pane of glass through which you can chart the progress of each staff member on their employee journey. This allows you to drill down into how they are faring with their 'welcome back' to the office, as they transition from their enforced stay-at-home environment to a newly liberated office-based or hybrid work style.
If you fancy trying something new to get employee feedback, you need to give Customer Thermometer a try:
https://www.customerthermometer.com/img/Back_to_Work_post_Covid_survey_templates.jpg
496
1420
Lindsay Willott
https://www.customerthermometer.com/img/[email protected]
Lindsay Willott
2021-03-04 13:48:33
2021-03-08 10:37:24
Your Back To Office Post-Covid Employee Feedback Kit