The exit survey is a rich source of honest employee feedback. 
Retaining staff can be a challenge in dynamic, fast-paced industries. Periodic employee surveys help by providing staff insights. These also act as a channel for your people to express concerns and suggestions. Successful businesses retain staff better by collecting and learning from this data.
But it's the genuinely honest feedback that is the most valuable. This makes exit survey data incredibly important. These are soon-to-be ex-employees with nothing to lose. People who no longer rely on your business for their income might just enjoy giving you a few home truths about their experience as an employee.
What is an Employee Exit Survey?
An employee exit survey is a set of questions you ask staff members before they leave your company. Barring death or serious injury, every employee will qualify for an exit survey at some point. Losing an employee can be painful and disruptive. But it can also be turned into a benefit for your business. Telling you reasons behind their departure that you can fix so they don't affect others.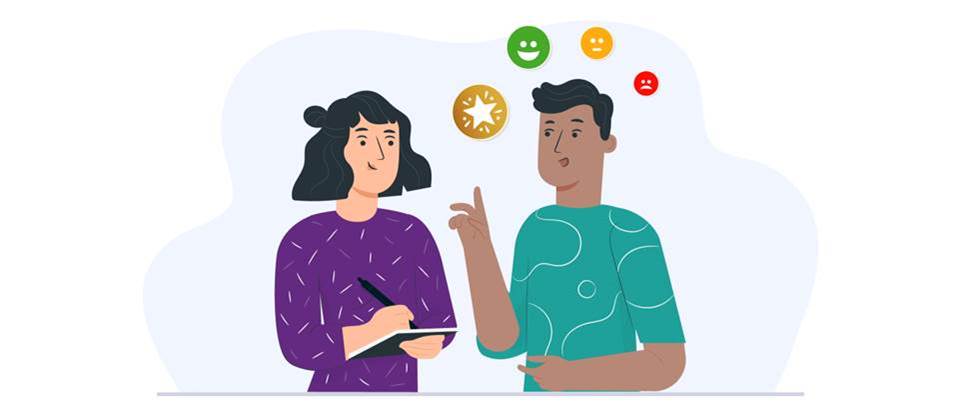 When to use an exit survey?
Exit surveys are best used at the very end of employment. Typically this is on or close to the final day. Ideally, exit surveys are ready to go at a moment's notice, in case the employee is leaving immediately. Often there's enough time for a notice period, within which the exit survey can take place.
Don't give the employee the survey questions too early. They may not have mentally processed their departure yet, and feel under stress. 

Don't leave it until after they've left the company. The employee is under no obligation to complete it and you're reliant on their goodwill.

Don't be afraid to give exit surveys to employees you have terminated. Their honest take on the employee experience is equally valid. Exit surveys are not exclusively for employees who have decided to leave.
Why use an employee exit survey?
All employees leaving your business are potentially valuable sources of information. The exit survey is your final opportunity to realize that value. You could learn about anything from your company culture to your car parking facilities. Leavers are typically more honest – they no longer have anything to gain by keeping their views to themselves. Consider their opinion on the following topics:
Reasons for leaving

Reasons for looking for other jobs

Positive and negative aspects of their specific job role

The support and supervision received

Health and safety, discrimination, harassment policies and experiences

Communications processes and forums

Management and team working

Company culture

Training and personal development

Salary and benefits

Staff morale and social events

Workplace facilities

Change management
Employee exit surveys are intended to elicit observations, experiences and opinions. These can be applied to improve the experience of remaining employees and minimize staff churn.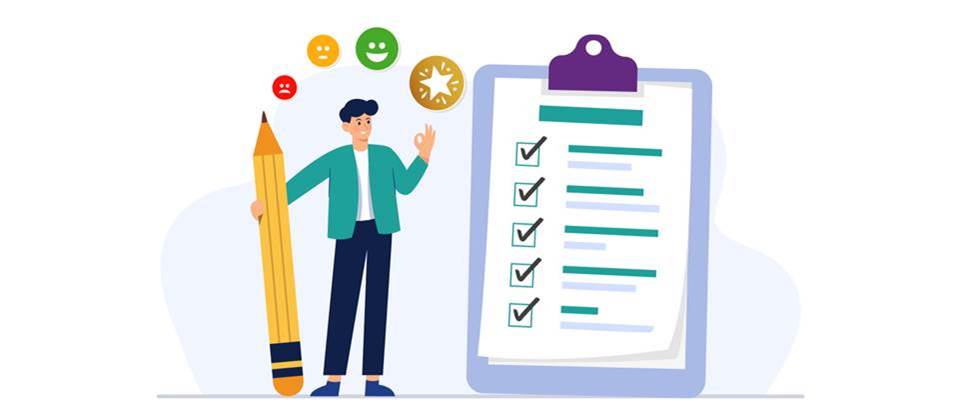 Difference between an exit survey and an exit interview?
The employee exit survey is a framework of questions that can be executed in different ways. The exit interview is a one-on-one between the departing staff member and an HR professional or manager. 
Naturally, an interview process would aim to answer many of the questions listed in this article. However, with so many people employed remotely, personal exit interviews may not be possible. Also, being in the presence of another person can potentially inhibit candid employee responses. In these situations, form-based exit surveys may be more appropriate.
Get lots more helpful tips and guidance in this really useful Employee Engagement eBook.
Employee Exit Survey Template
Different survey questions demand different kinds of answer fields. For example, a binary yes/no response or a text box for freeform comments. Choosing the right answer options is almost as important as crafting the questions. 
Golden Rules
As with any survey, there are some golden rules to ensure you maximize engagement and response rate. These are:
Keep the questions as short and simple as possible

Avoid biased questions

Consider what you're going to do with the data you gather. This should inform how you structure the questions.

Ask a limited number of questions rather than 'every question you can think of'. The employee may be required to complete 100 questions, but that won't guarantee the best data. Too many questions and they might put anything down as responses.

Ask questions relevant to the employee 
Qualification Questions
On that final point, for analysis purposes, it makes sense to precede the exit survey with some qualification questions. For example:
What's your name?

How long have you worked for [the company]?

What was your job title?
25 Employee Exit Survey Questions
Whatever format is chosen for the employee exit survey, the right questions will encourage respondents to provide useful answers. Here are 25 questions (and suggested response options) for getting the best feedback from staff leavers.

1) Why are you leaving?
This is a nice open-ended question to learn the reasons why your staff member is leaving. For example, for personal reasons, professional reasons or perhaps a combination.
Consider offering a pick list of typical answers

Provide a text box for a descriptive answer
2) What made you start looking for another job?
Only present this question to departing staff who are moving on to other positions. Understanding why different people look around for alternative positions can highlight common issues such as commuting.
Provide a text box for a descriptive answer
3) What does your new position offer that's not available in your current role?
This question gets into why your employee accepted an alternative job offer. It may be advancement opportunities, training, pay, location or even fringe benefits. Identifying the specific factors influencing their decision can inform changes to support staff retention.
Text box(es) for multiple answers
4) What aspects of your job did you enjoy the most?
This question is good for comparing feedback against other responses. Knowing what they enjoyed about their role provides a basis for comparison with what they didn't like. Likewise, with the reasons why they chose to leave.

5) What aspects of your job did you dislike?
Gaining insight into the specific role performed by departing staff members can highlight where failings exist. The day-to-day job aspects they disliked will often be primary motivators for seeking alternative employment.
6) Describe the best day you had in this job?
This should provide useful insight into factors that could potentially be replicated for other staff members. It could also highlight "things we never do anymore" that indicate an erosion in company culture and togetherness.
Text box for descriptive answer
7) Describe the worst day you had in this job?
As above. The factors contributing toward their 'best day' and 'worst day' are equally instructive. This potentially reveals areas for improvement for the benefit of remaining employees.
Text box for descriptive answer
8) Were you provided with what you needed in your role?
This probing question calls for a two-stage answer structure. You need to get at whether employees were provided with the tools, guidance, support, time, training, etc. they needed.  
Yes or no binary answer choice

If answering 'no' – probe for more information
9) Has your job description changed?
The job description of the departing staff member may have evolved during their time in the role. This question allows them to describe the changes they've experienced, which could then be used to modify the job description.
Binary yes or no answer options

If the answer choice is 'yes' – probe for more information
10) How would you describe your relationship with your manager?
This open-ended question prompts the respondent to describe their relationship with their direct line manager. Feedback might help improve that manager's performance and identify training needs. It could also show up those who build the most productive working relationships with team members. Be careful with how you use this data as it is a sensitive topic. 
Provide an option selection list (from 'really bad' to 'really good')

Offer a text box for deeper description
11) How would you describe your working relationships with colleagues and teammates?
This is similar in many ways with the question above. In this case you're finding out about team dynamics. It may also uncover hidden insights about workplace bullying that require further monitoring.
Offer an option selection list (from really bad to really good)

And a text box for more descriptive feedback
12) How would you describe our company culture?
This is a crucial area that could be best served with more than one question. The feedback here is very valuable, especially if garnered from employees of long tenure. Combine it with feedback from multiple staff members to identify trends for attention.
Perhaps offer a pick list with an 'other' option

Provide a text box for a deeper description
13) Did you feel like a valued company employee?
This question asks for a binary 'yes' or 'no' answer. If a respondent answers 'no', it should prompt more probing questions to find out why. One departing staff member who felt undervalued may be representative of many more.
Binary yes or no answer options

If the respondent answers no – provide a text box and prompt for more information
14) What could we do to make this a better place to work?
This open question invites suggestions on what changes could be made to improve the workplace. These recommendations should be closely considered as they could contribute toward improved staff retention.
Provide a text box for respondents to enter details
15) Were you provided with the training necessary for your role?
This is similar to question 8 but more specifically around training provision. And a similar structure in terms of answer options too.
Binary yes or no answer

If the respondent answered 'no' – prompt them to provide more detail regarding what they needed
16) How would you assess the quality of the training that you received?
This question requests a qualitative assessment of any training that the staff member has undertaken. As with question 15, this is very helpful when correlated with any training survey feedback you have on file. If the respondent is negative then you delve deeper to identify potential training improvements.
Provide an answer option list from 'very bad' to 'excellent'

Offer a text box for more descriptive feedback
17) Did the company provide adequate opportunity for advancement and professional development?
This is an often-overlooked question – but very important. Seemingly happy employees could love your company and their job and still leave. Why? The opportunities to advance or develop their professional skills were limited. If so, don't make the same mistake with your remaining staff.
Binary yes or no answer

If the respondent selects 'no' – prompt them to provide more feedback in a text box
18) Have you experienced discrimination or harassment in the workplace?
It's essential that staff don't experience discrimination or harassment at work. In reality, you should be engaging with employees all the time on matters like this. Perhaps if they are only telling you now, there are cultural barriers to 'speaking out'. Exit surveys provide an opportunity to verify that such negative experiences have not occurred. If a respondent answers 'yes', it is vitally important that you investigate further.
Binary yes or no answer

If a respondent answers 'yes' they should be offered the opportunity to provide feedback safely. In other words, without fear that their feedback might be shared or their identity disclosed
19) Were you happy with your remuneration package and benefits?
This is another way of asking, did you leave because we didn't pay you enough? Ask departing employees about their pay and other benefits, such as healthcare insurance. It will provide valuable insight into how your package compares in the wider job market. This can be used to ensure that wages remain competitive and benefits relevant.
Binary yes or no answer

If a respondent answers no then they should be prompted to provide more details via a text box

20) Were you provided with adequate feedback and praise for the work you have done?
This question relates to previous questions regarding working relationships. It also relates to remuneration and benefits. Most employees respond favourably to positive feedback and praise. It's important to assess whether feedback was provided and the extent to which this enhanced the employee experience.
Binary yes or no answer

If a respondent answers no then they might be asked for more detail via a text box
21) What could we do to make this a better place to work?
This question is a very direct way of achieving the whole objective behind exit surveys. You literally just ask for ideas and suggestions. The answers can be surprisingly enlightening and inspiring!
Suggestions may be submitted via a text box
22) Can you make any suggestions that would improve staff morale?
This question relates to the previous one but is specifically about morale. Respondents might provide some creative ideas that would contribute toward improving staff retention.
Suggestions may be submitted via a text box
23) Would you recommend our company as a great place to work?
This is another binary question to which respondents should answer 'yes' or 'no'. If 'no' then further probing might tease out reasons that are not apparent from asking other questions.
Binary yes or no answer

If a respondent answers 'yes' they may be asked to provide details of why they consider the company a great place to work

If they answered no then it's important to find out why
*Note that this question is phrased like an 'NPS' question but the response options are not. This is because the results of an employee NPS survey among respondents who – within hours – will not be employees aren't really relevant. If you disagree then implement an NPS 1-10 answer scale. We suggest keeping the results from 'leavers' separate from 'current employees'.  
24) Would you ever consider taking employment with this company again?
This is very useful for HR for purely practical purposes. An existing employee is very much a known quantity and you may want to rehire them. The reasons for their departure (e.g. lack of advancement opportunities) may change in the future. At which point you'll benefit from knowing if they'd be open to a more senior job offer.
Binary yes or no answer

If they answer yes then this should be acknowledged by those responsible for HR

If they answer no then this status should be logged into their personnel records

25) What could we have done that would have prevented you from leaving?
This is a great, open-ended, final question. The respondent describes what your business could potentially have done to prevent their resignation. Their answer may simply be 'nothing' if there was nothing to stop them from leaving. But in many cases, there will be multiple factors. Learning what these are, and taking steps to mitigate the risk of further staff departures, is fundamentally what employee exit surveys are for.
Encourage the respondent to provide as much detail as possible regarding what would have avoided their resignation
Don't Miss the Exit Survey Opportunity
Deriving feedback from departing employees can be enormously useful. In fact, they can be even more beneficial than routine staff surveys. Someone who has decided to leave is far more comfortable disclosing issues that exist in your organization than current employees. This knowledge can potentially prevent further staff losses by resolving the reported issues and making it easier for staff to raise concerns. Carrying out effective employee exit surveys enables you to improve staff retention and employee happiness. And happy employees are good for business!
Why not keep a finger on the pulse of how your employees are doing in plenty of time before they leave? Give Customer Thermometer a try for free and find out how they feel right now! You will quickly see how easily implemented, simple surveys deliver great response rates that will improve your retention rates or set up an employee exit pulse.
https://www.customerthermometer.com/img/Employee_Exit_Survey_templates.jpg
336
962
Lindsay Willott
https://www.customerthermometer.com/img/[email protected]
Lindsay Willott
2021-07-13 09:48:35
2021-08-24 14:10:19
25 Employee Exit Survey Templates & Examples