Your employees are the most important part of your business. Without them, everything would likely grind to a halt. If you're in the habit of asking customers for feedback on your company, how often do you collect it from employees?
Workers are 13% more productive when happy, according to Oxford University research. They're also far less likely to take time off due to illness or stress. Getting more happy employees starts with finding out how many you already have. To do that you need an employee satisfaction survey (also known as an employee engagement survey) with questions that uncover what you need to know.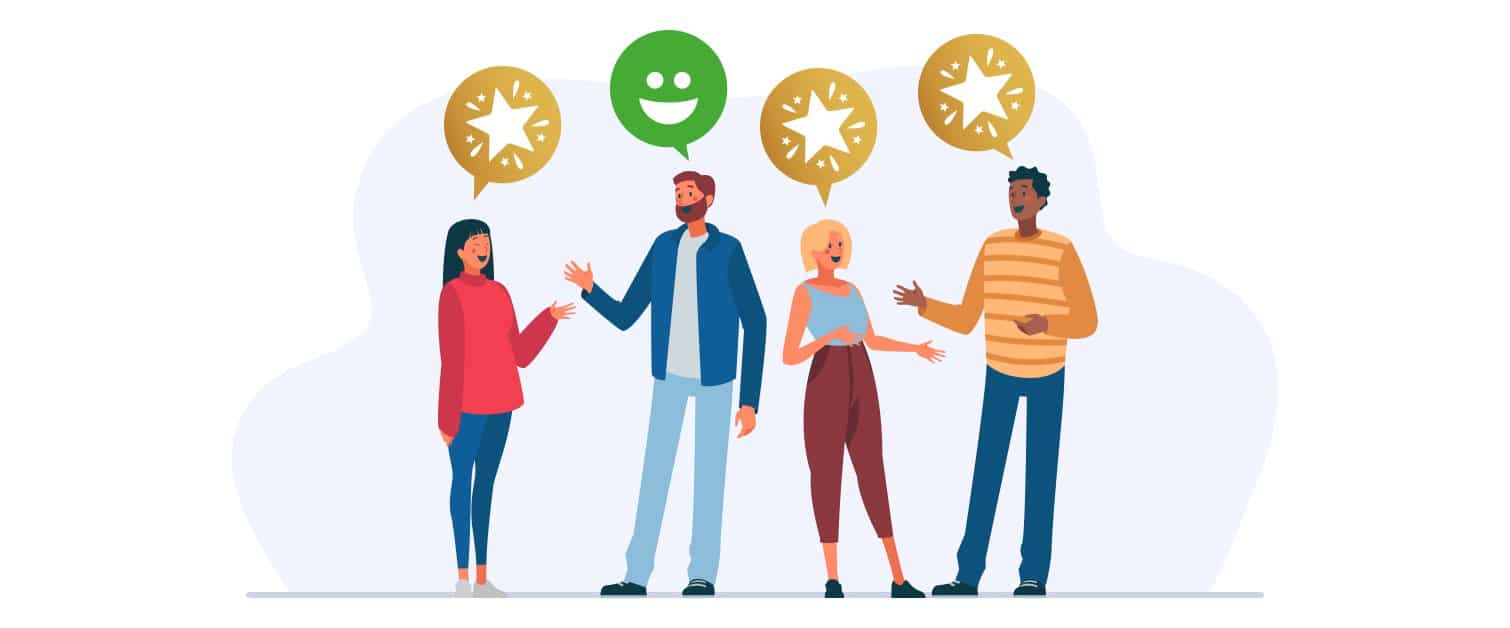 What is an Employee Survey?
An employee satisfaction survey asks staff how they feel about their job, workplace, managers, and anything else relevant to your particular organization. They're typically conducted anonymously so that employees can be 100% candid and honest. 
Employee satisfaction surveys might contain lots of questions, or just a single one. They'll use different formats, from multiple-choice options to blank boxes for employees to fill with comments. Nowadays they are rarely printed or completed manually. Email is by far the most common way of distributing employee surveys. This makes it easier, faster and more accurate when dealing with far-flung teams.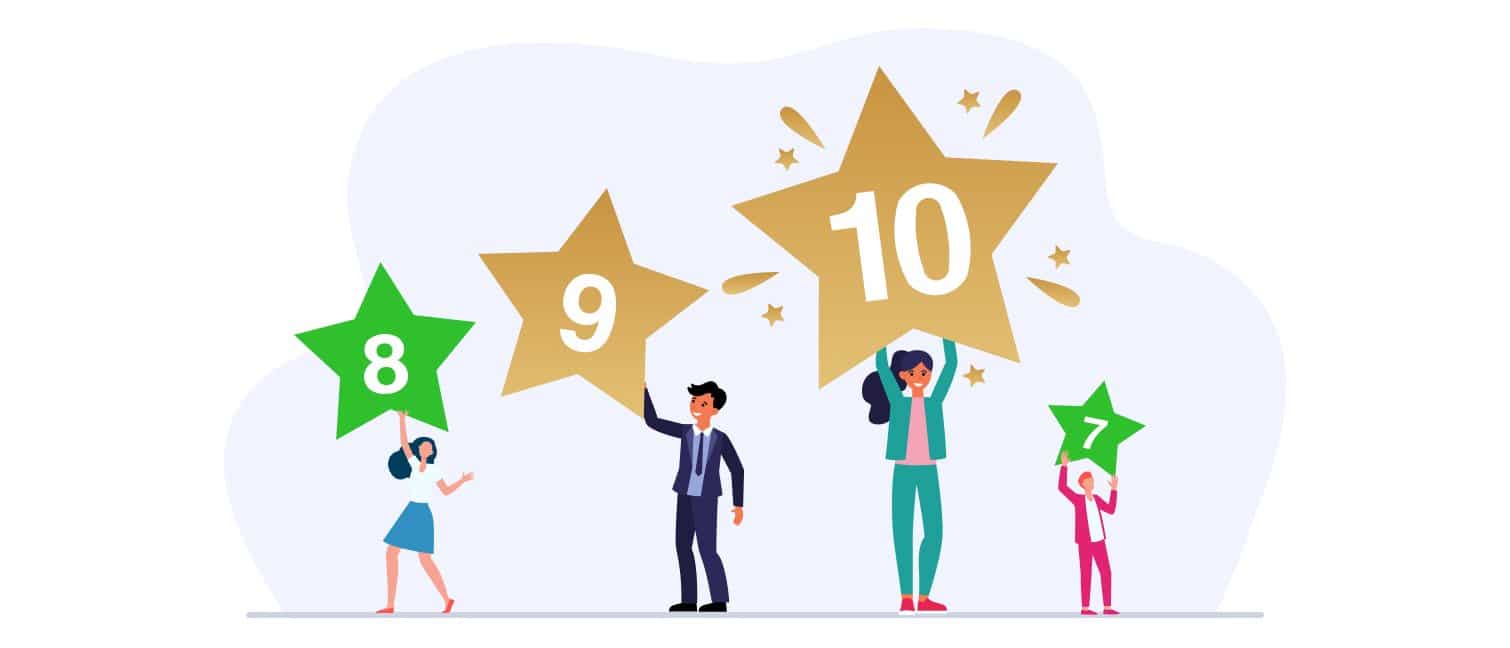 How you set out your employee satisfaction survey is entirely down to you. Just remember two rules:
Encourage feedback that you can apply to decision making and change.

Encourage as many employees as possible to participate.
Both of these should inform your approach to building your employee satisfaction survey. It fundamentally needs to be easy for employees to provide meaningful feedback. And you in turn should have a plan for reacting to the feedback you receive.
Benefits of an Employee Satisfaction Survey?
Once you accept that having happy workers benefits your business, it's obvious why measuring employee feedback is a good idea. You need to chart how your employee strategy is working; how employees feel about specific changes. For a comprehensive look at employee engagement best practices, check out this employee engagement ebook.
Show employees they matter
Prove to your employees that you care what they think. Asking them how they feel about their working environment and the job itself makes them more likely to feel valued. However, this sense of value can fade quickly if you fail to act on the feedback you've been given. This is worth really bearing in mind!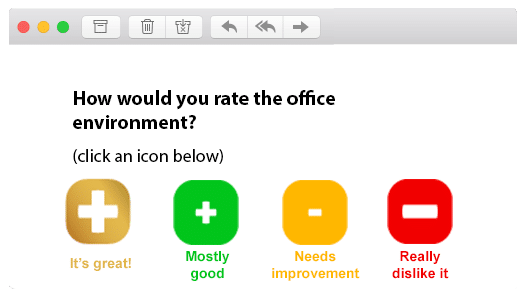 Give an outlet to employee concerns
Enable employees to discreetly express any concerns they may have. If someone doesn't feel confident enough to take their issue to a manager, an anonymous questionnaire could be a crucial opportunity.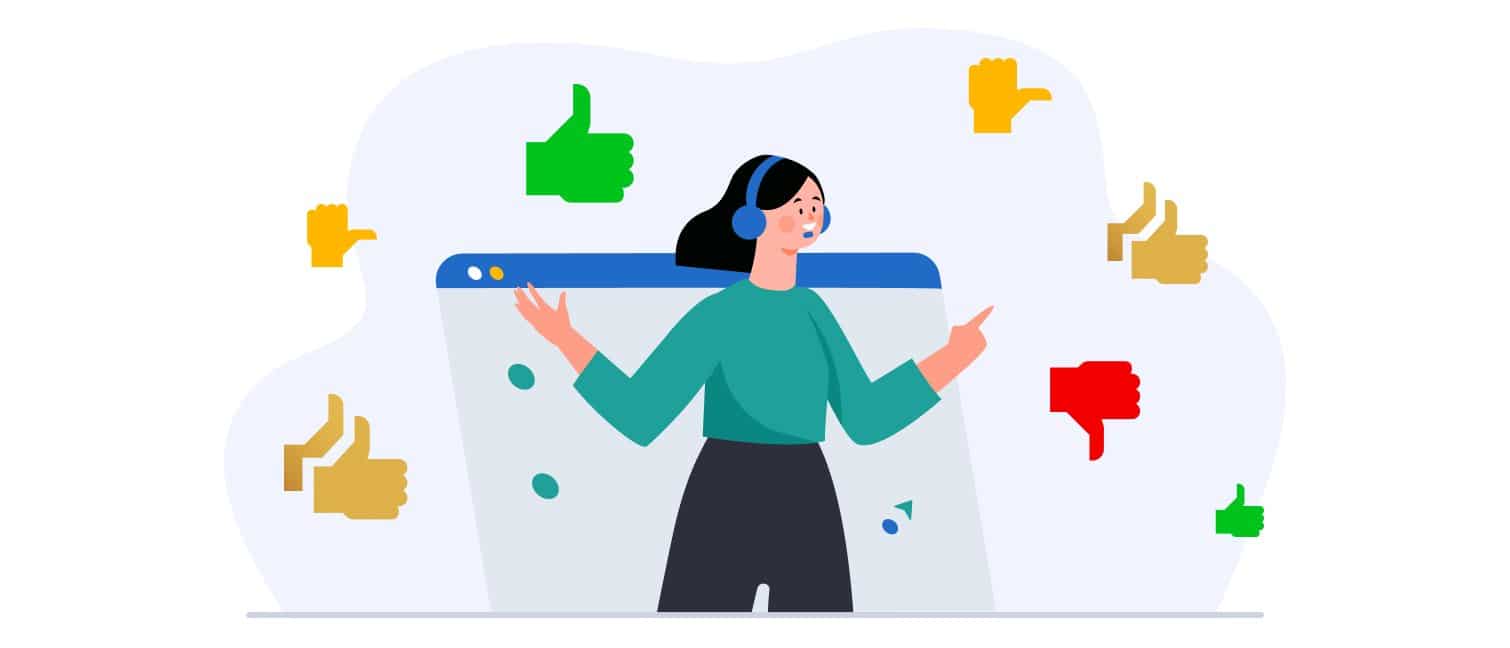 Pinpoint company strengths and weaknesses
What does your company do well? What is it struggling with? An employee survey gives you a valuable inside take on many aspects of your business. It may also highlight processes that need refining or ways to best motivate your team.
Collect great new ideas
Often those on the front line have the best views on how a company can grow or improve. Employees are a great source of good ideas. Like suggesting new products or services. Or how best to handle customer service enquiries. There are golden nuggets of knowledge hidden in the sluices of employee feedback!
Replace the traditional feedback opportunities that are disappearing
Just as with customer touchpoints, there are employee touchpoints throughout their 'journey' with you. As workforces become more distributed, so the opportunities to collect feedback have switched from physical touchpoints to their virtual equivalents. The online or email survey is a natural extension of that. So think of it less as a lengthy questionnaire, and more as an injectable prompt that collects insights rapidly and non-disruptively.
10 Employee Satisfaction Survey Questions
Let's get down to the detail of what to ask employees to garner the best feedback. Use the list below as your starting point. You can adapt the following staff survey question examples to fit your requirements.
How happy are you at work?
This is the basis for any employee satisfaction survey and can be asked in many different ways. For example, as a multiple-choice question, a 1-10 scale question or left open for comments. It gives you a good sense of how individuals feel, as well as the business as a whole.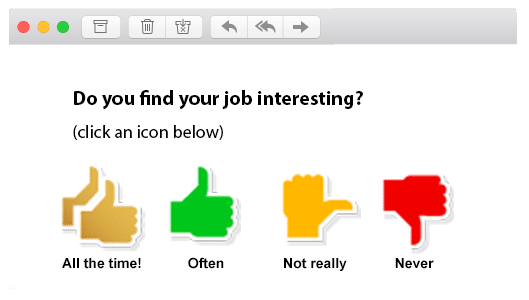 Would you recommend [company] as a good place to work?
This is a good marker for how settled employees feel. If they'll recommend your organization as a potential workplace for friends and family, they must be happy. This is a good metric to benchmark at the beginning of an employee experience program. A strong showing may also help with future recruitment drives too.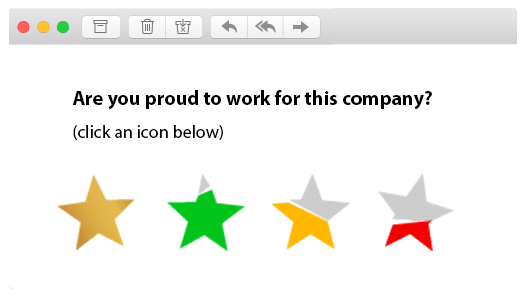 Do you feel valued at work?
According to Hubspot, 69% of workers would work harder if they were better appreciated. So it really makes sense to measure just how valued your people feel. If they don't feel appreciated, what can be done to change this?
Do you see yourself working here in a year?
You can change this to another time frame that suits you best, but the premise stays the same. Consider making it a straight yes/no response and compare it against your current staff churn rate. It will tell you whether your employees are committed. You'll need to ask supplemental questions to work out why/why not.
Does your manager motivate/inspire you?
Feeling motivated and inspired is key to a productive employee. However, maybe their manager or team leader is holding them back. This is an excellent question to gauge the effectiveness of your management team as well.
Does your manager keep you informed about what is happening?
You could also ask if employees find the management team transparent. It's thought that transparency in the workplace contributes considerably to employee happiness. Just by asking this you are promoting transparency! 
Do you have access to the tools you need to do your job well?
If there is something lacking in your organization, then this question could highlight it! Maybe employees feel they haven't been appropriately trained. Or that they don't have the right resources to achieve the best they can. This could be crucial to optimizing returns from training and development investments. 
Do you receive appropriate feedback when a job has been completed well?
Feedback is not all about taking. You need to give it too. Inspire employees' trust by being interested in their attitude to the feedback you provide. Turn the survey question on its head and ask the opposite too. Do you receive appropriate feedback when a job hasn't been completed well? Employees need to receive both praise and criticism, in the right way. 
Do you believe there is ample opportunity for career growth within the company?
Employees sacrifice most of their waking hours for this job they do for you. Having no prospects or nothing to aim for can be a hammer blow to confidence and wellbeing. It can seriously undermine productivity too. But just because people feel there are no progression opportunities doesn't mean you aren't providing them. Often this question uncovers a communications issue that you can fix.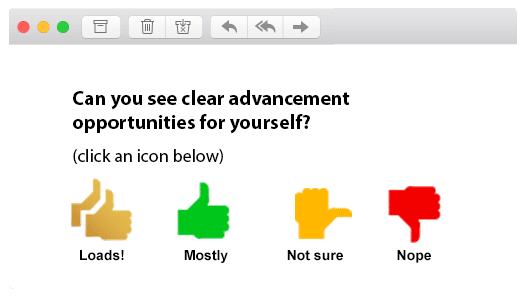 Do you feel as though you have a work-life balance?
The line between home and work has blurred even more in a post-pandemic world. Catering for personal circumstances is a differentiator in the marketplace for talent. It's really important to understand the general vibe about flexible and remote working. Promoting a work-life balance improves employee happiness, productivity and retention.
Create an Employee Survey
These are just a few examples of employee satisfaction survey questions. There are hundreds more that could be asked! Consider what it is you'd like to learn from your staff and then build your employee questionnaire from there. And make it easy to complete in order to maximize response rates and leave no feedback unearthed. Employees who are least likely to engage with surveys are the ones you need to hear from the most!
At Customer Thermometer, our surveys aren't just for customer feedback but for employees too. They're always designed to maximize engagement – making feedback truly representative.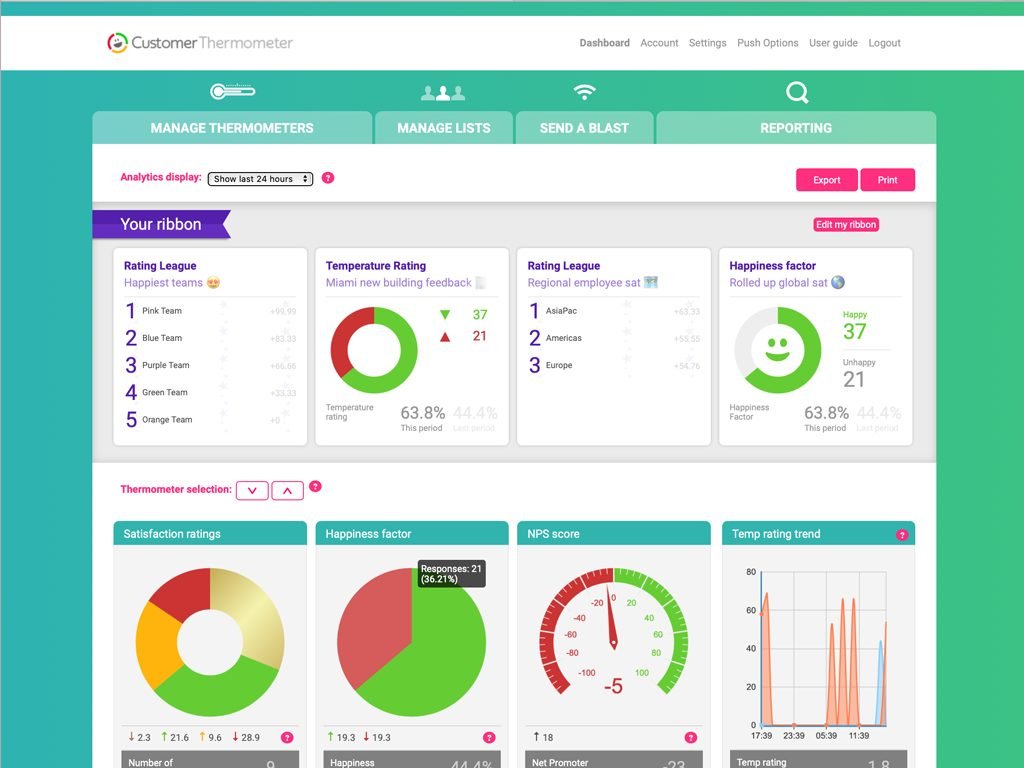 Start building your employee surveys today with a free Customer Thermometer account. It's super simple to embed feedback questions into emails and receive real-time results from your staff. Grab a free account below or learn more:
https://www.customerthermometer.com/img/Top-10-Employee-Survey-Questions.jpg
496
1420
Lindsay Willott
https://www.customerthermometer.com/img/[email protected]
Lindsay Willott
2021-07-02 09:00:18
2021-07-21 11:52:47
Top 10 Employee Satisfaction Survey Questions