Employee survey questions – ideas
Employees are busy, time-poor and more demanding than ever.
What kind of questions should you be asking in your employee survey to keep on top of how they feel?
Many businesses are now employing a large number of millennials (those born between the mid 1980s and early 2000s).
A recent report by HR News demonstrated that millennials "want a company to live and breathe their values – [which is] why organisations need to shape up, in order to capture best talent."
If you estimate how long it takes to do the average survey (in many cases 20-30 minutes plus) and then multiply that by all your employees, that's a huge amount of productive time taken up.
As a result, feedback is often poor, sporadic and unrepresentative. Given our multi-screen habits and short attention spans, how do you get staff feedback in a forward-looking workplace?
The kind of questions you ask, and how you ask them, matters enormously.
You don't want your survey to irritate busy staff (potentially making dissatisfaction worse). You also want to be able to use the insight your employees give you right away, rather than hanging around for results to be collated before you can make changes.
So, what questions should you ask your employees? Here are some of the best ideas …
How was your week?
Why not ask your employees how their week went? Staff surveys don't have to be annual and take ages!
Consider taking a weekly pulse check of an organization. Sent either via email, or placed on tablets stationed at key exits, they can provide excellent insight and incredibly useful verbatims.
This type of survey has the huge benefit of being real-time, meaning any brewing issues can be tackled immediately. Instead of waiting a year, or a quarter, these pulse surveys are a great way to engage with staff in a whole new way.
You can also use simple "how was your week" type questions to get employee feedback from specific parts of the business after a change program or transformation. Use either company wide or in a pinpointed area.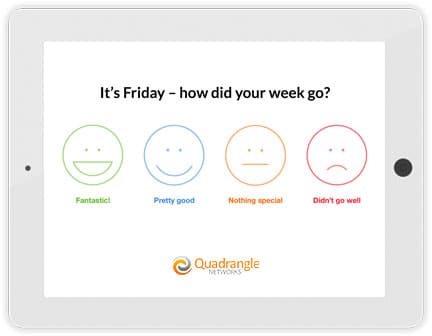 How are you feeling about working here?
Similar to the above, this kind of employee survey question can also be easily appended to emails sent about related matters. This means you're barely interrupting employees' days and using existing email workflows to get feedback.
We've also seen this type of approach used successfully to support employee community management and engagement programs, or post-acquisition communications. It's short, snappy, engaging and fun and when combined with the power of employee verbatims, can really help senior management understand shifting sentiment.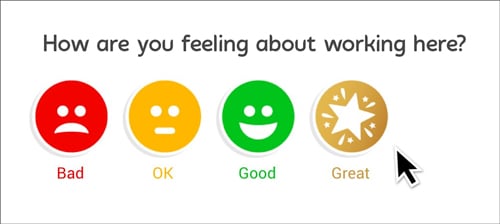 How is your placement going?
Many companies take on graduate recruits, or have new interns or new starters who whose first few months involve circulating across a variety of roles and departments. If a placement or manager is a challenge for graduates it may affect their opinion on the company, putting top talent at risk.
Getting regular feedback as your graduate recruits or interns progress through their early months with your company can be invaluable. Ask employees how their placement is going at specific points throughout their first quarters with you to find out how they're enjoying certain offices, tasks or secondments.
This can help you continually shape the grad program to make it better and better, based on feedback from graduates as they experience life in different parts of the organization.
We see Customer Thermometer used a lot within the recruitment world too.
Did I answer your question today?
Inter-departmental service quality can be crucial to the smooth running of larger companies. Large teams of HR, Facilities, IT and IT support, Print Management and many more are largely focused on serving internal customers. That service is what ultimately drives the external service to your paying customers.
You can get great feedback from employees by asking whether your specific team or department answered the internal customer's question. This international law firm gets real-time feedback about its global Word Processing service team in exactly this way.
How was the gym/cafe/print room today?
The facilities provided to your staff can have a big impact on employee satisfaction. Broken or damaged equipment can be a huge source of frustration but often goes unreported.
From catering and leisure facilities through to production and print facilities, on-site feedback, in real-time be a major source of employee input.
It's easy to position some Tablet feedback stations at key points around your office or office network to ensure everything is functioning as it should be: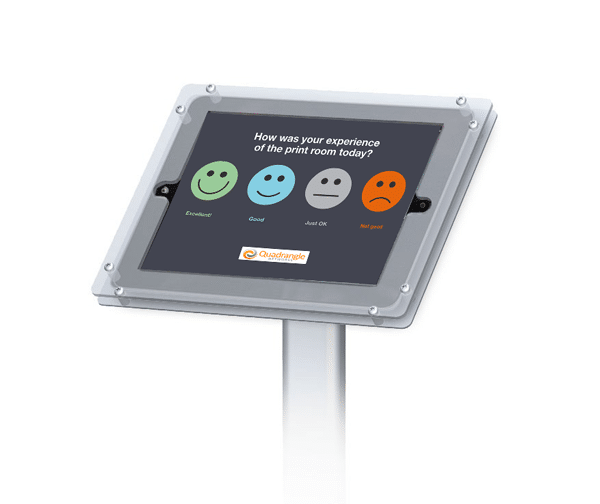 How was the interview process?
Candidates putting themselves forward for any roles available in the company can feel disenfranchised if they are not successful. This can be a significant source of dissatisfaction, and can lead to the loss of great talent if not managed well.
A global oil, gas and marine specialist business, Lloyds Register, surveys its recently-interviewed candidates to check how the process went for exactly this reason.
When assessing which employee survey questions to ask, make sure you consider any internal recruitment or promotion processes and include those in your survey program. Ask candidates how they felt the interview process went and what could have been better. It will help keep employees satisfied and also improve your recruitment and assessment program to boot.
Is it time to ask your employees better survey questions?
Don't leave it too long to get feedback from your employees. Many of your team will be used to giving feedback more frequently through their social media channels (likes and dislikes on platforms like Facebook and Instagram for example). Many more of your team will be on the move, in and out of meetings and business travel, and having an easier way to give quick feedback will really help them out.
Embracing employee survey questions that are more real-time will help you adapt and respond to their needs more effectively.
Give our micro survey a whirl…
Get hold of a free trial account of Customer Thermometer's employee survey right now. You can ask any question you want, integrate it quickly with HR and CRM systems, and even use it with Outlook:
https://www.customerthermometer.com/img/employee-survey-questions.png
248
710
Lindsay Willott
https://www.customerthermometer.com/img/[email protected]
Lindsay Willott
2018-02-27 09:27:50
2018-08-31 11:04:43
Employee survey questions – ideas