However severe you think the Coronavirus outbreak will ultimately become, the reality is that many companies have already either encouraged, advised or mandated their employees to work from home.
Reports out this week confirmed that Box, Twitter, Square, Dun & Bradstreet and many others have asked their teams to work from home in an effort to limit the spread of the virus.
So widespread are the home working directives that the BBC has called the phenomenon a "nationwide work-from-home experiment."
While for many, the opportunity to work from home will be warmly-welcomed as an unexpected perk, for others it can be a negative experience. Add that to the uncertain end-date of employees' home working and it can be very isolating for many.
Newly home working employees are already reporting a number of issues ranging from loneliness and low productivity, to insufficient WiFi and accessories to carry out their roles effectively, as covered by this NPR article.
Sky News has reported that… "the worst aspect of remote working can be feeling ignored"
Many people unused to working from home don't take regular breaks and aren't experienced in conducting important meetings online or via conference all.
In times of sudden change like this, it's important to keep the communication and feedback flowing. Getting advice out to employees quickly, and then ensuring it's valuable, timely and being followed is essential.
Whether your company is new to home working and needs feedback for the first time, or you've been encouraging home working for a while, consider getting feedback from your team in a way that encourages a high response rate and doesn't impact their day too much.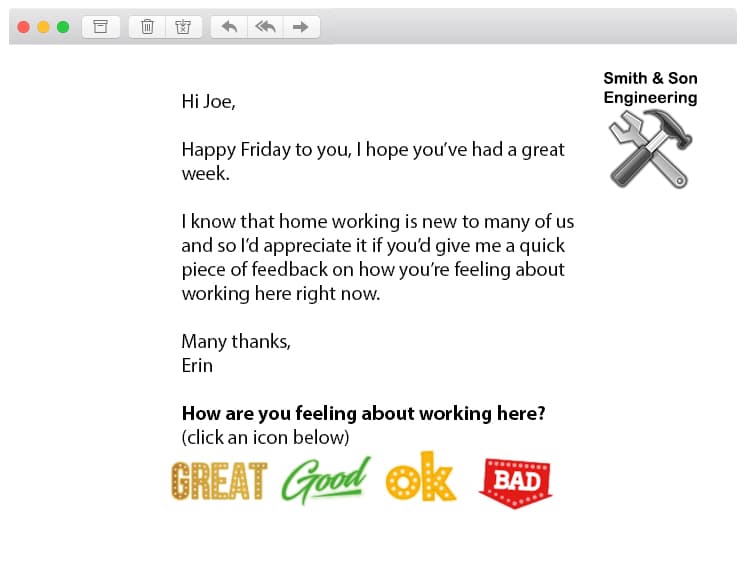 Get your free trial of Customer Thermometer today, and start getting real-time feedback from your home working employees.
No credit card or other info needed…