Create your Outlook for Mac Embedded Thermometer
Create a new Embedded Thermometer.
Choose "Outlook signature" from the i) Embedded Thermometer type drop down box:
Generate your embed code
Click the Generate embed code button. You will see a window popup.
Right click on each of the icons and save them to your Mac.
Next, add the sender details into the custom fields below. We recommend entering the sender's name and email address, plus any other information you'd like to see next to each response in your reporting, e.g. the sender's team name or department, location.
The email field should be left as "Anon". For more information on identifying recipients, click here.
Click "Generate Hyperlinks"
Create your signature block (in Word)
Add the images first. Goto Insert > Pictures > Picture from File:
Choose the first icon and it will appear. Highlight it, go to Insert > Hyperlink
Copy the relevant icon hyperlink:
Paste it into the address box:
Repeat for the remaining 3 icons until you have built up your Thermometer.
Add in additional text to create your signature, then copy everything inside the Word doc.
Add your signature to Outlook for Mac
Go to Outlook > Preferences > Signatures. Click "+" and paste your signature into the box:
Attach it to your email account, start a new email and you'll see your signature appear: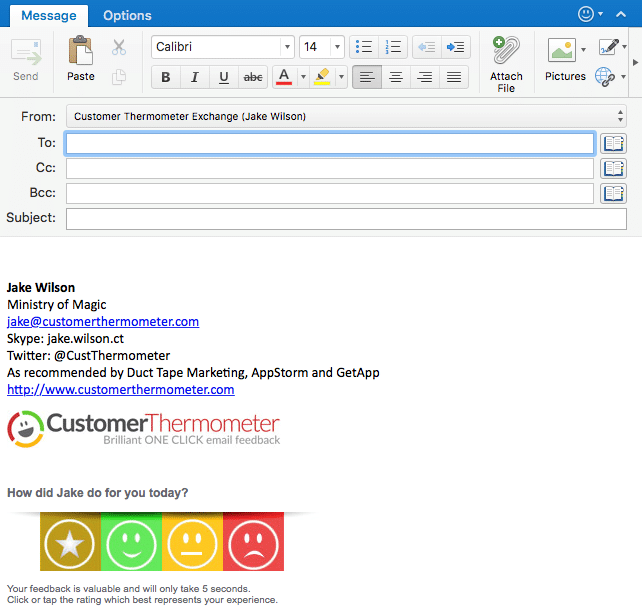 Make a new Thermometer signature per email user if you want to be able to see results by individual.