Overview
Our Office 365 Outlook Add-In enables you to add a survey directly into your Outlook signature quickly and easily.
What's more, the recipient and sender details will be automatically captured and displayed next to the responses in your reporting – so your survey data will be fully identifiable.
These instructions will take you through the following steps to get your survey up and running in Outlook for Office 365:
Thermometer creation
Data capture
Add-In installation
Add-In authorization
Signature set-up
Step 1 – create your Thermometer
Create a new Thermometer, following our Embedded Thermometer guidance.
Choose 'Outlook Office 365' from the Embedded Thermometer type drop down box:

To capture the subject line next to all responses, simply enable the option within your Thermometer settings:


When you're happy with your Thermometer set-up, save your settings and then click the "Get add-in link" button:


A pop-up will open, containing two tabs:
Setup Add-In
Custom Fields
Step 2 – data capture
The following details will always be captured next to all responses:
Email: Email address of recipient(s)
Custom 1: Name of sender
Custom 2: Email address of sender
Custom 3: Email subject (if enabled)
If this data is sufficient for your requirements, you can skip this step and proceed to 'Step 3' below, and set up your add-in.
However, if you wish to capture any additional information next to the responses, select the 'Custom fields' tab:
You can then enter your additional data into the unused custom fields.
For example, if you have decided to have a separate Thermometer per department, you might wish to capture the dept name/location/etc in the additional custom fields:
Step 3 – set up your add-in
Once you're happy with the custom field data, select the 'Setup Add-in' tab:
On this tab, you'll see instructions for adding our Add-In to your Outlook account:
Simply follow these quick steps:
Copy the add-in URL

Go to Outlook
Click 'Get Add-Ins'

Navigate to 'My Add-Ins'

Scroll down to 'Add a custom add-in'

Click 'Add from URL…'

Paste in the URL copied from your Customer Thermometer account:


Step 4 – authorize your add-in
Next you'll need to authorize your Customer Thermometer account and your Office 365 Outlook account to work together:
Return to your Outlook inbox and click the Customer Thermometer logo in the top ribbon.

A panel will launch on the right of your Outlook inbox – click 'Authorize'.

Enter your Office 365 Outlook login credentials when prompted.
Click 'Accept' in the permissions pop-up:

Enter the login credentials for your Customer Thermometer account and click 'Log in':

Your Customer Thermometer account is now connected to your Outlook account!
Step 5 – signature set-up
Finally, you'll need to select your Thermometer from the drop-down in the side panel:
Click 'Activate Survey'.
Survey positioning
If you already have an Outlook signature, your survey will automatically be placed above your existing signature: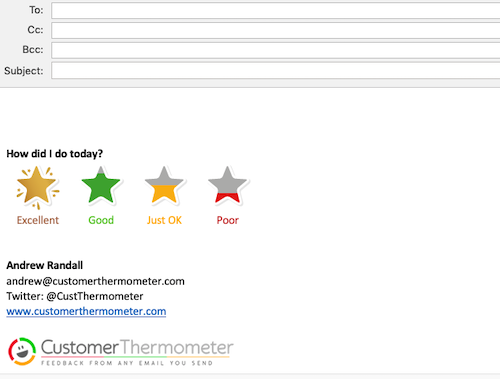 However, if you'd prefer your survey to be positioned below your signature, you can use our signature management panel within the add-in to achieve this.
Simply disable your existing Outlook signature, and recreate it in the side panel instead: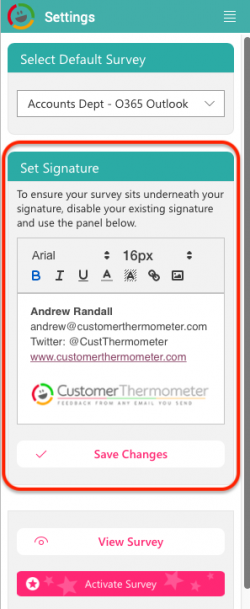 Click 'Save changes' and then 'Activate Survey'.
Your survey will then appear below your new signature:
Sending emails containing the survey
Sending an email containing your survey is quick and easy!
Click the Customer Thermometer logo in the top ribbon. Then simply select your preferred option in the side panel: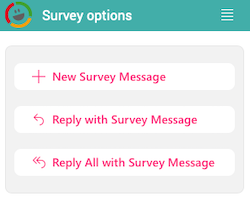 Admin roll out
You can roll out the Outlook Office 365 add-in from within the Office 365 Portal.
The add-in can easily be deployed to your users through the portal. It can be set to deploy to all users within your O365 domain, or to specific users or groups.
To deploy the add-in across your Outlook users – you would go to:
Login to portal.office365.com
Then go to Settings -> Services & Add-ins.
Click Deploy Add-In.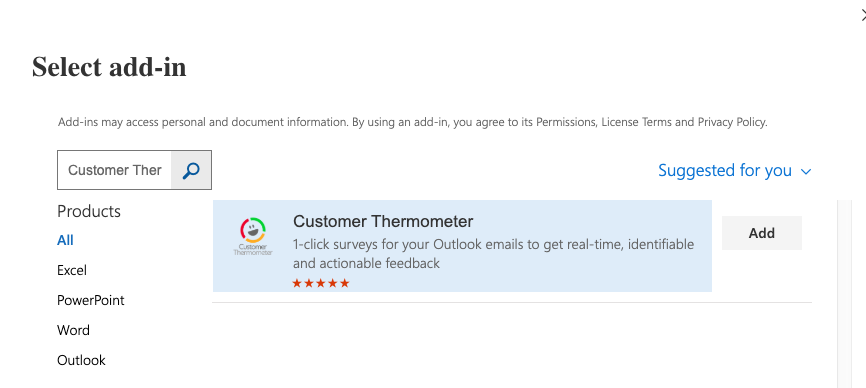 The Customer Thermometer add-in can be added straight from the store.
If you search for 'Customer Thermometer' and then click 'Add'.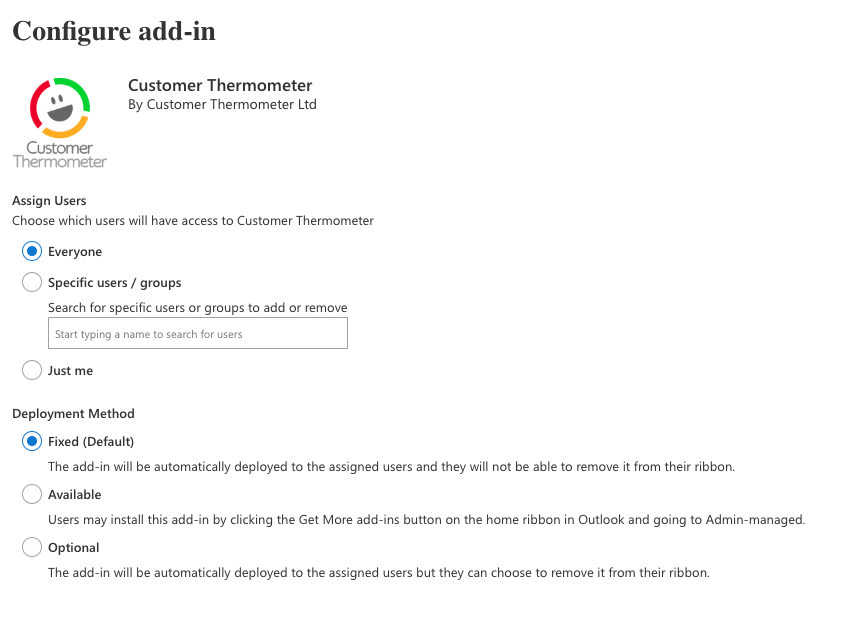 Next, you can assign exactly who you would like to roll the add-in out to and whether the deployment will install the add-in directly in Outlook or allow a user to add it themselves.
Then just click Deploy.
The add-in will then be deployed and appear on the next time Outlook is opened.
It can take unto 12 hours for the add-in to appear in the ribbon.
Final steps – landing pages & alerts
Don't forget to finalize your landing pages if you haven't already done this. You can upload your logo, customize the wording, add social media icons and lots more!
Simply go to 'Manage Thermometers', and click to edit your Thermometer. Our guide to Creating landing pages will take you through the options…and if you'd like some inspiration, take a look at our top tips for beautiful landing pages.
You can also customize the instant email alerts settings, so the right person is immediately notified as responses come in.
Making changes to your survey
Amending your survey
To change any elements of the survey itself, you'll need to log in to your Customer Thermometer account, go to 'Manage Thermometers', and edit your Thermometer there.
You can amend the Thermometer name, the question, the icons, and the icon descriptions.
Any changes you make will be automatically passed through to your O365 Outlook account.
You can even make changes to the data capture in the custom fields if you wish. Simply click 'Get add-in link' again, then select the 'Custom fields' tab. Follow the guidance in 'Step 2' above to amend the data capture.
Amending your signature
To change any details in your signature, simply open your Customer Thermometer side panel, and select 'Settings' from the menu in the top left corner:
This will reopen your signature settings in the side panel.