Step 1 – create your Outlook Embedded Thermometer
Create a new Embedded Thermometer.
Choose "Outlook signature" from the i) Embedded Thermometer type drop down box:
When you're happy with your setup – you will then need to add your links and icons to your Outlook signature(s).
Step 2 – grab your icons
Firstly, click the "Generate embed code" button:
You will then see the following screen pop up:
To create your signature, follow the steps on this popup. We go through them below.
Outlook signatures need to have icons inserted from your hard drive. They cannot be added from URLs from remote servers. There are two ways to copy them from your account.
Option 1: Click, highlight and copy to your clipboard:
Option 2: right click and download each one in turn to a location on your hard drive.
Step 3 – create a new Outlook signature
To create a new signature or edit an existing one, firstly, create a new message within Outlook.
Next, select Signature > Signatures…  from the Insert menu: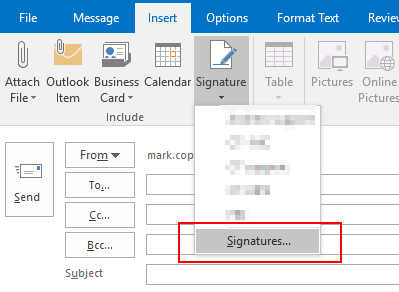 Once inside the Signatures dialogue box, either create a new signature or edit an existing one.
Add any text you wish and either paste the 4 icons OR insert them using the button shown below.
Use whatever question / formatting you would like to design your signature.
Step 4 – add your tracking links
Customise the fields with your name and email address as shown. This will ensure senders' details are captured against each response.
More detail on identifying sender / recipients using Outlook here.
Once the fields have been entered, click the "Generate Hyperlinks" button and 4 links will appear.
Copy each one in turn and then insert them back into your Outlook signature. Do this by first selecting an icon and then clicking the add hyperlink button:
Save your signature, and you're done for that sender.
Tracking multiple team member senders within the same Thermometer
You can aggregate a team's scores using a single Thermometer within your account, whilst also tracking individuals' scores within that team.
Once your first signature has been generated, you can create your next colleague's tracking links by changing the two fields shown above (in custom 1 and 2). Click the "Generate Hyperlinks" button again, to generate a new set of unique tracking links for team member #2.
We recommend copying each set of links into a word doc or email and sending them on, ready for each team member to add them into their signature.
Repeat as many times as you need to. Return to your Thermometer as often as you wish to regenerate additional team members.
Email alert specifics for Outlook Thermometers
With email capture disabled, then alerts WILL come through for all responses.
With email capture enabled, alerts will be sent if an email address is entered on the Landing page.
With comments enabled, alerts will be sent for all comments, regardless of email entered.
Read more on Outlook surveys here.