We all know what it's like going through airport security – generally unpleasant. Clearly London's Heathrow Airport is interested in making the whole experience better and have decided to do something about it.
At a slight risk to my personal safety, I couldn't resist taking a quick photo of a kiosk that they had set up just after clearing the security airport. When you see the photo below, you'll see why.
Whilst we have no affiliation with Heathrow, I wouldn't be surprised if they've taken a little inspiration from Customer Thermometer.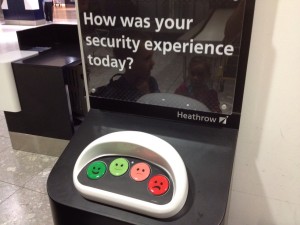 If you want something like this on an iPad or other tablet, check out our new tablet survey here.
https://www.customerthermometer.com/img/[email protected]
0
0
Lindsay Willott
https://www.customerthermometer.com/img/[email protected]
Lindsay Willott
2012-07-12 09:44:48
2016-02-24 22:03:07
Heathrow Airport has got it right