Thinking of using us? There's 100's of reasons.
Here's just 10 to get you started …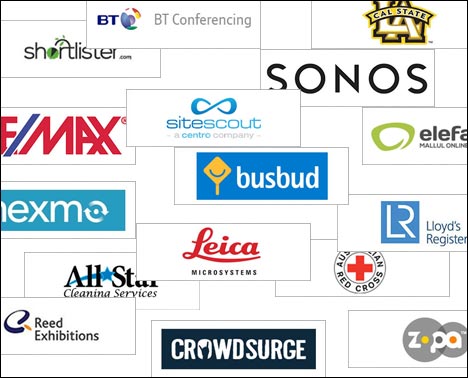 1) We're trusted by customers all over the world
We're proud to be based in the UK, however that hasn't stopped us from winning customers on every continent.
From multinationals, through to small businesses, the service is flexible enough to cater for all types of companies' feedback needs.
With 4,000+ users and counting, we're a well established online business (since 2010) and are growing rapidly.
We cater for all types of character set (with the exception of Arabic scripts).
In the last 30 days, Thermometers have been responded to in 176 countries.
2) World class support from the Ministry of Magic
Since our inception, we've prided ourselves on our support. We of all people get the importance of delighting customers.
Jake leads our Ministry of Magic via chat, phone and email. We don't respond when we're asleep. Other than that – you will find responses coming back to you faster than most online businesses we know of.
We like to practice what we preach too – so why not check out our live customer support ratings page. We use this great service called Customer Thermometer to allow our customers to rate our feedback. You could have one of these pages too.
Don't believe us? Get in touch today and put us to the test.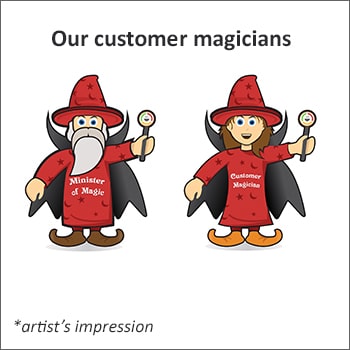 3) The business case stacks up
We know things have to stack up financially. We also know that bosses need persuading. We get how business works.
Want to present Customer Thermometer to your team?
Want screenshots and quotes and numbers and stuff?
Grab the deck below.
4) Because asking ONE question really works
So we get asked about this a lot. Here's the deal:
Asking one question at a time via Customer Thermometer WILL get you huge amounts of feedback.
Massive response rates will ensure a representative response curve.
Your customers will thank you for not bothering them and reward you with clicks.
You will get actionable, properly good feedback that you can actually do something with.
Don't believe us? Watch one of our (initially sceptical) customers:
5) It's simple to start, yet very flexible
We have worked so hard on keeping things simple over the years. Simple for our customers and simple for yours to respond to. Don't confuse simplicity with power though:
You can post back and trigger surveys from Salesforce.
You can intelligently route rating alerts, based on who's clicked.
You can trigger Email Thermometers based on something else happening in another application.
You  can send reminders to those who don't respond to a survey.
You can make your office lights flash when you receive a Gold star (seriously).
6) A 4-point rating scale gives meaningful feedback
Offering a choice of "average" will tell you nothing about an interaction. This is why Customer Thermometer offers a 4-point rating scale. We want our customers to be able to take action.
A 4 point scale cuts decision fatigue.
Offering a middle ground is an easy option and the opportunity to solicit actionable feedback is lost.
"Average" can equal 'don't care', 'don't know' or 'can't be bothered'. A 4-point scale ensures that a response with a real opinion is captured.
A response with an opinion means that a business can take action. A neutral response means it cannot.
7) We will stop customers from leaving you
The service was conceived to combat customers leaving a business… to find out what they were really thinking, before they simply left, unannounced.
It's tried and tested. Embed the application in your business, surround it with a process and it will:
Create conversations with customers.
Enable you to implement the service recovery paradox.
Help you win pitches by explaining your simple feedback mechanism.
Provide the perfect way for customers to give you feedback, effortlessly.
8) We really care about security and privacy
It's fair to say we take both data security and privacy extremely seriously.
We have a network and server team focused on up time and security.
Our TLS (SSL) implementation is independently verified as A-grade.
We are registered in the UK with the Information Commissioner's Office to comply with Data Protection.
Need more? Click the button for our security statements.
9) Your customers will LOVE giving feedback again
When you next send out a link to a survey with ONLY 10 questions on it, which will ONLY take 5 minutes, why not take a pause and think about whether there's a better way? Customer Thermometer sets out to make our customers, and yours, happy.
One click or tap doesn't annoy anyone.
It takes as long to delete as it does to respond.
Customers respond from within the email.
They get the appropriate mechanism to reward or complain.
Like what you see? Why not put us to the test?
Take us for a test drive.
Get an account and 10 surveys completely free.