Thinking of using us? There's 100's of reasons.
Here's just 10 to get you started …
➀ We're trusted by customers all over the world
We're proud to be based in the UK, and have been delivering for customers from banks to sole traders, on every continent, every day, since November 2010.
From multinationals to small businesses, the service has the flexibility to suit all.
With 4,000+ users, we're well established and are growing rapidly.
We cater for all languages (with the exception of right to left scripts).
Every month, Thermometers are responded to in 170+ countries.
➁ Our response rates beat industry averages
We get asked about response rates a lot. It's a big reason why businesses switch.
Clicking a single response within an email is a pleasurable experience.
As a result, we get amazing response rates for our customers.
Switching to Customer Thermometer will get you a better response rate.
Hear from our customers talking about 80%+ response rates below: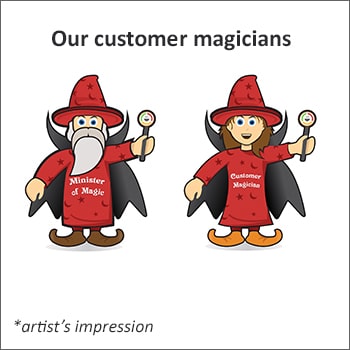 ➂ World class support from the Ministry of Magic
Since our inception, we've prided ourselves on our support.
We don't respond when we're asleep. Other than that – you will find responses coming back to you faster than most online businesses we know of.
We like to practice what we preach too – so why not check out our live customer support ratings page? We use this great service called Customer Thermometer to allow our customers to rate our feedback. You could have one of these pages too.
Don't believe us? Get in touch today and put us to the test.
➃ Ask for feedback in ANY type of email
With three modes of operation, Customer Thermometer offers complete flexibility in how you ask for feedback from your customers, partners or employees.
Start with one mode, in one department and expand to other areas.
Add Thermometers to 3rd party apps, such as helpdesk or CRM systems.
Add Thermometers to your teams' Outlook signatures for adhoc feedback.
Upload your contact lists and send Email Thermometers directly.
➄ We will stop customers from leaving
Customer Thermometer helps to find out what your customers are really thinking, before they leave you unannounced.
It's tried and tested. Embed the application in your business, surround it with a process and it will:
Create conversations with customers.
Enable you to implement the service recovery paradox.
Help to win pitches by showing your feedback mechanism.
Provide an effortless way for customers to give you feedback.
➅ Your customers will LOVE giving feedback again
How often do you click links asking you to fill in a 10 question survey?
We are the antidote to survey fatigue. Make recipients smile, not groan.
One click or tap doesn't annoy anyone.
Customers respond directly  from within the email.
It's the appropriate mechanism to reward or complain.
It's actually good to encourage complaints …
➆ Your feedback will always be ACTIONABLE
Allowing a choice of "average" tells you nothing about an interaction.
This is why we provide a 4-point rating scale, so customers can take action.
A 4-point scale reduces decision fatigue.
Offering "average" means the opportunity to solicit actionable feedback is lost.
"Average" can equal 'don't care', 'don't know' or 'can't be bothered'.
A response with an opinion means that a business can take action.
➇ Set triggers & alerts following responses
The click is just the beginning. When a response comes in, react to it quickly by creating alerts and triggering workflows.
Set up iOS or email alerts to managers based on response type.
Write back ratings into Zendesk, Salesforce, ConnectWise or Kaseya BMS.
Use our Webhooks to trigger workflows or push response data externally.
Make your office lights flash when you receive a Gold star (seriously).
Everything is simple to set up, thanks to our User guide …
➈ We care about security and privacy
We take data security and privacy extremely seriously. With banks, Fortune 500 and FTSE100 companies using the service, we're tried and tested.
We have a network and server team focused on up time and security.
Our TLS (SSL) implementation is independently verified as A-grade.
We are registered in the UK with the Information Commissioner's Office to comply with Data Protection.
Need more? Click the button for our security statements.
➉ It's REALLY simple to get started
Customers consistently tell us they love being able to get started with the service in a matter of minutes.
BONUS: "It just works".
We think this is one of our most heard customer quotes. And we like it.
If you're looking to get more feedback, stop your customers from leaving and find out which of your team are delivering, enter your details below:
Like what you see? Why not put us to the test?
Take us for a test drive.
Get an account and 10 surveys completely free.