Carrying out retail customer surveys, post-purchase, can provide a wealth of valuable feedback telling you what your customers think about their experience in your store.
Surveys can provide valuable feedback on everything including customer service, the products that were purchased, your store layout or maybe other facilities such as the availability of car parking spaces.
Surveying online retail customers is equally important. Carrying out an ecommerce customer satisfaction survey can highlight key aspects of your website and your sales funnel that should ideally be improved. You can find out how your customers feel about your online presence, their experience when interacting with your website and any problems they may have run into that you need to fix.
Retail Survey Recommendations
Getting customers to complete a survey right there, in your store, immediately after making a purchase is notoriously difficult. Here are some basic recommendations that will help you get a reasonable response rate when surveying your retail customers.
Survey at the Right Time
Timing is important. If you prompt your customer for feedback soon after their purchase you are more likely to get a response. This can be readily achieved with a one-click email survey which your customers can complete easily from their mobile phones. Alternatively, they might be prompted to take part in a survey directly from their e-receipt.
Make it Easy to Respond
The fewer questions you ask and the easier those questions are to answer then the higher your survey response rate will be. Ideally, ask just one question, such as: How was your experience with us? Offer them a scale of clickable icons from which they can select their response and all that's required from them is just one click.
Keep it Short
While you may be tempted to ask a whole load of detailed questions about many aspects of your retail business – don't! Long surveys result in high abandonment rates. Keep it short and keep it simple and you will get a great response rate and some actionable insight.
Consider Incentives
Incentives can really boost survey response rates. For example, offering a discount or free entry into a prize draw. Another style of incentive is to offer to donate to a specific, relevant charity for every submitted survey. People love to see that the values of the businesses they like align with their own views.
Follow Up
Your customers want to know that the feedback which they have provided has been received and is valuable. It is always worthwhile following up every survey response with a thank you message directly to each respondent.
Retail Customer Survey Questions
As noted, asking the right question(s) at the right time in the right format is how to get a great survey response rate. Here are some example questions which you can incorporate into your retail customer surveys.
Single Questions
The fewer questions you ask and the simpler those questions are then the more responses you are likely to receive. Combine just one simple question with a single-click answer and you will get a great response rate.
Here are some example questions that work well in one-click email surveys. Answers would be selected from a scale of 4 options.
How satisfied were you with your shopping experience in our store?
How was your experience when you visited our store?
How likely are you to recommend our store to your friends and family?
How easy was it for you to find the products you wanted on our website?
How satisfied were you with the product information provided from our website?
Multiple Choice Questions
Multiple choice questions and answers allow you to offer your customers a range of answer options which can provide you with deeper, valuable insight. But multiple choice questions require a bit more thinking from the customer so they can affect survey response rates.
Here are some example retail multiple choice survey questions.
What types of products did you purchase (from us, online, in our store)?

List the product types or categories for the customer to select.

How well stocked do you think our store is?

Multiple choice answer options from 'extremely well stocked' to 'poorly stocked'.

Was it easy for you to find what you were looking for in our store?

Multiple choice from 'very easy' to 'difficult'.

How would you rate our ability to satisfactorily deal with customer questions?

Multiple choice from 'excellent' to 'very poor'.

Is our store accessible? Were you able to go where you wanted to?

Multiple choice from 'totally accessible' to 'poor accessibility, problems encountered'.
If you receive negative responses to questions like these then directly following up with the respondents is likely to provide valuable insight.
Yes / No Questions
The beauty of yes/no questions is that they have only two possible answers. This can really encourage survey participation. Here are some typical survey questions requiring simple yes or no answers.
Were our store staff friendly, helpful and knowledgeable?
Were you able to complete your purchase(s) quickly and easily?
Is our store conveniently located?
Are our store opening hours appropriate for your needs?
Were you able to easily find what you were looking for in our store?
Are our product prices fair and competitive?
Is our returns policy fair?
Is our store decor and lighting appealing?
A useful option to consider when asking questions with 'yes' or 'no' answers is to prompt the respondent for more information if they answer 'no' or maybe follow up with a personal communication.
Open Ended Questions
Open ended questions invite the respondent to provide feedback in their own words. The answers are not predefined so you will hopefully receive feedback which more accurate and nuanced. The downside of open ended questions is that they take more time to complete, require more thinking from the respondent and as a result can have a negative impact on survey response rates. Nevertheless, they can provide some extremely valuable insight. Here are some example open ended retail survey questions.
How would you describe your experience in our store?
What merchandise would you like to see offered from our store?
Why do you shop at this store?
What do you like most about the store?
What would you change in our store?
What could we do to improve your experience in our store?
How much time did you spend in our store?
Which other online ecommerce sites do you use?
Example Retail Survey Templates
Here are a few example retail survey templates which might be used as the basis for your own customer surveys.
UNIQLO
Firstly, the UNIQLO survey prompts customers for some demographic information including:
The respondents gender
Their Age
The date and time they visited a store
The location of the store visited
They are then presented with this one page survey.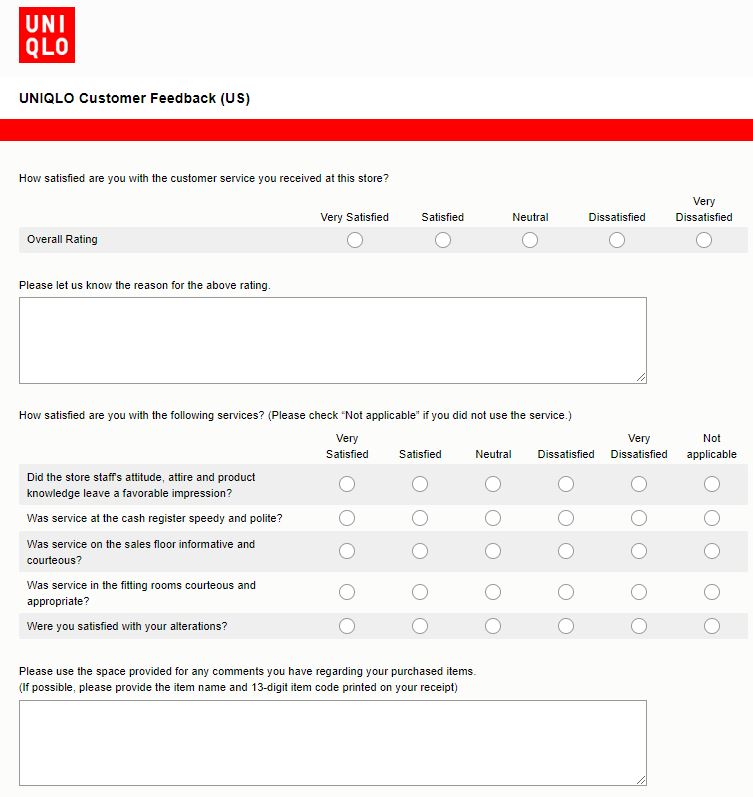 The key question in this page is: How satisfied are you with the customer service you received at this store?
A five point scale is provided for answers. This is associated with a text box where the respondent is invited to submit their reasons for whichever selection they have made.
This is followed by what are effectively 6 questions on various aspects of the store. Notably the number of multiple choice answers is increased to 6 in order to offer the 'not applicable' option.
Walmart
Walmart warns their customers that the survey takes around 5 minutes to complete and the completion is incentivized with a prize draw entry. To take part in the survey respondents are required to submit an invitation code that is printed on their receipts.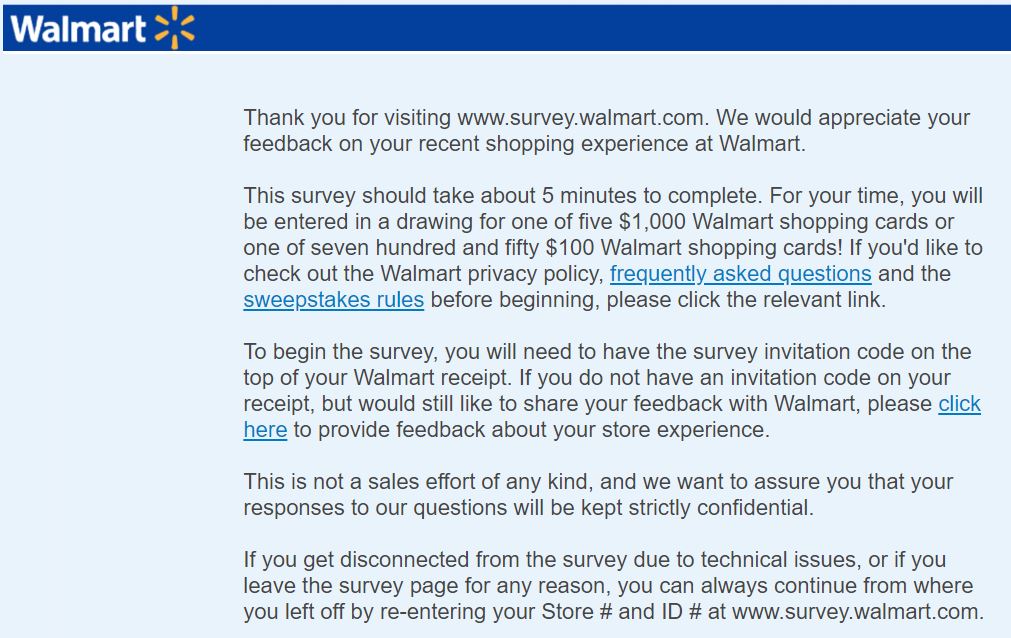 Contract Furnishing Mart
The CRMFloors flooring design store uses a simple online form, hosted from their website, to present the customer survey. Respondents select answers from drop down lists which, in the top half of the survey, are mainly yes/no answers.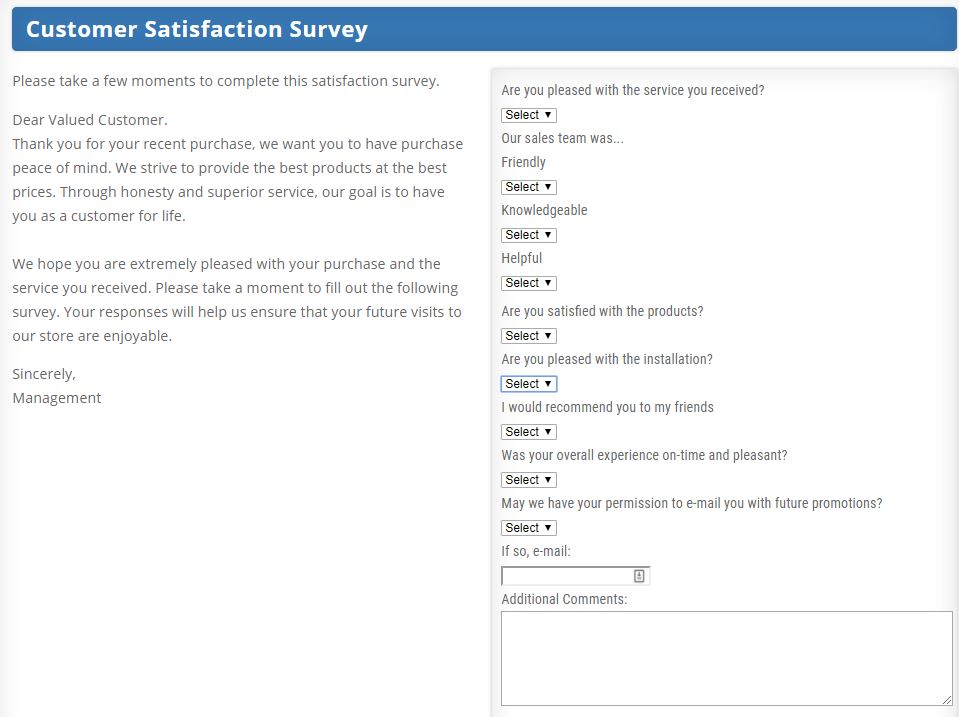 Arc Auto Store
The Arcautostore customer feedback form allows customer to rate various aspects of their experience with the business using a simple five star rating system. Feedback is derived regarding how the customer heard about the business and comments are invited.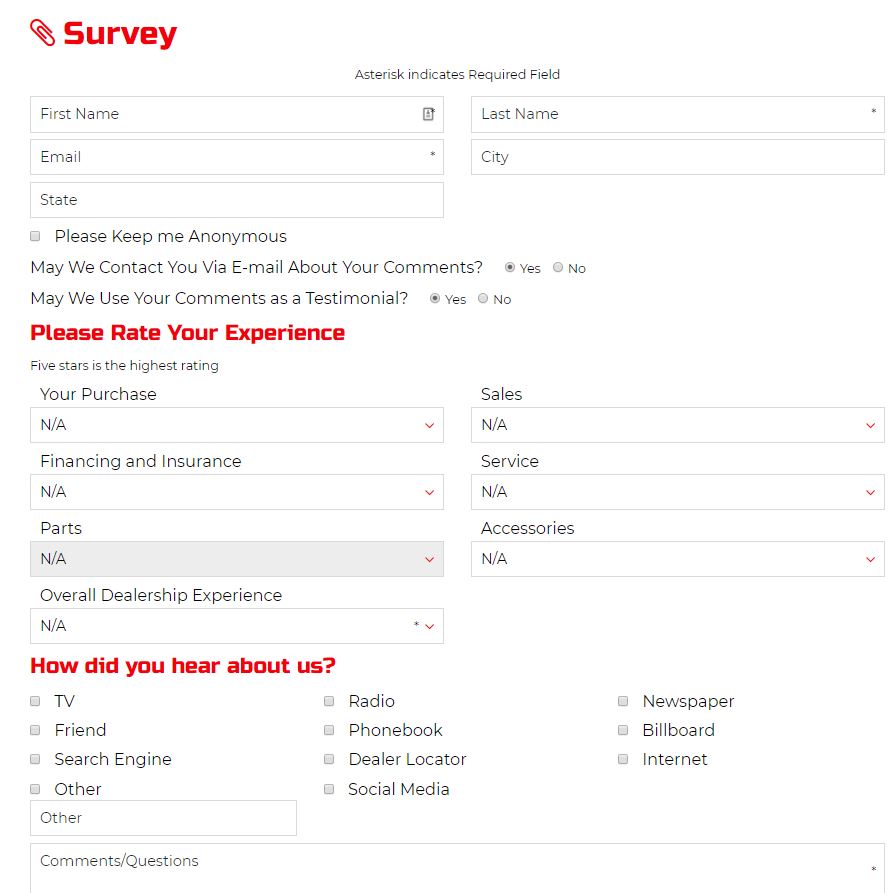 Want to improve your customer survey response rates? Customer Thermometer's 1-click survey will up your feedback game. Send yourself an example:

https://www.customerthermometer.com/img/Customer-Satisfaction-Survey-Questions-and-Templates-for-Retail-Businesses-Blog-Header.png
248
710
Lindsay Willott
https://www.customerthermometer.com/img/[email protected]
Lindsay Willott
2019-01-03 11:19:54
2020-03-12 09:49:55
Customer Satisfaction Survey Questions and Templates for Retail Businesses