Searching for an ISO 9001 customer satisfaction survey with a high response rate?
If your business is aiming to qualify for ISO 9001, you will need to be able to understand and demonstrate that you've sourced feedback from your customers on a regular basis, in a trackable way.
ISO 9001 customer satisfaction survey requirements
According to the ISO itself, a business:
a) needs to demonstrate its ability to consistently provide products and services that meet customer and applicable statutory and regulatory requirements, and
b) aims to enhance customer satisfaction through the effective application of the system, including processes for improvement of the system and the assurance of conformity to customer and applicable statutory and regulatory requirements.
CSAT is the main driver for ISO 9001 certification
The ISO organization recently ran a customer survey to find out why so many companies were seeking ISO 9001 certification, and discovered that the major driver was improved customer satisfaction. ISO writes the following on its website:
The survey findings clearly showed improved customer satisfaction to be the primary reason for seeking ISO 9001 certification, and the most important benefit from implementing the QMS standard. ISO.org

Of a total of 11 722 respondents to the user survey, 4 222 cited customer satisfaction as the key influencing factor behind certification, ahead of 3689 indicating "market need", while 5 886 saw it as the primary benefit, with the value of "standard business processes" in close second place.
So it's clear that the processes encouraged by the ISO 9001 certification do help to enhance customer satisfaction.
The issue in gathering regular, actionable and trackable customer feedback is that long-format surveys are often not ideally suited. Customers are frequently too busy to fill in a long survey and so getting to the critical mass of feedback required by ISO 9001 isn't straightforward.
ISO 9001 customer satisfaction questionnaire example
Many companies are switching to Customer Thermometer. It reduces the burden on customers' time, and makes tracking which customer said what a breeze.
One such company, MHE Demag engineers, manufactures and services material handling products including cranes, hoists, explosion-proof lifting equipment, warehouse trucks, dock levelers, rail systems, car park systems, electrification systems and building maintenance units.
The business is ISO 9001 certified and uses Customer Thermometer's 1-click system to stay a step ahead of customer sentiment:
"As an engineering company our good reputation is shaped by every project we take on. When we made CT surveys a part of our ISO 9001 Quality Management System, we immediately got much better feedback about our projects than ever before – and every single click helps us to improve our processes!"
MHE Demag
If you need a simple and cost-effective solution to your ISO 9001 customer satisfaction survey requirements, give Customer Thermometer a spin for free today. Get your trial account now and see how easy it is to get:
high response rates
customer engagement with the process
staff engagement with the comments left by customers
easy and identifiable customer feedback
a pulse that's so 'light touch' you can send it as often as you wish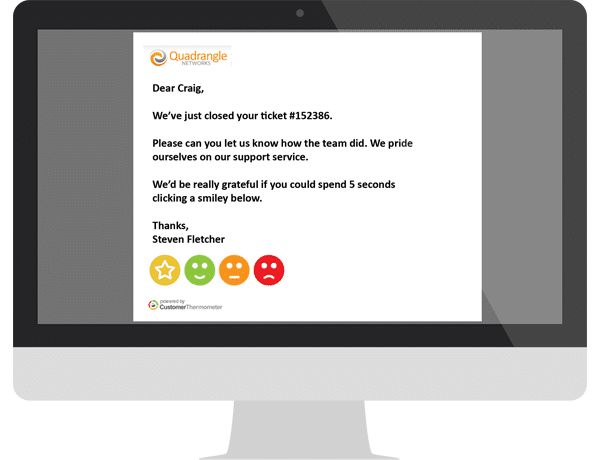 Give it a try now, for free:
https://www.customerthermometer.com/img/ISO9001-survey.png
248
710
Lindsay Willott
https://www.customerthermometer.com/img/[email protected]
Lindsay Willott
2021-02-10 09:51:16
2021-06-16 15:12:46
Creating an ISO 9001 customer satisfaction survey