Your email signature is an integral part of your branding. It's something that will be seen by everyone, from suppliers to potential customers. With this in mind, it's imperative that your email signature catches the eye – but how? We've teamed up with the industry leader in email signature management, Exclaimer, to uncover the very best email signature templates for inspiration.
Do you need an email signature template?
Every time you send an email, your signature is on display. The 'real estate' value is significant. What else gives you such a big branding opportunity on your customers' screens? Getting the right email signature template is worth thinking very carefully about.
Signatures are there for all kinds of email communications. For example, sending sales emails, replying to customer service enquiries or even contacting suppliers. An outstanding email signature will ensure people can learn more about you and your brand. The right email signature can also help to drive traffic, generate leads, and turn them into sales. It can even help you improve and measure the customer experience.
Importance of email signatures
The first email was sent in 1971 and email has grown in popularity ever since. Social media and text messaging haven't slowed it down. And neither have tablets, smartphones or Covid! Check out these stats:
Email signatures are supported by all the email providers like Outlook and Gmail, plus most CRMs, ERPs and PSA suites. You go to settings and are given a blank box to fill. That's not to say you are restricted to plain text – there are lots of ways of customizing your signature with cool and engaging template designs. Using a signature management solution, like Exclaimer, companies can design and control professional email signatures across their whole organization.
Create an email signature
At the very least, your email signature should include a few basic elements, such as:
Your name
Your title
The name of the business
The business logo and/or an image of yourself
Your contact details, including any links to social media accounts and your website
It may be that your organization requires different email signatures depending on the department, so consider this carefully. This is where signature management is incredibly labour-saving. For example, giving sales reps' signatures a link to the company's latest offers. And for customer service personnel, embedding feedback response options into the email signature.
Email signature generator
If you want to create an HTML email signature without any coding knowledge, then a handy generator may be just what you're looking for. There are various email signature generators online that provide this kind of service, Exclaimer being our favourite. Some of them are free, whereas others you will have to pay a premium all of the extras. You'll be able to add in your own details, colours, and images to create an HTML email signature that resonates with your brand.
10 free email signature templates
Looking for some inspiration for your own email signature? Here are some of the most eye-catching and on-brand email signatures that you can adapt to suit your own brand.
1. Asking for feedback in your email signature
There are several good reasons to use this kind of email signature. Firstly, it stands out from the crowd with the use of bright colours. Secondly, customers will feel as though the company is generally interested in how their experience was and open to feedback. Thirdly, you can easily embed this kind of feedback email signature using Customer Thermometer. No HTML knowledge required! Finally, you'll receive real-time feedback from customers, meaning that it serves a purpose as well as looking fantastic.
2. Make it pop!
If you're the kind of brand that likes playing around with color, this is an extremely eye-catching email signature template that could be adapted to suit your own branding. This will also work well on mobiles, as there aren't too many images or other effects that will slow things down on phones. You should be able to find out from your graphic designer what color codes your logo and website uses, so that you can add them into your own email signature.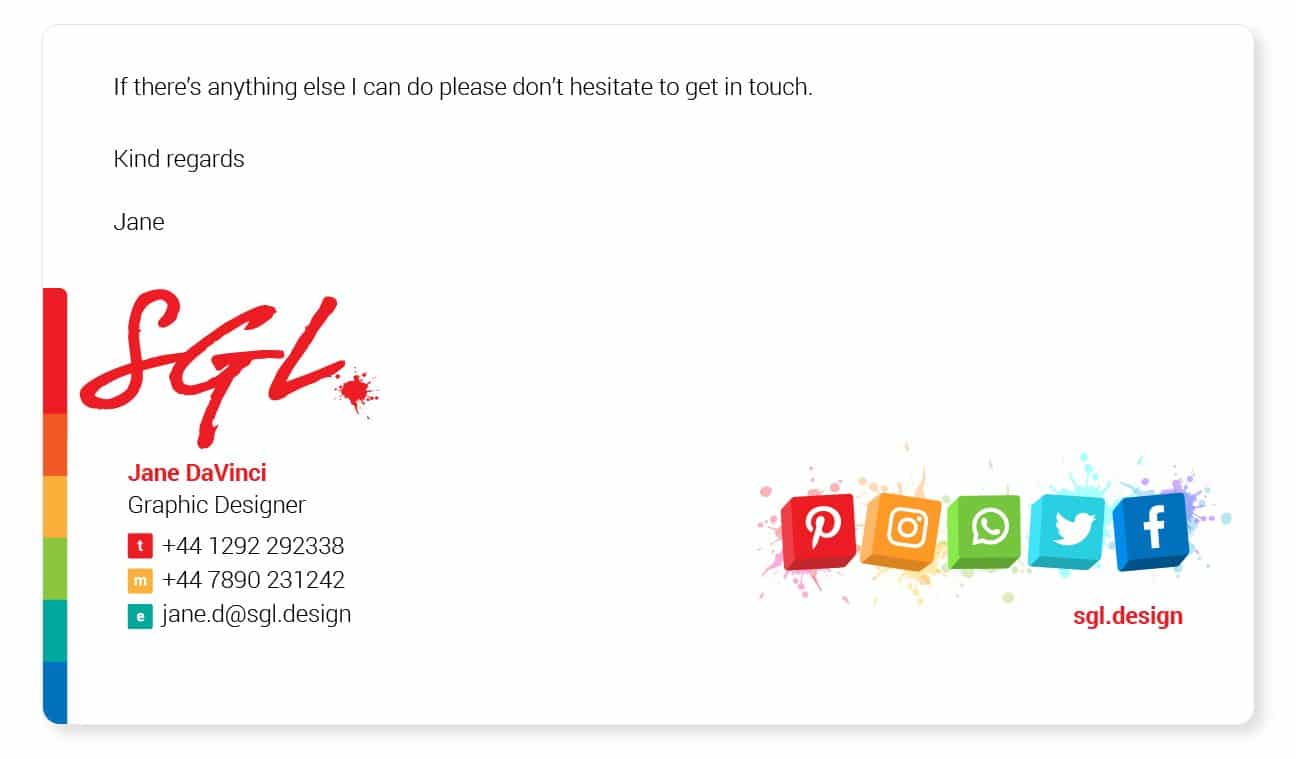 3. Mobile-friendly email signature
It's extremely important that you ensure your email signature looks as good on mobiles as it does on desktops; especially with the rise in people using their mobiles for email over their computers. This email signature proves that you don't need to use a lot of color or moving pictures to stand out – again, they also use this space to ask their customers for feedback too.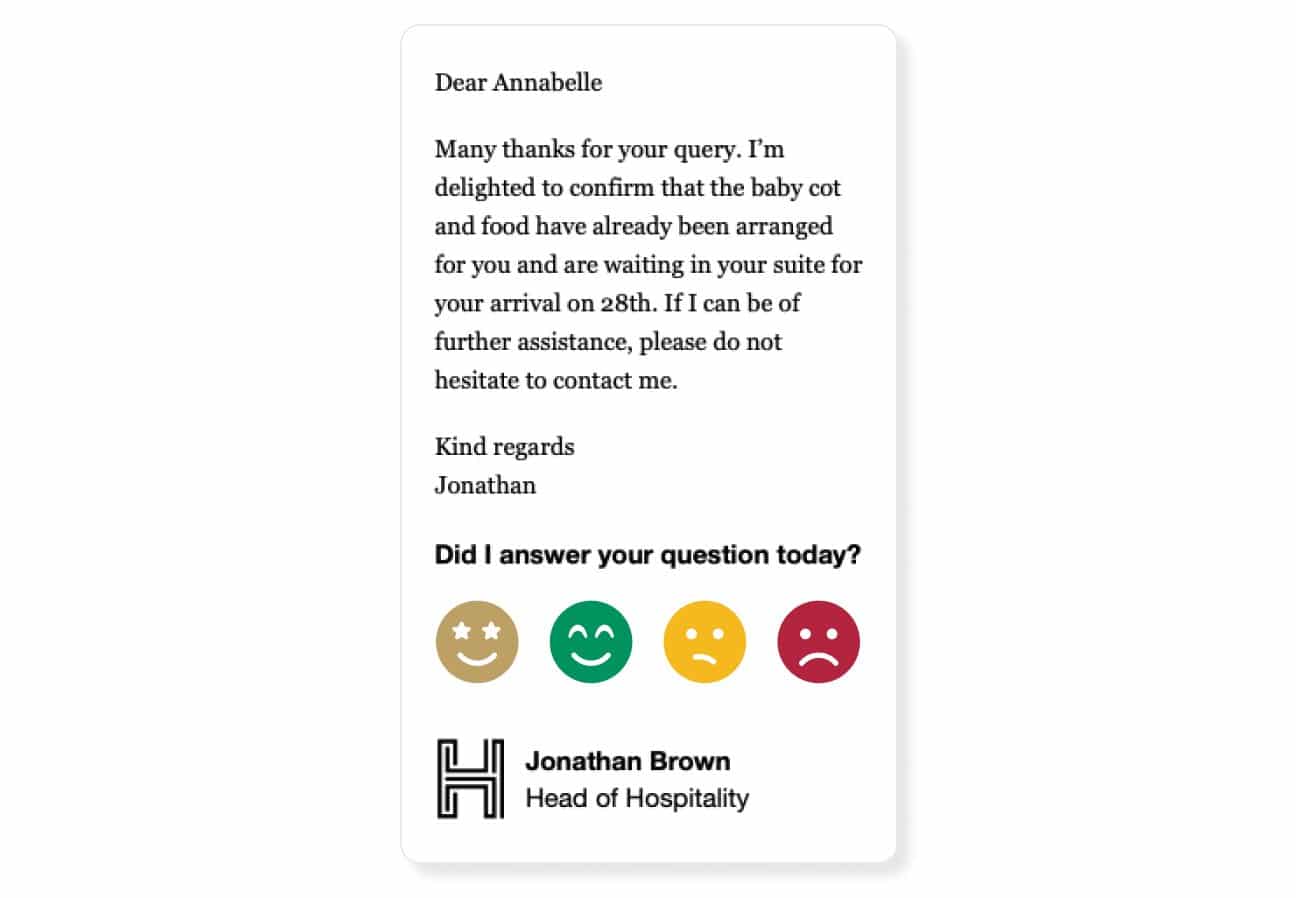 4. Call-to-action
A strong call-to-action in your email signature can greatly improve sales and leads, without seeming pushy or over the top. The rest of this email signature is quite plain, so that what really stands out is the 'Apply Now' button. Again, this is something you can make quite easily using a tool like Canva. Simply embed in your HTML editor and you're good to go!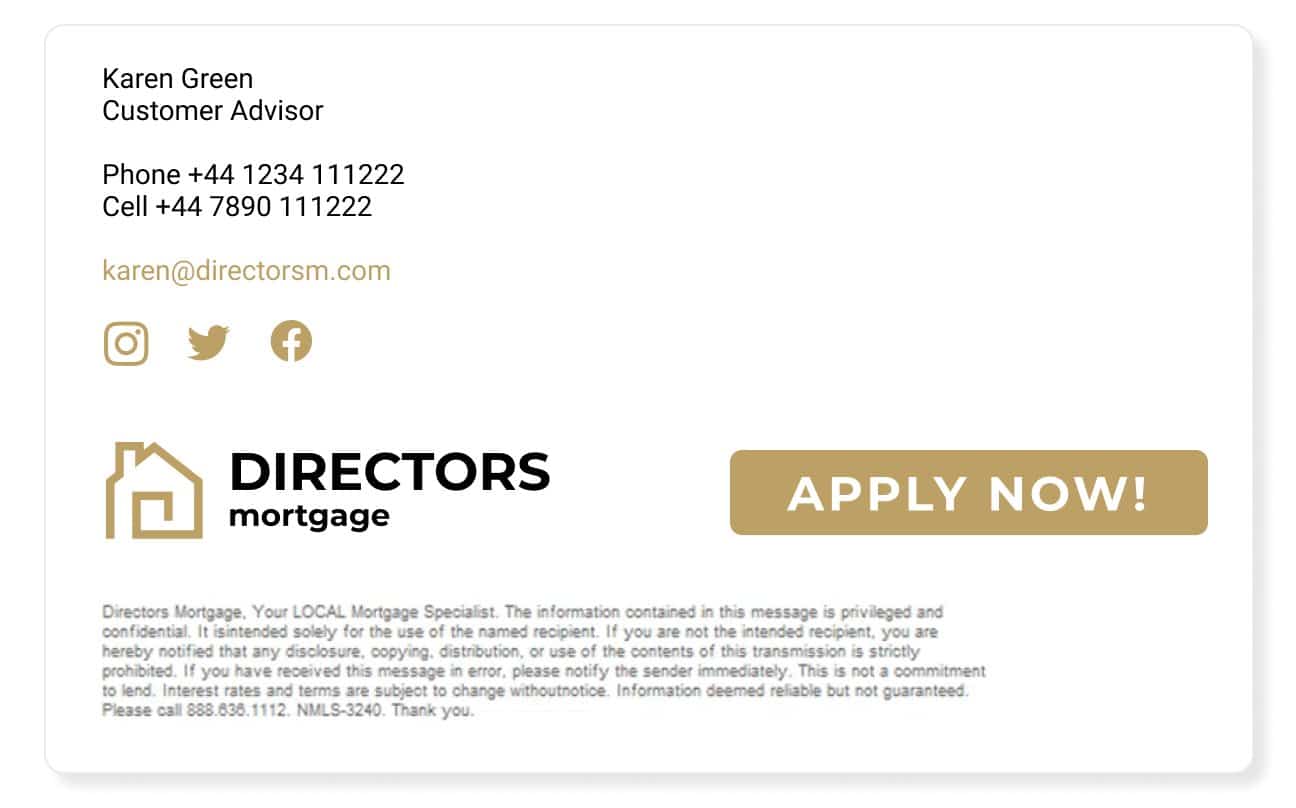 5. Adding a promotional banner to an email signature
Want to promote something to the people you email? A banner within an email signature could help you to do so. An email signature banner is much like a website banner. It's a strip of graphical detail that highlights an offer or call to action. Creating one is easy (and free with a service like Canva), and then all you need to do is embed it into your email signature. Link this to a landing page to capture leads or sales, and let the email do all of the hard sales work for you.
These banners are typically (but not always) located underneath the contact details but above the disclaimer.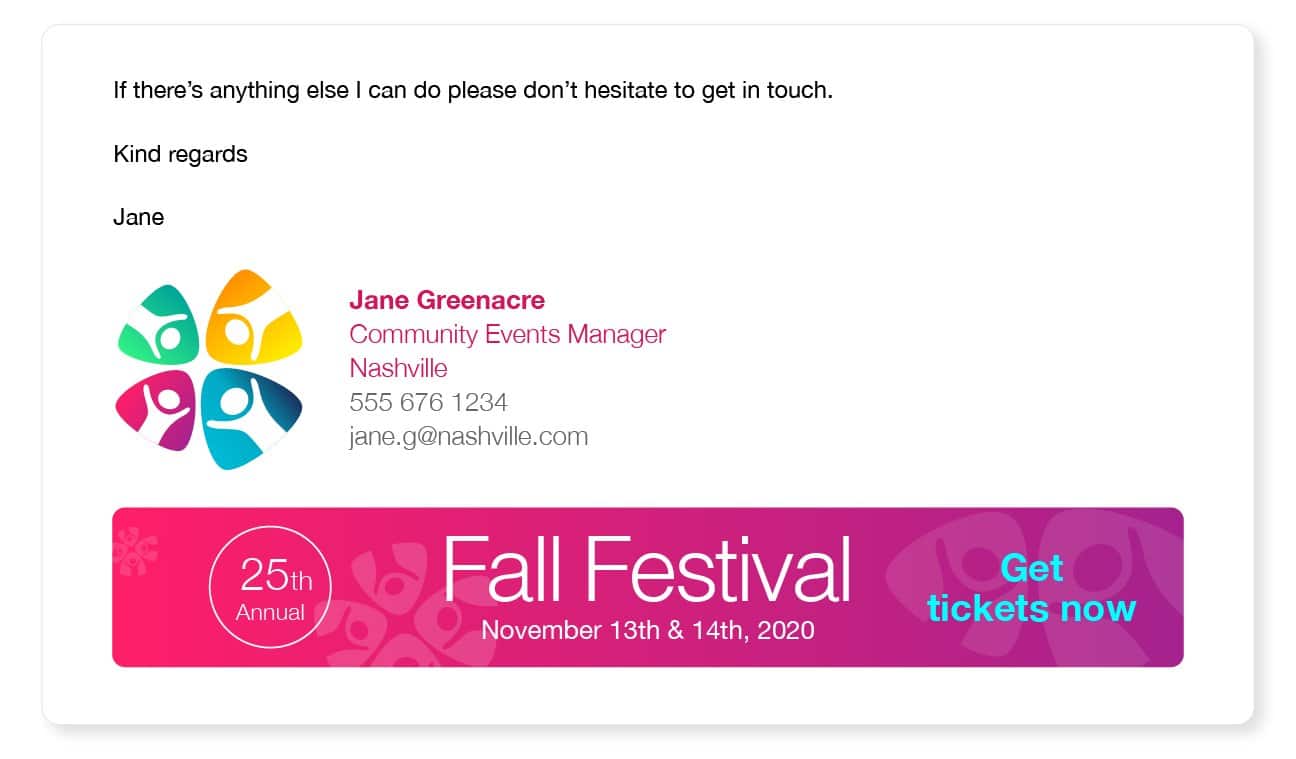 6. GIF email signature
GIFs are becoming more and more popular when it comes to email signatures, as they really draw people in. There's nothing more eye-catching than a moving picture! You can make your own GIF using a service like GIPHY, which can then be embedded into your email signature using the HTML editor on your mail client.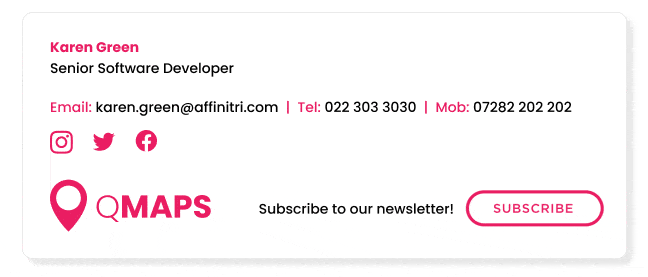 7. Putting more HTML images in an email signature
There are plenty of ways of ensuring your email signature stands out from the competition, while also showing off your branding. Using HTML icons and images is fairly standard nowadays. But they don't always appear as they should. For example, animated GIFs are often blocked by email filters so it's a good idea not to use these. Another issue is image sizing. You need to dictate how large images will present or risk the email client rendering it incorrectly. And don't forget to use the appropriate ALT-Text on images and logos too.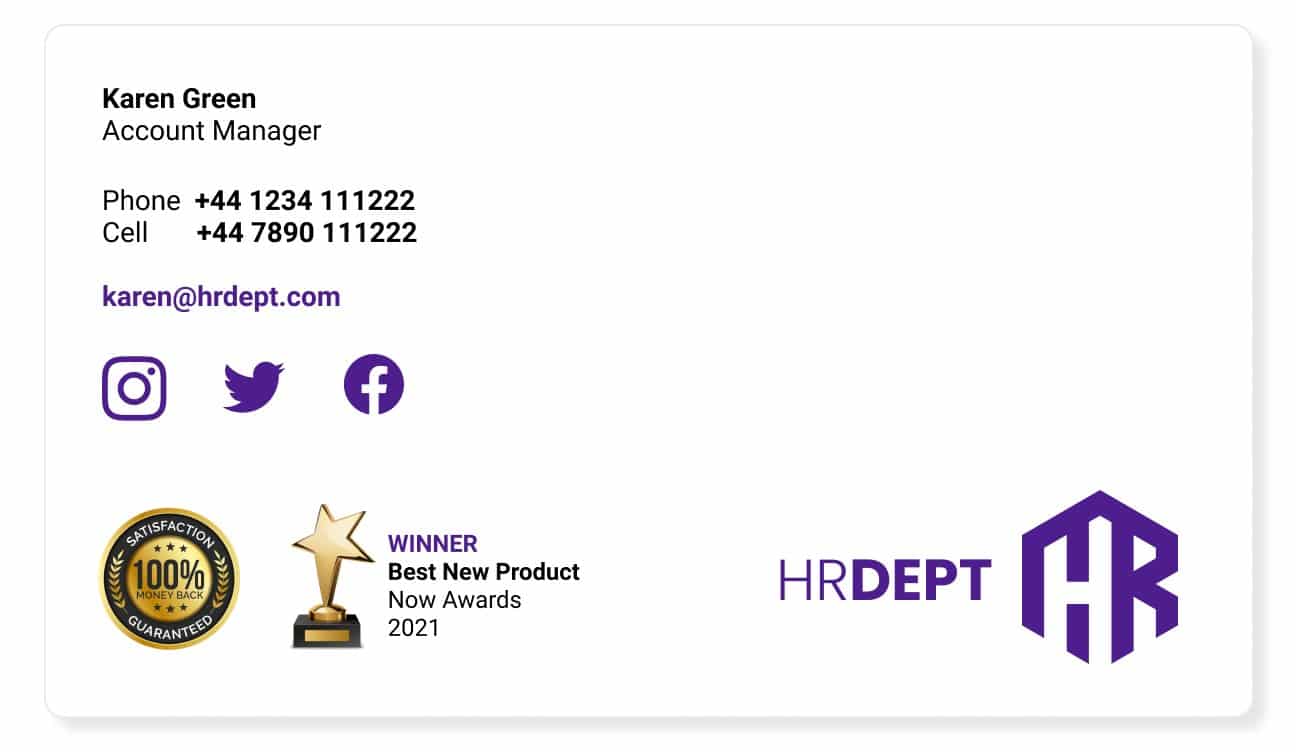 8. Growing social media interaction via your email signature
Adding relevant social media links to email signatures is good practice. Just be sure that any personal social media feeds feature appropriate content. Using social media icons can be done in various ways. These are highly recognizable logos, but you'll want to ensure they don't overpower your own!
9. Simple email signature
Text-based email signatures are as simple as it gets. These email signatures combine text and minimal graphical imagery. Keep the layout simple. Steer clear of unique fonts, colours and graphics – especially if they contravene your brand guidelines. 
There is nothing complicated going on here, but that isn't the point. Having a crisp, simple email signature with your company logo and contact details makes you look legitimate as a corporate organization. And it helps build brand recognition too.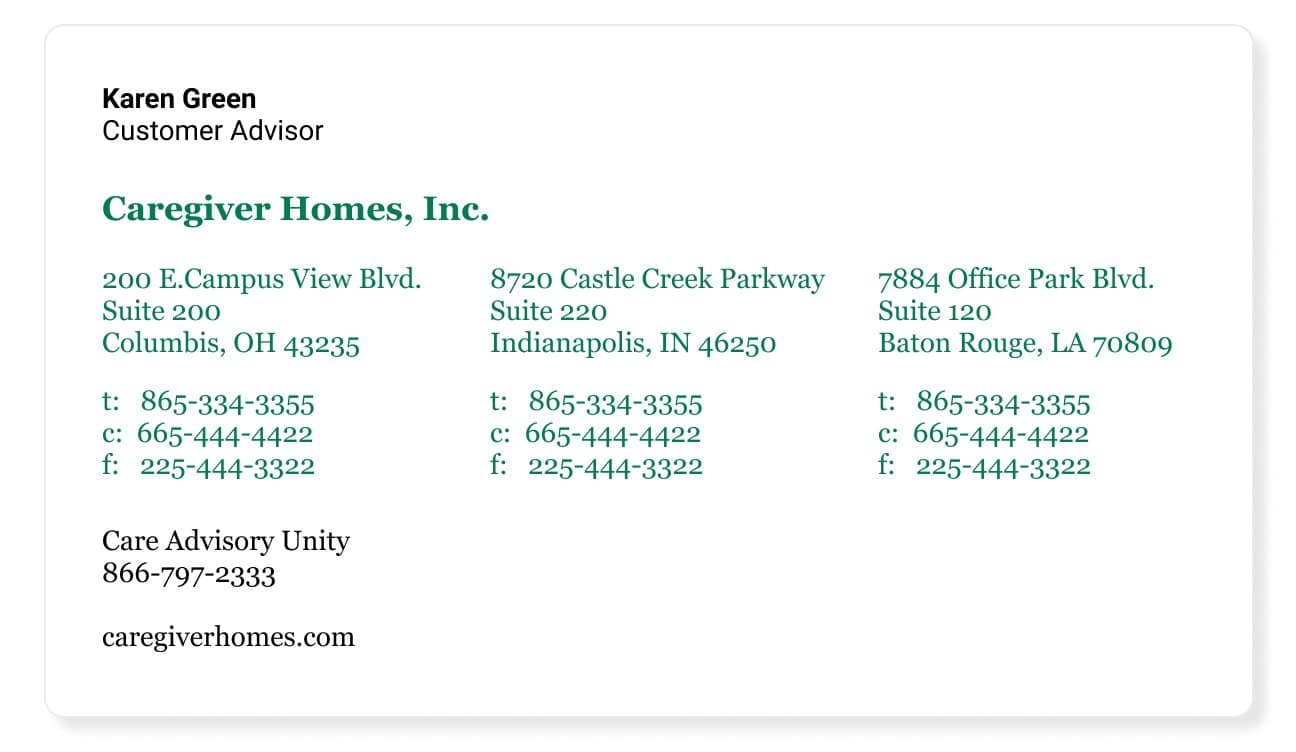 10. Legal email signature template
An email disclaimer is added to emails in order to limit liability. It is placed separately from the main email body message and the email signature.
There are many examples of legal disclaimers. There are many factors that would dictate the extent of your legal disclaimer.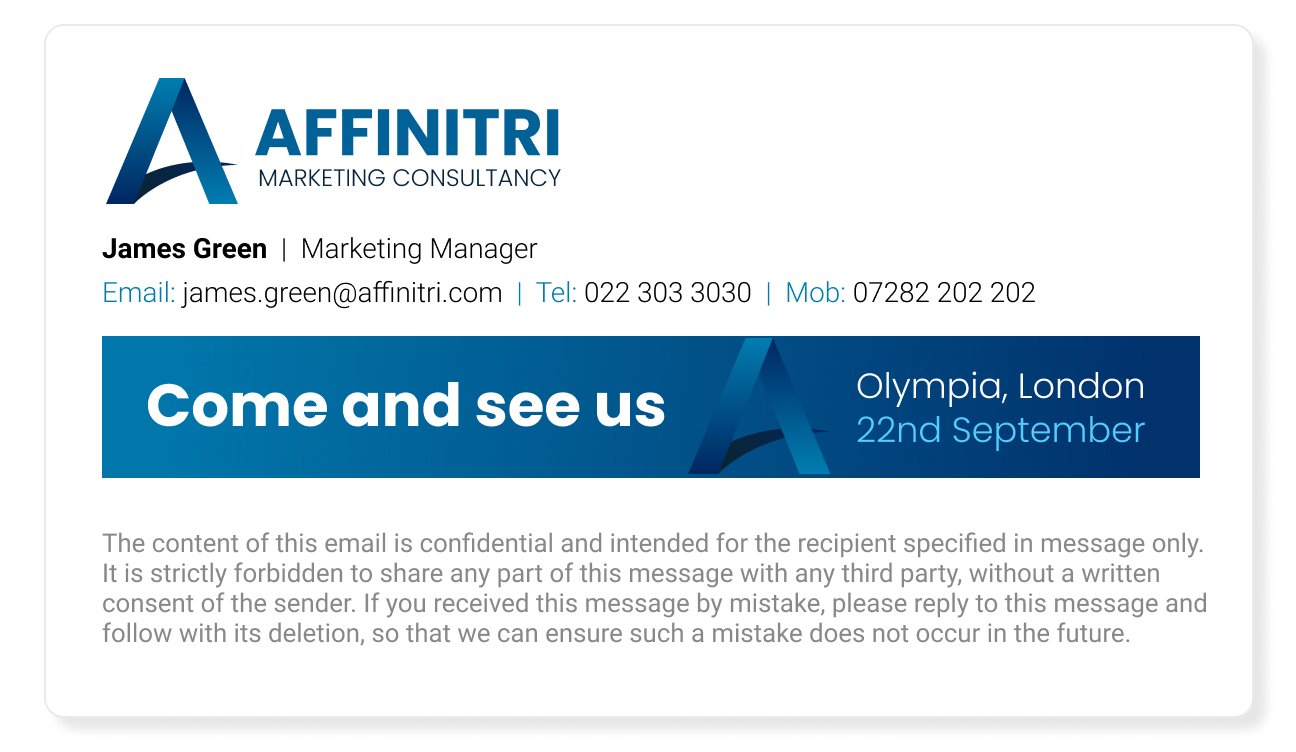 Get feedback from email signatures
The challenge of getting the right message across is made easier with a good email signature. For more insights on doing that consistently across your organization, take a look at the resources available from Exclaimer. 
Whatever design approach you choose, you can easily embed our email signature feedback buttons. This will help you gather real-time customer satisfaction feedback to drive improvements throughout your business. Sign up for a free account to supercharge your customer feedback game. 
If you want to see how impressive they are, send yourself an example below:

https://www.customerthermometer.com/img/10_Free_Email_Signature_Templates_Blog.jpg
496
1420
Lindsay Willott
https://www.customerthermometer.com/img/[email protected]
Lindsay Willott
2021-07-09 08:00:18
2021-08-31 13:56:49
10 Free Email Signature Templates for 2021