Customer feedback surveys can offer significant insight. They allow you to identify what you're doing right and what you're doing wrong. They help organizations quickly identify necessary changes to products, services, and processes so they better serve customers. And it's a surefire way of informing the design of new offerings to address their expectations.
That's the theory, but in practice not all surveys elicit feedback. Often, surveys presented to customers receive no feedback at all. There are various reasons for this. Looming among the largest is the spectre of survey fatigue. Here we're going to explore survey fatigue from a customer feedback perspective, but it's an equally pressing issue in employee feedback too.
What is survey fatigue?
Survey fatigue is the weariness of customers caused by exposure to surveys. It is characterised by low enthusiasm or unwillingness to participate in surveys. Customers suffering from survey fatigue will typically be unresponsive to feedback surveys for this reason. The causes of survey fatigue include:
Surveys taking too much time or effort to complete

Survey fatigue may cause them to abandon the survey before it has been completed.

Surveys asking inappropriate or irrelevant questions

Survey fatigue may result in them withholding answers.

Surveys pertaining to events/experiences that occurred too long ago

Survey fatigue may lead to them building a negative view of the organization.

Receiving too many survey requests

Survey fatigue may discourage them from opening survey emails
Other reasons for feeling negative toward surveys (e.g. it being unclear what the benefits are to completing a survey or how the feedback will be used) are important to be aware of but do not qualify as 'survey fatigue'.
To gain greater insight into this phenomenon, we surveyed 1,000 customers to discover what works best when trying to elicit their opinions. Specifically, their experiences around survey fatigue and tendency to provide company feedback.
Check out all the results in this infographic. 
Survey fatigue statistics and facts
Survey fatigue industry benchmarks
Our research showed that some sectors have more difficulty collecting customer feedback than others. 
The industries gaining most customer feedback are: 
Mobile communications (27% of customers have provided feedback)
Retail (26%)

Cable and satellite providers (25%)

Consumer electronics (19%).
Industries receiving the least feedback are: 
Household and personal products (6%)

Insurance carriers (10%)

Drug stores (10%).
The propensity for customers to give feedback is not directly related to how much they use these sectors for products and services. A significant 87% of our sample had used drug stores, but only 10% gave feedback. Compare this to hospitality, where 11% had provided feedback but only 63% had patronized hospitality establishments.
Of the industries with the most feedback, half measured high customer satisfaction (retail and consumer electronics) and half were industries with low customer satisfaction (mobile communications and cable and satellite providers).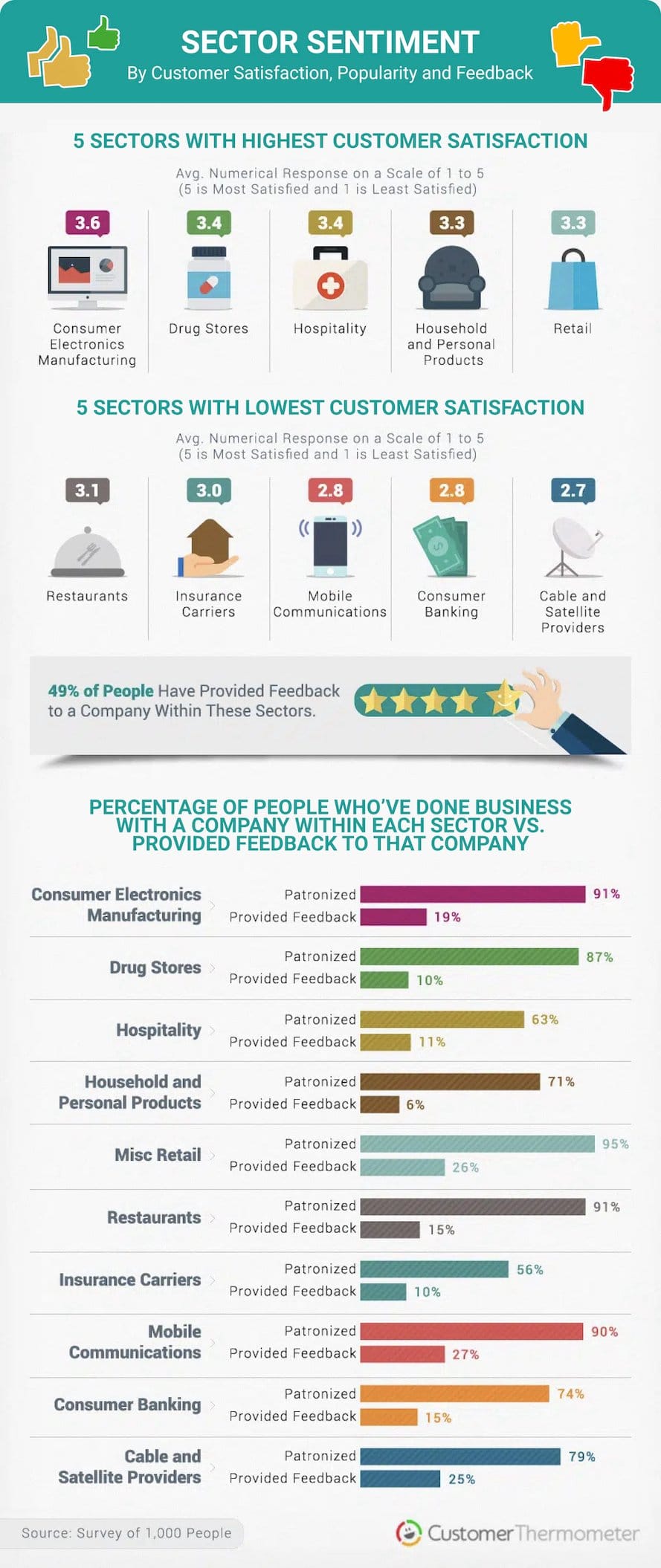 Low effort surveys win every time
When asked to provide feedback, 45% of customers reject the request out of hand. Another 46% are willing to offer feedback if it doesn't take too much time. A further 9% are willing to provide feedback even if it does.
The key to eliciting customer feedback appears to be keeping the questions to a minimum. Responders like short formats. Almost three-quarters of responders (74%) prefer providing feedback through a quick online survey. A quick rating, like the Uber star system, is most likely to get responses.
When feedback surveys are too long, they discourage respondents who initially intend to complete the form. Two-thirds (67%) of respondents have abandoned a customer survey before completing it.
Other feedback formats that can deter respondents include email feedback (preferred by just 13%) and automated phone calls (only 3%).

How do customers prefer to give feedback?
When it comes to gaining customer feedback, it's also important to consider timing and survey methods. Customers prefer to receive feedback solicitations at certain times and through specific formats.
Just over 70% would love or like to give feedback and definitely respond to a survey request directly following their complaint being resolved.

Nearly 42% said the same about responding to a survey request receiving after making a purchase

Almost 64% were equally positive about responding to one-click surveys in general

However, barely 20% were this positive about responding to feedback requests on static web pages and tabs or during live support chats. 
When they do provide feedback, customers again show that they want it to be short and sweet.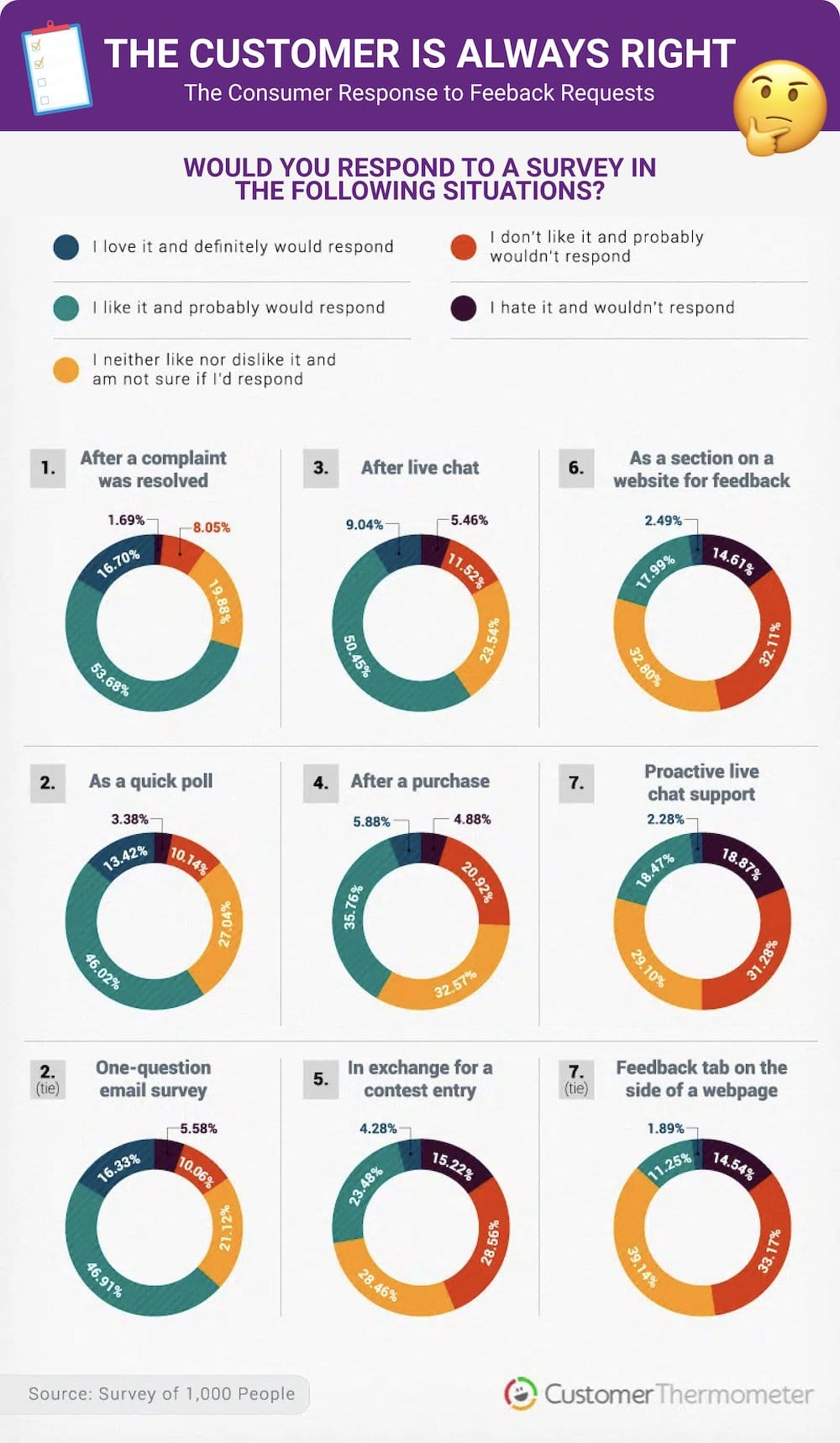 Do unhappy customers leave?
Our research highlighted the importance of collecting customer feedback and making necessary adjustments to resolve issues within an organization. We learned that when customers dislike or hate a company, they are fairly likely to take their business elsewhere without offering an explanation for why they are leaving.
40% of men and 33% of women said they would take their business elsewhere without providing feedback if they disliked or hated a particular business.
Our survey also uncovered the situations and qualities most likely to lead a customer to turn their nose up at a business.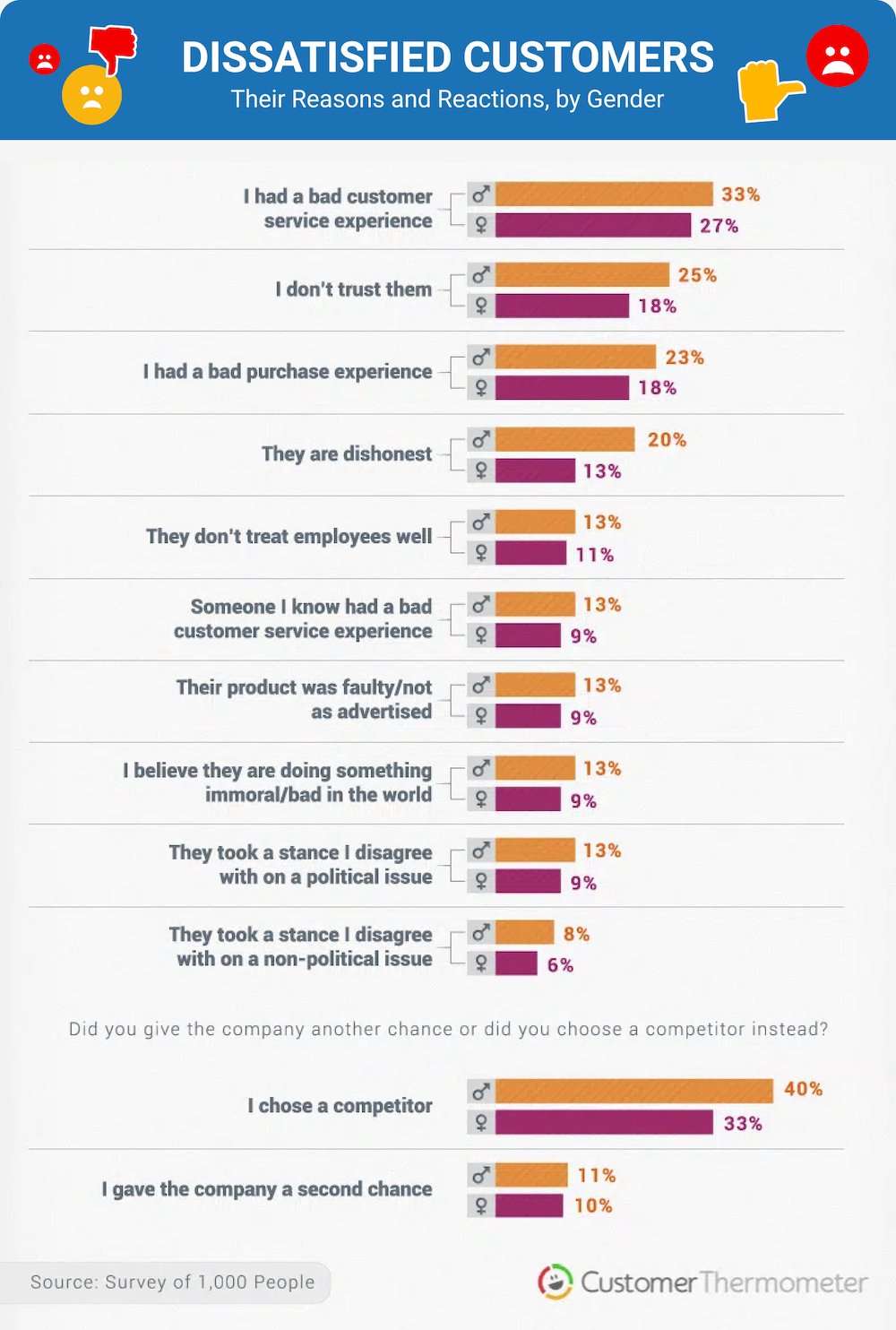 How to avoid survey fatigue
We've created a few best practices to keep in mind as you hone your customer feedback strategy.
4 steps to avoid survey fatigue
Ask for feedback right away
Customers like to provide feedback shortly after their brand experience. So ask for feedback:
Immediately after a complaint resolution.

Shortly after a purchase.

Right after a live chat experience.
Make it easy for customers to provide feedback 
More than half of customers are willing to give feedback. You just need to make it low-effort. They are more likely to offer opinions when there's barely any work involved.
Customers overwhelmingly prefer to provide feedback through a quick online survey, so launch a plan that:
Emails feedback surveys directly to customers.

Offers a one-click feedback system.

Doesn't ask a lot of open-ended questions.
Set expectations based on industry
It's important to set proper benchmarks while launching a campaign or strategy. Consider your industry and set response rate expectations accordingly. Also, if you know customers in your industry don't typically leave feedback, simplify feedback processes even more to increase your chances.
Make collecting customer reviews a part of your ongoing process 
Collecting feedback shouldn't be a one-time strategy or campaign. It should be a perpetual priority. Failing to meet customer expectations can quickly drive away customers. Your business should always be focused on collecting and reflecting on feedback to keep customers satisfied.
Conscientiously considering customer feedback is essential to the success of your brand. It's how you retain customers, gain insight into your business, and create plans for the future.
This is where Customer Thermometer comes in with services that stop survey fatigue and make it easy for your customers to tell you how they feel. Visit our Quick Start Guide today to find out more.
Or get a free account today to get started and experience engaging surveys for yourself.
Free Account
Research
Methodology
We surveyed 1,000 people in the United States to find out about their consumer experiences, survey fatigue and tendencies to provide company feedback.
Fair Use Statement
Please share the graphics and information as you wish with your own audience for noncommercial use only. Just remember to link back to this page to give the author proper attribution.
You can view the full infographic here
Share this Infographic on your site:
https://www.customerthermometer.com/img/Survey_Fatigue.jpg
496
1420
Gavin
https://www.customerthermometer.com/img/[email protected]
Gavin
2021-08-13 14:39:57
2021-09-13 11:13:00
Survey Fatigue: Everything You Need To Know And How To Avoid It